1000+ Resume Examples: Professional Resume Samples for Any Job
Great resume examples can help you understand how to take your career to the next level. Find inspiration in thousands of resume samples in our library. Using them is easy — just find resume examples for your role, study them and begin writing your own stand-out resume.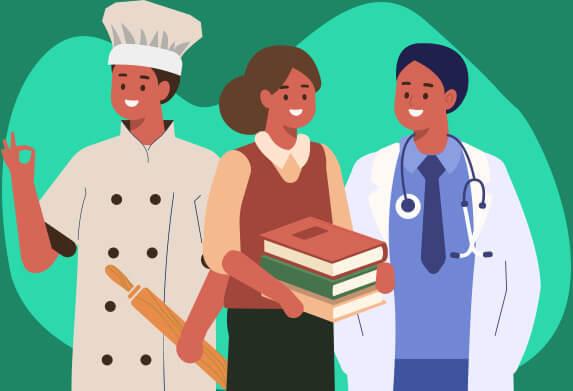 Featured in:
Resume Examples for Top Jobs
Start by perusing our six most popular resume examples below. Every example uses one of our professional and unique free resume templates as a design.
If you're looking for more specific job resume examples, the following section includes examples for most industries and job titles.
Browse All Resume Samples by Job Title
Browse resume examples for your industry and job title. There are thousands of examples, so odds are you'll find your exact role.
JobHero makes writing a resume frictionless and fast. Just simply choose from our beautiful templates, customize it and download it.
Build My Resume
Resume Examples by Level of Experience
Whether you are changing careers or looking for your first job, we have a resume example to help you create an impressive application.
Use the following samples to stay inspired in every stage of your career journey:
Entry-level
If you're looking for an entry-level role and have little-to-no paid work experience, you can benefit from using a functional resume format, as this example of a resume showcases.
The functional format puts less emphasis on your work history so that your skills come to the forefront. It also uses an objective statement instead of a professional summary, which is another good strategy to market yourself to a potential employer when you lack work experience.
Career change
If you're branching out to a new line of work, like this job candidate, you're best served by using a hybrid/combination resume format because it gives a balanced focus to both your skills and work experience.
This resume example illustrates how you can use a professional summary to showcase the transferable skills you'd bring from one industry to another.
Experienced
Candidates with more than five years' experience, like the job seeker in this example, should use the most common type of resume: the chronological resume format. The chronological format places the main focus on the work experience section. Since previous work success is a critical indicator of future performance, recruiters love this format, too!
Management
This resume example shows how anyone with extensive work experience should use the chronological format to highlight career growth. The candidate in this example is applying for a management position, so their resume focuses on the sheer depth of knowledge and abilities developed throughout their career. Any hiring manager would notice this applicant's impressive upward trajectory.
FAQ
Should I use these resume examples as a guide?
Yes, resume samples are meant to be a source of inspiration and guidance.
Adapt whatever elements you want from a resume example, whether it be the design, the way it's organized, specific phrasing or an approach to the summary statement.
A good resume example will guide you as you create your own document. But be careful you don't copy entire sections word for word –– your experience needs to be yours alone.
What should a 2023 resume say?
A 2023 resume should do what all resumes did before: Make a case for why you are the best candidate for the job.
Before you write your resume, read the job description closely. The keywords and phrases used in the job posting are your best indicators of what a hiring manager wants to see in a potential candidate.
That being said, maybe your life circumstances changed over the last year or two. Perhaps you want to switch careers, for example.
Your cover letter is the best place to explain why you've decided to change careers. Meanwhile, in your resume, you can show you're ready for a new role by highlighting the relevant skills you're carrying over from your previous jobs.
What should I include in my resume?
Almost all resumes have the same five parts:
Contact information

A summary or objective statement

Skills

Work experience

Education
In addition, some candidates choose to add optional sections, such as awards and honors, certifications or training.
An excellent way to know what specifics to include is to look at a resume sample for the job title to which you're applying. Reading through examples will show you the type of information, statistics and approach your job competition is taking so you can better understand how to write a resume that stands out.
It's also crucial to ensure everything you include in your resume is relevant to the job you're applying for. If it doesn't help make a case for why you'd be good at the job you want, remove it!
What is the best resume format for 2023?
A resume's format refers to the way a resume is organized, and there is no single best one!
The resume format that you choose should be one that works best for your experience level.
The general rule is that you should use a functional resume format if you have less than three years of work experience because it emphasizes your skills.
If you have more than three years of work experience but less than 10 total, you should use a hybrid/combination format to give equal balance to your skills and work experience. This format also works for career changers or job candidates seeking a promotion.
You should use a chronological format only if you have 10 years of experience or more in your industry because it places the most emphasis on your work experience. Not only is it the most popular format used by job candidates, but it's also the one recruiters prefer the most. However, only use this resume format when you have the required experience or you risk hurting your chances of getting a callback.