Featured in:
5 Most Popular CV Examples
Curriculum vitae are most commonly used outside of the U.S. However, we pulled together CV examples of U.S.-based careers that benefit from these detailed documents. Or try our CV templates and edit them yourself.
Curriculum Vitae Versus a Resume
Both the CV and resume summarize your professional qualifications and accomplishments. However, their layouts are unique; one document can highlight your achievements and job qualifications better. The following CV Versus Resume article can help you decide which option is best for your job search.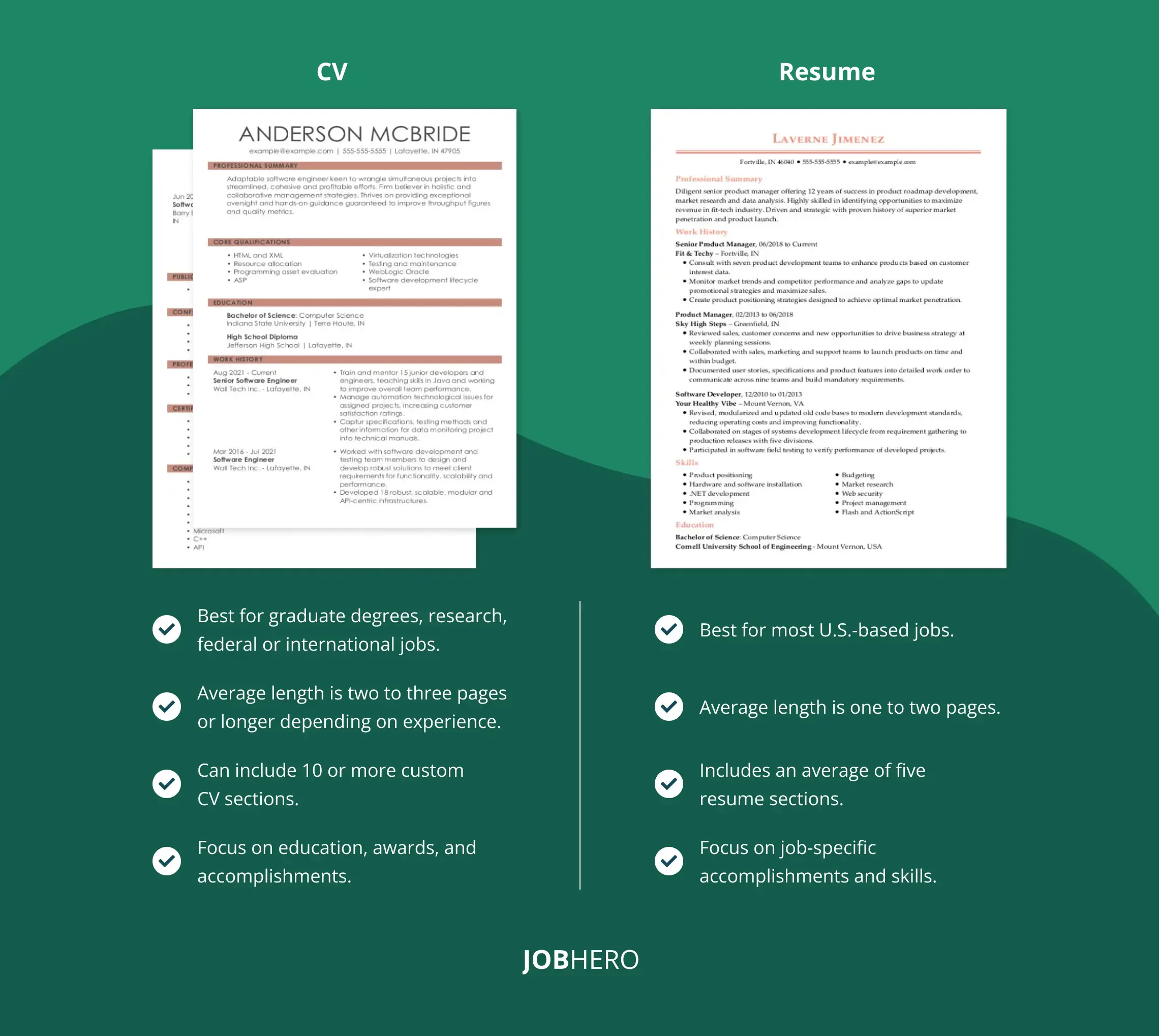 CV Examples by Job-Title
Our team of human resource professionals and certified resume writers carefully research popular job openings and write sample work history sections. You can use this in-depth library of CV examples to help you determine what information to feature on your curriculum vitae.
More CV Examples by Industry
CV Examples FAQ
Should you use a CV example?
CV examples can help you carefully tailor your document and add the appropriate CV sections. Curriculum vitae are highly customizable, lengthy documents that detail everything from your work experience and specialized sub-skills to job-specific awards and career-oriented conferences. A well-written CV sample demonstrates:
What information to include in a section.
How to structure rarely used sections like digital skills or conference presentations.
How to lay out and prioritize your CV sections.
How to edit a CV example on JobHero?
Each job writing guide includes detailed work experience examples for varying experience levels and accomplishments that you can edit and customize in your own words. You can use these sections as CV examples to help identify similar personal accomplishments for your academic and professional experience. To make this information stand out, be sure to:
Use data and quantifiable metrics such as, "Led a quarterly lecture hall of 135 students through complex mathematical theory."
Focus on relevant experience. For example, exclude knowledge of niche clothing retail markets if you're pursuing a digital tech marketing position.
How long should my CV be?
The average CV is two to three pages long, although this will vary based on your years of professional experience, academic coursework and certifications. A CV is highly customizable, with multiple optional CV sections that can alter the length of your document.
What should I include in my CV?
The information you include in your CV will differ based on your professional goals and accomplishments. However, most CVs will always have the following mandatory elements paired with variable combinations of the following optional CV sections.
Mandatory sections include:
Name and contact information.
Professional introduction
Skills
Work history
Academic history
Optional CV sections include:
Research focus or experience
Publications
Academic or conference presentations
Scholarships
Honors and awards
Language skills
Digital skills
Professional licenses
Certifications and achievements
Professional memberships or affiliations
How to write a CV for my first job?
These simple steps can help you write your CV for your first job. You can also visit our helpful CV writing guide for more detailed information.
Start with your name and personal contact information.
Describe your academic history or professional focus.
Outline your professional experience.
Describe your professional, academic or research interests.
List all relevant presentations or publications.
Add job-specific licenses, certifications, special skills or achievements.
End with professional memberships and affiliations.