Featured in:
Parts of a Cover Letter
A cover letter is a critical part of your application process, so let's learn how to write a winning cover letter. Many job seekers in your position wonder: but, why must I write one? What is the main purpose of a cover letter? Well, a cover letter gives you a better chance of convincing the recruiter that you're the right fit for the role.
This is because a cover letter is a way to introduce yourself and expand on why you are interested in working for the employer. It gives hiring managers additional insight into the experience that you listed in your resume. Thus, even if the job post does not request one, submitting a cover letter is an excellent opportunity to peak the recruiters' curiosity.
Not sure what to include in a cover letter? All cover letters follow this same format to keep your information well-organized:
Your name and contact information
The company's name and address
A greeting
The letter body
A signature
We've got hundreds of cover letter examples for you to check out that all follow this same format!
Before we explain how to make a cover letter, let's break down the body of the letter further into three parts:
Introduction paragraph
Main body
Conclusion
Each part has a specific purpose. In short, after introducing yourself in the first paragraph, you will move onto the main body (one to two paragraphs) to focus on your work history qualifications and tell a story about yourself.
Lastly, the final paragraph, or conclusion, reaffirms your interest and expresses a hope to meet for an interview.
Up next, we'll get into the nitty-gritty of what each section needs to accomplish to help win you an interview!
Essentials to Prepare
To effectively master how to write a cover letter for a job, let's take a look at the three most important steps to take before you start.
Prepare

1. Pay extra-close attention to the job post.
Just like you should prepare to write a resume, identify keywords and phrases from the job post that best align with your skills. By doing so, you'll know what to include in a cover letter and feel more confident about how to start your cover letter. It also keeps it targeted to the company's needs, which increases your chances of being seen as the perfect candidate to fill their needs.

2. Research the company.
If you're not familiar with the company you're applying to, research and get a feel for their brand tone. Look up their mission statement and read through their social media posts. Understanding how the company presents itself and what they value helps you set the tone in your letter.

3. Find the name of the hiring manager. Use it for the greeting!
Address your letter to a specific person. Take the time to look up the name of the hiring manager. You can go on the company's website or LinkedIn to learn more about the recruiter. Not only will it help you avoid starting with the generic, "Dear Sir or Madam," but it may also help you connect with the recruiter's professional background.
How to Write the Introduction Paragraph
Learning how to start a cover letter on the right foot means understanding how to write a strong introduction paragraph. Your opening statement must capture the recruiter's attention for them to want to read it all the way through, so let's delve deeper into what you'll need to write an effective cover letter introduction.
Write an enticing introduction
An introduction should include the following information:
A brief explanation of who you are as a professional.
The specific job title you're applying for.
A reason why you want to join the company and why you might be a good fit.
How you became aware of this position.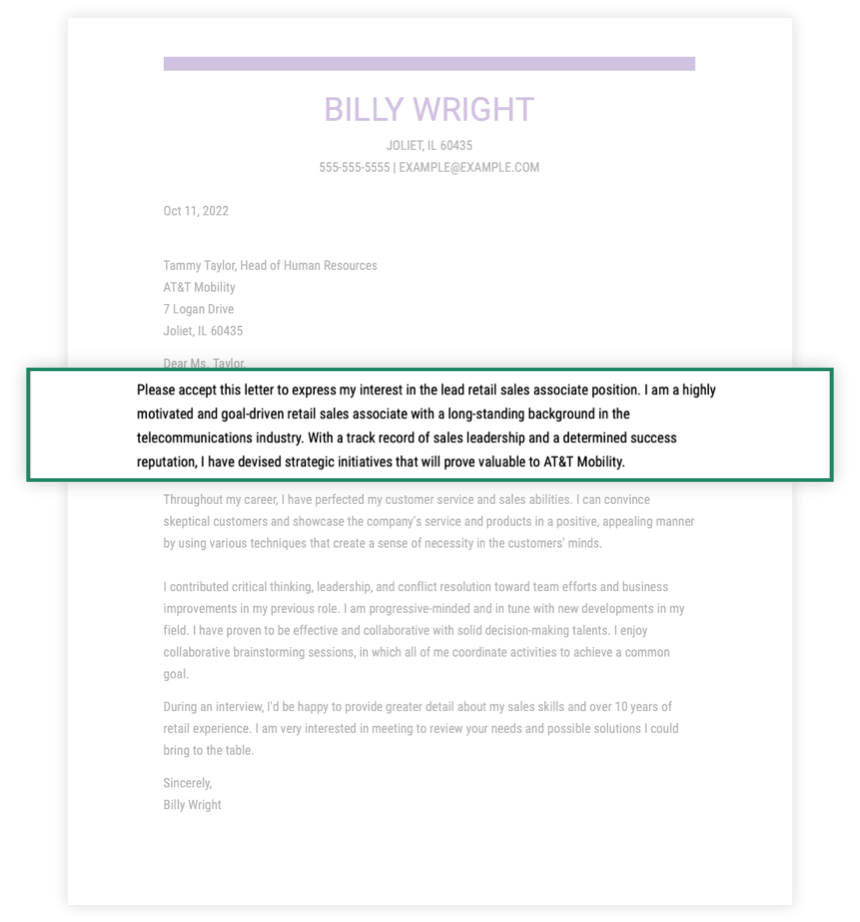 Recruiters will want to know how familiar you are with the company and how you learned about this job opening. It also provides the opportunity to highlight a connection with the employer, if one exists.
To better understand how to write an effective cover letter, let's take a look at cover letter examples to inspire you:
Introduction paragraph samples:
When I saw the advertisement posted in the Eureka Times-Standard for a building maintenance manager at the Harborside Apartment Complex, it caught my attention as a role that's a perfect fit for my skills. As an experienced carpenter with a background in plumbing and electricity, I can handle every issue related to your buildings' maintenance and upkeep.
Here's an example of a good introduction that references an online job post:
Upon seeing the Marshall School District post on the HiredBoard website for an experienced language arts teacher, it became imperative for me to apply. As a professional with excellent lesson planning and curriculum adoption skills, this opportunity aligns with my areas of expertise and passions. Your school's charter statement closely aligns with my own beliefs in how students can achieve success, which is a factor that attracted me to your school as well.
It's always beneficial to mention if you have good relations with a current or former employee of the company. You can use them as a professional reference for the employer to inquire more about you.
Here's an example of a company reference included in your cover letter:
The opening for a copywriter position came to my attention from your VP of marketing and former colleague, Alison Dalio, who recommended I contact you. My skills in delivering top-notch email campaigns have increased conversion rates and kept mailing lists growing in previous employment. I've no doubt I can create similar results for your company through engaging content that keeps your users clicking.
These examples capture attention by mentioning top skills that help the company continue its mission. You can also include impressive numbers or statistics you have achieved throughout your career that you featured in your resume.
Here's an example of using a number or statistic in an introduction paragraph:
One of your recruiters, Antonia Blanca, reached out to me via LinkedIn to notify me about your company's opening for a senior-level accountant, and I'm very interested. I have led my current employer to an overall 18% reduction in company overhead over the past two years, speaking to the quality of my skills in budget analysis and market research. I want to bring about the same financial restructuring that your company is currently seeking.
Keep your language simple and to the point by explaining what you want and why you think you'd be the right candidate for the job.
How to Write the Main Body
The main body is the star attraction and the center stage of your cover letter. Its core objective is to make your most persuasive case for why you should get the job. It's also the trickiest part of a cover letter because it's where you will have the most options for what you want to say and how you can say it.
First, you've got to decide what you want to say in your cover letter. Everybody's different! So, we'll provide you with lots of good ideas for how to write a winning cover letter.
Before writing your cover letter, you need to brainstorm what you want to say because a cover letter should do more than just rehash your resume.
You need to do two things with the main body: describe your skills and make a case for why you meet the company's demands.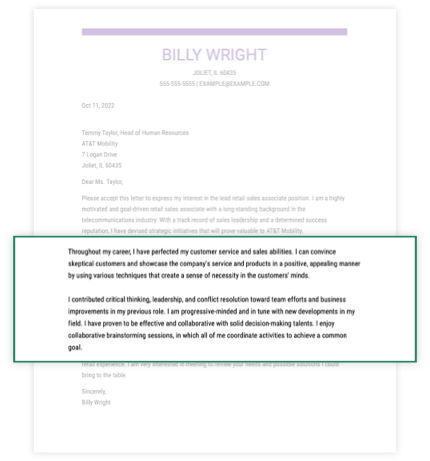 Don't just tell them you're right for the role — tell a story that illustrates why you've got the skills required for it. Build on details from your resume to narrate how you overcame a big challenge with a positive result.
If you have vast experience in a field, here are other topics you can touch upon in your cover letter:
Respond to the skills mentioned in the job post or ad with good examples of how you've utilized these skills in your career.
See how this candidate demonstrates their skills more concretely by discussing how they were applied:
As a store merchandising manager, I excelled in attention to detail. Every inventory we performed was on-point to the fiscal dollar. This also carried through to every store element, from how employees dressed to the frequency in which we adjusted displays and the courtesy shown to customers. It's the details where people find value, and it serves as my guiding philosophy as a manager and the kind of comprehensive work I hope to bring to Grayson's Boutique.
Discuss the most notable career achievement featured on your resume in greater detail. Expand upon its significance and how your work helped to reach that outcome.
Here's an example of a candidate breaking down a significant achievement they reached into a comprehensive demonstration of their abilities:
My tenure as the head accountant at Brigtsen's Lighting led to a multistep process that increased company revenue over two years by 34%. My initial analysis uncovered that our most considerable losses came from inefficient shipping practices. However, once we found more cost-effective logistics solutions, I spearheaded an audit into every element of our products and operations. From there, we minimized losses by working cross-functionally with production managers to source cheaper packaging materials. Through these creative solutions, we maintained a high-quality product while increasing overall efficiency and reducing costs.
Give a problem-action-solution example — also known as the STAR method — of a challenge you faced in your career and how you overcame it.
While working as marketing manager for Browne Agency, a client approached us with a unique problem: their wristwatch brand had zero brand awareness in the U.S. I led several brainstorming sessions with our creative team and implemented our strategy through connections in the talent industry, managing to feature the product with top social media influencers. The result: Not only did it boost brand recognition but also sales in the U.S. market increased by 22%!
If you don't have experience, talk about your passion and what motivates you:
Provide examples of you demonstrating your top skills in school, extracurricular activities or in your personal life.
What sets me apart from other applicants is my leadership, self-motivation, organization and responsibility. When I transferred into Westlake High School, there was no lacrosse team. However, I didn't let that stop me from creating it. I started by organizing a petition to show student interest in the sport. After achieving school recognition and funding, I met our team's financial needs for equipment by planning a raffle event and bake sale. I was named team captain for my efforts. That's why I can confidently say that I would excel if allowed to become head lifeguard.
Talk about your passion to learn about the industry, especially if you're applying for an internship or entry-level role. Give examples.
I believe I would be a great fit as a summer intern for Blaine Capital Investments because of my unwavering dedication to developing my investment skill set. For the past three years of college, the main focus of my studies has been market trend analysis. I read daily reports to guide my minor personal investments and make more significant predictions. This is what I want to do with my future. As an industry thought-leader in capital investment, there is no other group with whom I would like to share my vigor and passion for learning.
Decide how you want to say it.
Once you've come up with an idea of what you want to talk about in the main body, you have a few options on the cover letter format.
Paragraph form
For most traditional jobs or professions, a paragraph cover letter works very well, especially for jobs that we consider a little more old-fashioned, like accounting, academics, law or medicine.
Bullet form
However, in the tech age, it's become more popular for candidates to use bullet points instead of a paragraph for the main body.
This leaves white space on the page and makes it easier for a reader to scan and get the vital information you're trying to convey. It can be particularly effective if you work in a modern, updated or data-driven field such as business, marketing, PR, tech, or web development.
Bullet points also work well to feature numbers or statistics because the white space naturally draws the eye. If you decide to implement a bulleted list, make sure to use short phrases.
Here's an example of how a candidate could use bullets as their main body:
Working as an administrative assistant for two different genetic testing clinics has honed my skills in the following areas:
Professional phone manner, customer service and oral communication
Fluency in Office Suite, Google Workspace, Slack, Asana, Jira and Trello programs
Office hardware knowledge and problem-solving
Multitasking patient processing duties with phone reception, data entry and office management
Typing speed of 75 wpm
Great sense of teamwork and boosting office morale
Combination Form
The bulleted approach to the body might not be for everyone as it loses narrative flow.
However, a good workaround is to combine both paragraph and bullet form. This method features fewer bullet points and adds impact while also having text around for context.
Here's an example of how you could use a hybrid paragraph and bullet form in your cover letter.
Overall, as a web developer, I spent over two years at McClusky Developers working to perfect my base skills. Furthering my professional education by working for Beastcorp, I began asserting myself as a leader and more of a presence in our group meetings. I've earned a reputation as an expert when it comes to the following areas:
C++ and Java fluency
Debugging pages without a given error code structure
Increasing performance and stability through troubleshooting
The main difference between these three formats is the amount of text written in complete sentences versus bullet points. When in doubt, however, recognize that the paragraphs have stayed classic for a reason.
Lastly, make sure you have the proper formatting. All your fonts, spacing, margins and length should be consistent throughout all the paragraphs.
How to Conclude Your Letter
The last paragraph of your cover letter is a lot easier to write than the rest of the body.
You only need to achieve three things:
Reaffirm your interest in the role.
Thank the reader for their time looking over your documents.
Express hope for a future meeting.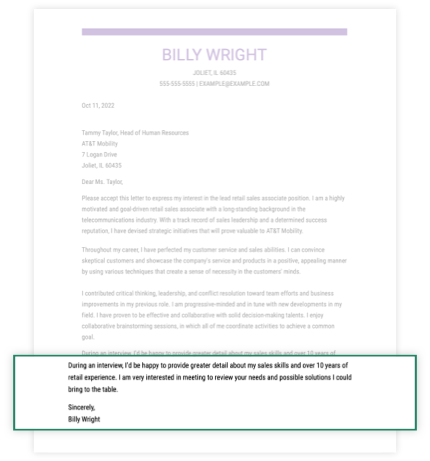 Here's an example of a closing paragraph:
Again, the opportunity to work at your school seems to perfectly align your needs with my current professional goals. Thanks for your time in reviewing my application documents. Please reach out if you need any further information. I hope we can discuss my experience further in an interview.
Include a simple professional closing salutation such as "Sincerely" or "Regards," and underneath, type your name or include your electronic signature.
If you're going to submit a hard copy of your resume and cover letter, you can also hit 'enter' two times under the salutation to leave some space to write your signature in ink above your typed name.
You can also mention any enclosures included with the cover letter. This is particularly important if you work in the arts or a creative field and are handing in a portfolio with your application documents.
There are two ways you could handle this:
a. Mention it in the last paragraph:
Thank you so much for your time in reviewing my application. I've attached my design portfolio and my resume so that you can see examples of my work. Again, I'm very excited about this opportunity, so please let me know if we can meet and discuss it further.
Kind regards,
Micah Daniels
b. Alternatively, you could put underneath your signature a tiny enclosures section like this:
Kind regards,
Micah Daniels
Enclosures: A copy of my digital portfolio and resume
Otherwise, this section is pretty straightforward. Once you've got it down, your letter is complete!
Lastly, make sure to proofread your letter. Read it out loud so that you hear each word and catch any errors! It also never hurts to have a trusted friend look over your cover letter and resume before you send them out.
Cover Letter Templates
Not sure how to start a cover letter? Use cover letter templates!
This is a fast and easy way to make a professional cover letter in just minutes because it takes care of your document's design elements.
Even better, get started with our Cover Letter Builder. It's fully automated and will guide you through each step of the way.
Browse through our template library to pick your favorite design. From simple to modern, our cover letter templates are professionally designed, have customizable colors and font options, and are easy to use.
Why Cover Letters Are Important
You may think that cover letters are outdated when they are a critical component of your application process. Let's look at the top three reasons why cover letters are essential.
Cover letters are an opportunity to market your resume in further detail. It shows off your personality, making it easier for recruiters to connect with you.

A cover letter provides the hiring manager with a deeper understanding of how your skill set aligns with this new role. It's meant to show how you can contribute to the team and why you are interested in working for the employer.

A cover letter creates a first impression and helps the recruiter decide if you are suitable for the position. It can be the turning point in your hiring process, making it a critical part of your application.
FAQ
How to write a cover letter for a specific position?
To tailor a cover letter to a specific position, you have to focus on the job post or ad and find some key phrases to base your response to the employer. Identify some of the top skills that the employer seeks, then show how you put them into action.
That's the way you can most directly speak to an employer — respond back to them using their own terms of reference to outline your career.
If you can, identify some of the top skills that the employer is looking for. Then try to show them how you embody these skills by sharing a story about putting them into action.
What parts does a cover letter consist of?
All cover letters consist of the following parts:
Your contact information
The employer's address
A greeting to the hiring manager
The body of the letter
The closing
Enclosures (if applicable)
They all follow this same format — which is the same as a standard business letter — and don't deviate.
How do you sell yourself in a cover letter?
The best way to sell yourself in a cover letter isn't by telling, but by showing!
The biggest mistake that most people make is that they use a lot of flattering adjectives to describe themselves or list their skills instead of providing examples.
That means don't just say, "I've got a good work ethic." Give an example that proves you're hardworking, like, "Even with my first job delivering newspapers, I always delivered the papers on time and never let a rain or snowstorm stop me."
It's easy to claim you have attention to detail, but what will impress an employer is how you implement that skill in your work life.
What are the three types of cover letters?
There are three different types of cover letters: an application cover letter, a prospecting cover letter, and the networking cover letter.
Without question, the application cover letter is by far the most popular. It focuses on introducing the candidate, their skills and trajectory in the field, and their interest in joining a company.
The prospecting cover letter is similar to a cold-call version of an application cover letter. It's where you're applying for a job, but you're not sure that an opening exists, so you explain that in the letter. The hope is that you catch an employer who needs a role filled but has not advertised it.
A networking cover letter is used for unposted or unpublished positions. Networking cover letters can give you a head-start to apply for a role before most other candidates even know that it exists.
In practice, all three of these cover letters are going to do the same task of trying to prove that you're the right person for the job. The main difference between the three is in the introduction.
If you're writing a prospecting cover letter, your introduction should mention that you want to work for the company so much that you're reaching out in hopes you can help them with your specialization.
Meanwhile, with a networking cover letter, you need to mention the name of the insider who tipped you off about the role before being published.