A cover letter is a powerful way to briefly introduce yourself to a future employer, in a way that's more memorable and personal. It allows you to expand on and connect the information in your resume to the specific job for which you are applying. Only about 20% of resumes are submitted with a cover letter. So just by writing one, you've given yourself a significant advantage! Here's how to write one in 8 easy steps.
Choose a Cover Letter for the Right Occasion
Add Your Contact Information
Salutation
State Your Purpose
Establish Your Value
Summarize
Signature
P.S. Consider Adding a Postscript
Ready to skip straight to building your cover letter? Cover Letter Builder.
1
Choose a Cover Letter for the Right Occasion
A cover letter isn't a one-size-fits-all solution to your job search. It's essential to choose the format that's appropriate to the specific position, company, or career path you're pursuing. The three most common types of cover letters are: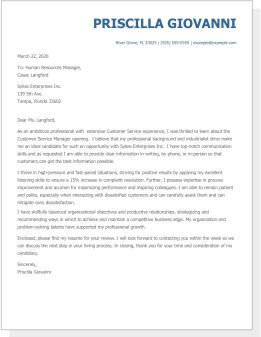 Application Letter
This is the most common form of cover letter. If you're attaching a cover letter for a specific job application, the key is to make sure it doesn't sound generic. Hiring managers will immediately notice if you take the time to craft a letter that was written specifically for a job they are looking to fill.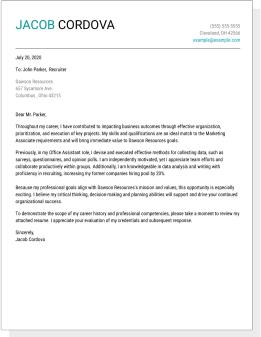 Referral Letter
If you're applying for a job someone has referred you for, make sure your letter mentions the name of a person who has endorsed you and (unless it's obvious), establish that person's credentials or relevance to the company.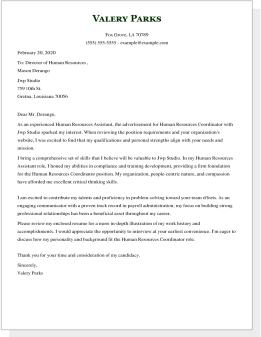 Letter of Interest
Sometimes you aren't sure whether there is a specific job opening, but you're certain you would love to work for a particular company. In these cases, it's perfectly fine to send out what's called a "letter of interest." These letters, also known as prospecting letters, are a great way to proactively create opportunities for yourself.
2
Add Your Contact Information
Applying for a job isn't the time to play hard to get. Make getting in touch with you as effortless as possible.
Your contact information should include the following, in this format:
Your first and last name
Street Address
City, State Zip
Email
Phone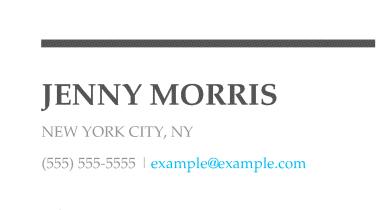 Make sure this information is current, accurate and corresponds with the contact information on your resume, as well as on all social media profiles. If appropriate, include your Linkedin or professional website. Also, remember to date your letter and address it to the correct person, including their full mailing address.
PRO TIP: If you have a "fun" personal email address and you're applying for a job in a conservative career path, create a professional sounding email for your job application process. (Hiring managers don't shouldn't be emailing you at [email protected]) And don't use your current work email.
3
Salutation
If at all possible, try to find out the name of the individual you are writing to, and begin your letter with "Dear Mr. (or Ms.) followed by his (or her) last name. If that's not possible, you can also address your letter to one of the following:
Dear Human Resource Representative
Dear Hiring Manager
Dear Hiring Committee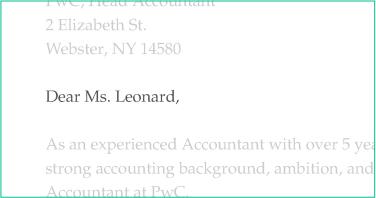 PRO TIP: Avoid "To whom it may concern" or "Dear Sirs." If you are applying for a job at a company that you know has a laid-back culture, you can address your letter to the individual's first name. Otherwise, use his or her last name.
4
State Your Purpose
If this is an application cover letter, your opening paragraph should state what job you are interested in. If it's an interest letter, explain why you are interested in the company. If it is a referral cover letter, state your referral's name and your relationship to them. For example:
Dear Ms. Jensen,
I am writing at the suggestion of your VP of operations, Alan Brown, who recommended I apply for the role of associate producer in your direct mail marketing department. I met Mr. Brown last year at a seminar he taught for aspiring young professionals. I followed up by emailing him my resume and he thought I'd be a good fit for this opening.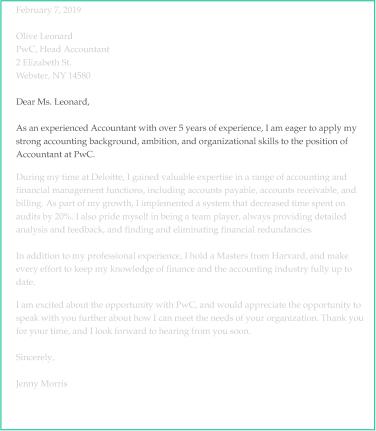 PRO TIP: Cut to the chase. People are busy and it's best to be simple and clear about why you are writing and what you want. But you can't be so brief that you skip over key facts.
If you're applying for an internship or sending a letter of interest, here are some examples of how to format those kinds of cover letters.
Cover Letter Builder
Let JobHero's Cover Letter Builder help you write your cover letter today!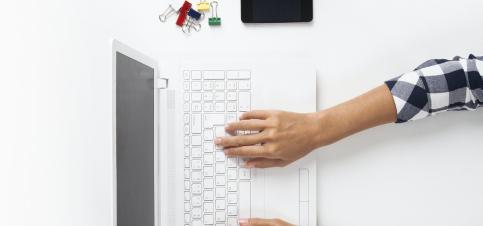 5
Establish Your Value
This is the meat of your letter. This section (which can be one or two paragraphs) should clearly showcase your experiences and skills and explain how they align with the job you are applying for. For example:
I recently graduated from XYZ University with a degree in marketing and have been working as an intern in the marketing department of ABC productions for the last six months. In that role, I've honed my direct marketing skills, with an emphasis on attention to detail, search engine optimization and executing direct response campaigns.
Above all, I am results-oriented: in fact, last year I helped introduce a new mobile application that increased sales by 26%.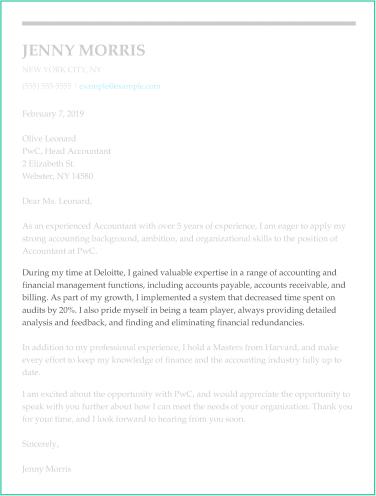 The key here is not to brag about yourself for the sheer sake of listing your achievements, but to make it clear you understand what a particular job calls for, and establish beyond a doubt that you are qualified.
The other key is to reduce complex amounts of data into a simple, memorable way. For example, while your resume might list a series of jobs you've held in a field related to the job you want, your cover letter should summarize that work history with one sentence:
Assistant Marketing Director, 2008-2011
Marketing Associate, 2011-2013
Director of Marketing, 2013-2017
VP of Marketing, 2017-Present

"I've spent 12 years leading a team of 200 people, with annual budgets in excess $2 million dollars."
PRO TIP: Study the job listing carefully and when describing your skills and experience, repeat several key words the employer has used in the job description. This will help your letter get past automated applicant tracking systems (ATS) , which are bots that scan cover letters for the relevant keywords.
6
Summarize
With this paragraph you will conclude your cover letter by restating why you feel you're a great fit for a particular job. End either with a call to action or a statement of your own intent. For example:
I will also follow up next week to see if we can arrange a time to meet in person. In the meantime, please feel free to contact me at the number or email listed below.
PRO TIP: Be confident, not arrogant. It's fine to say "I believe my skills and experience make me a good fit for this position." But don't go overboard with a claim like, "You can stop your hiring search now." Strike a tone that's authentic, professional and straightforward.
7
Signature
End your letter with one of the following:
Thank you,
Sincerely,
Warm regards,
Yours,
Best regards,
Cordially,
Yours respectfully,
Kind regards,
Thank you for your consideration,
Regards,
Sincerely yours,
Yours truly,
Respectfully yours.
Do NOT end your letter with any of these:
Cheers,
Love,
XOXO,
Talk soon,
Hugs,
Later,
Peace!
If you are mailing in your cover letter, sign the letter above your printed name, check the whole thing one more time for spelling and grammar and you're done!
PRO TIP: If possible have someone else read your cover letter to ensure there are no errors you may have missed. If that's not possible, read it aloud to yourself slowly.
8
P.S. Consider Adding a Postscript
This might seem simple but it's an amazingly effective hack. For one thing, adding a postscript isn't something most people will do, and that alone gives you an advantage.
You can use your PS to reinforce a key idea, or mention a relevant personal skill, for example:
PS "I was deployed in the National Reserves, so I am confident I can handle the pressure of running your CRM system."
Or
PS "I recently learned that your company is planning to expand into Latin America this year; my fluency in Spanish should come in handy."
A PS is one last opportunity to make a direct connection with the hiring manager. Keep it brief and strategic, making sure whatever you add support the key messages in your letter.
SAVE TIME

Our cover letter builder makes it quick and easy to write a professionally formatted letter

CUSTOMIZABLE

The formatting is taken care of, but your cover letter will be far from cookie-cutter. Our templates are fully customizable, so you can tailor your messaging to your experience and the job you want.

Sleek Designs

Rest assured your cover letter will look professionally designed and (if you use the JobHero resume builder) fully compatible with the layout of your resume.
Build Your Cover Letter