Featured in:
Popular Cover Letter Templates
Cover Letter Template Styles
A cover letter template is a tool that you can use to both save time and ensure that your cover letter looks impeccable!
The templates are pre-formatted so that you don't have to fuss with fonts or margins. Once you choose your template, you simply fill-in each cover letter section.
Let's go over some of the main styles of cover letter templates to outline what types of industries they're best-suited for:
Simple and Basic Cover Letter Templates
These templates are designed to be organized and easy to read.
A simple design keeps recruiters focused on your qualifications. These templates are perfect for professions including accountants, architects, lawyers, medical workers and teachers.
Professional Cover Letter Templates
The most requested templates are the Executive and Professional. They tend to include design flourishes that Simple and Basic resumes don't.
They are suitable for careers in advertising, copywriting, customer service, event planning, marketing and executive roles.
Modern Cover Letter Templates
These templates use cutting-edge design schemes with eye-catching colors and modern fonts. The header and font options tend to be bold and stylish.
This type of template is recommended for candidates in digital media including film, programming, social media, tech or web development.
Cover Letter Templates by Industry
JobHero has a collection of templates by industry that you can browse through.
Here are the most-requested cover letter templates in our builder for teaching, customer service, engineering, sales and business jobs.
How to Select a Cover Letter Template
There are two two things to consider when selecting the perfect template for your cover letter.
First, try to keep the template you choose consistent with the look of your resume. Choose a cover letter template that has the same font and color scheme.
Second, find a cover letter template design that's appropriate for the job that you're applying to.
For example, if you are seeking a role as a therapist, teacher or customer service representative, then you should choose a template that is friendly but formal.
However, if the job is more business-oriented, you should consider templates that are formal and traditional.
If you are looking for creative jobs, like a graphic designer or artist, consider our Artistic and Bold templates. These templates are visually striking with modern styles and fonts to choose from.
Candidates seeking jobs in design or creative roles can stand out with these templates. However, they definitely should not be used by job candidates seeking jobs in more traditional fields.
3 Steps to a Professional Cover Letter
The templates in JobHero's
Cover Letter Builder
are easy to use. Just follow these three steps to writing your professional cover letter:
STEP 1

Start by choosing a template.
Our library of professional templates act as guides for writing your cover letter. The templates are customizable ensuring you get the fonts you desire, and making it easy to adjust your margins and spacing.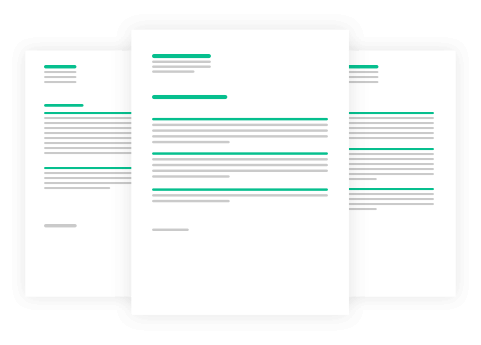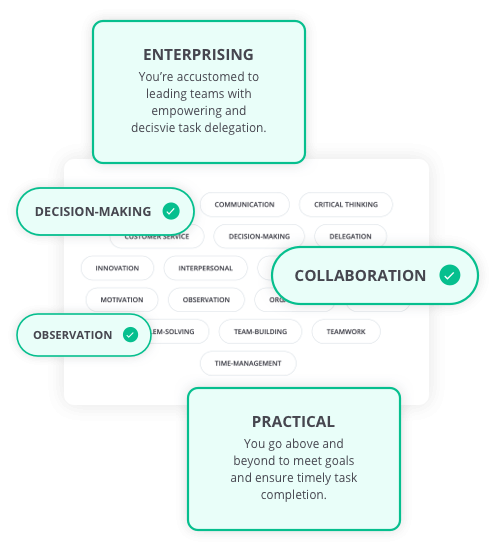 STEP 2

Complete the key sections.
The builder walks you through the writing of each section of your template. When writing your cover letter, you should place particular emphasis on the body and closing paragraphs. This is your opportunity to convince the recruiter that you are the ideal candidate for the position. You should be persuasive and make sure you are complementing, not repeating the achievements you captured in your resume.
Do not overlook how to whom and how you address your cover letter, and your contact information.. Leaving any of these elements out, may ruin a perfectly written cover letter. For instance, having outdated contact information can cost you an interview. And, addressing the cover letter to the wrong person can result in your document never making it to the hiring manager.
STEP 3

Proof, download and send.
Now that you have tailored your cover letter appropriately, review each section carefully. Spelling and grammatical errors will ruin your credibility. Once you are confident your cover letter is free from errors, you can download and send. You can save your cover letter in a variety of formats including PDF JPEG and SVG.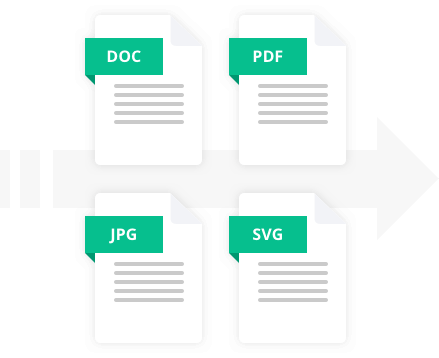 For more information on how to write a cover letter, check out our step-by-step guide on JobHero.
FAQ
What should a cover letter include?
Let's break down by section what you should include in your cover letter:
Heading: Start with your personal information. Include your name, email address and phone number. You can add the link to your LinkedIn profile if inclined. The last part of the header is the date.
Contact person or addressee: The next section is for the addressee's information. Insert the employer or recruiter's name, title and address. Grab the recruiter's attention by adding the name of the hiring manager or point of contact.
Opening paragraph: Stand out from competing candidates and grab the reader's attention by mentioning your top career accomplishments. Your introductory paragraph will determine if the hiring manager will continue reading your cover letter.
Second paragraph: Use the second paragraph to show recruiters why you are the perfect fit for the job. In this section, you can explain how knowledge and abilities can contribute to the company's success.
Third paragraph: For a compelling ending, focus on why the company is the right fit for you. You can mention how your goals align with the company's mission.
Closing/sign-off: It is important to close your cover letter in a professional manner. Signing off with "Sincerely," "Thank you," or "Best regards" are all professional ways of closing your cover letter.
What tone should I use on a cover letter?
The tone of the letter should be a balance of formal and professional with friendly and enthusiastic.
It is important to show a positive attitude toward the company and demonstrate that you are excited about applying.
Highlight your skill sets. But also seem grounded and professional and not like you're trying too hard to impress.
The biggest thing to avoid is over-inflating your experience or trying to make your achievements sound more substantial than they actually are. Be honest and straightforward.
How long should a cover letter be?
Cover letters should not exceed one page in length. Keep your letter concise and easy to read.
For an effective cover letter, format it by sections with no more than three to four paragraphs.
If you're having trouble keeping your letter short and brief, just keep in mind that you don't need to tell an employer your entire career story in the cover letter.
Save some material to discuss during a potential interview and just focus your letter on your top achievements. Make it impactful — quality is far more important than quantity here.
Do you need a cover letter?
Yes, unless it is explicitly stated not to send a cover letter, always do so.
Even if the job posting says that a cover letter is optional, a well-written letter is going to help you!
It gives you a chance to stand out from competing candidates by adding some personality and life to the details listed on your resume.
More than that, it also shows that you're the kind of candidate who is thorough and prepared. Employers take note of candidates who show greater effort in the application process.
Most of all, it's also another chance to advertise yourself as the best candidate for the job. Don't miss that opportunity! It will only strengthen your chances of getting called for the interview.
Do I need a different cover letter for every job?
The answer is yes! You need to make a new cover letter for each job to which you apply.
According to the U.S. Bureau of Labor Statistics, job seekers should tailor their cover letter to fit each role's job description.
Even if you are applying for two or more jobs in the same company, you should structure your resume and cover letter to match each job. Employers have specific needs and requirements which they discuss in the job posting, and your cover letter should match accordingly.
Another important reason to tailor each cover letter to a specific job involves applicant tracking systems (ATS). ATS is a hiring tool many companies use to narrow down an applicant pool before hiring managers look at the remaining applications.
The ATS scans your resume and cover letter for pre-selected keywords the company desires in their candidates.
If your cover letter does not contain the right keywords, it may not pass the ATS and even be seen by the hiring manager.
Read through the job description and pull out keywords and important phrases. When they apply to your own skills and experience, incorporate these keywords into your resume and cover letter.
It will help you get past the ATS and get noticed by employers!
Cover letter templates are helpful in this whole process for three reasons:
They are designed to be easily scanned by ATS.
Once past ATS, the template designs are attractive and attention-grabbing for the hiring manager.
Since templates save you time in formatting your cover letter, the process of creating a unique cover letter for each job you apply to is much easier.
Should my resume and cover letter match?
Yes, you should match your cover letter to your resume as much as you can. Try to match in color and style.
Choose the same font for both your resume and cover letter.
JobHero has matching cover letter templates and resume templates. Browse through our collection for your own matching cover letter and resume!