Featured in:
Who Should Choose Traditional Templates?
If the job you're applying to was something that people did more than 100 years ago, it's a safe bet that a traditional template would work for you.
That means if you work in an industry like government, barbery, funeral care, hospitality, insurance, law, medicine, or teaching, it would be appropriate and well-advised to use a traditional-style template.
Here are four popular jobs that are well-suited to traditional templates:
What makes a traditional template?
Traditional templates are designed to look clean, straightforward and serve as a timeless style still preferred for many jobs, especially in more conventional industries.
Their design tends to be a bit conservative, and you won't usually see fancy fonts or elaborate color schemes. Instead, their design relies on the basics to put the main focus on you, the job candidate.
More Resume Templates
It could be that traditional templates just feel a little stuffy or too unadventurous for the job you're applying to. If that's the case, there are two other styles of resumes that might be a better fit: modern and creative resumes.
Modern resume templates are just as they sound, like an updated take on a traditional resume that will tend to incorporate newer design elements and a little bit of flash and flair.
They're an ideal fit for jobs in newer industries such as communications, digital marketing, media, public relations, IT, computer programming, software engineering, and web development.
Creative resume templates edge even further away from the comfort zone of a traditional-style resume. They often include bold color schemes, atypical design elements, and unique compositions.
Creative resumes are only suited to creative industries like animation, creative marketing, film, fine art, graphic design, or game development.
So, if a traditional template seems too dry, consider the recommended or modern templates JobHero offers, but only use a creative template if the job you're applying to by nature requires you to show originality.
Traditional Templates in Our Builder
If it seems like a traditional resume is right for your job hunt — get your resume finished in minutes by using JobHero's Resume Builder.
It's the modern way to create a classic resume because it automates the whole process so that creating your resume is easy — so easy it's just like filling out a form!
You will find eight traditional resume template designs under the "Traditional" tabs of the template-selection screen of our builder!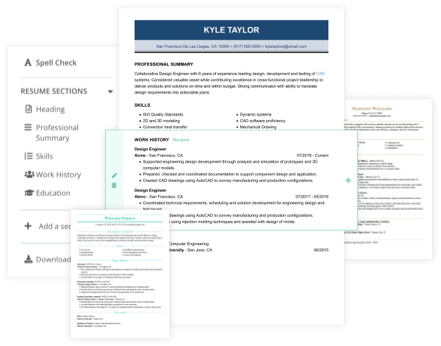 FAQ
What are the four types of resumes?
First off, it's essential to clarify what we're discussing when we say a "type" of resume. By "type," we're referring to a resume design style.
That is sometimes confused with a resume format, which is also important, but more concerned with the way your resume is organized rather than aesthetics and design elements. Resume design and formats seem similar but are indeed different!
To discuss the four types of resume design, these are the quintessential styles: basic, professional, modern and creative.
Basic and professional resumes are both more or less traditional resumes with varying degrees of decorative elements. Basic resumes tend to be stripped-down of the two; professional resumes having a bit more pizazz.
Should I use a traditional resume?
Maybe. It depends on the type of job that you're applying to.
A traditional resume is a safe approach and probably wouldn't seem too out of place to use for most jobs.
A traditional resume design is clear, clean, and puts the emphasis on you, the job hunter.
They are tested and work well for most professional jobs, especially in careers that are a bit older. We discussed on this page who should choose a traditional resume in a little more detail.
That said, they're not appropriate for all jobs. The exception to using a traditional resume comes based on the industry or company you're applying to.
Don't use a traditional resume if the job you're applying to is creative, or for instance, you're applying to a tech company that values "outside the box" thinking. In these cases, it might hurt you to use a traditional resume because that's not what the employer wants in a job candidate.
What is the difference between a targeted resume and a traditional resume?
You should always take a targeted approach for a resume. The "traditional" way of producing a resume here refers to a one-size-fits-all approach.
That means, traditionally, people used to produce one resume that summed up their experience and used that same generic resume for every job that they applied to!
Never do this!
Instead, a targeted resume approach means that you tailor your resume to the job you're applying for and only send that unique resume to that specific job. This is the way you should do it! This is the expectation employers, and recruiters have.
Every job requires slightly different skills, strengths, or approaches! Using a generic resume won't make you seem like a strong candidate. At best, it makes you seem like a middle-of-the-road one.
A targeted resume makes an argument that you cannot only do the job you're specialized for.
So, if you want to stand out, target your resume by identifying it. Some of the key skills that an employer discusses in the job description or post. Try to echo back some of those key phrases that you identify.
This may serve you in several ways:
By speaking directly to an employers needs
Give you an advantage over all the candidates who didn't take this crucial step
Help you pass an applicant tracking system (ATS) if the company uses them.
Using a blanket-approach resume will never give you an advantage. So always use a targeted resume!
You can keep a general resume, but always tweak it! It should be customized to the job every time you send your resume out.
What is a nontraditional resume?
Nontraditional resumes tend to be resumes that use atypical design schemes, bold colors, and other unique design elements –– they're sometimes referred to as creative resumes.
While these resumes tend to be exciting and attention-grabbing, they're not ideal for all roles. You should only really use a nontraditional resume if the role requires you to be creative or if the company you're applying to has a brand identity centered around being different, non-conventional, or "outside-the-box."
They can be a great type of resume to show your eye for design or make a distinct, lasting impression.
However, nontraditional resumes may be considered inappropriate for many jobs, distracting for a lot of jobs, or unprofessional. Consider the nature of the job and the company culture before you commit to use one.
Should I include a cover letter with my traditional resume?
Yes! It's the ultimate classic combo of hiring documents. Always include a cover letter with a traditional resume.
The only exception would be if it were explicitly instructed not to send a cover letter with your resume.
A cover letter provides you more room to discuss why you're the right person for the job and you will be at a disadvantage not to include one.
Check out our how-to-write a cover letter guide if you need help getting started!