FEATURED IN :
Essential Sections of a Resume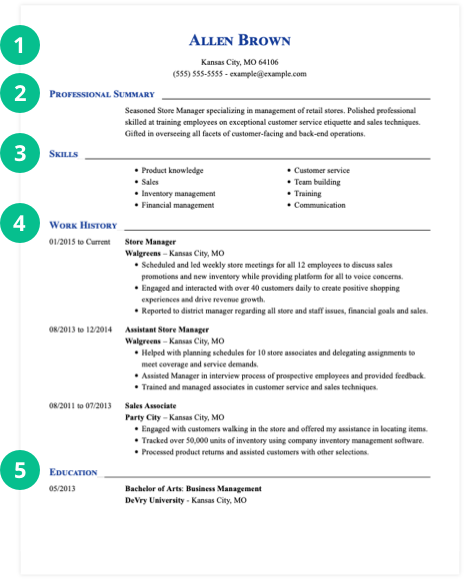 But hiring managers will focus primarily on your professional summary or objective statement, work experience and skill sections.
These are the most critical sections because they include the most useful information about what you're capable of as an employee and how well qualified you are for the position you are seeking. These are the sections in which you must sell yourself.
Getting Started
Before you even start to write these sections, it's important to review the job description thoroughly to identify the keywords an employer is looking for. You want to speak directly to this job post by reflecting what the employer wants in your resume.
First, make a list of your accomplishments, skills and your work history (your employers, city and state, job title, duties and years in the position.) Next, spend time really writing out your accomplishments in those jobs — those achievements that you believe best speak to the employer's requirements for success in the job post. All of this information will be used in the writing of your resume, so it is best to be organized.
Once you feel like you understand what an employer is looking for with your close reading of their job post or ad, now you can get down to the task of writing each of these important sections.
We'll go over how, starting with the professional summary or objective statement because it's the first essential resume section reviewed by a hiring manager.
Choosing a Resume Format
To write your resume, you will have to choose a format. A resume format just refers to how a resume is organized on the page. While every resume format features the same basic sections they can be organized in a different order depending on the section you want to highlight.
There are three main resume formats. These are the
chronological
,
functional
, and
hybrid/combination
format.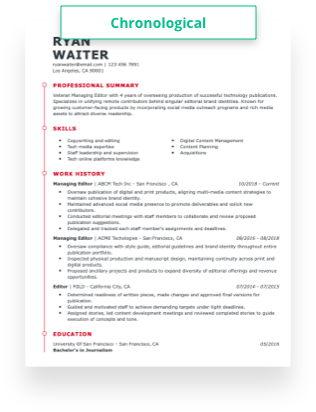 Let's start with the chronological format. This format lists your work history in reverse order, starting with the most recent job. It's preferred by recruiters because the information is organized in a neat timeline, making it easy to read.
The chronological resume is the most commonly used. It works best for job seekers with a consistent work history of more than five years.
However, if you have less than two years of experience, you would benefit from a functional resume. This type of format puts the spotlight on your professional skills rather than when you held the job.
The work history information gives less detail and emphasis. This section is a simple list of positions held and company names — you may opt to exclude employment dates if you have a lot of gaps.
The biggest difference between a functional resume and a chronological resume is that the former groups your skills under the job category and elaborates on them in lieu of having a lot of work experience to discuss.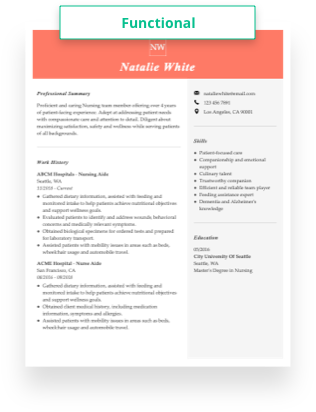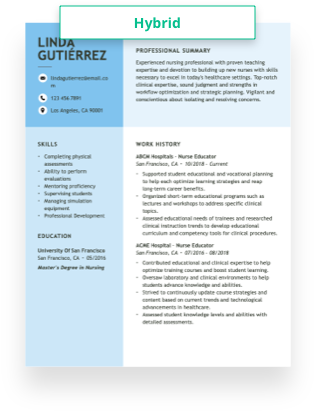 The third format is the combination/hybrid. It earns its name because it combines the best elements of a chronological and functional format. This style highlights the skills and achievements section first and then lists the work history in chronological order. It shows your strengths in a balanced way.
The combination format works best for candidates with three to five years of experience. It is also useful for job seekers with gaps in their employment, career-changers, or those re-entering the workforce.
BUILD YOUR RESUME
Organizing your contact information
When adding your contact information, start with your full name at the top of your resume; you can use a larger and bolder font than the rest of your resume. Then add your city/state location, a professional email address and phone number. Including a physical mailing address is considered to be very outdated.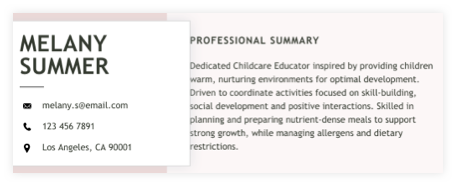 Please note that a "professional" email should be one that is a close reflection to your proper name: e.g., Tamara.Smith814@-------------.com
DO NOT include a non-professional email: one that is reflection of your personal interests or hobbies, e.g., MountainClimber22@----------------.com. A hiring manager may not be inclined to treat you as a serious candidate.
How to Write a Professional Summary or Objective Statement
Both professional summaries and objective statements are short statements, usually just two to four sentences, that serve as the main introduction to your resume and yourself.
Whereas a professional summary serves as a sales pitch that outlines your career experience and top highlights, an objective statement focuses instead on what you hope to achieve if hired for this new job.
Deciding between a professional summary and an objective statement should be based on your level of experience.
The professional summary is ideal for more experienced candidates because it focuses on your expertise, skills and achievements. Meanwhile, the objective statement is better-suited for entry-level candidates or those who are changing careers because it shifts the focus from what you've done career-wise to what you hope to accomplish given the chance.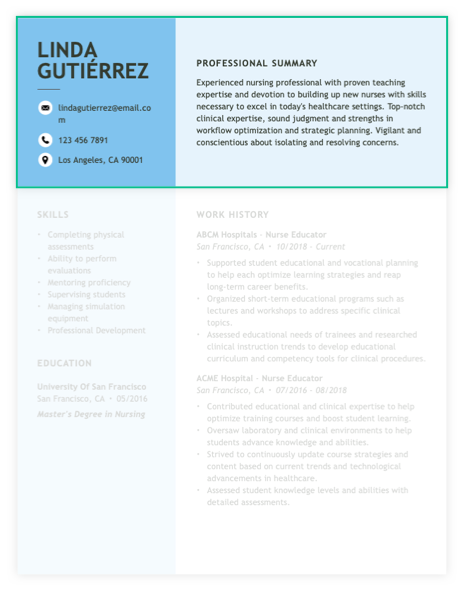 If you have some work experience, it is a better choice to use a professional summary because it will make a more convincing case for you.
Now we'll go into more specifics about what makes a successful professional summary or objective statement.
How to write a professional summary
To write a professional summary, you need to create two to four strong, engaging sentences that will highlight your top accomplishments and skills.
This is just an exercise in putting your best foot forward! The goal is to convince an employer that your track record at other jobs will also bring success, growth, and improvement to their business.
If possible, include figures that can demonstrate the scope of your performance.
Resume writing pro tip: Whenever possible, show your achievements with numbers because it will attract the eye or a hiring manager and give a more concrete idea of what you're capable of. Numbers are powerful!
For example, if you were responsible for the budget or inventory and reduced the company's overhead by 22%, that would be a very impressive statistic to drop in your professional summary. This will show the employer, at a glance, why you're qualified for the job.
Let's take a look at examples of great summary statements for candidates with varying levels of work experience:
Entry-level candidate:

A dedicated, team player with experience in the retail and automotive sectors. Self-motivated with a strong foundation in advertising techniques and communication skills. Successfully completed a marketing internship focusing on brand development.

Mid-level candidate:

Determined and avid journalist with 5+ years of experience writing breaking news stories and social media trending topics. Eager to support your readers with timely and factual information.

Senior or executive-level candidate:

Senior budget analyst with a background in accounting and 10+ years experience. Successfully increased the accounting department's efficiency by reducing overhead 30%.

Changing careers candidate:

Enthusiastic professional with 8+ years background in the service industry has proven well-honed skills in customer service, order accuracy, and prompt food delivery. My attention to detail, decision-making skills and efficiency serve as the foundation to a promising career as a delivery driver.
How to write an objective statement
An objective statement is a short declarative statement to create a clear idea of how your career goals align with the company's needs.
Unlike a summary statement, you're not going to talk about what you've achieved, you're going to talk about what you hope to achieve with this new role.
When writing this section, customize your objectives in a way that matches the job description. Then just explain in two to three sentences what you hope to achieve if given an opportunity in this role.
Objective statements work well for entry-level workers or job seekers who are transitioning careers. Examples of an objective statement:
Entry-level:

Hard-working dental assistant graduate with proven leadership and organizational skills seeking to apply my abilities to the position of dental hygienist at Eastern Shore Dental Care. I would like to contribute to your clinic's impeccable reputation and help maintain your highest levels of client satisfaction with my gentle, patient-forward approach.

Career-changers:

Reliable human resources accountant with eight years of experience with accounts payable. Seeking to start a career as a business analyst to work alongside a diverse team and support public services. My motivation is to use creative insights to help reduce overhead at your company.
BUILD YOUR RESUME
Writing About Your Skills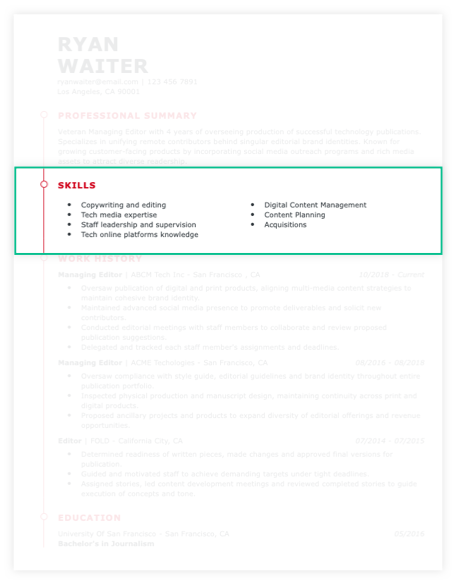 Recruiters pay close attention to the skills section of your resume to determine if you are qualified for the job. Skills will show employers that you have the abilities they require to complete your tasks.
There are different types of skills: hard, soft and technical. Employers tend to look for candidates who have a strong combination of all these skills.
For an effective skills section, combine a strong mix of hard and soft skills as well as technical if applicable. Technical skills are just a more specific type of hard skill. All hard skills, technical included, refer to abilities that are learned through practice, repetition and education.
Meanwhile, soft skills are a little less concrete in nature. They refer to skills that often involve a combination of people skills, social intelligence, communication and personality trains like "detail oriented" or "self-motivated."
Now let's give you some solid examples of each type of skill to give you a better idea of what you should include on your resume.
Hard skills:
Hard skills are usually industry-specific abilities that you gain through education, practice or training. Many industries and professions have a specific list of hard skills that are needed in order to complete tasks.
Examples of hard skills:
Computer technology
Coding
Website design
Communication skills
Language skills
Marketing and advertising skills
Accounting skills
Project management
Writing
Spanish
Automotive technology
Banking operations
Bookkeeping
Budgeting
Carpentry
Construction
Hardware
Medical emergency training
Soft skills:
Soft skills combine people skills, social skills, communication skills and personal traits. They're non-technical skills that relate to how you interact and perform including how you solve problems and manage work.
Because they relate to your behavior, these skill sets are also referred to as personal skills, interpersonal skills, non-technical skills, essential skills and transferable skills.
Examples of soft skills:
Leadership
Creativity
Communication
Teamwork
Problem-solving
Time management
Critical thinking
Decision-making
Organizational skills
Verbal communication
Nonverbal communication
Written communication
Persuasion
Ethics
Confidence
Reliability
Time management
Customer service
Resilience
Technical skills:
Technical skills are just more specific hard skills related to computer or digital tasks. It relates to science, engineering, tech, manufacturing, or finance industries.
Examples of technical skills:
Programming languages, e.g., Python, Javascript
Common operating systems
Software proficiency
Technical writing
Project management
Data analysis
Business Analysis
Accounting
Project management
Engineering
Digital media
Design
Development
Hardware knowledge
HTML
Budget planning
Engineering
Project planning
Quality assurance
Quality control
When listing your skills on your resume, choose a mix that is most relevant to the job you are targeting. You can provide a list of bullets with six-to-eight skills in each section.
Build Your Resume
Work Experience –– Highlighting Your Achievements
The main selling point and most important part of your resume is your work history. This section organizes your work experience and top accomplishments to prove your value as an employee.
When listing your jobs, you can go back between 10 and 15 years of experience or include three-to-four jobs. Include the company's name, city and state location, job title(s) and dates of employment. Once you have organized your employment information, add your accomplishments in a clean, bulleted or paragraph format.
Here's an example of how you can list your work experience: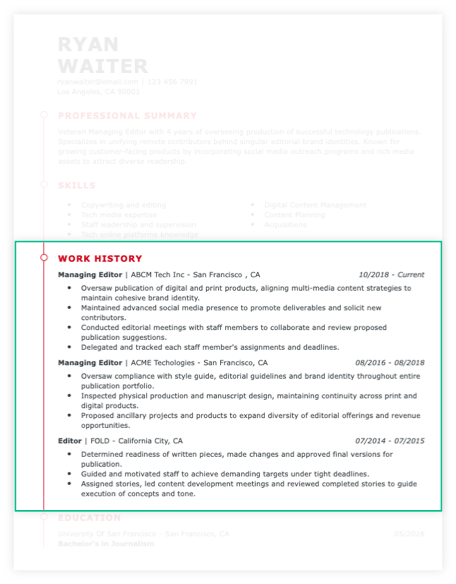 WORK HISTORY
Event Producer, Corporate Events Producer
Denver, Colorado
08/2016 – 08/2019
Successfully produced events for audiences of 1,200–7,500 attendees.

Experience working with over 100 vendors in design, production and staging

Experience managing 15 breakout production, experiential activations, and event logistics on a monthly basis.
---
Event Producer, TED Conference
Monterey, California
08/2013 – 04/2016
Assisted with components of contracting over 50 approved vendors, including negotiation, contracting and invoicing.

Tracked, maintained, reported and reconciled budgets of vendor contracts quarterly.

Ensured accuracy and quality control for logistics and inventory on a daily basis.
---
Fundraiser Specialist
Second Harvest Food Bank of East Central Indiana
Monterey, California
04/2010 - 07/2013
Booked artist to create mayoral fundraising event, raising over $15,000 in funds within 20 hours.

Consistently maintained fund-raising goals according to the financial needs of clients.

Implemented organizational best practices with regard to recruiting and managing high level volunteers, revenue generation activities, expense and fiscal controls
Optimize your work experience section by including the following strategic elements:
Quantifiable metrics (numbers that quantify your achievements)

Action verbs

Keywords
Numbers add credibility. They help job seekers better demonstrate achievement and quantify their contributions. Focus on achievements that may have contributed directly to the company's growth. Instead of writing something vague like "increased sales," try writing something more powerful by using numbers to be specific: "Increased the company's revenue by 20%."
For example, a hotel food and beverage manager might include these quantifiable metrics in their work history:
Organized catering events with revenue of up to $55,000

Coordinated over 50 banquets in the first quarter

Increased the hotel's annual fundraiser by 30% annually
Action verbs are a great strategy to make your resume stand out. When writing your duties and responsibilities, always use action verbs.
Recruiters aim to hire a candidate that can impact the company's bottom line, improve performance or increase revenue. Use action verbs to demonstrate how you initiated new projects. For example, "Designed a new ad campaign for high-performing brand awareness." Or you can be specific about how your performance saved the company time and money, "Responsible for streamlining inventory, increasing efficiency by 45%, and minimizing product surplus."
Do your research and use industry-specific action verbs that will make it easy for hiring managers to read about your duties and achievements.
Build Your Resume
Organizing your Education Section
When listing your education, include all schools attended starting with your highest degree attained. List the name of the institution, its city/state location, along with the degree you obtained (if any) and your major(s) if applicable.

If your education is still in progress, list the degree, the name of the school, location, and your expected graduation date.
Here's are some examples:
Cambridge Business Institute
Pharm.D.
University of Florida (UFHealth)
B.A., Chemistry
If you have any additional certifications or awards, you would need to list each as a separate section, titled Certifications and Training. List your credentials in reverse-chronological order, beginning with the most recent. Include the name of the certification or training, the entity, dates and location. Your section should look like this:
Certifications and Training
First Aid Certification, American Heart Association, Dallas TX
Emergency First Response For Children, Red Cross, Austin, TX
When listing academic awards or other professional certificates include award title, recognition level and date.
Here's an example of an Honor and Awards section:
Hunger's Hope Award, Feeding America, Chicago, IL
National Academy of Television Arts & Sciences, Dallas, TX
Always include information that is relevant to your career or job that you're applying for.
Build Your Resume
Customize Your Resume for Applicant Tracking Systems
There are companies that use special software to pre-scan applications electronically looking for keywords and phrases related to the job. This software is known as an applicant tracking system (ATS).
ATS software is programmed to search for resumes with keywords related to job requirements. If the ATS doesn't find the right percentage of keywords the employer is looking for, your resume will get discarded. It won't even be seen by a human.
You can see why passing an ATS is an essential step to getting a job!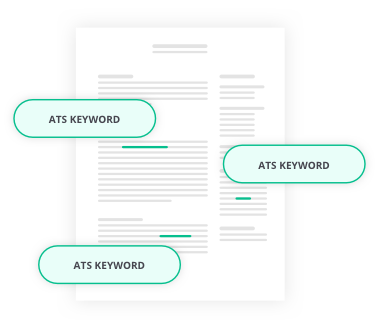 To pass the ATS employ this strategy: By adding to your resume industry-specific terminology and key phrases that you see in the job description when they apply to you.
So, it's very important that you perform a very close reading of the job posting or advertisement and try to echo back some of these key terms that you identify somewhere in your resume or cover letter!
Build Your Resume
How to Use Templates and Examples to Write a Resume
JobHero offers a variety of tools such as examples and templates to help you achieve a great-looking professional resume.
Resume examples are valuable to job seekers. They provide a better understanding of what needs to be included in your resume's key sections. Examples are a source of inspiration and good ideas. To help you, JobHero features thousands of resume examples, specific to job titles and industry!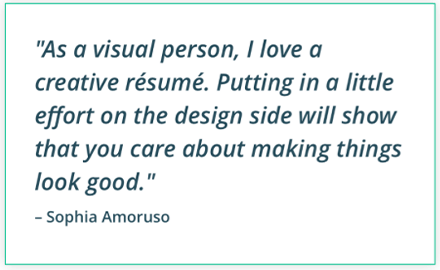 Check out these examples and search for the job title that you're applying to –– seeing how others in your field handle their resumes will give you an edge to make yours the strongest it can be!
You don't have to start your resume from scratch, you can use resume templates to help create your document effortlessly. Resume templates are quick and easy to use.
They are pre-formatted documents created by professional designers that you can use to make sure your resume has an eye-catching layout. That way you can get straight to writing instead of having to create a sharp-looking resume from scratch!
Our templates are pretty straightforward. Simply select the style you like and enter your information by section. You can also personalize your document with customizable options. We offer a variety of fonts, size, colors and styles to choose from. Our styles range from elegant and traditional to modern and bold.
Using templates and examples to write a resume is a great strategy. To make the application process easier, JobHero also has a Resume Builder that offers 25+ customizable resume templates.
Jump-start writing your resume today so that no one beats you to the job!
Compliment your Resume with a Cover Letter
A cover letter is the way you introduce yourself to recruiters. It's an opportunity to connect and stand out. You should always include a cover letter along with your resume, unless specified not to.
Cover letters fill in some of the gaps that your resume doesn't cover, like specifying the job that you're applying to, showing your enthusiasm for it, and giving you the chance to tell a story about your career in a way that you can't on a resume.
When submitting your resume and cover letter, it is best to be consistent with the style, margins and font you use on both documents. Your goal is to match the header and font as much as possible.
Not sure how to nail a cover letter? JobHero offers expert guidance on How to Write a Cover Letter. If you just need a good design, you can also check out our Cover Letter Templates for styles that will be well-matched with your resume.
Build Your Cover Letter
Proofreading Tips for a Flawless Resume
You only have one chance at making a first impression with the employer.
Proofreading will help you make that impression positive!
Proofreading is an essential step in the resume-writing process because mistakes on your resume may cost you the job. It requires your complete attention.
Here are some tips to catch errors in your resume's spelling, grammar, punctuation and capitalization:
Double- and triple-check your spelling and grammar by re-reading.
Read it out loud to yourself.
Have a trusted friend look it over for you.
Before you submit your application, make sure you have taken these steps. After all, if your resume contains errors it could mean you don't get your dream job!
FAQ
How do you write a resume for the first time?
Writing your first resume can feel like a challenge, but once you know what to do it will make each resume that comes after a lot easier!
Even if you don't have much work experience yet, you can still write a resume that focuses on your skills, education and extracurricular activities.
Start by reviewing the job description. Then make a list of your skills that match those listed in the job description. By doing this, you are tailoring your skills and qualifying yourself for an entry-level position.
Next you will organize your skills, education and any extracurricular activities. The way you organize your credentials is called format. There are three types of formats. However, for recent graduates or candidates that lack work experience, you should use a functional format. This format shifts the focus on your skills rather than work experience.
If you're nervous about the process or want an expert to guide you through, JobHero features a Resume Builder that provides step-by-step guidance to help minimize the stress of writing, and maximize the impact of your resume.
It truly is the fastest and easiest way possible to create a resume!
How do you write a resume with no experience?
If you lack experience, choose the functional resume format. This type of format will put the spotlight on your skills and education rather than your lack of experience.
Instead of emphasizing your work experience, a functional resume will start by highlighting your skills, knowledge and abilities.
To make your skills noticeable, list a mix of hard, soft and technical skills. Make sure that they align with the job that you are applying for. These can range from communication skills to technical capabilities.
Even though functional resumes may place emphasis on your skills, they include a work experience section.
Try to find any experience that you can list here: internships, volunteer and unpaid experience can also count if you've never had a real job before.
You could talk about a bake sale that you helped plan, or the cash-handling skills you used volunteering at a concession stand, or the sanitary protocol that you followed assisting in a soup kitchen.
Students or recent graduates should include internships and extracurricular activities that are relevant to the job they are applying for.
Organizing your information this way, provides key aspects of your background. Even though you may not have professional experience, your skills and education gives you a better chance at landing your interview.
How do I write my first high school resume?
Whether you're a high school or college student, you may be wondering: How do I write a resume with no work experience?
Make a list of your skills, education and any volunteer or extracurricular work you may have done. From this list, you'll then need to narrow down what to actually include on your resume, by matching your information with the job description.
Then be ready to write your objective statement instead of a professional summary. In a few sentences, write the career goals you wish to achieve. You want to focus on what you can do for the employer and how your studies have prepared you for this job.
Instead of writing out about your experience, you will focus on your education, skills and internships. Always include any extracurricular activities or volunteer work that highlights your talents or where you learned a new skill should be put on your resume.
Only include extracurricular activities and hobbies if they are relevant to the position and have equipped you with transferable skills that would be useful for the job role.
What should not be included in a resume?
1. Avoid long blocks of text. Use bullet points and keep your sentences concise and easy-to-read.
2. Do not use generic words. Stick to industry terminology.
3. Do not be off-topic. Only include skills, keywords and employment history that are relevant to your current job search.
4. Keep it professional. Don't use an unprofessional email address. Don't add a picture of yourself on the resume (this is only appropriate for models, actors and performers.)
5.Don't include unflattering information. Don't ever include employers who fired you for poor performance or personal issues. Never go into full details on why you left the company if it was for negative reasons. The recruiter might get the wrong impression about you.
6.Don't include your high school education or anything prior if you have graduated from college.
In general, you want to keep your resume concise, featuring the best information you can gather about why you would be good at handling the tasks of the new job that you're applying to.
How to sell yourself in a resume?
Stand out from competing candidates with these simple and effective tips:
Quantify your accomplishments. When listing your accomplishments, use numbers or data that demonstrate the results you achieved. This action will show how you impacted the company's growth. Provide examples of how you may have helped save the company time and money, or how your customer service helped boost ratings and satisfaction. An example would be, "Initiated a new system that allowed me to track inventory during the transportation and delivery of all donations. Avoided losses and eliminated over $25,000 on yearly expenses for security equipment."
Show that you deliver results. When highlighting your duties and responsibilities, use action verbs. This guarantees that your sentences will be clear, concise and straight to the point.
Using verbs throughout your resume provides insight of how you accomplish your task. When choosing which words and phrases to use, think of ways that your actions would benefit the employer. Perhaps you saved time and improved productivity or reduced costs. For example, "Spearheaded a new service that included American Sign Language interpreters."
Be direct. Research the job description and company culture to craft a targeted resume that will address their goals and needs. Combining action words with measurable results are proven strategies that will definitely help you market your most distinctive features and leave recruiters intrigued about you.
How to write a compelling summary of qualifications or resume profile?
A summary of qualifications is also known as a skills summary. It starts your resume with valuable information about your skill sets. Packing relevant keywords and key phrases into your summary of qualifications or resume profile creates a higher chance of being noticed by the employer and of passing the applicant tracking system (ATS).
When writing a compelling summary of qualifications or resume profile, your goal is to convince the employer that you are the best candidate for the job by writing about your most impressive achievements.
Use bullets to describe your most significant accomplishments.
Tour Guide Qualifications Summary Example
1. Managed 3 trips a day totaling 240 passengers in an outdoor setting, requiring quick thinking, efficient planning, and strong people skills
2. Provided historic information with story-telling abilities that generated up-sell of other tours with $150 in additional profit on a daily basis
3. Consistently received 5-star reviews from Trip Advisor, with accompanying praising comments about my service
4. Earned "Employee of the Month" four times in the first year
A resume profile is a brief summary of a few sentences that will showcase an applicant's skills, experiences and goals that are relevant to the job they are applying for. It creates an opportunity to highlight the candidate's goals and top accomplishments.
In a brief overview, you will outline your related experiences. Keep your sentences strong by including metrics, keywords, soft and hard skills and any certifications or training that are relevant to this position.
An example would be:
"Master's degree in French with four years experience teaching college level translation and interpreting. Certification in teaching English as a Second Language."
Another example:
"Expert in Marketing and Advertising, with 20 years of experience. Successfully create and implement marketing policies, increasing sales by as much as 30%. Excellent interpersonal and team management skills.
Both summary of qualifications and resume profiles are a great way to show a hiring manager, at a glance, why you are the best candidate for the job.