Welcome. You've come to the right place.
Getting a job can seem daunting. But we've got this down to just 8 steps.
Choose which resume format is best for you.
Add your contact information.
Craft an opening statement that summarizes your work objectives.
Outline your work history.
Add relevant skills.
Provide an overview of your education.
Format and personalize your resume.
Spell check.
Ready to start writing? Check out JobHero's Resume Builder.
1
Choose Your Resume Format
There are three main resume formats that most recruiters and hiring managers are familiar with: chronological, functional, and hybrid format. Each of these formats can also help with getting a resume through an Applicant Tracking System (ATS), as they are all standard and accepted formats.
Each format features the same basic sections in a different order, and has its own pros and cons, so it's important to know which is right for you. To figure that out, first let's consider your work experience, skills, and goals.

Chronological Resume Format
If you have a consistent work history and you're looking for a new job in the same field, then a chronological format probably makes more sense for you. The drawback is if you have a long gap in your work history, this format will make that more obvious.
Best for
Highlighting consistent work history
DRAWBACKS
Makes gaps in work history evident

Functional Resume Format
If you've had a less conventional career journey so far, have long gaps in your work history, or are making a major career shift, consider a functional format. This approach allows you to highlight your relevant skills, life experience and character, while shining less of a spotlight on traditional employment background.
Prioritizes
Accomplishments and skills
Best for
Showcasing skills when work history has gaps
DRAWBACKS
Work history information is minimal

Hybrid Resume Format
A hybrid format may make sense for someone who is mid- to senior-level, and wants to showcase both work history and leadership qualities. The downside is this may result in a resume that runs a bit longer.
Prioritizes
Accomplishments and skills
Best for
Mid- to senior-level career professionals
DRAWBACKS
Resume page length could exceed two pages
Choose the format that's right for you with our guide to the 3 Standard Resume Formats.
2

Add Your Contact Information
The first thing people should see when they glance at a resume is your name, and how to reach you. Your name should be formatted in a larger bold font, so it stands out, and beneath that in regular sized font, your up-to-date phone number and email (and mailing address, if you want). You can also include your LinkedIn profile and professional website if you have one.
3

Write an Opening Summary
People are busy. Your first job is to make their job of hiring you easier. Write a short, impactful two- to three-sentence summary of your overall experience and personal career objective and place it below your contact information.
Both the tone and content are important here. Your voice should be professional and clear. In terms of content, quickly communicate your career goals, your strengths and what makes your experience different. Speak to your unique skills and work history while painting yourself and your experience in the best light possible.
Here's an example:
"Driven marketing professional with a proven record of managing and directing projects, providing educational training and coaching to employees, and positively transforming workplace cultures. Flexible and motivated with the ability to work successfully both independently and on a team."
For more examples of what a resume summary should look like, check out our Resume Summary & Objective resource page.
Choose from fully customizable, industry-specific formats written by experts

Ensure compatibility with Applicant Tracking Systems

Save time with sleek and stylish professional design templates
Build Your Resume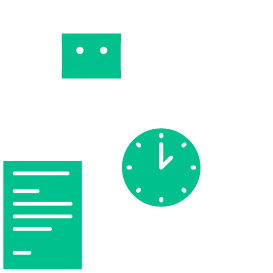 4

Outline Your Work History
The work experience section will vary in length and information depending on how many years you've been working and the resume format you choose, but will always include a list of your relevant work history.
Chronological Resume Format
Here's how to list your work history for a chronological resume format:
This section is the main focus of a chronological resume and should be given special attention. Here's how to set it up:
Current position first, followed by the rest of your work experience in reverse chronological order
Dates worked, job title, and the company name for each position held
Location of position (optional)
Bullet points for main responsibilities, up to six for each position
Functional Resume Format
The main benefit of choosing a functional resume is that it emphasizes your skills and abilities rather than your specific work history. This makes sense if, for example, you are considering a major career shift and want to communicate the relevance of your skillset in a new context. A functional resume is also a good format if you have major gaps in your work history to which you'd rather not draw attention.
Hybrid Resume Format
A hybrid resume format is a blend of both the chronological and functional resumes. The work history section of a hybrid resume follows the same structure as a chronological resume. The difference is the placement of this section on the resume page itself (following your skills, rather than proceeding them).
Here's what this section can look like:
Marketing Director
Rue de Violet Publications, Atlanta, Georgia
2004 - Present
Created and managed weekly, monthly, and annual digital marketing campaigns
Managed a creative marketing team of 10 manager-, assistant-, and intern-level employees
Designed and built an internal CRM program with new and existing company and client data
For more information on writing your work experience section, view the How to Write Your Resume Work Experience Section page.
5

Add Relevant Skills
In the skills section, list approximately 10 of your most relevant skills. Begin with any relevant hard or technical skills—meaning skills that are directly related to specific technical knowledge and training required for the job you are interested in. Follow with "soft" skills, such as relevant personality traits like leadership, communication or time management.
As you write this section, review the job description carefully to make sure you're echoing the language used for the required or preferred skills for the position. The closer the language of your skills section is to the language used in the job description, the easier it will be to get your resume through an Applicant Tracking System (ATS).
Examples of hard skills:
Proficient with Final Cut Pro video editing software
Certified in CPR
Licensed cosmetologist
Military combat veteran
Fluent in Spanish
Examples of soft skills:
Excellent collaborator
Creative lateral thinker
Empathic communicator
Proven leadership abilities
Here's an example of some relevant soft skills you would want to showcase if you're applying for a job in retail
For information on writing this section, read JobHero's 3 Simple Steps to a Stellar Resume Skills Section.
6

Provide an Overview of Your Education
If you have more than two years of experience out of college, you can set your education section up as follows:
University/college name
Major
Degree
Graduation year
If you graduated from college within the last two years, you can consider the addition of the following after your graduation year:
Relevant coursework
Minor
Dean's list
Honors
Study abroad
GPA
Don't worry. Even people with straight A's sometimes need to click here for more detailed advice about when it's appropriate to mention your GPA
If you don't have an extensive educational history, be sure to list any licenses and certificates you've earned, if they're relevant to the job for which you're applying.
Find more information on when and how to add these certifications with the Best Way to List Professional Certifications on Resumes article.
7

Format and Personalize
A few things to remember to get your resume formatting right:
Font and font size might seem like minor details but trust us, these things matter.
Let's now take a moment to discuss fonts.
When you get them right, font and font size are factors the reader should never even notice. But these details can help communicate what's important at a glance, and also express a little about your individual style and personality. For example, if you're applying for a job in the field of design, your choice of font means a lot. In most cases, fonts should be simple, clear, elegant and above all, never a distraction.
Any variations in font size should be uniform and help to clarify the way your resume is organized.
Remember, the people who read resumes are swamped: your first goal is to make it easy for the reader to see why you would be a valuable addition to their team. In this context, choice of font and font size can be a powerful way to communicate that you are a clear thinker and can present information in ways that can be easily understood at a glance. Above all, be consistent.
While your resume should express your individuality, font choices are not the time to get super arty or obscure. Stick to fonts that will work on most computers—such as Cambria, Calibri, Arial, Times New Roman, or Helvetica.
For more information on how your choice of font can impact getting your resume past an Applicant Tracking System.
When it comes to font size, your resume is one situation in which bigger isn't necessarily better. The majority of your resume should be
11pt or

12pt

font size. You can go up to

14pt

or

16pt

font size for titles and also use bold for these headings.
Make sure your format is perfect by using one of our Resume Templates, or get more information on personalizing your resume with Fonts and Font Sizes.
8

Remember to Spell Check
Make sure to run your resume through spell check before sending it off.
Have someone else look at your resume. A second set of eyes is always a good idea when checking for typos or errors you might have made.
Save and submit your resume as a PDF, so that the information will stay exactly how you formatted it.