Featured in:
What are Soft Skills?
Soft skills refer to how you achieve work goals and include attributes that range from leadership to work ethics to attitude.
Soft skills are sometimes referred to as: interpersonal skills, social skills, communication skills, people skills or life skills.
They're necessary for career success. So, when you're applying for a job, you need to specify which soft skills are your strongest.
However, what makes them "soft" skills is that they're not always easy to prove, demonstrate or quantify with hard numbers. Soft skills tend to be supported by anecdotal evidence.
IIt'snecessary to understand this soft skills definition because you also need to feature them on your resume balanced with hard skills!
Soft skills versus hard skills
Hard skills, by contrast, refer to what you do to achieve a work goal. Hard skills are much easier to prove, demonstrate. or quantify than soft skills.
For example, a person who is a web developer might possess hard skills like JavaScript fluency, app development or debugging. At the same time, their soft skill set includes written communication, teamwork and focus, skills just as crucial to performing the job.
To make this distinction crystal clear, here are some examples of both.
We've got plenty more examples of soft skills below –– but to better understand how to include the right mixture of hard and soft skills, check out our full
How to Write Resume Skills
guide.
130+ Top Soft Skills
Let's take a closer look at the top 10 types of soft skills: Time management, decision-making, work ethic, teamwork, creativity, conflict resolution, emotional intelligence, critical thinking, interpersonal skills and empathy.
Then, we'll break each of these main abilities into additional related soft skill examples.
Time management is how we organize and balance our time between activities to achieve goals. Good time management maximizes productivity and reduces stress.
Related time management skills:
Prioritization
Meeting deadlines
Calendar management
Self-motivation
Focus
On-time delivery
Project length estimation
Goal setting
Scheduling
Delegation
Planning
Short-term goals
Long-term goals
We all face situations in life that require us to make choices. To reach a wise decision, you must gather information, identify your goals and weigh the consequences. Decision-making in the workplace helps determine what can make or break a business opportunity.
Related decision-making skills:
Judgment
Analysis
Assessment
Intuition
Emotional intelligence
Leadership
Inclusiveness
Thoughtfulness
Weighing calculated risks
Business forecasting
Alternative considerations
Predictive modeling
Data-driven decisions
Employers look for candidates with a strong work ethic because they are trustworthy and reliable. Employees with excellent work ethic stay focused on tasks for as long as necessary to get them done. They also bring honesty and integrity to the workplace.
Related work ethic skills:
Motivation
Trustworthiness
Responsibility
Hardworking
Detail-oriented
On time
Honesty
Positive attitude
Task completion
Exceeding expectations
Discipline
Integrity
Quality craftsmanship
Teamwork divides big tasks into smaller pieces; people work together to meet deadlines and reach goals. Team spirit is beneficial to efficiency, morale and motivates your team to share ideas and responsibilities.
Related teamwork skills:
Team mentality
Collaboration
Cross functional
Following instructions
Communication
Collective attitude
Goal oriented
Meeting productivity
Respectfulness
Accountability
Rapport building
Shared responsibility
Group motivation
Diplomatic feedback
Creativity is essential in the workplace because it brings innovation. Boosting creativity in the workplace helps drive business forward. It means taking you and your team out of your comfort zone and unlocking fresh ideas.
Related creativity skills:
Creative solutions
Brainstorming
Outside-the-box thinking
Creative problem-solving
Imagination
Visionary
Unique approaches
Experimentation
Lateral thinking
Open-minded
Idea generation
Innovation
Creative collaborations
Meeting contribution
Having good conflict resolution skills improves work harmony and productivity. This skill cultivates stronger work relationships, makes teams function better and improves work happiness.
Related conflict resolution skills:
Diplomacy
Constructive solutions
Impartiality
Fairhandedness
Interpersonal communication
De-escalation strategies
Dispute mitigation
Listening
Mediation
Objectiveness
Two-sided solutions
Agreeableness
Stress reduction
Emotional awareness
Cross-functional improvement
Emotional intelligence is the ability to manage your emotions to relieve stress, communicate effectively and defuse conflict. Empathy helps you understand different perspectives to be more patient, predictive and pleasant to the people with whom you work!
Related emotional intelligence skills:
Empathy
Compassion
Social awareness
Sensitivity
Social justice
Reading clients
Customer service
Interpersonal skills
Deep listening
Mindfulness
Communication
Identifying tension
Emotional support
This skill refers to analyzing difficult situations and being strategic at assembling information. Critical thinking saves companies money, can improve workflow and solve problems.
Related critical thinking skills:
Analysis
Data selection
Multi-prong solutions
Interpretation
Research
Inference
Bias identification
Reasoning
Trend recognition
Data forecasting
Clear presentation
Interpersonal skills cultivate effective communication with individuals and groups. They help us interact and work better with others. Whether you use them in the workplace or your personal life, these skills are key for success and human connection.
Related interpersonal skills:
Active listening
Dispute resolution
Written communication
Oral communication
Teamwork
Expressing appreciation
Positive attitude
Friendly personality
Agreeableness
Collaborative spirit
Tension reduction
Team building
Bonding activities
Those with high levels of empathy use compassion as a tool to have a deeper understanding of a situation. It helps build meaningful relationships throughout your career and personal life. Employees value this skill because it creates genuine connections when working with clients or stakeholders.
Related empathy skills:
Deep listening
Colleague relationships
Cultural sensitivity
Respect building
Mindfulness
Body language interpretation
Interpersonal relations
Thoughtfulness
Expressing gratitude
Generosity
Rapport creation
Soft skills are critical for your personal and professional growth. In the workplace, they demonstrate motivation and initiative.
Employers rely on their employees' soft skills to develop and establish professional networks in the workplace.
Create your own professional resume in just minutes.
Try our resume builder today
Build Your Resume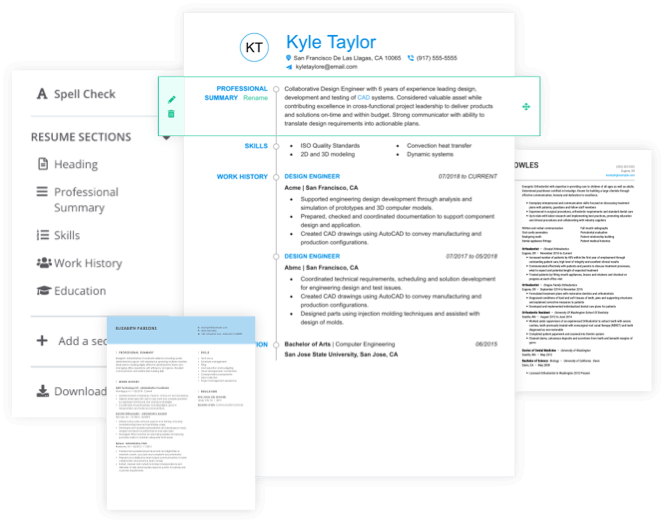 How to Showcase Soft Skills
In a competitive job market, the right soft skills can help you set yourself apart from the employer's stack of candidates.
Follow these expert strategies to sell your soft skills for resume, cover letter and interview:
How to showcase soft skills in your resume
1. Choose soft skills relevant to the job.
Use the job description to identify the specific soft skills for resume inclusion. Then, you can arrange soft skills throughout your resume.
2. Strategically place soft skills in the following sections:
Summary paragraph

This section of your resume is right at the top and serves as the primary sales pitch for your resume. Mention the most important two or three skills you have that the employer seeks in this section. After all, if you don't hook their attention here, the hiring manager may not keep reading your resume!

Work History

You can mention examples of results you achieved where critical thinking and good decision-making skills were key. You can also provide examples of past leadership or management skills that show that you understand people and how to motivate them to perform.

Skills section

To make your resume easy to scan, include a skills section with six to eight of your top qualities. Bullet points help to make it easier to read. Make sure you have a balance of both hard and soft skills!
How to showcase soft skills in your cover letter
Showcase your employer-sought soft skills in a cover letter using them to describe examples of result-driven accomplishments.
To impress recruiters, highlight moments from previous roles where you demonstrated proven dependability, time management and strong work ethic. These particular skills help show that you are reliable and trustworthy.
Here is an example of what you can include in your cover letter:
"In my previous role, I displayed both initiative and creativity by implementing an interactive map that showcased the company's store locations. This became part of a broader marketing campaign targeting curbside pickup services for our products. From start to finish, my team members and I impacted our customers with brand awareness and solutions during the pandemic lockdown, establishing new interest in our company."
Be sure to check out our Cover Letter Builder if you want additional help writing your cover letter. It makes crafting a cover letter quick and easy and will guide you through the process in minutes!
How to showcase soft skills during your interview
In a competitive job market, demonstrating soft skills will set you apart from other candidates. Here are the top three soft skills that will lead to a meaningful interview:
1. Culture fit
Prepare in advance by researching the company's culture. What qualities does their business value, creativity and innovation or dependability and quality? The information you find will define the proper way to present yourself to the organization. Adapt your responses according to the goals and values of the company.
2. Communication
Strong communication is essential in any role. Recruiters value candidates who can get their points across clearly and concisely. This paves the way to building successful relationships with stakeholders and senior leaders. So, communicate well and let employers know it's something you value, too.
3. Problem-solving
Interviewers will ask for examples of when you've been able to work independently or with the team to solve challenging situations. Before your interview, prepare several examples of your best problem-solving experiences. This could include scenarios when you used critical thinking to find a solution. Whatever anecdote you give, frame it in a problem-action-solution way to provide a clearer narrative.
Get prepped with JobHero's most commonly asked interview questions to further prepare for your interview.

Don't miss out on your
dream job
— use JobHero's Resume Builder to create a resume that serves as the best representation of yourself: a true professional!
Get Started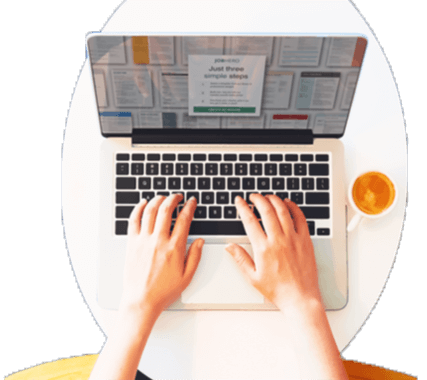 How to Improve Soft Skills
Soft skills impact your success: they boost your productivity, help manage your reputation and create a path toward career advancement.
Here are simple life practices that will help sharpen your soft skills:
1
Stay calm.
Learn to manage your stress. Try meditation or exercise as strategies! Take a deep breath and avoid panic, distemper or rude remarks. Channeling your energy in a positive direction will allow you to communicate in times of need, be strategic and keep a professional demeanor.
2
Take every job or task seriously.
You will develop a strong work ethic if you practice mindfulness in all things you do and focus on quality. Your soft skills will blossom if you perform every task with attention, intention and clear focus!
3
Be positive.
Employers want to hire positive people with upbeat attitudes. They make better employees because they're more agreeable and likely to have warm relations with clients and co-workers. If positivity doesn't come naturally to you, try practicing gratitude––reminding yourself to be thankful can lead to a more optimistic view of the world.
4
Get organized.
Organization demonstrates your attention to detail. It also cultivates time management and shows that you are a reliable resource. Avoid clutter and stick to deadlines and timelines. Start using a calendar and set up a daily routine. These habits will lead to stronger soft skills overall!
Soft skills build your confidence and help you integrate into a new role and establish yourself as a valuable team member. Improving your soft skills before you get a new job will also make beginning that new role easier!