Featured in:
What Are Soft Skills?
Soft skills play an important role in our daily lives. They influence how you interact and work with others and can range from leadership to work ethics.
Soft skills are also critical for career success. They help demonstrate that you have emotional intelligence and that you are there for the long run. These qualities show the employer that you are an asset to the company.
Recruiters look for candidates who have the knowledge, understanding and personal attributes that can contribute to the company's success. When it comes to your career, soft skills increase your ability to gain employment and maintain it.
Employers also value soft skills because they indicate whether the candidate has the commitment and motivation for the job.
Types of Soft Skills
Soft skills are the personal traits that you use to socialize and build lasting relationships. They're a combination of people skills, career attributes and emotional intelligence that you use to communicate, achieve goals and even solve problems.
Let's take a closer look at the top ten types of soft skills:
Time management is how we organize and balance our time between activities to achieve goals. Good time management maximizes productivity and reduces stress.
We all face situations in life that require us to make choices. In order to determine a correct decision, you must gather information, identify your goals and consider the consequences. Decision making in the workplace helps determine what can make or break a business opportunity.
Employers look for candidates with a strong work ethic because they are trustworthy and are reliable. Employees with excellent work ethic stay focused on tasks for as long as necessary to get them done. They also bring honesty and integrity to the workplace.
Teamwork divides difficult tasks into simpler ones, to work together to meet deadlines and reach goals. Teamwork is important because it inspires creativity and motivates your team to share ideas and responsibilities.
Creativity is essential in the workplace because it brings innovation. Boosting creativity in the workplace, helps drive business forward. It means taking you and your team out of your comfort zone, and unlocking fresh ideas. This includes creative thinking and creative problem solving.
Having good conflict resolution skills helps resolve conflicts in a more professional and respectful way. This skill brings balance and cultivates stronger work relationships.
Emotional intelligence is the ability to manage your emotions to relieve stress, communicate effectively and defuse conflict. It uses empathy to understand different perspectives.
This skill analyzes difficult situations and is strategic at gathering information. The goal is to evaluate and come up with realistic solutions.
Interpersonal skills cultivate effective communication with individuals and groups. They help us interact and work well with others. Whether you use them in the workplace or personal life, these skills are key for success.
Those with high levels of empathy use compassion as a tool to have a deeper understanding of a situation. It helps build meaningful relationships throughout your career and personal life. Employees value this skill because it creates genuine connections when working with clients or stakeholders.
Public speaking
Attitude
Active listening
Communication skills
Leadership qualities
Networking
Problem-solving
Adaptability
Organization
Collaboration
Stress management
Persuasion
Social skills
Soft skills are critical for your personal and professional growth. In the workplace, they demonstrate motivation and initiative.
Employers rely on their employees' soft skills to develop and establish solid contacts and professional networks in the workplace.
Don't miss out on your
dream job
- use jobHero's Resume Builder to create a resume that serves as the best representation of yourself: a true professional!
Get Started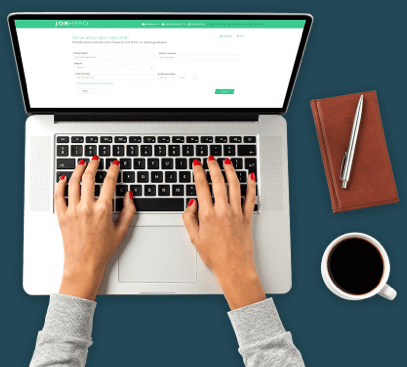 How to Showcase Soft Skills
In a competitive job market, you need the right combination of education, experience and skills to stand out. Soft skills can help you set yourself apart from the employer's stack of candidates.
While most of your qualifications are based on experience and results, soft skills are not tangible, and it's up to you to highlight them during your job hunt.
Follow these expert strategies to make your soft skills pop throughout your resume, cover letter and interview:
How to showcase soft skills during your resume
Soft skills are based on personality traits; you'll rely on them to excel in the workplace. Your resume creates the perfect opportunity to introduce hiring managers to your unique set of soft skills.
To showcase soft skills in your resume, choose the ones relevant to the job you are applying for. Use the job description as your guide to help identify the specific skills that the employer is looking for.
For instance, if you are applying to be a nurse, aside from medical tasks and clinical experience, the hospital administrator will want friendly and reliable nurses. In this case, you can add soft skills throughout your resume to demonstrate that you are passionate about patients' well-being.
Examples of these would be:
Empathy
Problem-solving
Adaptability
Communication
Time management
Decision-making
Collaboration
Leadership
Patience
Active listening
Creativity
These skill sets will show that you can remain calm through emergencies and evaluate a situation to determine a course of action. On your resume, you can strategically place soft skills in the following sections:
Summary paragraph
Use soft skills to demonstrate that you are qualified for the job that you are applying for. That can include strong verbal and written communication skills. If the position requires customer service, you can emphasize how you have successfully interacted with the public or clients.
Achievements
You can mention examples of results you achieved where critical thinking and good decision-making were key. You can also provide examples of past leadership or management skills that show that you possess an understanding of people and how to motivate them to perform.
Skills section
Not sure how to start your skill section? Write down your most marketable abilities and distinct set of skills, particularly your soft skills.
Skills section
Not sure how to start your skill section? Write down your most marketable abilities and distinct set of skills, particularly your soft skills.
Follow these three simple steps.
Step 1: Review the job posting.
This will help identify the skills that impress the employers. Then write down your most marketable abilities and distinct set of skills, particularly your soft skills.
Step 2: Choose the right skills.
Create a skills section that represents you as the ideal candidate. Keep in mind that you can mix the three different types of skills.
Hard skills are abilities that are learned and can be quantified.
Technical skills are industry-specific. They require certification.
Soft skills are traits that define your personality.
You can mix both hard and soft skills; let your industry dictate the content of your resume skills section. However, there are some key universal soft skills that you can always include:
Communications
Conflict resolution
Delegation
Problem-solving
Organizational skills
Dependability
Customer service skills
Leadership skills
Patience
Empathy
Adaptability
Management skills
Forecasting
Public speaking
Mentoring
Step 3: Stay relevant.
Create a solid list of six-to-eight skills and organize in bulleted format. Arrange your skills to place the most critical skills — those listed as required in the job post — up top. Then, add your soft skills to the bottom of your list. Avoid skills you might have on your list that do not relate directly to the job to which you are applying.
How to showcase soft skills during your cover letter
A cover letter is an opportunity to introduce yourself to the recruiter formally. A well-written cover letter will highlight your credentials and demonstrate that your experience and skills make you a fit candidate.
Keep your cover letter relevant by tailoring it to match the job description by incorporating employer-sought soft skills. Showcase your soft skill sets by using them to describe examples of result-driven accomplishments.
To impress recruiters, highlight moments from previous roles where you demonstrated proven dependability, time management and strong work ethic. These particular skills help demonstrate that you are reliable and trustworthy.
Here is an example of what you can include in your cover letter:
"In my previous role, I displayed both initiative and creativity by implementing an interactive map that showcased the company's store locations. This became part of a broader marketing campaign targeting curbside pick-up services for our product. From start to finish, my team members and I impacted our customers with brand awareness and solutions during lockdown, establishing new interest in our company."
For your own professional cover letters, check out our Cover Letter Builder to create a personalized cover letter in minutes.
How to showcase soft skills during your interview
In a competitive job market, demonstrating soft skills will set you apart from other candidates. Here are the top three soft skills that will lead to a meaningful interview:
1. Culture fit
Prepare in advance by researching the company's culture. The information you find will define the proper way to behave within the organization. It's your roadmap to success! Be ready to adapt your responses according to their goals and values.
2. Communication
Strong communication is essential in any role. Recruiters value candidates who can get their points across clearly and concisely. This paves the way to building successful relationships with stakeholders and senior leaders.
3. Problem-solving
Interviewers will ask for examples of when you've been able to work independently or with the team to solve challenging situations. Before your interview, prepare several examples of your best problem-solving experiences. This could include scenarios when you used critical thinking to find a solution.
To prepare for your interview, review JobHero's most commonly asked interview questions.
Create your own professional resume in just minutes.
Try our resume builder today
Build Your Resume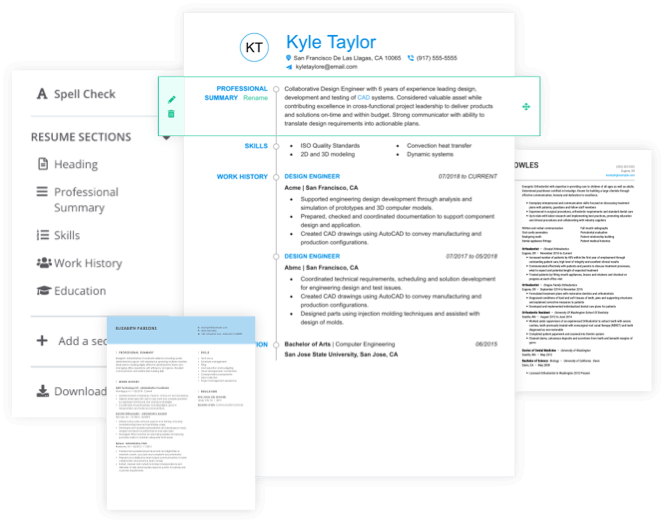 How to Improve Soft Skills
Soft skills impact your success. They boost your productivity, help manage your reputation, and create career advancement.
Let's look at simple techniques that will help sharpen your soft skills:
Stay calm.
Learn to manage your stress. Take a deep breath and avoid rude remarks. Managing your stress and channeling your energy in the right direction will allow you to stay calm and strategic.
Establish a reputation.
Demonstrate a strong work ethic. The way you get things done and interact with clients can influence how people perceive a company. This will help keep the company's image impeccable and will impact their ability to do business.
Stay organized.
Organization demonstrates your attention to detail. It also cultivates time management and shows that you are a reliable resource. Stay focused. Avoid clutter and stick to deadlines and timelines.
Stay positive.
Having a positive attitude helps create an empowering work environment. Emphasize your soft skills to show employers that you have the drive to grow and inspire others along the way.
Soft skills build your confidence and help you integrate into a new role and establish yourself as a valuable team member. Focusing on improving your soft skills shows that you are thinking about how you impact others in the workplace.