Featured in:
What are Critical Thinking Skills?
Critical thinking skills are a type of soft skill that refers to an individual's ability to be mindful, aware, fully considerate, and calculated about the choices they make.
Soft skills, unlike hard skills, are harder to prove or demonstrate to someone. No one can see the gears turning in your head –– so it's impossible to prove to someone that you're thinking long and hard about something!
However, it's easy to see that like other common soft skills, for example, teamwork, critical thinking may be essential to do a certain job well.
Importance of critical thinking
In particular, critical thinking skills will be the most sought in leadership positions, analysis or strategy, and roles in which employees have a fair amount of autonomy or responsibility — these roles often require making thoughtful judgments.
That's why it's so important for some employers to hire people with solid critical thinking skills to trust you're considerate about your actions and always do what's in the company's best interest.
Types of critical thinking skills
While critical thinking is in and of itself a skill, it can also be broken down into components or adjacent skills that fuel your analytical abilities.
Here are some of the top skills associated with strong critical thinking abilities:
Observation

Your ability to see and actively listen is important. In business, it's very useful to have someone who can read the signs, pay attention and see what's going on.

Judgment

Part of what's required for critical thinking is judging the facts or data at your disposal. It takes a keen eye to decide which information should be prioritized or what action needs to be taken. Judgment is crucial to many business decisions and something companies greatly value in employees, especially managers.

Mindfulness

Sometimes referred to as metacognitive ability, mindfulness is the ability to be aware or fully conscious. It's about really feeling the details or minutiae of a subject. Mindfulness is a deep topic and a skill that people try to cultivate for their own enrichment too. Businesses often seek candidates who show this gift of awareness and thoughtfulness.

Analysis

Analysis is an important aspect of critical thinking. It's the method by which you look at data or information and can come to valuable conclusions based upon them. Analysis is an essential part of any math, science, or technologically related job.

Inference

Sometimes referred to as inductive reasoning, inference is the ability to look at the facts or data, add them all up, and make a reasonable conclusion. It's an essential part of being a strong critical thinker. And, this skill is valued by companies that are aiming for sizable future growth.

Communication

It may seem counterintuitive that communication is related to critical thinking since it makes sense to consider thinking as an internal behavior and communicating as external. However, without good communication skills, you can't take in all the facts and information around you from coworkers, peers, management, or supervised employees. Communication helps you think and better express your thoughts!

Creative problem-solving

Your ability to problem-solve with outside-the-box thinking is super useful –– many businesses need people who can suggest creative solutions. After all, if it were an obvious answer, critical thinking wouldn't be required!

Decision making

You can't make good decisions, especially when it could impact a company and its employees, without some serious thinking. Business decisions require a lot of thought, so it's clear why companies seeking critical thinking skills in a candidate also want to know that you have. Self-awareness is especially important when it comes to leadership roles –– that's because how one carries, presents, and expresses themselves can have an incredible impact on a company and its overall morale.
Create your own professional resume in just minutes.
Try our resume builder today
Build Your Resume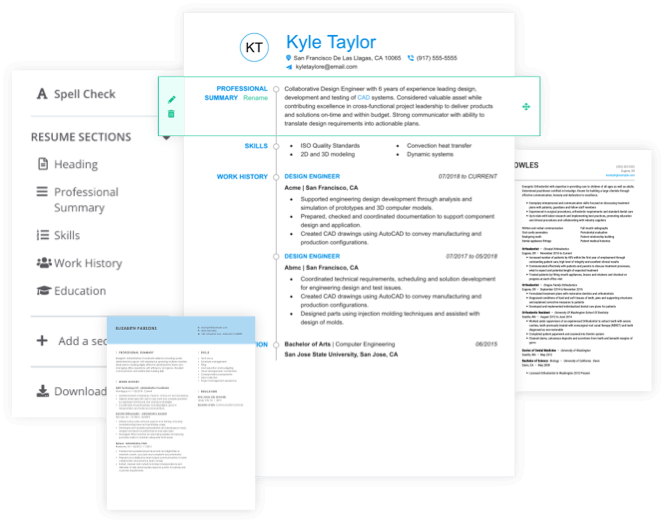 How to Showcase Critical Thinking Skills
Here we'll outline the process you should follow to include critical thinking skills on your resume, cover letter and –– if you score it –– your interview!
In all three cases, follow these steps first to ensure you know which skills to include:
The job post or ad is where employers directly inform you what skills they seek in a qualified candidate. Tailor your resume and cover letter to what the company asks for every single time you apply for a job!
If you don't, you may not seem qualified or specialized enough for the job.
First of all, only include critical thinking skills if they're mentioned in the post. Especially if those skills seem important to the job, try to have other correlated critical thinking skills. Use the same phrasing listed in the job description. That will show that you pay attention to detail and, better yet, help pass an applicant tracking system (ATS)
Larger companies usually use ATS to sort and prescreen candidates. That means, if you don't pass the ATS, your resume and cover letter won't even be seen by an actual human!
Critical thinking skills in your resume
First off, make use of our How to Write Skills page if you want the complete guide for where and how you can include skills on your resume –– it goes into greater detail and discusses both hard and soft skills.
Otherwise, there are two places to feature critical thinking skills in your resume.
The first is to have a "Skills" section and list six to eight total skills, which should include a balance of hard skills and soft skills.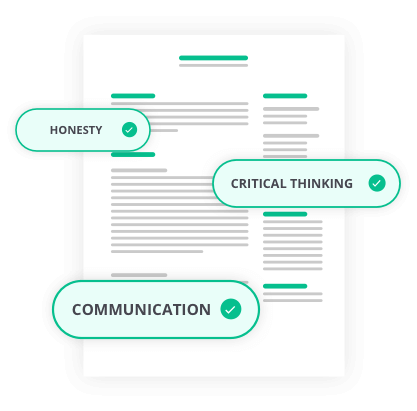 The second way is to include them in the bullet points of your work experience and achievements. For example, instead of just listing the skill "Decision making," you could choose to feature it in bullet points detailing your work history, such as "Use quantitative SQL data for critical decision-making processes."
So, if you're ready to create your resume now, get to it!
JobHero can help save you a lot of time with our Resume Builder.
That's because our builder is preloaded with skills tailored to the job title that you're applying for. It allows for customization if you want to throw in some of the skills that were mentioned in the job post or ad.
Best of all, it can save you a lot of time producing your resume since it automates the whole process so that all you have to do is follow the instructions and input your information section by section!
Critical thinking skills in your cover letter
A cover letter is your opportunity to introduce yourself in a personable way.
Furthermore, a well-written cover letter will tell a little story and give you an opportunity that demonstrates how you put your critical thinking skills to good use.
If the job demands critical thinking skills, impress recruiters, highlight moments from previous roles where you demonstrated proven analysis, report or action based upon them!
Giving a little anecdote about your critical thinking skills will make them more believable to an employer.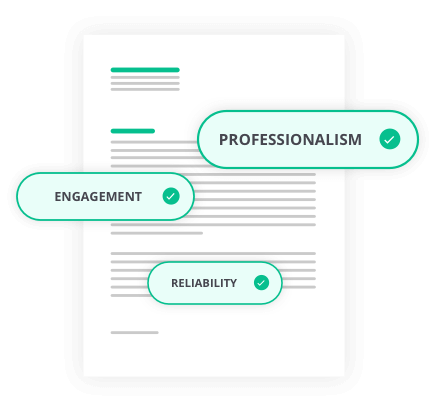 Here is an example of how a candidate could justify their critical thinking skills in your cover letter:
"When tasked with understanding how we could reverse the declining revenue trends of Q1 and Q2, I put my critical thinking skills to good use. Looking at expansive sets of financial data and collating it with changes in marketing expenditures, I pinpoint the changes that enacted the decline. Adjustments were made and by Q4, we saw increased profitability and growth again."
Now all you've got to do is tell your own story in your cover letter!
If you want a little edge putting it all together, check out JobHero's professional Cover Letter Builder, it'll help you create a personalized cover letter in minutes.
That's because it breaks down the order by which you write a cover letter and automates it. That way, all you have to do is follow the prompts and the autosuggestions –– that'll save you a lot of time and struggle, job seeker!
Critical thinking skills during an interview
Much like how you approach your critical thinking skills in a cover letter, you're going to want to use the interview as a place to justify your critical thinking skills.
So, if you know that+ critical thinking skills are central to the job you're applying for you need to sell your ability to do that to the employer. The best way is to tell a convincing story that gives details and provides evidence for how you can make such a claim.
If the interviewer asks you a common question like, "Tell me about yourself," that's the perfect opportunity to then mention your critical thinking skills.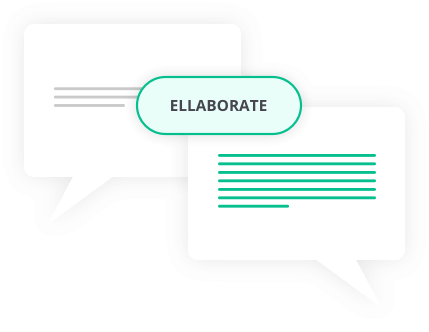 Here's an example of a strong reply to the "tell me about yourself" prompt:
"As a software engineer, my knowledge of programming language is only exceeded by my love for problem-solving and putting my critical thinking abilities to the test. I thrive on working collaboratively to combine the data other teams have assembled with my a/b testing and debugging expertise."
You can illustrate them in a story with a problem-action-solution progression, with your critical thinking skills being essential to the solution.
Here's an example of a problem-action-solution story a mechanical engineer might tell:
"My critical thinking skills have helped the teams I've worked on overcome great obstacles. For instance, when I worked for Maytag, my engineering team was tasked with designing a dryer that provided better air circulation. After much critical thought, I came up with the design for internal thermometers to test prototypes that gave information about both position and temperature. This helped us better design prototypes and develop a model that increased energy efficiency by 7% because it needed less heat when better airflow was achieved."
How to Improve Critical Thinking Skills
There are countless books, videos, groups, and seminars that discuss this very topic!
It's to be said that even performing daily tasks such as crossword or sudoku puzzles can do wonders to develop your critical thinking skills.
Of course, it depends on the exact discipline where you want to put your critical thinking skills to use to determine the most important ones to focus on. Rasmussen University released their advised list of critical thinking skills to master now for aspiring job seekers.
That's not to mention the various practices of meditation that people practice to help achieve better control over the mind!
Have no fear, job seeker! –– the fact that you're even thinking about improving your critical thinking skills shows you're on the right track!