Featured in:
Free Professional Resume Templates
What makes a professional template?
Professional resume templates are designed so that they are clean, organized and easy to read.
However, they tend to include some decorative flair and design elements such as columns and color schemes.
Most of all, what makes a professional template is the designer who labored to ensure that your information is framed in a way to make it visually appealing as well as easy to scan and read.
After all, if you want a great-looking professional resume, but aren't an expert designer yourself, leave it to the pros and use a template!
Who Should Choose a Professional Resume Templates
Professional templates can work for a wide variety of careers. After all, it never hurts to present yourself as professional for any role for which you're trying to get hired!
The types of careers that would benefit the most from a professional resume design, however, are careers in which you can imagine getting dressed up to go to work: button-up shirt, nice clothes –– that kind of deal.
Jobs like: doctors, nurses, lawyers, accountants, office workers, teachers, bankers, stock brokers and managers are classic examples of careers that would benefit from professional resume templates.
Here are four popular jobs that often use professional designs and the templates we recommend for each:
More Resume Templates
If a professional resume design doesn't seem like the exact right fit for the job that you're applying to, there are two other styles of resume designs that are somewhat similar and may better suit your needs: basic and simple resumes and modern resumes.
The basic and simple template's main objective is to be easy-to-read to and straightforward. It's more stripped-down than a professional resume is, with less design pizzazz.
They're very similar to traditional templates, which follow classic resume design principles.
Basic and simple resume templates are best used by job candidates who want an uncomplicated resume that puts the focus on your experience and not your eye for design.
Due to the simplicity, they also work well for a wide range of jobs including manual labor and service.
Construction workers, grocery cashiers, janitors, retail clerks and restaurant servers are all examples of people who would benefit from basic and simple resume templates.
On the other hand, design-wise, modern resume templates are a bit more bold and adventurous than professional resume templates.
They're meant to show an employer you're up-to-date and cutting edge.
Modern resume templates tend to work best for newer industries such as: data-entry, design, IT, marketing, programming or web development.
Professional Templates in Our Builder
If you've decided on a professional resume style and you're ready to knock out your resume in the quickest way possible, it's inevitable that you consider using a resume builder. It will save you a lot of time and effort creating your resume.
JobHero features a Resume Builder that can help you produce a resume in just a few quick minutes!
In the JobHero builder you will find the professional resume template designs we have discussed under the "Modern" and "Traditional" tabs of the resume-selection screen.
Remember, being professional never went out of style, that's why you'll find them under the traditional templates.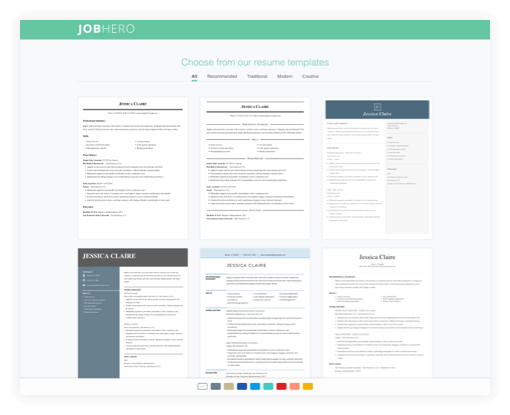 FAQ
What makes these templates professional?
These templates are considered "professional" because they have been designed by JobHero's team of experts to be readable, eye-catching and up-to-date on industry hiring trends.
First and foremost, that means these templates are designed with professional industry standards taken into account. For instance, if you use one of these templates you can rest-assured that it will be easy-to-read for a human or an applicant tracking system (ATS).
ATS are used by companies –– usually larger ones –– to pre-sift through resumes before hiring managers even see the remaining resumes. They scan your resume in search of keywords the employer is seeking. If your resume can't be read by the machine, you won't make the cut!
Using a professional template will not only make your resume look great, but it will also help make sure that you pass the ATS and get seen by a hiring manager.
So, what really makes these templates professional is that they'll help open up the corporate door for you.
How do I use a professional template to create a resume?
Using a template is easy. It can be broken down into three simple steps:
Choose a template that you like.
Enter your information into each relevant section. Your name, phone number and email address go in the contact information section. You detail your work achievements in the work history section, and complete each section after that.
Download and save!
Since a template is just more or less a preformatted document that you can use to make sure your resume design looks on-point, once you pick one you can launch straight into the writing process!
Think of it as just filling out a form and making sure that you're putting the right information where it belongs!
How do I write a professional resume?
There's a lot to consider when you write a resume, and we cover every single possible angle and questions you might have about writing a great professional resume in our Ultimate Guide on How to Write a Resume.
In it, we help you run through the decision-making process for steps like: how to choose a resume format, whether you should use a professional summary or object statement, and how to include a balance of soft and hard skills on your resume.
That's not to mention all the incredible writing tips that we give for how to make each section more impactful and impressive to employers!
It's free, useful and one of the best resources you'll find anywhere about how to write a professional resume!
Can I use a builder to write a professional resume?
Yes, JobHero features an incredible Resume Builder that comes loaded with some of our most popular professional templates.
Furthermore, using the builder is going to make it faster for you to produce a professional resume because it automates the whole writing process so that you just have to answer some questions about your work experience. It's that easy!
Builders have become an increasingly popular way for job candidates to create their resumes and cover letters because not only does it guide you through every step of the process, but it also suggests keywords and best industry phrases based on the job title that you're applying for.
That's not to mention having other perks like automatic spelling and grammar checks to review your resume before you send it out.
A builder won't just help you make a professional resume, it'll help you make a better resume that's faster and easier.
Should I use a professional resume template if I work in the arts or a creative field?
Professional resumes work well for most careers. However, if you work in the arts or a creative industry, a professional resume may not be the best template for your background.
Check out our page of creative resume templates.
While a professional resume won't hurt you as the way to organize all of your skills and work experience, it might not be as strong as a creative resume would be to help you showcase your individuality, artistic taste and style.
Using a creative resume template would better show your eye for design and capability for outside-the-box thinking, whereas a professional resume would organize your information much like an accountant's.
So, if you work in a creative industry and are applying to a company that values creative thinking, look at some creative templates that might be better suited to your field before you get set on a professional-style template.
Should I include a cover letter with my professional resume?
Yes, unless specifically instructed not to, always include a cover letter with your professional resume.
For one, it shows that you are a professional: You know the hiring protocol and can submit a cover letter without being asked. That shows professionalism, attention to detail and self-motivation.
Plus, a cover letter is a window for you to open up and expand on some of the work details that you list on your resume. Spin those details into a story about your career!
It will only help you to include a cover letter because it's more space that you get to spend advertising yourself as the right candidate for the job.