Featured in:
Free Modern Resume Templates
What makes a modern template?
Modern templates are designed to look clean and to incorporate contemporary styles for a fresh look and cutting-edge feel.
While being clean and easy-to-read are essentials of any modern resume, designers pay careful attention to current trends in resume design to produce modern resume templates that communicate to employers you're up to date.
Modern resumes often use color schemes and other subtle design elements to create a sense of visual intrigue. However, as is common with most modern templates, minimalism tends to be a prized attribute.
These designs are meant to be engaging but still allow the information that you put forth on your resume to take center stage.
Who Should Choose Modern Resume Templates?
Modern templates tend to work the best for candidates who are applying for jobs in newer, younger industries. They're an ideal fit for jobs in media, communications, digital marketing, marketing, public relations, IT, computer programming, software engineering, or web development.
Since these designs convey a sense of modernity, using one will signal to employers that you know what you're doing and are current on best industry practices.
Here are four popular jobs that are well-suited to modern templates:
More Resume Templates
If a modern resume seems a little bit too sleek or flashy, there are two other similar styles of resumes that might be a better fit for you: basic or professional templates.
A traditional template is like a less fashion-conscious version of a modern resume. It has everything you need: It's clean, straightforward, and easy to read. However, it's going to have less design flair than a modern template.
These kinds of templates tend to be used more for entry-level roles, and retail, service, or labor-related jobs. They are unadorned and keep the focus on your information.
Professional resume templates tend to be a bit more formal than both basic and modern resume styles, so they're well-suited to careers that are more dressed-up in nature, such as doctors, lawyers, accountants, HR employees, managers and bankers.
So, if the role or company that you're applying to feels a bit more formal or old-fashioned, a professional template might be a more apt choice than a modern one.
Modern Templates in Our Builder
If it seems like a modern resume style is right for you — get your resume finished in minutes by using JobHero's Resume Builder.
It's the modern way to create a resume because it automates the whole process so that creating your resume is as easy as filling out a form!
If you use our builder, you will find 10 modern resume template designs under the "Modern" tabs of the template-selection screen!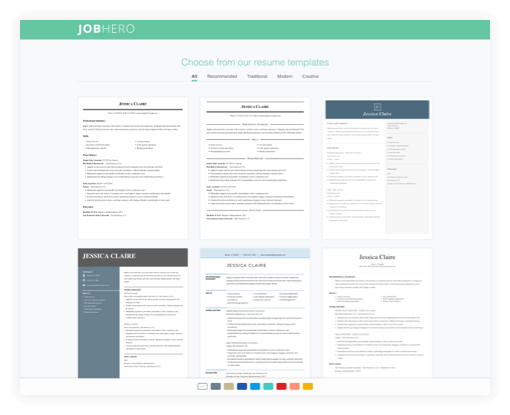 FAQ
What makes these templates modern?
These templates are considered "modern" because they were created by JobHero's design team to incorporate contemporary design trends.
Modern design styles tend to favor cleanliness and readability but with design twists that add adventure to an otherwise basic medium. For readability's sake, modern resumes tend to use newer sans-serif fonts like Helvetica, Arial, Futura, Rubik or Verdana.
Oftentimes, appealing color schemes will be used for visual effect and impact.
However, as tends to be the case, current modern designs tend to skew toward the side of minimalism and simplicity, for a design that won't detract from your work experience.
How do I use a modern template to create a resume?
Just follow this easy three-step process:
Select your favorite template.
Enter your information into each section. Write your name, phone number and email the contact section, your employers and achievements in the work history section and your education.
Download and save!
You can download your resume in a variety of formats to send it out to employers and start your job hunt!
Using a template will save you time because you won't have to come up with a resume design from scratch!
How do I write a modern resume?
A modern template will ensure that your resume looks very good — however, you still have to make sure that your resume contains top-notch writing to describe your abilities!
If you are deciding what kind of information that you should include in your resume and how you should write about it, save yourself a lot of struggle and use our Ultimate Guide on How to Write a Resume.
It will walk you through every single section of a resume to give you practical advice for you on the essentials, plus tips that will help raise your resume above the competition.
We discuss how to write an excellent summary statement, the key factors to making your work history impactful, and how to include the right mixture of hard and soft skills in your resume.
It'll walk you through the whole process of crafting a resume that gets you noticed!
Can I use a builder to write a modern resume?
Yes, it's very common for people who work in jobs applicable to modern-style templates to use resume builders.
That's because resume builders are just a modern advancement in the evolution of resume writing! No longer do you have to design your own resume from scratch, but you can check your resume's design with as little as a click!
JobHero features a wonderful Resume Builder with loads of modern templates in it!
Right after you input how many years you've worked in your role, you will arrive at the "Choose a Template" page where you will find all 10 of our modern templates under the "Modern" tab at the top of the page.
Should I use a modern resume template if I work in the arts or a creative field?
If your career is on the periphery of a creative field, a modern resume could be a wonderful choice. Say for example you work in film, but as an executive producer. While you're in a creative industry, the focus of your resume should be you being aware of industry trends, not your creative side.
If you have a role that is more directly related to creativity such as something in fine arts, graphic design, fashion design, acting, or directing you may want to consider using a creative resume template instead of a modern one.
However, a modern template is a great option if you don't work in a creative field but want to show you have an eye for good design.
Should I include a cover letter with my modern resume?
Yes! Include a cover letter with your resume, unless it is specified not to.
Since a resume and cover letter are meant to be complementary documents, if you're going to use a modern resume template for your resume try to find a similar one for your cover letter!
Keep in mind, JobHero's Resume Builder comes with complete access to our Cover Letter Builder which also features modern templates. It's a failsafe way to make sure that your application documents look alike.