Featured in:
Free Creative Resume Templates
A creative resume template is created by a professional designer to feature eye-catching compositions and assertive design features to help you stand out. These template designs may be unique, atypical, distinctive or inventive.
They don't follow the restraints of a classic resume style; instead they grab attention with creative headers, bold colors and modern fonts.
Keep in mind, it is important not to go overboard with loud colors or busy graphics. You should choose a template that has the right balance for the job you're applying to and your own personal style.
The template structures your resume in a way that is visually appealing. It includes font and color options that you can choose from.
Colors can be a powerful tool to impress the employer. Research the company's website and logo color scheme. If appropriate, you can match the colors and design style in alignment with the employer's company culture or brand identity.
At JobHero you will find a variety of creative resume templates that can be customized to match their color scheme.
Who Should Choose Creative Templates
Individuals in art-related or creative industries should choose these templates to showcase their eye for effective design and match their artistic style.
Creative templates work well for candidates with jobs in media, film, fine art, graphic design, typography, styling, craft specialties or merchandising. Those types of industries demand an eye-catching resume that shows you are design-focused.
These templates are crafted to showcase applicants' creative skill sets — so, they are appropriate for specific roles within entertainment or talent-related professions as well.
Here are four examples of popular careers that are a great match for creative templates:
More Resume Templates
If you suspect that the job you're applying to might not be a good fit — maybe it's a more buttoned-up or more formal corporate work environment — don't use a creative template! There are two other styles of resume designs that may be a better fit. Consider using modern or traditional/professional resume templates.
Modern resume templates are professional and sleek. Like creative templates, modern designs show an awareness of contemporary visual trends through their fresh color schemes, engaging compositions and clean fonts.
Modern resume templates are suitable for job seekers in cutting-edge, quick paced work settings — usually in newer industries — like: advertising, social media, public relations, copywriting, digital marketing, software design, graphics programming and web development.
If you feel like the job that you're applying to is far too straight-laced, old-fashioned or dressed-up — even for a modern resume — you should probably use a traditional template.
Traditional templates also work well for candidates that are applying for administrative roles, retail, insurance agents, adjustors, human resources or business executives.
This design is formal and neat. It is characterized by being classic and easy to read. Since this template is clean but refined, it can be used for conservative industries like medicine, law, sales, administration and accounting.
For something a little more dressed up than a traditional template you could also use a professional template. Or for something a little more dressed down, a basic, simple template might be what you're looking for!
Ready to start your resume? JobHero features a Resume Builder with the tools you need for a professional resume.
Creative Templates in Our Builder
Using a builder to create your resume will save time and hassle! Our Resume Builder has everything you need to write your own creative resume.
It determines the best templates for your level of experience and then lets you choose the template you want. Just click the Creative tab and browse the templates!
Our templates provide a great design for your resume. The builder prompts you through the process to tailor your document by section.
Whether you need to update or write a new creative resume from scratch, the Resume Builder will help you create an outstanding resume within minutes.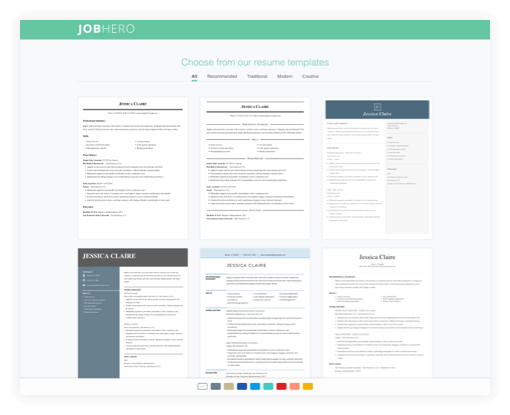 FAQ
What makes these templates creative?
Creative resume templates are known as such because of their nontraditional designs, flashy headers and adventurous color schemes.
A creative template does not follow a classic resume style. Instead, these templates are edgy with unique visual designs.
Creative resume templates are also characterized for being bold and stunning. Far from the traditional black and white look, creative templates have a variety of customizable options of skins, fonts and color schemes.
A creative resume template showcases your artistic experience in a visually appealing way. They are designed to showcase your skills and qualifications with originality and design flair.
How do I use a creative template?
Using a creative template is simple. All you have to do is complete it, in just three easy steps:
Select a template. Browse through our library of resume templates and choose your favorite.
Enter your information.You will be prompted to enter your information by section, including contact information, skills and work history.
Proofread, download and save!
How do I write a creative resume?
When writing your creative resume you should include an objective or summary statement, highlight your top work experiences, skills and accomplishments.
For specifics on what to include in each section of your creative resume, check out our How to Write a Resume: Our A-Z Guide. It will tell you every fine detail you need to know about writing a resume.
That way, you can craft a strong creative resume that helps win you an interview!.
Should I include a portfolio if I'm using a creative resume template?
Yes, creative jobs usually require samples of your work. So, if you feel it's appropriate to use a creative template, you should also have a portfolio of your work prepared to show employers.
Portfolios are most commonly used to share audio, photo or video examples of your photography, soundwork, web design, writing, broadcast media, culinary or performing arts work.
Providing samples of your work on your creative resume is an essential way to stand out from competing candidates. It shows what your work can do
You should create a portfolio by organizing samples of your proudest work. Some creative professionals choose to attach their portfolio as a shared file while others include a link to a website or dedicated social media account that displays their finest professional examples.
If you include a link to your portfolio, it's a good idea to do so underneath the email in your contact information on your resume or to provide it in your cover letter. Make it obvious and clear, so it seems like you are eager and confident to show off your professional work to an employer.
Can I use a builder to write a creative resume?
The answer is yes! Our Resume Builder has a variety of creative resume templates that you can choose from.
The builder is user-friendly and can help you produce a distinct-looking resume in minutes. You can write with confidence knowing your document will be well-designed and error-free because our builder features grammar and spell-check tools.
With creative templates such as Artistic and Remarkable, JobHero has the right tools to help you create an effective resume. It guides you through the resume-writing process to help minimize the stress of writing, and maximize your resume's potential.
Should I use a creative resume template if I work in a formal industry?
No. Creative resume templates are specific to jobs that are artistic and creative in nature. If you are in a more conservative or traditional industry, you should use a more formal resume template.
Choosing a traditional resume template is a good idea for people who are applying for formal or cor porate jobs. Because they are simple and lack color and design elements, recruiters can read through the information easily.
Check out some of our most popular resume templates. They're all well-suited to more traditional jobs.
Should I include a cover letter with my creative resume?
Yes, include a cover letter along with your creative resume.
A cover letter is a great tool to stand out from competing candidates. It shows the hiring manager that you put the work into the application process, by taking the time to research the position and the company.
Being in the creative field requires specific skill sets. Whether it is designing or developing ideas, your cover letter should highlight your talents and individuality. Use the letter as an opportunity to expand on your most valuable creative accomplishments and how you can contribute to the company's goals.
Take it a step further by personalizing your letter with specific skills and experiences that you feel are a strong match for the job. For instance, if you are a graphic artist or a designer, emphasize promoting your skills and passion.
A cover letter gives recruiters a chance to learn more about you! You can include an anecdote about how you successfully accomplished an event or exhibition perhaps to raise awareness.
Create a lasting impression with an effective cover letter. At JobHero, you will find cover letter examples that will help you get a clearer input of what to include in your letter.