Featured in:
How to Write a High School Resume 2023
If you're a student or recent grad and lack work experience, you can create a strong resume even without an employment history by selling your skills and focusing less on your work experience.
In this section, you will learn how to write an effective and professional high school resume.
Let's start with a complete breakdown by section of how to write a high school resume, in 9 easy-to-follow steps:
1
Choose the right format.
Before you start your resume, it's important to select the right resume format. A format is the  way in which you organize the information on your resume. The three main formats are chronological, functional and combination/hybrid.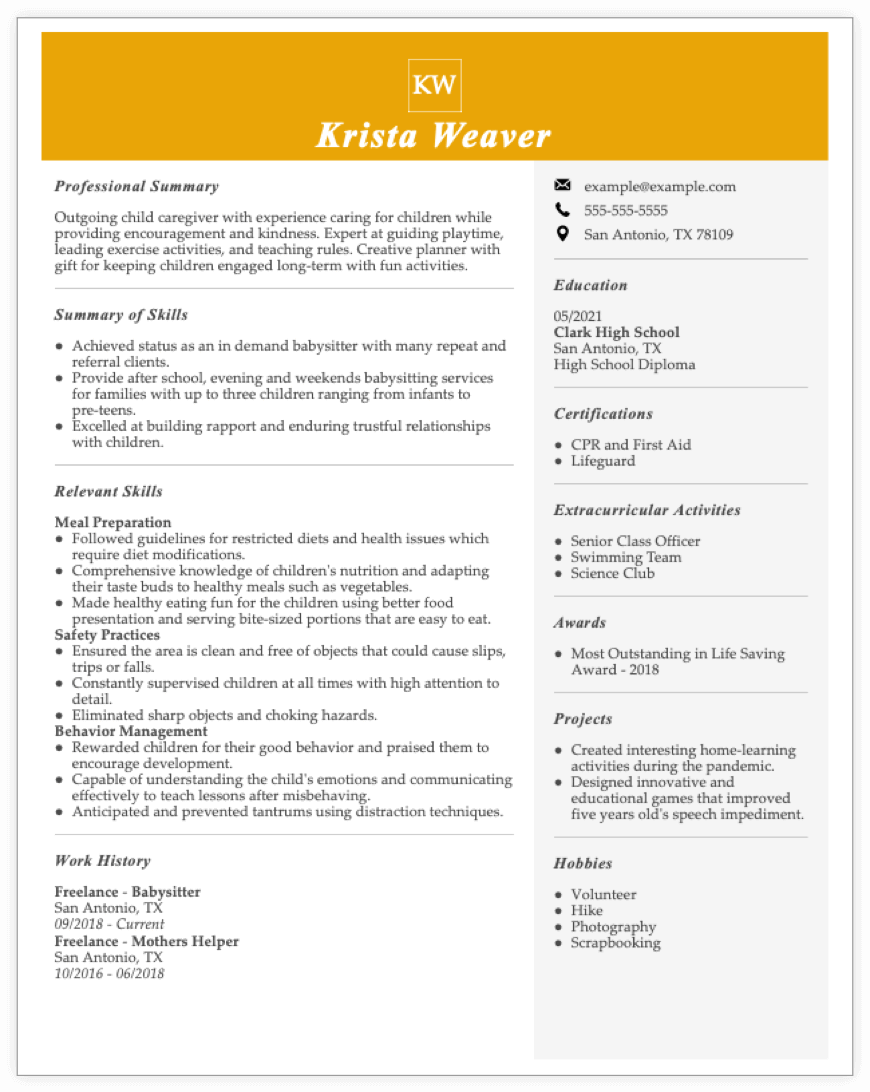 High school students or recent graduates with no work experience benefit the most from a functional resume. This type of format puts the spotlight on your professional skills rather than work experience.
However, once you've held a job or two, it's best to shift away from functional resumes because candidates with job experience are preferred in general.
If you have held down part-time or summer jobs, use the combination/hybrid format. This format better suits people with work experience.
This format combines the best of a chronological and functional format. The combination format is ideal for students with an employment history because it first highlights your skills and achievements section and then lists the work history in chronological order.
A chronological resume is recommended for experienced job seekers; it's something you'll use down the road once you've acquired five years or more experience working.
Once you choose the appropriate format for your level of experience, you can simply start adding your information section by section.
2
Include your contact information.
Every resume starts with your contact information. It should include your name, city/state location, phone number and email. When adding an email address, make sure you keep it professional by staying away from nicknames. Instead, your professional email should be as close as possible to your name: e.g., JohnSmith_01@-------------.com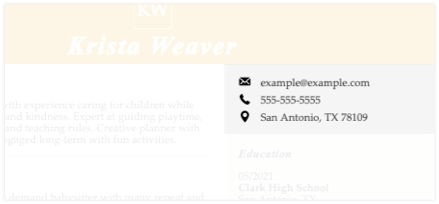 3
Write a career objective statement or professional summary.
The career objective statement or professional summary goes after your header and is a place to introduce yourself and outline your professional goals.
An objective statement is most commonly used by job seekers with little or no work experience. So, it works well for students and recent graduates because it focuses on your career goals and how they align with the company's needs.
To write a compelling introduction, review the company's job description and identify what they are looking for. Then, create a list of your goals tailored to fit the job description. Be clear and concise. Show the employer how you can contribute to the company's needs.
If you are applying for college admission, apply the same writing techniques. Carefully review the school's information and admission requirements. Then explain how the college supports the development of your degree and career goals.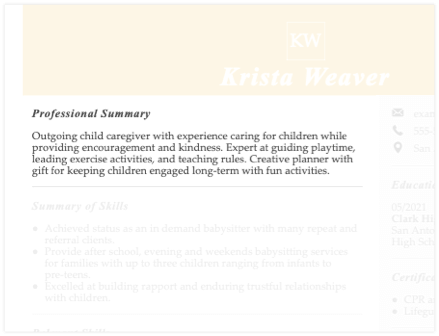 When writing your objective, be direct. Pro tip: Tailor your objective statement specifically for the college or university by including their name.
Here are examples of strong resume objectives, when applying for college admission or an employment opportunity:
Sample objective for college admission:
"To develop technical and intellectual skills at the University of Dallas for a successful career as a chemistry researcher."
Sample career objective:
"Seeking a data entry position where I can apply my administrative skills including typing speed and gain practical experience."
If you do have job experience, you can choose to start your introduction with a professional summary.
That means, write three to five sentences to convince the recruiter that your experience and skill sets qualify you for the job. For example, "As a lead designer of the student's student newspaper, I look forward to working as a writer. I can apply my unique storytelling abilities and cutting-edge design techniques for the position of Multimedia Intern."
Recruiters pay close attention to the skills section because it helps them determine if you have the abilities they require to complete tasks. The skill section is particularly useful to show that you can be productive and responsible.
There are different types of skills: hard, soft and technical.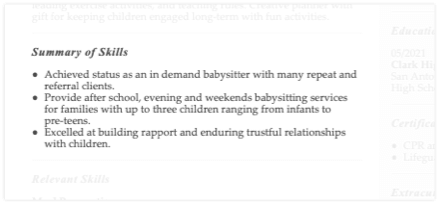 Hard skills are usually industry-specific abilities that you gain through education, practice or training.
Examples of hard skills:
Language skills
Writing
Software fluency
Soft skills combine personal and social skills to show how you interact and perform. These are the skills needed to be a problem-solver.
Examples of soft skills:
Leadership
Creativity
Critical thinking
Technical skills are a specific type of hard skill. They are usually related specifically to technology, math or science.
Examples of technical skills:
Data analysis
Engineering
Digital media
For the strongest possible skills section, create a list that mixes hard, soft and technical skills.
When listing your skills on your resume, provide a bulleted list of six-to-eight skills. Make sure you list the ones that are most relevant to the job or degree that you are targeting.
5
Add part-time or full-time jobs.
Having a work history will distinguish you from other applicants because it shows that you're dependable and responsible. Adding your work experience will make your resume more competitive.
When listing your jobs include part-time, full-time, or volunteer work. Add the company's name, city and state location, job title(s), and dates of employment or volunteering. Once you have organized your employment information, add three bullets of what you accomplished.
Hold the recruiter's attention by adding the following key elements when describing your employment accomplishments:
Add numbers or data.
Use action-packed verbs.
Include industry-specific keywords.
Numbers add credibility and demonstrate results. Focus on the achievements that helped you contribute to the company.
Here's an example of how you can list your work experience:
Sales Associate
Forever 21, Dallas Texas 10/2020 – Present
Provide excellent customer service and product recommendations to increase sales.
Responsible for receiving weekly shipment of over 50 items of weekly merchandise.
Creating product inventory log and keeping it updated.
Volunteer
Animal Rescue Center, Liberty, New York 5/2019 – 9/2020
Assisted in the organization with an online fundraising event that had over 500 people, helping raise over $4,000 in 48 hours.
Helped create flyers and posters to raise awareness.
Provided routine maintenance including cleaning cages and grooming.
When listing your education, list the name of the institution, its city/state location, along with the degree you obtained (if any) and your major(s) if applicable.
If your education is still in progress, list the degree, the name of the school, location, and your expected graduation date.
Here's are some examples:
Raleigh Charter High School Raleigh, NC
University of North Carolina Chapel Hill, NC. Expected graduation date 2024
Associate Degree, Social Politics
7
List school clubs, leadership or volunteer activities.
If you have participated in school clubs, leadership activities or volunteer work relevant to the industry or position that you are applying for, you can list these activities on your resume, in a separate section.
Even if you don't have much professional experience, these extracurricular activities are valuable, because they develop skills that you can use to contribute to the hiring company.
The best extracurricular activities for a resume:
Volunteering
Fundraising
Bilingual or multilingual
Student Council
Clubs and organizations
Sports
These activities show that you have communication, management and leadership skills. It also shows that you are committed to community outreach activities.
8
List certifications and training, honors, awards and accomplishments
Accomplishments are achievements and honors that you have excelled at. In a competitive academic and work environment, listing your academic accomplishments, certifications and awards will help you stand out from the stack of applicants.
To showcase your certifications and training, honors and awards, you will start a new or separate section and title it accordingly. Include the name of the certification or award, the organization, the date completed or if in progress, the city and state or online course.
An example would be:
Certification and Training
Cardiopulmonary Resuscitation, (CPR) (in progress)
Santa Fe, NM
National CPR Foundation (in progress)
Online Course
Honors, awards and accomplishments
When listing academic honors and awards start a separate section titled Honors and Awards. List the award title, recognition level and date.
An example would be:
National Honor Society
2020
Making a Difference Community Service Award, Dallas, TX
2019
9
Add projects or research.
Research skills are critical for some jobs and degrees. These skills are specific to the ability to gather, organize, and analyze information. They are important and used widely for the development of most degrees, because it involves search and investigation skills as well as critical analysis.
If you have accomplished projects that are relevant to the position that you are applying for, you can include them to boost your resume. You can add them to your resume as a separate section titled Projects, Personal Projects, and Academic Projects. Another option is to include them under academic projects in the education section.
For example:
Academic Projects
Part of a high school advanced summer program to be a research assistant in the science department at University of Central Florida 2021
Participated in groundbreaking research in the areas of chemistry findings.
Conducted laboratory studies to write scientific experiments.
Maintained research lab equipment and operations.
10
Include any other hobbies.
You can start a new section at the bottom of the resume, titled Hobbies and Interests.
Adding hobbies and interests provides support when there is little to no professional experience. For example, here a list of hobbies that can boost your resume:
Community outreach
Blogging
Podcasting
Photography
How to Write a College Admissions Resume + Examples
Resumes are not only for job seekers, it is also a valuable tool to submit for a college admission. Your college application should include a resume highlighting your grades, past jobs, awards and leadership activities.
The main difference between a regular resume and a student resume is that the student resume emphasizes the candidate's academic history, while a career-based resume summarizes skills and work experience.
To structure your resume for a college application, you should include the same sections as you would any normal resume:
Your name, address, and e-mail
Work experience
Special technical skills
But you should also include the following special information for a college admissions resume:
High school information with your graduation date, GPA, class rank, and SAT/ACT scores
Academic awards, publications, honors, and other achievements
Coursework (summer programs, college courses, or other specialized workshops that do not appear on your high school transcript)
Extracurricular activities
Community service
When listing your employment history, include part-time jobs as well as internships, or research experiences.
Do not leave any experience out. If you have volunteer experience, it will show your community service and leadership skills.
High School Resume Examples
If you're in high school, and have little to no work experience yet, creating your first resume can feel overwhelming. At JobHero, we provide stellar high school resume examples that will prepare you for professional opportunities.
Resume examples serve as a guide to inspire you to create a well-written and polished document. Check out these six examples of high school resumes in chronological, combination/hybrid and functional formats:
Recommended Resume Templates for High School Students
Resume templates are a tool that job seekers use to take the worry out of creating an eye-catching layout –– better yet, templates are created by professional designers. That assures they provide the structure and great design of your resume.
Using a resume template is as simple as filling in the blanks, saving you time and effort.
These resume templates are easy to use and make your resume-writing process quick and easy. Select the style you like and enter your information by section. You can also personalize your document with customizable options.
We also offer a variety of fonts, size, colors and styles created by expert designers. Your resume can stand out with our modern, traditional or bold layouts.
JobHero also has a Resume Builder that offers 25+ customizable resume templates.
Jump-start your high school resume today!
FAQ
How do I write a resume when in high school and with no work experience?
Start by preparing a list of your skills, education, and any volunteer or extracurricular activity you've done. Narrow down this list based on the job description.
Don't stress about having a limited work experience, just focus on highlighting your school achievements, extracurricular activities or volunteer work.
Emphasize your talents and skills that qualify you for the job that you are applying for.
For more information about how to write a resume, check out our How to Write a Resume, Our A-Z Guide.
How do I use a template to write a high school resume?
If you're nervous about starting your first resume, you can use a resume template. These templates are here to help you structure your resume in a fast and professional way. They are particularly useful to ensure the proper placement of information on a resume.
Resume templates are easy to use. Simply choose from our library of templates. JobHero offers a variety of designs, from traditional to modern. They include customizable headers, fonts, colors and margins.
Once you choose a template and customize it, you can fill in the blanks with your information, section by section. These easy prompts will help you create your resume in no time.
Resume templates are user friendly and very helpful. Create your own high school resume today, stress-free!
How to format a high school resume?
If you are a recent college or high school graduate with no professional experience, you should use a functional resume format. This type of format focuses on your skills and accomplishments, instead of an employment history.
If you have a bit of experience, you can use a combination/hybrid format. This format combines the best of a functional and chronological resume. It will highlight your skills and still emphasize your work history. The combination format works best for candidates with three to five years of experience.
If you have employment to add, simply list the employer in reverse-chronological order with the job title, the dates of employment, the company name, and the location. If you lack work experience, you can list internships, volunteer and unpaid experience can also count if you've never had a real job before.
While the combination/hybrid, organizes your information with the skills and qualification first and then shows the employment history and education. 
List your work in reverse order chronologically, with the most recent first. Include the dates you worked, your job title, and the company name for each position you held. Include up to two bullet points to list responsibilities or achievements.
Whether you're applying for your first job or for the next step in obtaining your degree, it's important to use a resume format that shows your skills and major accomplishments.
Take a look at the Job Seekers Ultimate Guide for Resume Format to help you choose the one that's the right fit for you.