Our Mission
JobHero is powered by a team of career experts and industry-specialized consultants who, through years of experience, know what recruiters and potential employers are looking for when they are considering hiring you. With our experience and professional knowledge, you can be sure that you're putting your best foot forward when you submit your resume and cover letter.
The unique approach that we take is tailoring all of our resume and cover letter templates to the industry itself using advice from professionals in that field. That's what's going to give you the edge over your competition when applying for a job.
Our History
JobHero launched 2014, with the goal to provide the best job-hunting tools and advice that you can use to impress a potential employer and land your dream job.
In 2018, we joined with BOLD to increase the breadth of our career-finding services. Since then, JobHero has gained new powers in the form of a resume and cover letter builder. With great tools comes great responsibility and we pledge to help those in need of career assistance.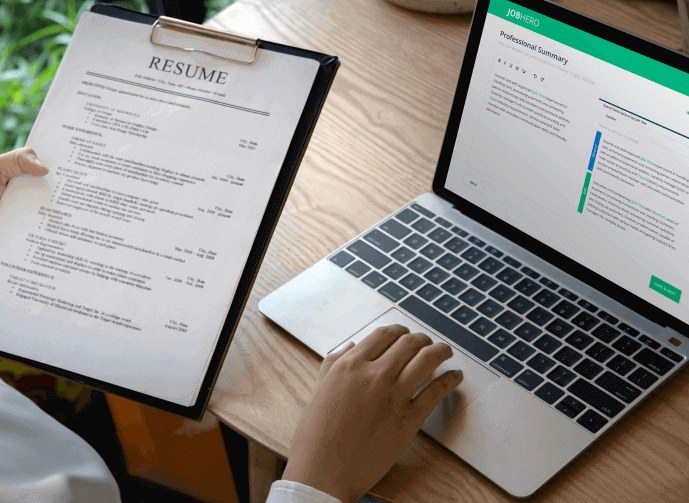 Our Resources
Part of what makes JobHero stand out from other websites is the attention we've given to make sure all of our templates and examples have been developed with the advanced wisdom of industry professionals.
You can use these customized resume examples to polish up your own.
Or, if you need an effective cover letter, we've got all the samples that you might need.
Changing industries? Or, just want to get a better overview of the job responsibilities you're signing up for? We've got hundreds of job titles and descriptions for you to peruse.
Meet the Team
Nelson Rios
Website Manager Nelson sits at the helm of our website's command center. Ever vigilant about site efficiency, functionality, and content, he provides essential ideation and execution of page improvements. He has earned a Master's degree in Graphic Design from the Atlantic University College.

Eric Ciechanowski, CPRW
Content Specialist Eric is a career specialist and resume advisor for JobHero. He graduated from Tulane University in New Orleans in 2006 with a degree in English and Philosophy and he is a certified professional resume writer (CPRW) .

Michael Martucci
SEO Specialist Michael is an SEO expert who is responsible for ensuring that JobHero's content is in alignment with your needs and interests. He has a Masters Degree from the University at Albany and a Graduate Certificate in Digital Media and Marketing from Duke University.
Operational Hours
+1 (888) 895-4145 / CST
Monday – Friday
Saturday
Sunday