You already know a resume is a critical tool in your job search, but there are certain times when you may be asked to submit a CV (or curriculum vitae) instead.
So what's the difference? Basically, a CV is much more detailed. In Latin, curriculum vitae means "course of life." As such, it is broader and deeper than a resume: a CV will usually reveal a lot more about your education, listing academic achievements, publications, and awards, as well as describing any related studies or research you have conducted. Most jobs won't require you to submit a CV, but if you get a request to submit a curriculum vitae, JobHero has you covered.
Here's everything you need to know to write a CV that gets you the job you want.
The Main Differences Between a CV and a Resume at a Glance
A CV is longer than a resume.
A curriculum vitae is usually longer and contains more detailed information than a resume. A resume is usually one page; an entry level CV is often two or three pages. If you have extensive experience, your CV may run longer.
Your curriculum vitae will contain more detailed information.
A CV covers all aspects of your education, work and experience without the restriction of length. In terms of formatting, the rule of thumb for most resumes is one page or two pages at most, and the information is limited to key facts and high level information a hiring manager should know. In contrast, a CV will dive much more deeply into your professional and academic achievements, listing scholarships, awards, conferences, and publications among other details.
One and Done
You may decide to have multiple versions of your resume tailored for different jobs but because a CV is more detailed you will probably only have one version.

PRO TIP :
When you sit down to write your CV, begin with your resume. Anything that's on your resume should probably also be in your CV. Think of your curriculum vitae as an expanded version of a resume.
Which Jobs Often Require a CV?
If you're looking for a job overseas, including Asia, Africa and Europe, you may be asked to submit a CV rather than a resume as this is a more common document for hiring in these parts of the world. In the United States, a curriculum vitae is most commonly required when applying for positions in academia, education, science, and research. (You may also be asked to submit a CV if you are applying for a fellowship or grant.)
Here are a few of the jobs that may require a CV:
Scientists
Academic Researchers
Art Curator
Teachers
Professors
Clinicians

Create your own professional
resume in just minutes.
Try our resume builder today
How to Write a CV
There are 10 basic sections to include in your CV. They are:
You don't need to include all ten of these sections and they don't have to be in the order listed above. There is some flexibility depending on your background and experience and your desired career path. Feel free to customize this format based on your individual needs. With that in mind, here's some basic guidance on how to write your curriculum vitae:
1
Start by listing your contact Information
Like your resume, your CV will begin with your name and contact information. Start with your full name, in a larger and bold font. Then add your current contact information including your email and phone number.

2
Outline your academic history
Typically, the first heading of a CV is your education rather than your most recent work experience. Under this heading in addition to the degree you earned, include the name of the school and the year you graduated as well as details such as the title of your dissertation or thesis. Your CV should list your education in reverse chronological order. So after a Ph.D, list other postgraduate degrees such as a master's degree, and then your undergraduate education. You don't need to include anything earlier than your college education.


PRO TIP:
When you list your academic history remember to highlight skills that translate directly to the job you are seeking. For example, if you have a masters degree in mathematics, emphasize the way that adds value to a position that requires advanced math skills.
After detailing your education, you should list your other achievements in order of importance and relevance to the job for which you are applying. The more significant they are to your chosen career goal, the earlier they should appear on your CV.
3
Describe your research Interests
For example, if you are an academic researcher, the first major heading of your curriculum vitae might be "Research Interests," and beneath that heading you would list your areas of focus.

4
List all your relevant publications
If you are a published author, you can include a section where you list any publications, including books and peer-reviewed journals. Publications and presentations. Include a full citation including the names of any co-authors, the date each publication first appeared and a brief summary.

5
Describe any presentations you've given
If you have delivered lectures, organized conferences or public talks, consider adding a section heading for these presentations. Detail relevant information about any talks, symposiums or lectures you have delivered. Be sure to provide the title, date and venue where you gave each presentation, as well as a brief summary of the subject matter

6
Outline your professional Experience
Outline your employment history with a section that lists the names of all the organizations or companies where you've worked, your job titles, the dates of your employment and a summary of your skills and achievements. Include both hard and soft skills here. You can break these out with bullet points.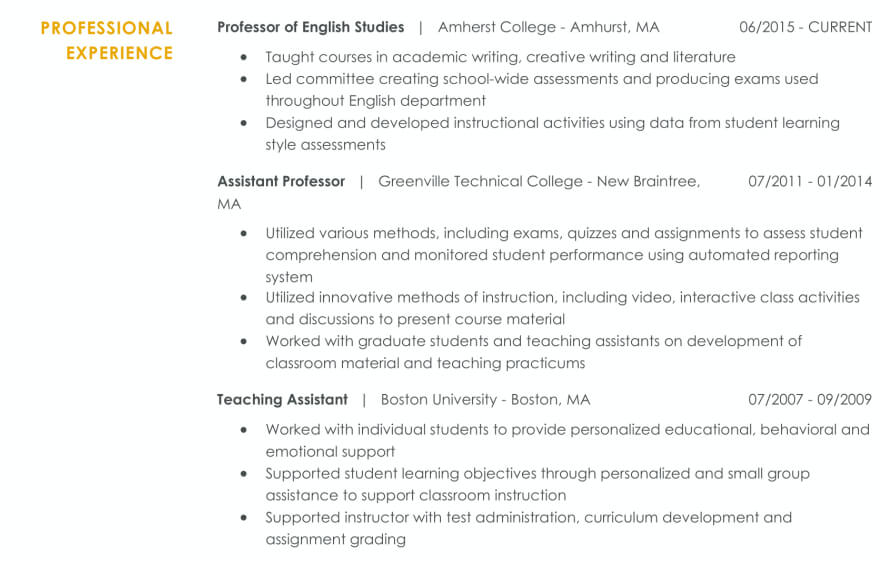 PRO TIP:
Hard skills include technical and verifiable skills such as use of expertise with a specialized computer program or use of complex machinery. Soft skills include attributes like leadership, problem-solving, and creative thinking.
7
List your scholarships, honors, and awards
Use this section to detail any honors, grants, fellowships, scholarships, or awards you earned. Remember to include the name of each grant or scholarship, as well as the name of the institution that provided it and the date you received it.

8
List any languages in which you have fluency
If it's directly relevant to your career path, you might include a section that lists the languages in which you are fluent. However, if you are applying for a position as a molecular biologist it's not necessary to mention that you can speak Yiddish. The guiding principle is always to consider whether information is relevant to a specific job application.

9
List your relevant licenses, certificates, special skills and achievements
List all your relevant licenses, certificates, and achievements. Make sure you include the name of the license or certificate, as well as the date you earned it and the institution that awarded it.

10
Note your professional memberships and affiliations
End with a section detailing all of your relevant professional memberships and affiliations. List each organization's name and location and the dates of your active membership.

2 Things to Avoid When Writing a CV
1
Oversharing
Yes, a CV is longer than a resume. But that doesn't mean the hiring manager cares how many siblings you have or where you attended summer camp as a child. As a guiding principle, ask yourself whether the information you are sharing is relevant to the job you want. If not, leave it out.
Note: If you are using your CV to apply for a job in the United States, you should not include your photo, reveal your salary history, or other extraneous personal information. But if you are applying for a job overseas, it is possible some employers may ask for private information including your date of birth, nationality, and marital status.
2
Overlooking the Basics
A curriculum vitae is longer than a resume but more words mean more opportunities for spelling errors and typos. Small mistakes like a grammar error are a red flag for any job but especially in the realm of academia and science, they can cost you a job. Don't rely on automated spell check; read and re-read your CV carefully. If possible, ask a friend to check your final draft one more time. It's always helpful to have a second pair of eyes read your CV, not only for typos and spelling but also for general readability.
How to Format Your CV
Stick to Basic Fonts
As with your resume and cover letter, the first and most important rule when formatting a CV is readability. This means sticking with a basic, sans-serif font such as Helvetica, Arial or Geneva) and keep the body of your text between 10, 11 or 12 point size. (Your name and section headings can be larger.) Make sure you are consistent in your use of bold, italic, and font sizes.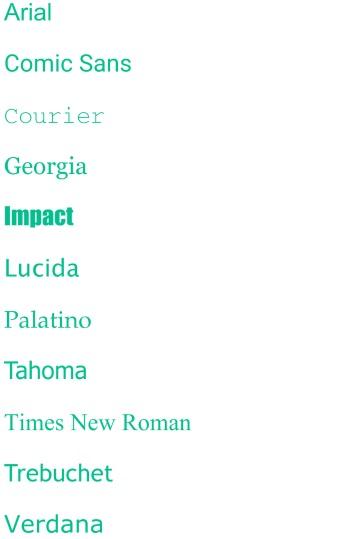 PRO TIP :
When you format your CV use the same font you chose for your resume and cover letter to create a seamless and consistent look across every element used in your job search.
Check Your Margins
Make sure that your margins are set to a standard size: s between 1–1.5 inches. It may be tempting to make your margins smaller to fit more words on the page but it's better for your CV to run long than to sacrifice readability.
Use Bullet Points
Because your CV will have considerably more detailed information than your resume, try to summarize and highlight key facts by relying on bullet points whenever possible.

Organize with Section Headers
Use section headers to organize your CV so it's easy to understand at a glance. Make section headers bold and a slightly larger font size
for example, try setting your section headers to 14
if the body of your CV is 10 or 11.