Featured in:
3 Main Resume Formats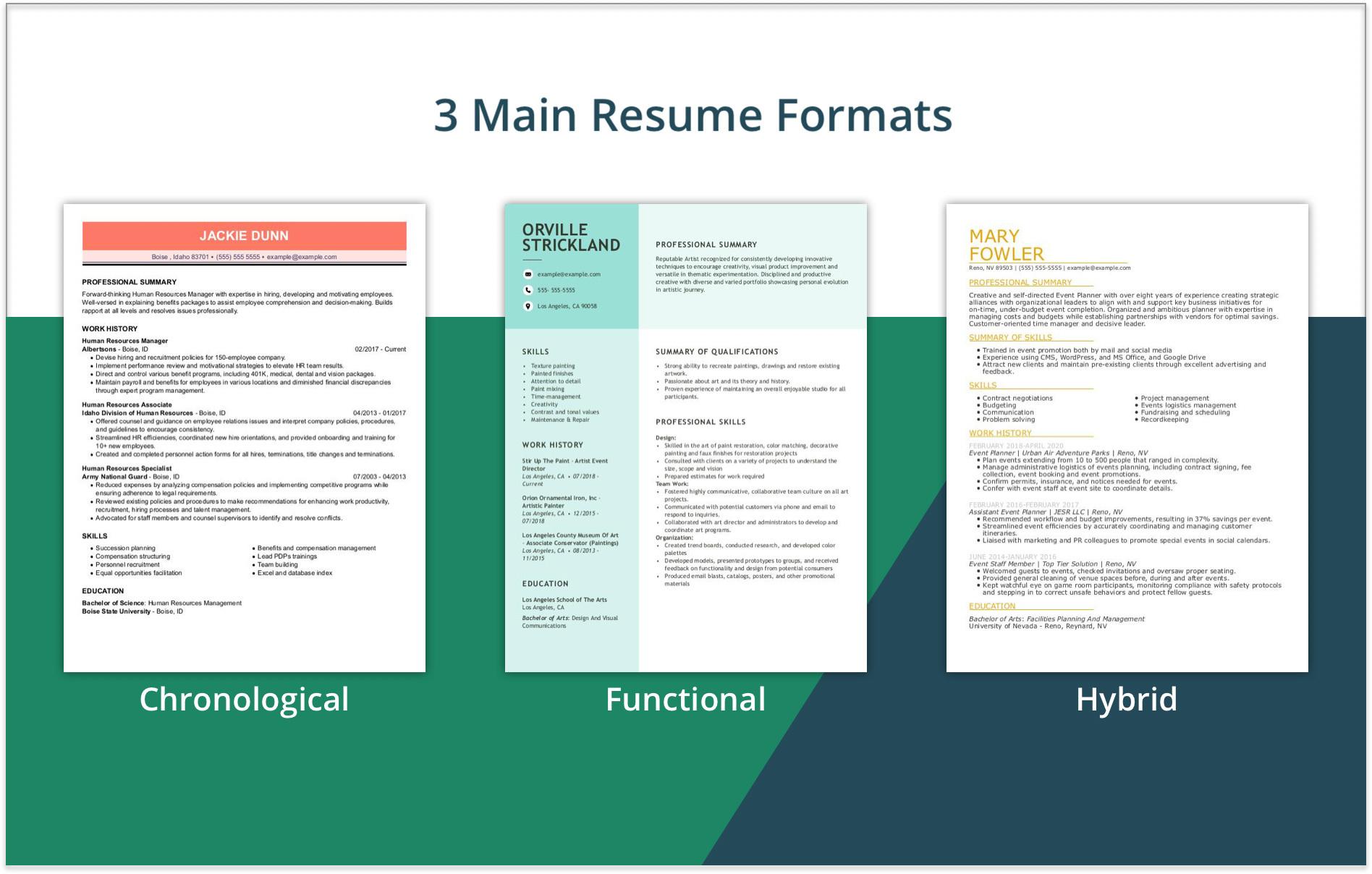 What are the 3 Main Resume Formats
A resume format refers to how you organize the critical sections of your resume. It is often confused with resume formatting or layouts, which is the process of how you set up the fonts, margins and structure of your document.
Learning which works best for you is critical because each format serves a different purpose. Choosing the right resume format will depend on your level of experience.
Let's take a look at the three most popular formats for resumes and the pros and cons of each: chronological, functional and hybrid:
Chronological resume format
The most common resume format is the chronological, which focuses more on work experience than skills. It organizes your experience, starting with your most recent job and working backward. The chronological format is recommended for job seekers with at least ten years of work experience.
Chronological resume sections should be in the following order: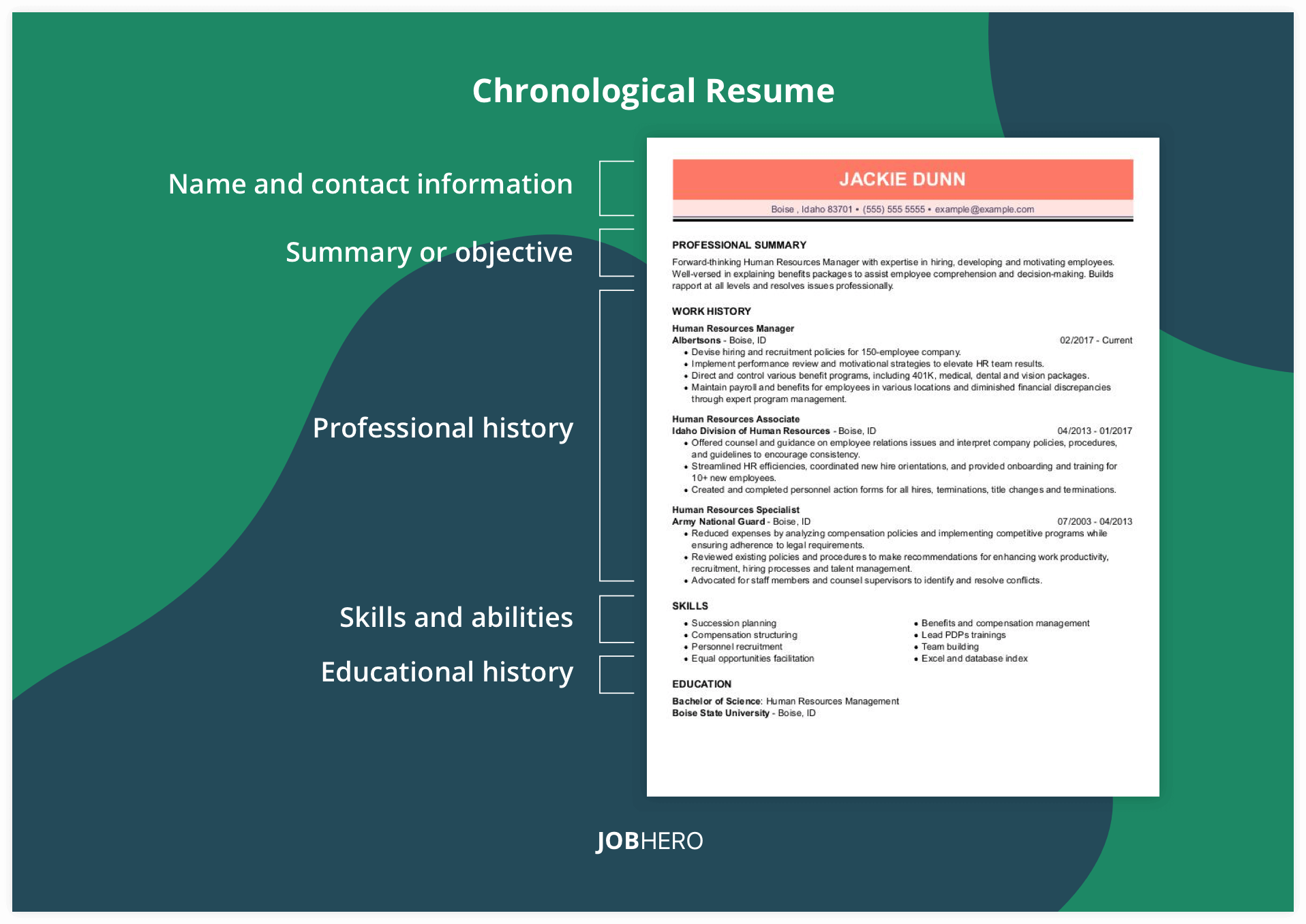 Pros
This type of format for resumes is easy to read, providing recruiters with a clear outline of your top accomplishments.

It organizes your work history in a reverse timeline, showing your career progression.

It can easily be scanned by the applicant tracking systems (ATS).
Cons
Chronological resume formats make employment gaps obvious. Because the timeline lays out your work history in reverse-chronological order, it can quickly show hiring managers any gaps in your career trajectory.

If you are just starting the workforce, a chronological format for resumes will show your lack of experience.
Functional resume format
A functional format is skills-centered. This type of format for resumes shifts the focus from your work history to showcase your skills instead. If you have zero to three years' job experience, this is the recommended format for you.
Functional resume sections should be in the following order: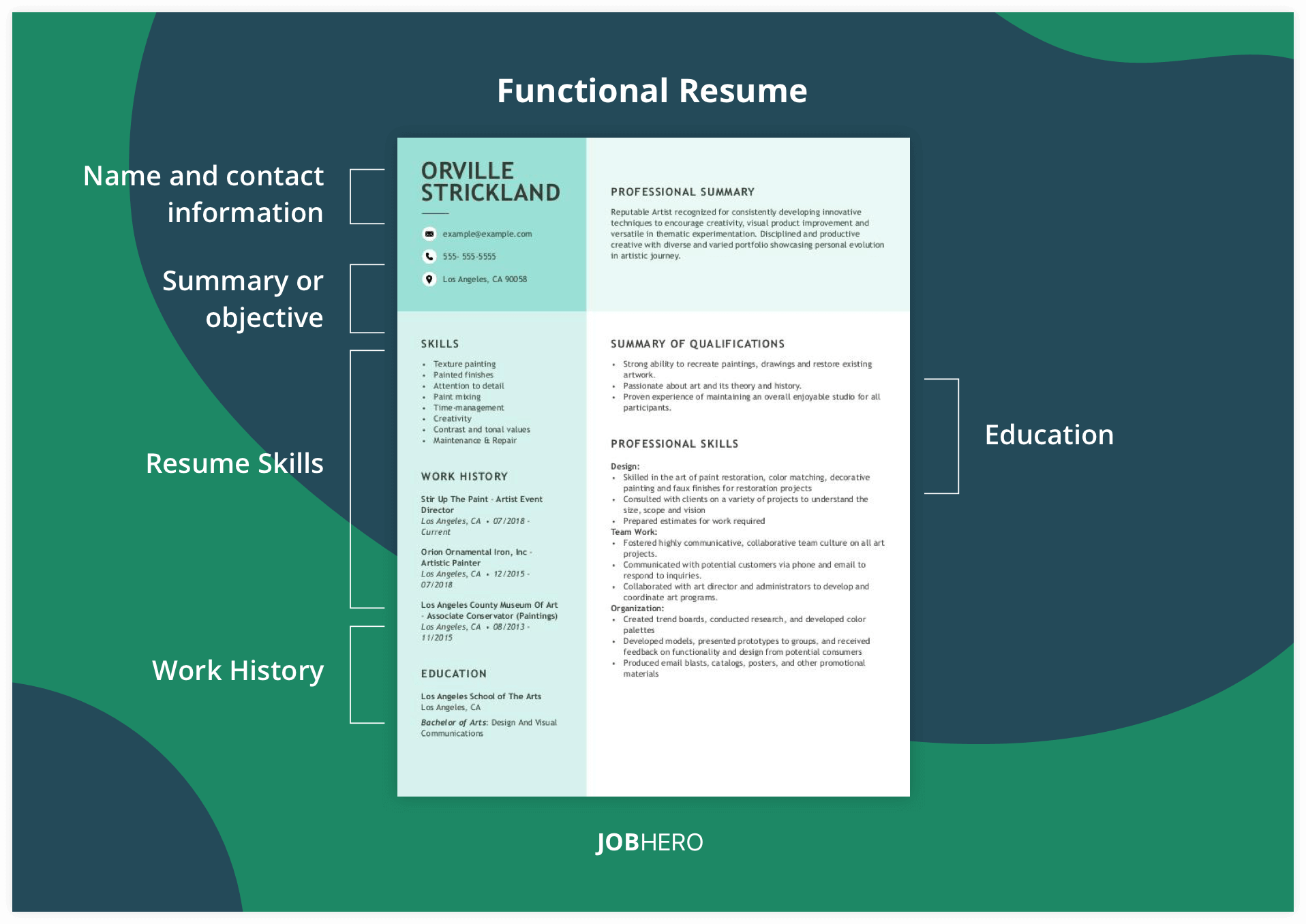 Pros
This resume format works well for recent graduates, career changers or people who don't have much experience because it emphasizes skills instead of experience.

The functional formats for resumes also work well to highlight relevant skills you've gained from an unrelated position or volunteering efforts.

It's great for job seekers with career gaps or many different jobs throughout their work history because it places the employment history toward the end and instead shifts the focus on your skills and knowledge.
Cons
Because it starts with a bullet list of skill-based accomplishments, some employers do not find the functional format resume easy to read.

This resume format doesn't provide a complete story, leaving recruiters wondering about your job experience.

Some applicant tracking systems (ATS) may not be programmed to recognize this format.
Hybrid/combination resume format
A hybrid or combination resume format fuses the best parts of the chronological and functional resume formats. It shows off your employment history in a clear timeline, starting with the most recent. It's organized to highlight both your skills and work history. Check out this format for candidates with three to 10 years of experience or those applying for a job promotion from previous roles.
Hybrid/combination resume sections should be in the following order: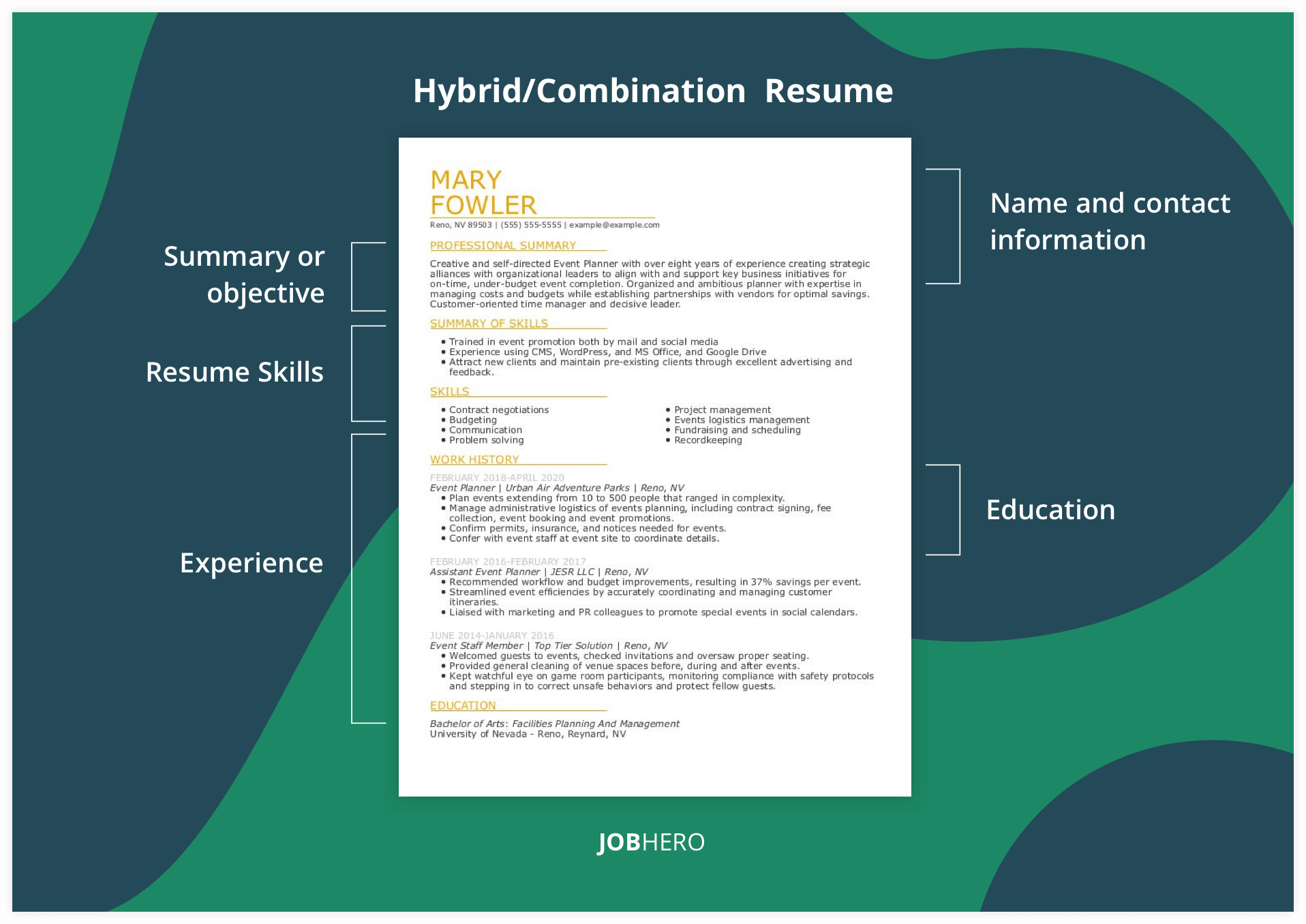 Pros
A hybrid format resume shows off a developing employment history with career progress.

Shows promotions as well as personal development.

Employers prefer it because it's easy to read.
Cons
Can emphasize gaps in work history.

The hybrid resume format may not work for you if you've had several different types of jobs because it will look unfocused and inconsistent.

This format can become longer than other formats, and the recruiter may lose interest.
Choose the Correct Resume Format
To decide which resume format you should use, consider how your skills and experience match the role you're seeking. Each resume format has a different focus, whether chronological, functional or hybrid/combination.
For instance, a chronological resume is a good choice for anyone with a long, consistent work history. You can choose a chronological resume format if you've spent the past 10 years in the same industry or have worked your way up to a higher position in a company.
Conversely, if you are new to the workforce or are employed, you may want to consider a functional format resume. Even with limited work experience, you can still demonstrate that you are qualified for the position based on your skills and most relevant accomplishments.
However, if you are a mid-to senior-level career professional, making a career transition, or seeking a promotion, the hybrid/combination resume format is ideal. This format presents your work experience and skills equally. It also organizes your information and employment history in a reverse-chronological timeline, showing off your career progression.
The hybrid resume format is also a great fit for military personnel transitioning to a civilian job. With this format, they can show how to apply their skills to the job they are seeking.
Resume formats structure your sections to show the recruiter how you qualify for the job. Whether you're new to the workforce or changing careers, it's important to use a resume format that showcases your strengths and draws attention away from your weaknesses.
Here's a quick guide to help you choose the right format.

Choose the chronological resume format if:
You have 10 years or more of work histor
Do not have gaps between jobs
Looking for an ATS friendly format

The functional format resume works great for:
Candidates with up to three years of experience.
Recent grads or new to the workforce.
Have career gaps or are reentering the workforce.
Transitioning careers or leaving the military.
Highlighting skills instead of work experience.

Choose a hybrid resume format if:
You have three to 10 years of work experience.
You are changing careers.
Can show off relevant key skills and strong work history.
Templates for Every Format
The fastest and easiest way to create a resume is using a template. Templates are pre-made layouts that you can tailor according to the job you're applying for.
JobHero has resume template formats. We offer a great selection of styles ranging from traditional to modern. Our templates provide customizable options, including fonts and colors, to set your resume apart.
JobHero also features a Resume Builder. It's an automated system designed to guide you through creating your resume. It's quick and straightforward.
Our powerful online builder does all the hard work for you. Start by choosing a resume template that you like. There are 25+ resume template formats for all jobs and industries.
The builder is intuitive and user-friendly. Experts designed it to auto-suggest word phrases by job title throughout your resume sections, such as the summary, skills, work history and education.
All JobHero's templates can be downloaded as a Microsoft Word document. We offer free downloadable templates with professional designs and a variety of color schemes.
JobHero has all the tools you need to prepare your resume for success!
Chronological
Optimize Your Resume
Follow these top four expert tips to optimize your resume:
Ultimately, the most important element of your resume is that it's easy to read. To avoid getting your resume rejected, your font and margins should meet resume-writing standards.
The standard margin for a resume is one inch on all four sides of the page. You can reduce the margins if you need extra space, but do not make them smaller than half an inch. This creates a defined and well-designed border of white space that perfectly frames your resume. If the margins are too small, your resume will look too busy and may not pass an ATS.
Having the right font will make your resume easy to read by the employer and the ATS scan. Go with a clean, clear font.
Here are the most-recommended fonts for a resume:

Avoid fonts that are cursive, too casual or fancy. When choosing a font, always go for classic and easy to read. The standard size is between 10-12 points. The only acceptable large font is for the header, which can go up to 14 for an eye-catching effect.
Avoid spelling or grammatical errors. Hiring managers may disqualify resumes when they see a spelling or grammar error. Always proofread and spell-check. Use grammar check tools to help you correct any spelling mistakes.
Be technology ready. Most companies use applicant tracking systems (ATS) to handle the initial candidate screening process.
To make your resume ATS friendly, place your contact information at the top of the page to avoid formatting mishaps that the system can't read, such as text boxes, tables, color ink, photos or graphics. Also, avoid acronyms. The tracking software may not be able to interpret certain abbreviations.
Job listings include specific keywords based on the employer's hiring needs. These are the top resume keywords recruiters, hiring managers and ATS algorithms are looking for when vetting applicants.
Carefully review the job post and identify the keywords you will use to tailor your resume accordingly.
To optimize your chances of getting past an ATS and landing a job interview, be sure to customize your resume keywords relevant to the job for which you're applying.
Keywords may include a mix of skills used by recruiters to identify potential candidates. Check out The 12 Most Important Skills to Consider When Writing a Resume that will help optimize your resume!
FAQ
What is the best format for a resume?
The most common resume formats are chronological, functional and combination/hybrid resumes. Each format has its strengths and weaknesses, so it's important to consider your work experience and skills when determining the right format for you.
For example, the chronological format highlights consistent work history, while the functional shifts the focus from work history to skills. The hybrid resume format combines both types of resumes, using a chronological timeline to lay out your employment history and showcase your skill sets.
Check out our discussion of How to Write a Resume: Our A-Z Guide.
Are all resume formats ATS-approved?
An applicant tracking system (ATS) is a software application recruiters use to scan resumes. For the ATS to read your resume, your template must have a clean layout, design and industry-specific keywords that can pass the scan.
The chronological and hybrid or combination resume formats are easier to scan by applicant tracking systems (ATS) because they organize the resume sections neatly.
While a functional resume format may become difficult to read. Without a clear work history to draw from, the ATS may not be able to sort through the different sections of a functional resume.
Regardless of which resume format you choose, the key to an ATS-compliant resume is to avoid tables and busy graphics. Most importantly, use the keywords found in the job description throughout your resume. Your resume needs to have a certain number of relevant keywords for the system to let your resume through.
For more on ATS, check out JobHero's How to Get Your Resume Past an ATS.
Which resume format is best for engineering?
The resume format you choose will depend on your level of experience.
Engineering candidates starting their careers with little to no work experience should use a functional resume format. This will help demonstrate that your educational background qualifies you for the position you are applying for. You can showcase unpaid work, relevant research and internship experience.
Job seekers with mid-level experience can use a hybrid/combination resume format. This resume format will showcase your skills and engineering experience in a balanced way. A compelling resume includes vital competencies such as problem-solving and structural evaluation.
Senior-level candidates should present their qualifications in a chronological resume format. This format will highlight your top accomplishments and showcase your career progression in a clear, neat timeline.
What resume format is best for teaching?
If you have several years of teaching experience and no significant gaps in your work history use the chronological format. This type of format organizes your work history starting with your most recent position.
Emphasize your accomplishments in a bulleted format for each position. Be sure to optimize your resume by incorporating the key skills listed in the job description.
However, if you have limited work history or no relevant experience, a functional resume will be a great fit. It will allow you to focus on your skills. It also shifts the focus from your experience to your abilities and knowledge.
For instance, instead of starting a work history section, you can elaborate on your achievements from work, school, internships or student teaching experiences. You can include unpaid work, student teaching certification or internship awards. Focus on major competencies that show you are qualified for the job.
Another option is the hybrid format. This format blends both the chronological and functional resume to show a balance between your skills and experience.
As you see, the type of resume formats will vary. Pick the one that best suits your experience level.