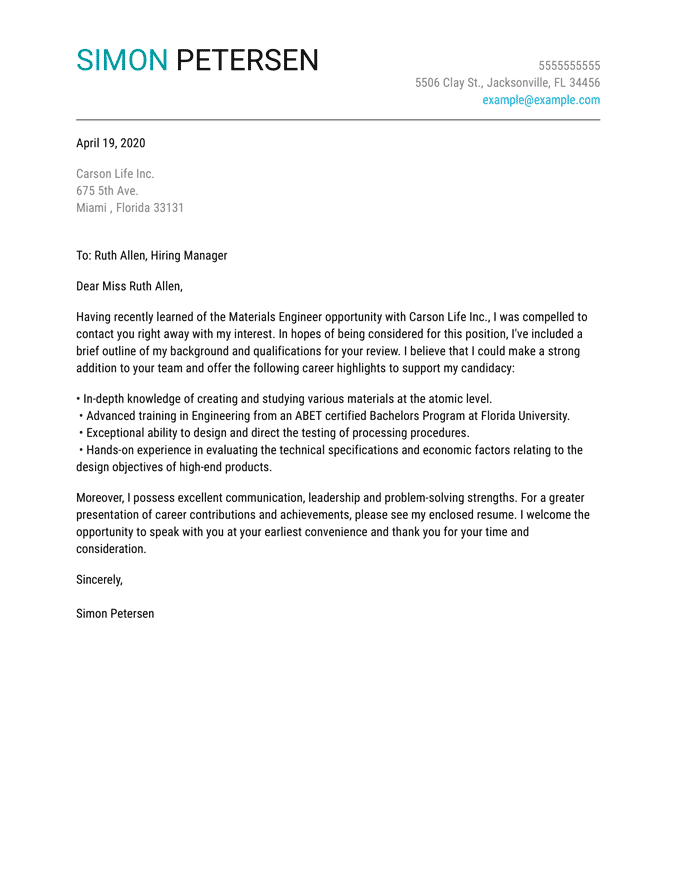 Build a Cover Letter Now
You already know how important a well-written cover letter is: it can open doors and help separate you from the competition. Still, you may be wondering exactly what your letter should look like. To help you get started writing, we've created a range of examples. Browse through them to get a sense of how much text is needed, how to organize your letter, and how to wrap it up with a punchy postscript.
You'll notice that regardless of what kind of job you're applying for, there is a structure all good cover letters have in common. Whether you're aiming for an internship or a corner office, here are specific examples that are best in class, so you can put your best foot forward.
Search Cover Letter Samples
3 Key Tips for Writing a Cover Letter
Keep the following cover letter tips in mind as you draft your cover letter:
Typically, a cover letter should be fewer than 300 words in length, consisting of about three paragraphs. To highlight key facts, consider using a bulleted list of three to five brief descriptions of skills, accomplishments, and experience. It's important not to repeat exactly what's in your resume, but instead provide a broad overview focusing on skills that relate to each specific job application.
The information you include in your cover letter should be closely connected to the skills and background the employer is looking for a candidate. Give the job posting a quick read and then cherry-pick the details of your career that are most relevant to the position. Be completely honest: don't claim to have any skills or experience that you don't actually have.
Resist the urge to fire off your cover letter immediately after finishing it. Set it aside for a few minutes and then give it a good proofread. If possible, have another person give it a read. As you proofread, be sure to confirm that your name and contact information are accurate and up to date.
How to Organize a Cover Letter in 7 Steps
1
When it comes to contact Information, don't play hard to get
Start by making it easy to reach you, by listing your full name, phone, email and mailing address. Don't forget to date your letter.
PRO TIP
: If you're sending your letter by email, list your contact information at the end. And delete the date!
2
Keep your salutation formal
If at all possible, try to find out the name of the person you are writing to. Use Mr. or Ms. or Dear [full name] if you aren't sure about the gender of the person you're addressing.
3
Begin by stating your goal and purpose
Start your first paragraph by stating what job you are interested in and why you are interested in the company.If someone has referred you, state your referral's name and your relationship to them.
4
Use the second paragraph to communicate your value
You've told them what you want; now tell them why they should want you. Link your skills and experience directly to the job description.
PRO TIP
: Consider using bullet points and/or numbers to summarize key facts.
5
Summarize
End with a concise summary of why you would be a good fit and with a call to action, such as "Please contact me so we can meet to discuss this position further in person." Be authentic, professional and straightforward.
6
Signature and Spell Check
Sign the letter above your printed name, check the whole thing one more time for spelling and grammar and you're done!
7
Consider Adding a Postscript
You can use your P.S. to reinforce a key idea, or mention a relevant personal skill. Keep it brief and strategic, making sure whatever you add support the key messages in your letter.