Featured in:
What is a Resume Objective Statement?
A resume objective, or career objective, is a one- or two-sentence introduction that lives at the top of your resume.
It should give the hiring manager an idea of who you are, what they can expect from you and what you hope to accomplish by getting hired.
If you are writing a resume, an objective statement is important because it's the first helpful information a hiring manager will see. Communicating why you want the job effectively can make it easier for them to decide whether or not they wish to pursue you as a candidate.
That said, an objective statement isn't appropriate for every resume!
We'll tell you how to know if you should use one on your resume and, better yet, how to write an effective objective statement.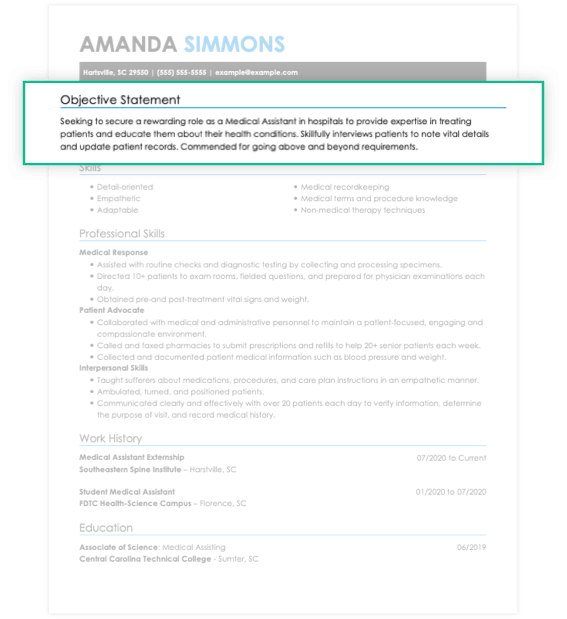 When to Use a Resume Objective Statement
You should use an objective statement only if:
You have minimal work experience
You are changing careers or reentering the workforce
You're applying for a promotion
It's ideal for first-time job applicants because it shifts from your lack of experience to your skills aligned with the company's goals.
If you are fresh out of school, you can rely on the objective statement because it focuses on your education and career goals, not your experience.
It's also a great fit for job seekers returning to the workforce after a long absence, changing careers or applying for a promotion.
Resume objective statements are ideal for these types of transitions because it shows recruiters why you're interested in the job and how your past skills can transfer to the new role.
However, if you have experience in the workforce or role, you shouldn't use an objective statement!
Instead, if you've had a few different jobs or you've already performed the role you're applying for, you should use a professional summary.
A professional summary makes a strong introduction because it shows that you can already perform and succeed in the role rather than just sharing with the employer what you want to achieve.
Like career objectives, the professional summary will live at the top of your resume, but it's usually a tad longer than an objective statement, between two and five sentences.
You could easily customize a professional summary section of a resume template to be an objective statement. Just change the section title to "objective statement!"
Even though both introductions focus on wanting the job, the approach is different.
The professional summary emphasizes how the candidate's experience can help the company's goals.
The objective statement shifts the focus from the job seeker's experience to their goals and how they align with the company.
We'll show you the difference and execution between the two in the next section with a side-by-side comparison.
Resume Objective Versus Professional Summary
Resume Objective Statement
An objective statement is shorter and usually comprises one to two sentences where you discuss your career goals or list the job skills you hope to develop in the new role.
Example

"Seeking a position as a warehouse associate to help streamline the ordering and distribution process through my ability to learn quickly on the job. Want to apply my strong work ethic, physical strength, organizational skills and general problem-solving to increase the company's productivity."
Professional Summary
A professional or resume summary is two to five sentences long and describes which elements of your achievements, experiences, skills or education make you suitable for the job. Again, if you have the experience and a steady work history, this should be the introduction you choose.
Example

"Hardworking and dedicated warehouse worker with a successful six-year track record of maintaining inventory controls by collecting stock location orders and recording amounts of materials received. Solid reputation for performing order pulling, labeling, and transporting duties safely within large warehouse environments. Possess current forklift certification. Bilingual in English and Spanish."
How to Write a Resume Objective Statement
The resume objective may be the deciding factor in whether or not a hiring manager wants to pursue you as a candidate.
To write an effective objective statement, follow this simple formula:
1
Start with a clear definition of your career goals, add two to three skills, and state what you hope to do for the company.
2
Name the position to which you're applying and include the company's name.
Customize your career objective statement specific to the role for which you are applying. Before you begin writing, read the job description carefully. Learn what the employer values from the job description. Identify the skills and competencies required. Phrase your resume objective focused on the company's needs.
Establish your value. Assure the hiring manager that you are qualified for the job by letting them know what they can expect from you and what you hope to accomplish for them.
Resume Objective Statement Template
Since a resume objective is so short, there are just a few essential bits of information you need to get in there:
3
How your skills will benefit the business
Here's a bare-bones template you could adjust to craft an objective statement appropriate for most jobs:
Motivated and hardworking [INSERT JOB TITLE] seeks the opportunity to grow with your company. Seeking to apply my skills in [INSERT 2-3 SKILLS] to help achieve [LIST BENEFITS YOU HOPE TO ACHIEVE: e.g., company growth, customer service excellence]
JobHero also features a Resume Builder that will help you customize and create your resume with auto-suggested phrases like this one! You can select from a wide range of best use phrases to use in each resume section.
Resume Objective Examples Based on Experience
Although objective statements are primarily for people who don't have a lot of job experience, they can also be ideal for jobs that are a promotion from where you're at career-wise.
Here are example objective statements based on different levels of experience.
Intern objective statement:
"Highly driven business student seeking to develop and improve business skills in communication, advertisement, quantitative reasoning, and teamwork. I am looking to join a progressive organization as an intern to utilize my passion for business in helping the company's growth while gaining more experience."
Here, the candidate wrote a clear and concise objective geared toward a business internship. The student highlights industry-specific terms and skills like communication and advertisement that are relevant to the company.
Entry-level objective statement:
"Recent digital content graduate with a passion for developing video and photography content. Seeking an opportunity to put my creative content approach and writing skills to work mastering new platforms and improving results."
In this example, the job seeker starts with the career goals and moves towards establishing the type of role that interests them. Even though the applicant is a recent graduate, the focus is on what they can bring to the company.
Executive level:
"Brand manager, providing professional services for start-ups and rapid-growth enterprises, wants to come out of retirement to grow a global brand. Seeking an opportunity to use my decades of experience and in-depth knowledge of integrated marketing campaign tactics as a Senior Brand Consultant."
In this case, this job seeker is an experienced candidate looking to re-enter the workforce after a sabbatical. The applicant includes the knowledge and skills demonstrating their abilities to perform in the new role.
Resume Objective Examples by Job Title
Nothing can help you write your own excellent resume objective like the power of a good example. So, take a look at some solid resume objective samples before you write!
Here are some great career objective examples for some of our top job titles:
Accountant resume objective example:
"Certified Public Accountant with five years of experience seeking a management position where I can apply my analytical skills and leadership experience to lead the department to financial effectiveness and cost-effective solutions."
Administrative assistant resume objective example:
"Looking to contribute two years of experience as an administrative assistant to the position of logistics administrative assistant where I can apply my knowledge in supply management and inventory control to provide support to the operation."
Amazon delivery driver resume objective example:
"Hardworking individual with a clean driving record and attention to detail seeks job as a delivery driver to improve Amazon's overall customer experience."
Bank teller resume objective example:
"Personable and responsible candidate with lots cash handling experience and financial management duties seeking to transition from bartending to a bank teller role."
Cashier resume objective example:
"Motivated individual hoping to gain my first job as a cashier to develop customer service skills and please customers."
Computer scientist resume objective example:
"Freshly trained computer science major seeks to put new abilities to the test. My debugging and algorithm creation skills will help your team complete projects on time."
Construction worker resume objective example:
"Hardworking and eager to learn, I seek a construction role to gain experience using tools, solving problems and performing general maintenance. My ability to follow instructions and work ethic should make me a valuable asset to your crew."
Content creator resume objective example:
"Visionary writer with a proud portfolio of work seeks first role as a paid content creator. My dynamic ability to tell a story and keep readers engaged will increase your overall click and conversion rates."
Customer service representative resume objective example:
"Diligent and personable customer service representative seeking a position in which my knowledge of products and service combined with my solid communication skills can contribute to quality service."
Data analyst resume objective example:
"Deeply knowledgeable data analyst seeking to establish a career with a company where I can design database processes and procedures for the enterprise environment."
Dental assistant resume objective example:
"Postgrad dental hygienist seeks first role working in an office. My attention to detail, gentle touch and patient-first attitude will add some bright smiles to your practice."
Dog walker resume objective example:
"Recently retired teacher seeks a dog walking opportunity to nurture and care for pets. Hoping to spend more time outdoors on long walks to ensure dogs get the perfect mix of exercise and socialization."
Executive assistant resume objective example:
"Organized and eager candidate seeks an opportunity as an executive assistant. My attitude and attention to detail will ensure that all necessary tasks and duties get handled according to protocol and satisfaction."
Financial analyst resume objective example:
"A highly motivated individual looking to advance my professional career as a financial analyst. I can contribute with deep insight in variance research analysis and apply my accounting reporting skills to improve the company's financial structures."
Hair stylist resume objective example:
"Recent cosmetology school graduate excelling in haircutting. Seeking to build a large client base and improve my knowledge of Aveda products and color techniques through my work in your salon."
Housekeeper resume objective example:
"Mother of four seeks a housekeeping post. My natural ability and high standards will ensure that your home is immaculate, clothes rigidly ironed and social events happen flawlessly."
Human resources recruiter resume objective example:
"Self-motivated professional with five years of experience in a human resource field. Looking to gain employment as a U.S. Army recruiter to utilize my human resources and interpersonal skills abilities to conduct thorough and effective background investigations within the HR unit."
IT project manager resume objective example:
"Highly analytical IT project manager skilled at planning and developing the components and staff for the network systems and technical support. Looking to identify staffing needs and effectively manage the project staff."
Line cook resume objective example:
"Hardworking kitchen apprentice brings knife skills and pantry chef experience. I am learning your method of operations and growing my culinary skill set."
Nursing assistant resume objective example:
"Dedicated nurse looking to obtain a CNA position at the regional hospital where I can apply my knowledge of pain management and unique nursing practices through excellent patient care to help with quick recovery and revitalization of patients."
Office manager resume objective example:
"Administrative professional with more than seven years of experience seeks to expand responsibilities and improve your office workflow. My attention to detail and interpersonal skills will help ensure that I keep the office efficient and organized."
Receptionist resume objective example:
"A friendly and committed receptionist with proven efficiency in operating a multi-line phone system, providing support for an after-hours medical helpline. I am seeking an opportunity to join the virtual medical receptionist position to contribute to patient satisfaction."
Restaurant manager resume objective example:
"Experienced server previously tasked with financial closing responsibilities seeks growth in the hospitality industry. My background in fine dining and problem-solving abilities make me a natural fit as floor manager and can improve your overall level of service."
Retail associate resume objective example:
"Fashion-conscious and responsible individual seeking a retail associate position. I aim to develop my customer service skills, knowledge of the boutique garment industry and bring more customers into your shop."
Sales associate resume objective example:
"Professional sales associate highly skilled in developing relationships with customers, attention to detail and problem-solving skills. Seeking a position at an ethically strong business where I can continue my professional development."
Salon assistant resume objective example:
"Cosmetology student seeks to apply and develop beauty skills by working in a cutting edge and trend-setting salon. I am hoping to learn from your stylists and use my bubbly personality to greet and prepare clients."
Secretary resume objective example:
"After a career hiatus to care for my children, I'm ready to reenter the workforce and offer my attentive secretarial skills. I'm adept at scheduling, multi-line phone handling and organizational tasks that will help your office run smoothly."
SEO specialist resume objective example:
"After completing a Udemy course on data analytics, I would like to hone my skills in identifying keywords and ranking strategies with a growing and dynamic company like yours."
Server resume objective
example:
"Friendly and knowledgeable university student seeks part-time server position. Hoping for an opportunity to develop my customer service skills and be a dynamic team player."
Software engineer resume objective example:
"Seeking a software engineer position, bringing eight years of hands-on experience in Java, HTML, C++, and core web design. I am looking to apply my knowledge and experience to the senior staff engineer position to improve designing and implementing systems."
Teacher resume objective example:
"Recent George Mason graduate wants to make an impact on the lives of students in the Raleigh school system. Hoping to use my inspirational personality and creative lesson planning to help keep students engaged and improve their academic performance."
Technical support specialist resume objective example:
"My goal is to turn my tech-savvy abilities into a career. I aim to help your users solve issues and technical problems and provide a great customer experience in the process."
Tutor resume objective
example:
"Successful test-taker aiming to share my skills and tactics with students who want to improve their college prep exam scores. My ability to explain and engage students will help your clients do well!"
Web developer resume objective example:
"Well-trained AppAcademy graduate seeks to utilize skills in app development and debugging in a fast-paced and innovative environment. Hoping to prove my skills and learn by working as part of a dynamic team."
Resume Objective Statement FAQ
What is a good objective for an entry-level resume?
A good entry-level resume objective will convince recruiters that you know what you want and have the passion and dedication they need to succeed in the job.
In one-to-three sentences, introduce yourself and explain what they can expect from you and what you hope to accomplish.
Go straight to explaining your career goals and how you can contribute to the company. For example:
"A results-driven worker seeking an entry-level position in marketing where I can contribute to the company's successful operations with my solid computer skills and sales tactics."
What is a good objective for a resume with no experience?
Even if you do not have much experience, you can still write an eye-catching resume objective. Instead of focusing on your work history, mention your goals for the position.
For example, here's what an objective statement for a new graduate can look like:
"Highly driven recent culinary school graduate seeking a full-time position as a line cook where I can apply my knowledge of preparation techniques and attention to detail plating dishes according to your restaurant's specifications."
For an applicant entering the job market for the first time, they can write:
"Motivated team player and aspiring business consultant looking to apply my knowledge and strategies to guide start-up companies on business operations and appraisals."
Objective statements are optimal for people with no experience; you've just got to tap into what you want out of a job.
What to put in an objective statement for a resume?
An objective statement is very straightforward. Include the position that you are applying for and how you can work toward the company's success.
When writing your resume objective, customize your career goals to align with what the employer posted in the job description. You should always write to explain what you can do for the company.
For example:
"A hard worker looking for an entry-level position as a front desk receptionist in the hospitality industry where my strong customer service orientation and communication skills can complete reservations and check-in."
What does an objective on a resume mean?
An objective statement is a short explainer you craft to describe the value you add and the company needs you can fulfill.
On the other hand, a resume objective strategically places the focus on your goals and what you can accomplish for the company's growth.
Candidates fresh out of school or looking to start a new career usually employ an objective statement when applying for a position.
What to write objectives for resumes?
Your objective statement for resumes is one or two sentences describing your professional goals and what you can do for the company.
Write your career objectives for each job you apply for by aligning your goals to the job description. Tailor a new resume objective for each job to which you apply.
Keep it short and do not go over two sentences. The more specific you are, the better chance you have of being considered.
Explain why you are qualified for the job, even without related experience. Structure your resume objective so that it explains what you can do for the company. Align the position to the job you are targeting and your goals for employment.