Your resume is the first impression you get to make with a potential employer. Don't make it your last. Hiring managers never read the majority of resumes they receive. They just glance at most of them for an average of 6 seconds. That's all the time you have to make a positive impression.
A successful resume doesn't need to be a work of art. It just has to be clear, professional-looking and easy to understand at a glance. Needless to say, you don't want your resume to look generic; but a far worse pitfall is a resume that's sloppy, confusing or cluttered.
Here's everything you need to know to successfully layout your resume.
How to Format Your Resume
Before we delve into how to layout your resume, you'll need to choose which format is right for you. There are three main choices you have when it comes to resume format: chronological, functional and hybrid (also known as combination format).
For details on each of these options, explore our Ultimate Guide to Resume Formats
The chronological, functional, and combination resume formats each have slightly different layouts and help the hiring manager focus on different things.
Chronological
After your header and contact information, you should start this layout with either your education or experience; list them in reverse chronological order. (If you're a recent graduate, and don't have much work experience, begin with education. If your employment history is highly relevant to the job you're applying for, start with your work experience.)
Functional
A functional resume is a good choice if you have long gaps in your work history or you're changing careers. This format will emphasize your skills first, allowing you to highlight how your experiences are transferable and relevant to the job you want.
Hybrid
With a hybrid (or combination) format resume, you list your skills and then beneath that summary you also list work history in reverse-chronological order (which is why it's called a combination format).
Depending on which of these three formats you use, the flow of information will be different. But whichever format you choose, your resume will include the following sections: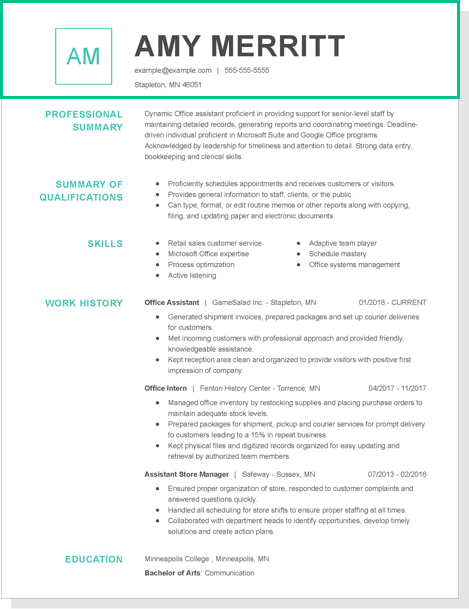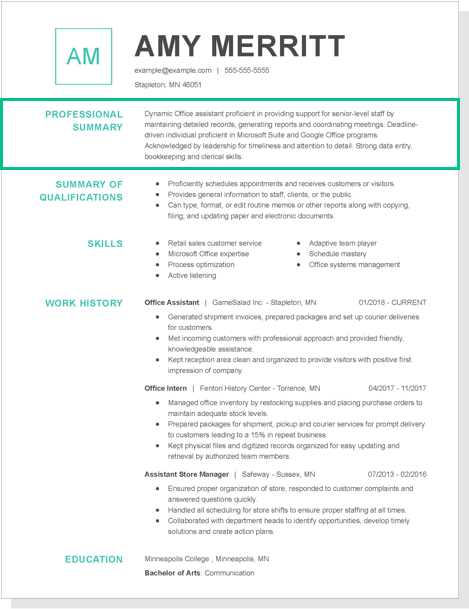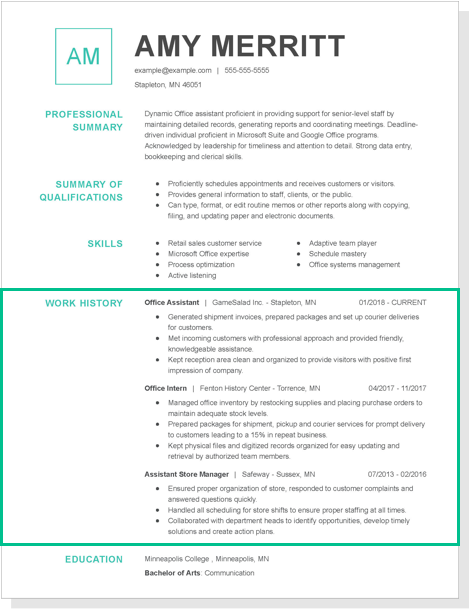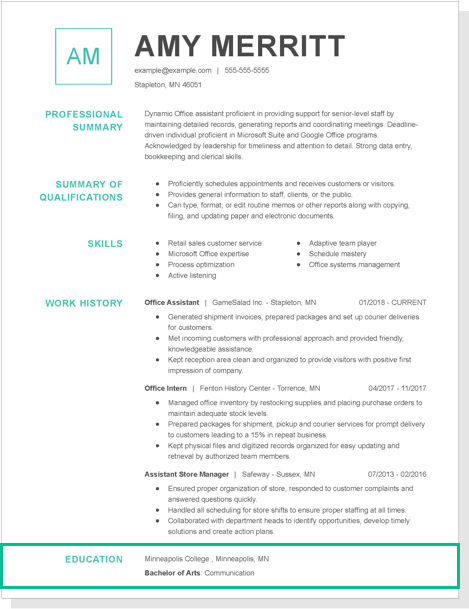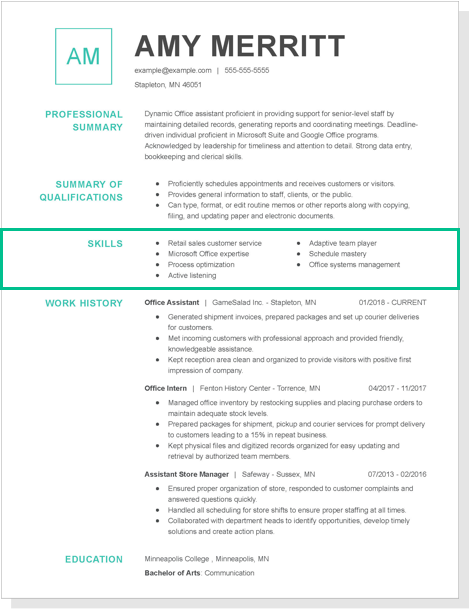 Header
This is where you list your name, your job title and contact information.
Professional Summary
A concise statement of your professional achievements, skills, and qualifications as well as your career objectives. This summary can also be formatted as a headline, profile or simply a set of career objectives (more on that below). The key is to make sure this section is relevant to the position you want. The hiring manager will appreciate that you took the time to study the job listing and customize your resume for the specific job you want.
Work Experience
This will be a list of the jobs you've held, including your job title, dates of employment, locations, and a brief summary of your responsibilities. You can use up to 6 bullet points per job to make it easy for the hiring manager to quickly scan and understand your work experience.
Education
Here's where you will list the names of schools where you received your higher education, what degrees you earned, and the dates you graduated. You can also use bullet points to highlight key academic achievements. You can also list any special awards and honors you earned.
Skills
This is a critical section where you can describe your relevant skills, certifications, and other achievements. Again, you should customize this section for each job you apply to, and make sure you are using keywords from the job listing.
Make a powerful resume today and start getting interviews!
Build Your Resume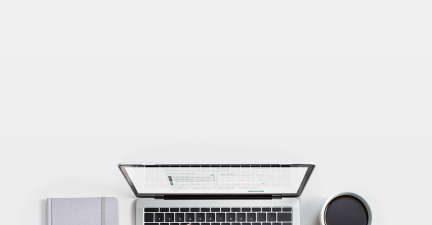 3 Rules for Resume Layouts
1
Margins
You have a lot to think about when you design your resume. Margins aren't one of them. Set margins to one inch on all four sides. (The only exception to this rule is the header, which can be centered.) Now you're done with everything you need to know about margins.
2
Fonts
Choosing a font is not as simple as it might seem. In fact, we created an entire page just devoted to this one seemingly small detail: The Best Way to Layout Your Resume for 2020. The bottom line is, keep your font choices basic. Stick to commonly used fonts including Arial, Helvetica, Garamond, Trebuchet MS, Didot, Cambria, Times New Roman, or Verdana.

PRO TIP: You can also mix two fonts, but don't use more than two. For example, you can use one font for your name and section headers and another font for the body copy.
The size of your font should be 11, 12 or 13-point for the body of your resume. You can make your name and section headings larger--up to 16-point Be consistent in your use of capitalization, bold and italic. Above all, make sure your font is readable.
What Makes a Successful Resume Header?
Think about it: the first thing a hiring manager will see is your name. This is your chance to shine and stand out with a visual statement that's professional but distinctive. In addition to your name, your header includes your job title, and contact information. These can be in a larger font than the rest of your resume and can be centered rather than justified to the left (although both options are acceptable).
The basic information you include in a resume header will look like this:
Your name
Job Title (optional)
Street Address
City, State ZIP
Phone (Cell/Home)
Email Address
Beneath that, there are a few other options you can consider in addition to a traditional header.
You can add a resume headline (also called a resume title) as a way to summarize your key skills in a few words–think of it like a great advertising headline for yourself. You can also consider following the headline with a resume profile, which is a sentence or two that supports the headline with more detail.
As an alternative, you can consider a summary statement which is a single sentence or even a series of bullet points that summarizes your qualifications. Finally, you may prefer to list an objective: this is a way of simply stating what you are looking for, and emphasizes your goals in addition to your qualifications.

PRO TIP :
No matter what the job is, all hiring managers are looking for candidates who are specifically interested in the advertised listing. It helps you to customize your resume header, title, profile or objective, to make it relevant to the position you want.
Resume Layouts: a Question of Style
OK, now we've told you the unbreakable rules of resume layouts, but there is still plenty of room for you to be creative and express your individual style.
Many of the decisions you will make when laying out your resume are entirely up to you. They are subjective and will depend on what kind of career you are pursuing.
For example, if you're applying for a job in the music or film industry, you may want to go with a more dynamic and eye-catching look. Whereas, if you're applying for a job in the legal or finance world, you probably want a resume that has a more simple, sophisticated and timeless appeal.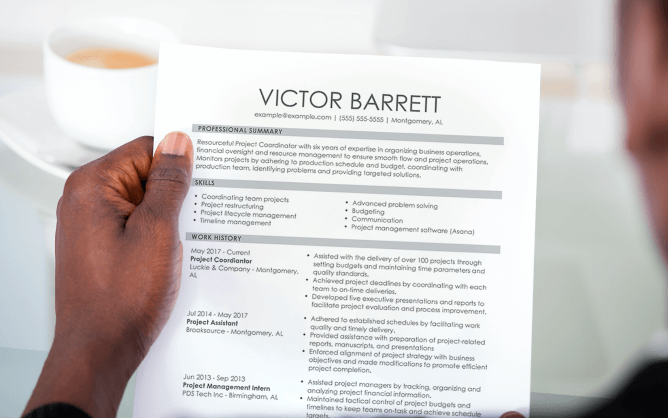 The bottom line is that a resume that will succeed if you are applying for a job in tech or graphic design will have a different look than the one you need for a job in government or banking.
In general, whatever your career goals are, your resume should never look cluttered, or appear as if you're trying to cram too much information onto the page. That requires having the right amount of white space. Don't think of white space as something useless. It creates clarity for the reader and is essential to a professional layout.
Many people wonder about typographic alignment: is it best to have all your information organized in a single column, or are multiple columns and charts better?
When it comes to resume layout, typographic alignment is a matter of personal preference, but advise against using two columns. For one thing, multiple columns are less easily scanned by ATS systems (Applicant Tracking System). ATS systems work best with clean, clear, basic layouts. So if you choose to use creative border designs, columns, charts, infographics, illustrations or anything else too fancy, you run the risk of having your resume rejected by a machine long before it gets into human hands.

PRO TIP: Considering including a headshot on your resume? There's no firm rule, and it depends on your career choice but for most job seekers, it's not a good idea. If you're in doubt, leave it out.
For more ideas and inspiration, check out our resume templates page.