Featured in:
The Importance of Work Experience
A work experience section is the part of your resume where you outline the highlights and main achievements from your career's history that prepared you for the role you're currently applying to.
Think of it this way: Would you undergo heart surgery with someone who had never performed one before? No! You would probably want someone who has the experience to do the job with competence and skill to handle it.
It works the same way in hiring. Employers want to feel confident that the person they hire will do a good job in the role. So, they want to know what kind of work experience you've got to assess if you will be a good fit.
Your work experience serves as proof of your skills!
Where to Use Work Experience
Not every resume follows the same layout. There are three main types of resume layouts or formats, and they're called: chronological, functional, and hybrid/combination.
This matters because each of these format styles differs in one big way: Where the work experience section will live on the resume.
Chronological formats tend to keep the work experience at the top of your resume, located just underneath a professional summary. That's why this format is the most popular among job candidates with lots of experience.

PRO TIP
It's not recommended that you use a chronological format unless you have five or more years of experience.
Far opposite, functional formats push the work experience toward the bottom of the page. That's why this style of resume is better for job seekers who don't have much work experience. After all, they shouldn't bring attention to their lack of work experience by showcasing it at the top!

PRO TIP
Keep in mind, you should only use a functional resume format if you have very little or no work experience. Once you've got some experience, give it center stage! But, this format can also work well if you have long gaps in your employment history.
Hybrid/combination formats are the happy medium between the two. This format gives balanced weight to your work experience and skills regarding resume placement. It works perfectly for job seekers with more than a couple of years of experience but less than five total.

PRO TIP
It's also great for job candidates seeking promotion or trying to cover gaps between jobs on their employment. That's because it puts a bit less focus on your job history.
How to Write a Work Experience Section
Writing a work history experience section starts with the easy part: listing the basic details of your past employment and ends with the trickier part: crafting quality descriptions of your work achievements that resonate with employers.
We'll break it down into steps that will be easy for you to follow:
Decide which jobs to feature in your work experience.
There's a common misconception that you need to list every single job that you've ever had on your resume –– that's not true!
If you want your resume to be taken seriously by an employer, you should focus on your best experience for the job, even if that means cutting down on the discussion, inclusion, or emphasis of some jobs.
Everyone is different in this regard! If you don't have many jobs to choose from, include them all. However, keep in mind that the standard resume practice covers the past 10 years of your employment history or the last three to four employers, if possible.
On the other hand, if you have lots of experience and especially if the job is high level, you should be listing all of those years of work! The general rule is that your resume should be one page for every 10 years of experience you've got.
Say, for instance, that you've held down two jobs as a cashier and a restaurant host and are looking to apply as a delivery driver, that's OK! You can find ways to talk about transferable skills that all three jobs have in common such as customer service and data entry.
Especially if you lack tons of experience, include whatever experience you do have so that hiring managers know that you can at least do the basics. All other skills are a bonus from there!
Organize work history by job title dated most recent to oldest.
The standard practice is to list your jobs from most recent to oldest because employers are most interested in knowing where you're at now.
Here's an example:
Davis Logistics | CDL Driver | 5/2020 – current | Torrance, CA
Anaheim Produce | Stock Manager | 1/2017 – 5/2020 | Anaheim, CA
Anaheim Produce | Stocker | 9/2011 – 1/2017 | Anaheim, CA
Hopefully, everyone has a career arc, but anyone looking to hire you needs to know what point in your journey you're at.
Using dates is essential! You don't have to include the exact day you began work at a company, only the month/year. Use your best recollection and judgment to recall dates because it may be a dealbreaker if a background check is made during the hiring process and your information is inaccurate.
Think of it as a history test, and be accurate with your dates!
If you have work gaps in your employment history, for any reason, still include the dates. However, if desired, the way to draw less attention to your employment gaps is to choose a hybrid/combination or functional resume format.
Those will put less emphasis on your work history section and therefore draw less attention to the dates.
Provide well-written blurbs about your achievements and responsibilities.
To make your writing catch the hiring manager's interest, you need to use active and attention-grabbing language!
Resume language tips:
Keep your statements brief and easy to follow.

Use action words and verbs to lead in your sentences.

Try to avoid saying "I" or "me" in your points.

Use as many numbers or statistics as possible; numbers serve as concrete evidence of your abilities, e.g., "Reduced overhead 11%" or "Oversaw team of three accountants."
Targeting your work experience to the job:
It's a beneficial tactic to ensure that you're including the kind of work experience that employers are looking for.
Some companies even use applicant tracking systems (ATS) that scan the text of your resume searching for certain keywords and phrases that the employer has programmed it to search for.
This means that your resume may not even make it to a hiring manager if it fails to pass the ATS scan.
You can make sure that you're writing about the right things and including the right phrases by really studying and focusing on the job post or ad.
Make sure that you're directly responding to the things they're asking for in your work experience section!
Check out this example of a job post for a software engineer job and how a strong candidate would respond to it.
Software engineer post:
About The Role
Our backend engineers have to seek a wide variety of problems and situations as we continue innovating and developing products. Engineers need to be proficient in algorithms, problem-solving, and crafting scalable fault-tolerant architectures. This includes being a specialist in a fast-paced development environment.
Basic Qualifications
Bachelor's degree in Computer Science or related technical field or equivalent practical experience

2+ years of professional experience writing production code with C++, Java, Python, or Go
Preferred Qualifications
At least three (3) years of software engineering experience
Industry
Computer Software

Consumer Services

Information Technology & Services
Employment Type
Full-time
Job Functions
Engineering

Debugging

Information Technology
Now, look at the way a strong candidate would see the requests made in the job post and reflect it in the way they write about their work experience:
Work experience structure:
There are two ways to describe your work experience on your resume, those are:
In sentence form

In bullet form
Sentence form means that you outline your experience at a company in sentences or phrases.
Or, here's an example of a work description written in sentence form:
Gundry Agency | Copywriter | March 2016 – current | Philadelphia, PA
I executed top-notch tight deadline work written to a variety of target audiences. Wrote copy for 22 different brands in 2019. I also oversaw two new hires and managed ongoing email funnel campaigns for four different clients.
Even though the sentences are concise and to the point, you can see how it's written. Try to make it a brief, digestible paragraph that outlines some of your top skills.
Remember, it's the internet age! Not many people have the attention span for long blocks of text.
That's why the predominant modern practice is to use bullet points on your resume to describe your work achievements and accomplishments.
Here's an example of work experience written in bullet points:
Administrative Assistant
Crawford County DOT | Planning Assistant | May 2016 – current | Sun City, TX
Handle permit requests, 30+ per week.

Administer permit requests over the phone and monitor web queries.

Perform accurate data entry for all official trucking access permits.

Manage calendar for the Planning Secretary.
Bullet points are great because they:
Relay information in a fast, punchy way.

Better capture the attention of hiring managers.

Add white space.

Make it easier to scan your resume visually.
That's important because you should consider that the recruiter might not want to read something text-dense and heavy. Instead, they may skip to the next resume!
Don't miss out on your
dream job
- use jobHero's Resume Builder to create a resume that serves as the best representation of yourself: a true professional!
Get Started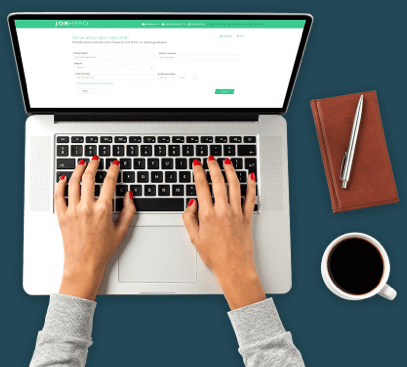 Work Experience Examples by Job Title
It makes it a lot easier to write your work history section by looking at some effective examples.
This is our great superpower to help you: JobHero's free library of thousands of resume examples. There's even a search bar where you can search by job title — we have more than 50 examples for every industry covered!
But if you need, here's a quick cheat sheet of examples for some of our most popular titles:
Rapid City Foundations | Accountant | September 2012 – present | Rapid City, SD
Execute fiscal strategy for company exceeding 1 million in annual revenue.

Discover small business opportunities in tax code to lower annual payout.

Advise to ownership on material acquisition based on forecast growth.

Track raw material price charts to reduce overhead costs.
BrainWerkz | Junior analyst | March 2017 – October 2019 | Sunnyvale, CA
Worked cross-functionally with marketing and product departments to build company reporting infrastructure.

Automated a report for the sales team targeting different business parameters that led to 7% boost in conversion.

Created data visualization for bi-monthly executive presentations.

Develop SQL reports to examine client efficiency models.
Lecid Inc. | Financial analyst | November 2018 – December 2020 | Wilmington, DE
Oversaw due diligence for $23 million acquisition.

Conduct studies on the forecasts, demands and capitals of products.

Implement market analyses to lead to 11% growth in sales.

Prepared companywide KPI reports for collective leadership meetings.
Michaelson Corp |Head Recruiter | October 2016 – current | Athens, GA
Managed recruitment and talent acquisitions.

Filled 86 positions in first six months of hire.

Retained 79% of hires longer than two years.

Partnered with executive leadership to determine workforce needs.
TubePipeWorks | IT Project Manager | March 2019 – current | Appleton, WI
Spearheaded data services development project, overseeing team of eight.

Executed vital development tasks, including scheduling, budgeting, and resource management.

Enhance project visibility through creation of 11 different Jira filters to monitor 500+ bug and enhancement tickets.

Solve for project issues, including risks, obstacles, resources and deadlines.
Wayside Technologies | Mechanical Engineer | January 2018 – April 2020 | Conway, AK
Increased overall production efficiency 9% by removing workflow bottlenecks.

Cross coordinate between design and production teams to ensure top quality.

Designed and executed blueprint manufacturing for new engine, which reduced carbon emissions 22%.

Maintained a production error rate consistent below 2%.
Shady Pines Assisted Living | Nursing Assistant | March 2019 – current | Westwego, VA
Oversaw vitals diagnostics for 30+ patients.

Administered daily medications for patients and maintained schedule.

Voted employee of the month April 2020.

Keep very detailed records and data entry on patients.
Angel Health Spa I Receptionist | January 2021 – current | Coral Gables, FL
Answered and assisted clients on three-line telephone system.

Scheduled, updated, and confirmed appointments for guests.

Maintained schedule for 4-6 different massage therapists.

Greeted all in-person guests and outlined spa procedures.
Threadless Boutique I Sales Associate | November 2018 – March 2020 | Bellevue, WA
Sold average of more than $700/day.

Developed thorough product knowledge about sustainable materials.

Rang customers up, handled cash and processed credit card payments.

Maintained and stylized product displays.
FAQ
What do I put for experience on a resume if I have none?
First off, you should reconsider what you think of experience if you think you have none.
People sometimes don't recognize things as work experience should and does count, something like volunteer work, extracurricular activities, fundraising, child care, or chores.
While they might not be compensated like normal jobs, they're still projects or events that involve labor and responsibility.
So, they are things that you can add to your work experience section if you're at a loss for paid experience.
Also, keep in mind, if you have little experience, then you should probably be using a functional resume format to draw less attention to your greenness.
What do you put on a resume for student experience?
For student experience, you can list any groups, projects, internships, volunteer work or extracurricular activities that you were part of.
It's not ideal –– but in place of real work showing that you got involved or participated shows that you're capable of being focused, responsible, and working to achieve goals.
For an employer, that could be an encouraging sign! So, it's best to include it if you're short on paid experience.
In addition, you could also list advanced coursework or studying that you've done outside of school to show that you have great initiative for your education.
Can a resume builder help me write my work experience section?
Yes! JobHero's
Resume Builder
can make it easier for you to write your work experience section and nail it.
That's because our Resume Builder comes preloaded with suggestions and phrases that you could use to describe your work experience. It all comes tailored to the job title you're describing from our professional database to create a great document!
How do I describe my work experience in an interview?
In an interview, you want to describe in detail what you've done at other jobs.
That extra layer of detail will convince and persuade employers that you know what you're talking about and that you can do the job.
After all, it's one thing just to craft a great resume. It's another to answer off the cuff during an interview to show your authority and expertise!