Featured in:
More Data Analyst Resumes
Use these Data Analyst samples as a guideline or visit our extensive library of customizable resume templates.
Additional Statistics Resume Samples
How to Format a Data Analyst Resume
Formatting your data analyst resume includes selecting one of the three resume formats. A job seeker with over 10 years of nonstop data experience should use a chronological resume. Candidate A below has 17 years of experience, so they'll use the chronological resume to chart the gradual growth of their analytical knowledge and experience. Pro tip: use a resume if you have a steady work history with less than 10 years of experience.
However, Candidate B is a recent community college graduate with one year of internship experience. Since they studied computer science with a focus on data, they can use a functional resume to highlight their technical skills and education while downplaying their lack of formal work experience.
Chronological Resume
17

years in workforce

3

years at this job

HS

High school Diploma
Work Experience
Data Analyst, Pear Tree LLC
Dec. 2020 - current, New York, NY
Analyzed inventory usage reports and managed end-to-end processes to update and verify special orders.
Managed process improvement projects to streamline existing systems and order fulfillment centers.
Researched, analyzed and processed information from internal department reports, external industry reports and rating agency documents to produce data reports for management.
Functional Resume
1

years in workforce

1

months in current job

AS

Computer Science
Professional Skills
Data Analysis
Develop processes and procedures for data mapping, compliance and statement validation
Analyzed inventory usage reports that helped monitor gross and net profits.
Team lead for data mapping of over 20,000 merchants in a new internal database.
Organization
Received, organized and distributed internal department reports to review and distribute to relevant project stakeholders.
Managed process improvement projects to update the existing warehouse inventory database from daily to hourly updates.
Created and documented workflows of new processes and procedures for IT CRF.
Data Analyst Resume Samples
No results found
0-5

years of experience

Designed ad hoc queries with SQL in Cognos ReportNet. Examined reports and presented findings in PowerPoint and Excel. Implemented projects to meet organizational requirements. Managed user accounts in IBM 3270 mainframe. Analyzed transaction logs and resolved rejected transactions. Created tables in Access and merged data into Word templates. Supervised analysts and oversaw operations.
Built complex SQL reports to audit $2.5 million of pay and benefits for over 150 individual records.
Revised standard operational procedures that improved 22 functional areas in administration.
Updated records with a 98% on time rating, efforts prevented payroll mispayments.
Facilitated file sharing and correspondence tracking with SharePoint.
10+

years of experience

Manage overall monthly demand planning activities for 4,000 products in 40 distribution centers
Direct weekly cross-functional team meetings as part of the forecast, inventory, and sales operations continuous improvement process
Reduced overall stocking locations by more than 10% by redesigning the strategic sourcing network
Optimized inventory by developing new safety stock methods designed to reduce excess by 15% with no effect on service levels
Led implementation of Logility Demand Planning project - delivered on time and under budget
0-5

years of experience

Conducted queries via Partners EHR/EMR system and output in SQL Server database for a Readmission Project.
Developed algorithm to convert insurance-orientated ICD-9 codes to clinical practice meaningful disease classification.
Coordinated with doctors for data cleaning and variables selection to ensure data clinical meaningful and analyzable.
Conducted data analysis using logistical model, LDA, QDA, KNN, tree classification and random forest method to identify high readmission risk patient and improved the accuracy (C-scores) by 30 percent.
Two papers related to Readmission Project submitted and ready for review.
0-5

years of experience

Performed nine survey QA per month including surveys from eight countries with proper documentation and implementation of updates, testing survey logic, and proofing.
Analyzed survey data on MobiLens, UI dashboard, to ensure the survey programming were correctly implemented and anomalies within the data were investigated and resolved in a timely manner.
Researched the Japanese mobile media market to update Japanese mobile surveys ensuring the related surveys were up-to-date to reflect the rapidly changing mobile market
Translated survey questions, answers for open-ended questions, and comments in Japanese version online surveys and qualitatively analyzed the data to improve overall survey quality.
Collaborated effectively with international teams (Japan, UK, and Canada) to develop new survey concepts and designs.
Conducted statistical analyses to leverage the results to drive brand decision making and survey development.
0-5

years of experience

Employed superior analytical abilities, data mining skills, and diverse supply chain experience to create inventory targets and develop strategies for optimizing PCB stock levels and reducing worldwide scrap.
Spearheaded and launched inventory rotation process to align demands to supplies on transition products and reduced worldwide material requirements by 10%.
Produced databases, tools, queries, and reports for analyzing, summarizing, and root causing board failure data. Versed in finding patterns and trends in complex, multivariable data sets.
Created Inventory Model and BOM tool, identified supply chain excess, and sold back $400,000 of excess Testers thru revenue stream with no disruptions to customer service levels.
Worked closely with IT, Document Control, and purchasing and created last time buy tool/database and automated the last time buy process within Oracle, leading to the elimination of two full time roles.
Worked across Logistics, Engineering, Finance, Customer Service, Sales, and Manufacturing organizations to improve product reliability, reduce board repair time, automate reporting, and minimize waste.
Presented tools and recommendations to directors and executive staff.
0-5

years of experience

Responsible for highest volume Third Party Administrator (TPA) vendor in addition to 2 medium sized TPAs.
Improved data flow for over 3000 claims and corrected a financial Out of Balance of 3 million dollars.
Acted as liaison between Hartford and TPAs in the areas of claim coding, financial balancing of reserve and paid dollars on individual claims and correction of other claim data elements.
Partnered with TPA vendors to drive results and correct data errors increasing customer satisfaction.
0-5

years of experience

Recipient of the Outstanding Achievement Award for developing an innovative company database.
Organized and reported training statistics to company-wide management.
Coordinated with third party contractors to update and maintain CEPs and CSPs for the company website.
As a Project Manager, created Gantt charts to manage milestone progress.
Trained a class of 15 specialists on a macro program to ensure system-wide consistency.
6-10

years of experience

Successfully designed, developed and implemented clinical trial management systems to support IDE and post-market studies
Managed implementation of clinical study payments to sites from requirements gathering to development and deployment using Clindex
Streamlined case report form payment approval process by simplifying reports and eliminating paper approval forms
Provided support of electronic data entry to principal investigators and study coordinators worldwide
Collaborated with clinical trial teams to develop and maintain databases for clinical study data collection and analysis
0-5

years of experience

Generated queries from inventory database to efficiently extract and format sales and inventory data
Managed end-to-end process for updating and verifying special orders data
Analyzed inventory usage reports to avoid backordering
Ensured data accuracy through the creation and implementation of data integrity queries
Developed mass update system to avoid manual updates to data warehouse. Trained other users on the program
0-5

years of experience

Provided customer service and trouble shooting services to vendors and fulfillment centers to facilitate inventory processes.
Audited inventory transactions according to corporate standards and conducted investigative analysis to provide the appropriate resolutions.
Developed Key Performance Indicators and scorecards to monitor product sales and operations of vendors and fulfillment centers.
Managed process improvement projects to streamline existing system and fulfillment center functions.
Created internal Sales Orders and Purchase Orders for international markets.
Managed reconciliation adjustments to Oracle to maintain inventory accuracy and posts to the General Ledger.
0-5

years of experience

Market investment firm
Researched, analyzed and processed information from MSRB EMMA filings, issuer reports, industry reports and rating agency documents to produce data reports for management.
Built relationships with Corporate Trust Bankers, developing rapport in order to acquire up-to-date data.
Verified bond repayments in "Conditional Calls, " bond redemptions, mandatory tenders and variable rates to assure real-time data for Bloomberg's client base.
Served as a Subject Matter Expert on proprietary database and office procedures; trained new staff as necessary.
0-5

years of experience

Managed the conversion of 150,000 plus merchants from 1 vendor to another to realize a savings of $20,000 per month
Reduced merchant statement validation time by 3 hours through the use of SQL queries
Created and documented work flows of new processes and procedures for IT CRFs, billing and validations
Created a centralized area for Ad-Hoc reporting for Credit & Risk, Sales and Product Development
Team lead for data mapping of over 200,000 merchants a new backend software system
Develop processes and procedures for data mapping, compliance and statement validation
Moved to a special projects group in charge of creating a new credit card processing back end system
0-5

years of experience

Developed monthly and specialized Access Based reports for nurse coordinators in hospitals
Created specialized reports in Crystal Reports to report summarized data for Arkansas Department of Health.
Performed and presented data analysis for complex data and files.
Performed Data manipulation
Organized and Headed fundraisers for scholarships for UCA students
Ran fundraiser for Haven House women's shelter
0-5

years of experience

Developed professional training materials and facilitated monthly training sessions for clinical staff
Provided technical support to clinical staff
Designed and, developed business rules for online data collection form system
Created and maintained ad hoc reports
Performed internal system testing
Collaborated consistently with the Report Specialist and the MIS Department Manager
Trained and mentored other Data Analysts
0-5

years of experience
Predicted customers preference based on order history to maximize sales efficiency using logistic regression
Identified the products with high risk of loss and updated inventory using Excel and Access
Supported customer service department and increased customers' positive feedback rate from 88% to 94%
0-5

years of experience
Created, revised and documented back-end business processes used to load client and distributor data into production databases.
Executed quality control checks in the form of SQL queries to ensure data integrity and enforce business rules.
Performed ad-hoc requests for clients using Excel and customized SQL queries to extract and format requested information.
Designed and maintained Dynamic reports using SQL and UC4 automation suite.
Used Unix terminal along with VI editor to manipulate files and to execute batch processes/scripts manually.
0-5

years of experience

Provided technical guidance and strategic recommendations regarding data-related
decisions/projects.
Delivered data summaries and monthly productivity reports of ten department programs.
Analyzed and summarized patient satisfaction survey data and produce yearly reports.
Created web-based surveys and reported data using SurveyMonkey.com.
Worked with IT and provided technical support for the department.
Installed and configured operating systems and application software.
Supported network connectivity and file sharing using Active Directory.
Communicated computer concepts as well as policies and procedures to diverse level of users.
0-5

years of experience

Recommended solutions to business department to utilize MS Visio for migration from old ERP system to a new one for a billion dollar Conglomerate
Prepared over 300 Financial Reports for CFO with over US $1,000,000 in annual revenue
Used CRM Microsoft Dynamics a backbone for support to a BI 360 power reporting tool and briefly exposed to Salesforce.com
Presented computer solutions to senior client staff
Reviewed and documented new entries system for over 200 companies consolidated closing statement
Organized reports using BI reporting tools which incorporated trial balance, percentages, financial ratios, subtotals, totals, summary and closing monthly statements
Created documentation/training manual for new closing procedure for consolidated statements
Used Agile Management Methodologies to determine best practices for the new processes
Developed user stories and training materials for the end users and trained them on the new system
0-5

years of experience

Assisted Records Examiners with the evaluation, correction and verification of intelligence provided by agents on Asset Forfeiture.
Researched key elements through varies search engines and collected supporting information for submission.
Participated on specialized CATS training in Washington DC.
Maintained several systematic tracking systems; Prepared weekly analytical reports.
Generated final reports for legal action gaining knowledge of the Asset Forfeiture legal process.
Provided all clerical support such as greeting, answering phones, distributed mail, faxed, scanned documents.
0-5

years of experience
Conducted research to determine the reasons for departure of Korean volunteers to the KOICA agency to determine how they can obtain more applicants
Managed Database of more than 70,000 volunteer candidates and Produced monthly reports
Recruited & trained about 100 volunteers per class. Trained volunteers about contracts and safety
Managed the relationship of consultant hires who helped with the training of volunteers
Administered presentations to the head of departments at KOICA on different initiatives and areas of improvement
0-5

years of experience

Worked as a Integration Data ETL Lead in the CoE group use DataStage (v8.5) ETL tool and Teradata Utilities FastLoad/Multiload/Bteq to convert/transform/load from Oracle into Teradata platform
Created DataStage ETL coding/naming standard and designed DataStage Parallel jobs as is or forklifted them
Created DataStage Sequencers, Audited Control tables to capture row counts and Shell scripts for each process
Writing complex Teradata/Oracle Sqls for data analysis and data validation checking when needed
Reviewed Cognos Decision Stream ETL codes and prepared source to target data mapping document for DataStage development
Tuned the DataStage jobs and queries to improve data load times when needed
Participated, run, and validated the ETL interfaces in System testing, executed positive/negative/minus testing cases and documented the results
Acted as a Teradata expert to provided support for any related Teradata Utilities/Sqls to Boeing Team members
0-5

years of experience

Assisted software development team with the application programming on the server side of the client
Contributed in ensuring all implementations consistent with Software Development Lifecycle (SDLC) standards
Involved in understanding of data extraction, which involves Online Transfer Processing (OLTP) system and centralized database server
Captured and documented business requirements for Data Warehouse System
Involved in creating process flow diagrams for overall business specification
Worked in conjunction with development team and senior management in preparation of data mapping reports, validation reports, and business reports
Collaborated with data architect, business users, and developer team with validation issues and defects
0-5

years of experience

Provided data analysis, tracking, and reporting in Vendor Management Services for eight companies
Met with customers to gather and document reporting requirements
Wrote clear/concise Work Instructions for each report
Generated weekly and quarterly Metrics to track trends, changes in business climate, and statistical variances
Created Dashboards in Tableau using features such as worksheets, functions and actions
Produced weekly billing reports in MS Access
Managed a database that tracked the flow of the reporting process to insure timeliness and quality
Mined data from multiple sources to produce reports in MS Excel using advanced features
0-5

years of experience

Maintained a database of major economic indicators like Price- to- earnings/Price-to-Book ratios, and other debt indicators
Generated analysis of the Indian equity markets to be published on Morningstar's regional website and distributed as part of the daily reporting sent to the client
Participated in the periodic reporting process of newsletters which contained fundamental data, graphs and analysis on the Indian Financial Market.
Established a team that helped initiate coverage on over 600 Bombay Stock Exchange (BSE) companies
Generated graphs for the monthly and quarterly Morningstar newsletter along with an India specific analysis of economic indicators for the month gone by.
Generated an analytical report on the weekly India economic indicators for the weekly Morningstar newsletter
Assisted the Equity Research team in generating quarterly research reports specific to Company Profiles and verifying accuracy of fundamental data
Assisted the equity research team in building the Earnings Model for multiple companies.
0-5

years of experience

Collected customer information and entered into the database, organized by various categories
Supported manager in collecting data from customers
Assisted company in setting new marketing instruments, strategies and plans by participating in meetings
Collaborated with customers to select best investment for their individual needs
Made telephone interviews to collect customers reviews
Helped create and upgrade company website for all customers
0-5

years of experience
Provided data analysis for client engagements across a range of technical industries
Assisted to build analytic tools to manage data and streamline data analyses using R and SQL Server
Conducted detailed industry analyses, research, and drafted reports
Developed analytics providing insights on current events in the industry
Translated data requirements between front-line consulting staff and technical resources
Ensured provision of appropriate analytical support and outcome recommendations for key partners in the business and provided effective project management and delivery of analytics projects
Load More
Create your own professional resume in just minutes.
Try our resume builder today
Build Your Resume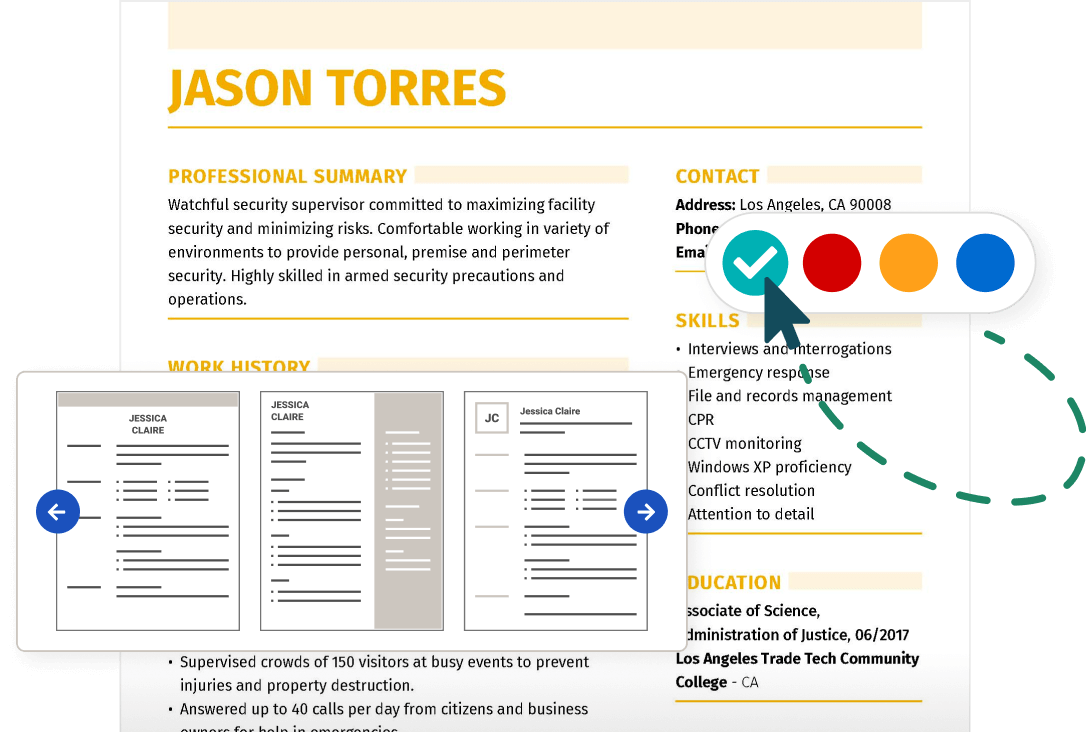 Data Analyst Resume FAQ
How do you prepare a data analyst resume?
You can make one of three effort levels to prepare a data analyst resume. Let's break it down from the highest difficulty level.
Expert level — prepare a data analyst resume from scratch! You can write a tailored resume for each job. First, compile a master list of your professional skills and accomplishments from which to choose. Second, carefully review job openings for similar skills or requirements. Lastly, distribute your professional achievements and knowledge across five core resume sections. You can learn more about this step via our resume writing guide.
Medium level — use a resume template. Designing and formatting your resume can be as time-consuming and risky as writing your resume. We help you halve the time with professionally designed templates — visit our resume templates library to select your favorite design and then see practical examples of our templates in action to help you craft your own.
Easiest level — use an online builder! Use a professional resume creator to unlock the simplest and fastest way to submit your resume. A JobHero membership unlocks a resume and cover letter builder, dozens of professionally designed ATS-ready templates, expertly written text templates and unlimited cloud storage.
What should a data analyst put on a resume?
A data analyst should include an informative blend of soft, hard and technical skills. Here's a list of targeted data analyst skills that hiring managers value in their applicants
Data Science
Data modeling
Maintaining databases
Data mining
Statistics
Structured query language (SQL)
Programming languages (Python and R)
Server knowledge (Microsoft SQL Server or Azure SQL)
You can further boost your resume with this frequently requested social and technical skills list.
What are the duties of a data analyst?
Your duties as a data analyst may vary depending on your field of interest, industry and the size of your employer. However, most data analysts perform the following duties:
Analyze data using statistical models and techniques
Implement or maintain databases
Structure surveys to gather data from internal and external sources
Analyze, identify and interpret profitable trends from the data.
Organize and distribute information via understandable models such as graphs and charts
What should a data analysts CV look like?
Think of a data analyst CV, or curriculum vitae, as an extended, more detailed resume. A CV has the usual resume sections (contact information, summary statement, work history, skills and education). However, this document can extend a resumes usual one- to two-page limits with additional, informative sections such as digital skills, languages or conference attendance. You can learn more about these extended sections in our CV templates article
A data analyst CV could help you showcase your data analysis skills under digital skills, your programming knowledge under languages, and your relevant knowledge from conference attendance and presentations