Featured in:
Skills play an important role in your resume because they help hiring managers decide whether you qualify for the job. There are different types of skills that demonstrate your valuable attributes and how you can contribute to the company's success. Here you will learn how to identify the most in-demand skills for 2022 and how these can help get you hired!
---
Top Skills for a Job-Winning Resume
Featuring the right combination of skills on your resume can really make a difference in whether or not your application will be given serious consideration. Skills can be categorized into soft, hard and technical skills. Even though each category is based on different attributes, they are equally valuable and you should feature a combination of the three types on your resume.
Hard skills are quantifiable, tangible skills that include writing skills, language skills, design and marketing. They are needed to perform your work-related duties. Companies require hard skills as they demonstrate your ability to perform certain job duties effectively.
Technical skills are those skills acquired to perform specific, job-related tasks in industries like IT, mathematics and science. For instance, the technical skills of an electronic engineering specialist would be circuit design, data collection and analysis, and C++ programming language.
Soft skills, on the other hand, are based on your character and personal traits.They describe how well you communicate, listen and interact socially. These are strengths that define who you are and how you manage your work. They include your ethics, how you interact with colleagues and solve problems.
Some examples of soft skills are resilience, self-motivation, and the ability to work under pressure.
Include a mixture of hard and soft skills on your resume, add technical skills if they apply to the role. Hard skills show that the candidate has the ability and knowledge to perform the job while soft skills contribute to problem-solving and decision-making.
Let's take a closer look at the 10 most in-demand hard, soft and technical skills that employers look for:
Top hard skills
Communication skills
Computer technology
Research
Data mining
Database management
Creative thinking
Resource management
Data presentation
Data visualization
Web analytics
Top soft skills
Problem-solving
Work ethics
Social skills
Time management
Leadership
Communications
Critical thinking
Decision-making
Organizational
Stress management
Top technical skills
Digital marketing
Social media
Adobe Creative Suite
UI design
Graphic design
SEO
SEM
Copywriting
Google Analytics
Business Analysis
​
The Impact of Soft Skills Versus Hard Skills
It's important that you show employers that you have both soft and hard skills. Hard skills demonstrate that you can do the work required of your job, while your soft skills give employers an idea of how you work with teammates and customers.
Hard skills are job specific and most likely learned through training. They're based on specific abilities that are required to perform your work. Hard skills also serve as the main keywords recruiters use to search for candidates — recruiters pre-program specific desired keywords into applicant tracking systems (ATS), which are used to scan and screen resumes.
Soft skills are geared to a person's behavior. These skills help determine if you are reliable, organized or professional. Recruiters and hiring managers rely on soft skills to determine if candidates are honest and reliable and can be trusted to represent the company. An example of using both hard and soft skills would be, "Certified dialysis technician dedicated to providing compassionate, patient-centered care, administering dialysis treatment and patient care."
Although both types of skills are completely different, employers look to hire candidates that have a combination of both. Your resume should show the right mix of hard and soft skills.
The Most-Sought Skills by Industry
Whether you're a recent graduate or advancing in your career, it is important to display the right set of skills for your industry. Here are the top skills that are most sought by employers for our most-searched industries.
A strong skills section on your resume will demonstrate to recruiters that you are qualified and may help convince them to want to learn more about you.
Build Your Resume
Create a Strong Skills Section in 4 Simple Steps
Step 1: The first step to a strong skills section starts with research. Read the company's job post carefully to identify the skills that are in demand. Write these down. Next, identify which of these skills you possess and write them down. Add six-to-eight of these soft and hard skills that best describe your ethics and work performance to your resume.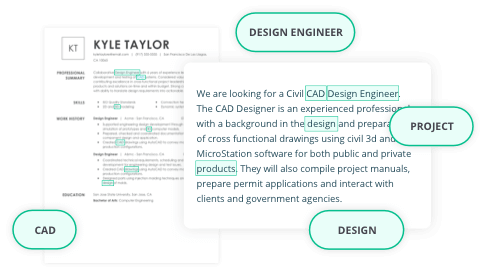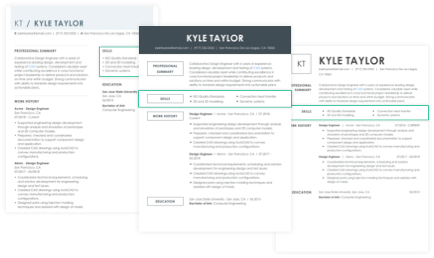 For instance, a functional resume is the most skills-focused format. This type of resume showcases skills over experience. It's ideal for candidates who lack work experience because it draws attention to skill sets rather than your work history. In this format, you will include a brief summary or statement under each skill. Choose three-to-four relevant skills as subheadings, add a summary of achievements that validate each skill below
Chronological resumes, on the other hand, focus mainly on work experience. This format shows a clear timeline of your work history starting with the most recent job and working backward. The skills section on this type of resume goes on a separate section below and is just a brief list. Organize your skills as a master list of six-to-eight hard, soft, and technical skills. To help you decide which skills to include, refer to Step 1.
A hybrid resume, sometimes called a combination resume, combines the best parts of a chronological resume and functional resume. It gives equal weight to both your skills and career accomplishments. Create a list of key skills that are relevant to the job you are seeking. Bold the skill and add bullet points to briefly list a few supporting facts, achievements or experiences.
Step 3: Optimize your resume by including some skills in the professional experience section. Consider emphasizing soft skills throughout your resume, such as leadership, problem-solving and teamwork. Also make reference to your hard and technical skills to show how you used these skills to accomplish your work, such as negotiation or product knowledge.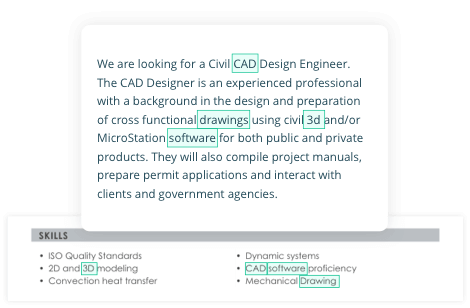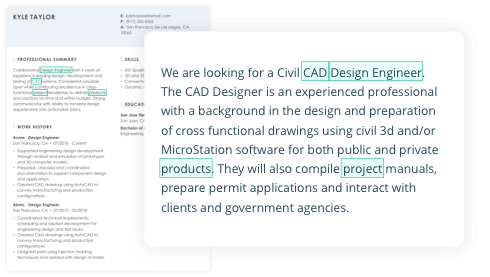 Step 4: A professional summary or an objective statement can effectively bring attention to your resume. When writing your summary or objective statement, mention your two to three most valuable skills.
A professional summary explains your qualifications for the job in three to five sentences. Rather than focusing on your goals, it shows how your skills and experience can contribute or add value to the company.
An example of a professional summary:
"Accomplished logistics manager experienced in quality control, material arrangement and export-import documentation of commercial goods. Specialized in product distribution, organization and delivery services. Negotiates cost share and product costs with leading distributors to guarantee better inventory at a lower rate."
The objective statement is ideal for candidates with little experience. The objective is usually one or two sentences at the top of your resume to highlight your skills relevant to the position that you are applying for. It can also represent your professional goals.
An example of an objective statement:
"High school teacher looking for the opportunity to fully utilize my creative thinking and classroom management skills, while making a significant contribution to the institute and students' success."
A professional summary or an objective statement creates the opportunity for you to introduce yourself to the employer, showcasing your top core strengths and skill sets that are the most relevant to the role.
The four steps mentioned above, will help you create a strong resume, spreading out in-demand skills across different sections of your resume
Our Builder Can Help!
At JobHero, you will find all the right tools for your job application process. For instance, we feature a Resume Builder that allows you to create a professional resume in just minutes. It helps make the resume-writing process fast and easy.
Our team of experts also designed the builder with great-looking resume templates. These premade layouts save time, are customizable, and make organizing your resume automatic. You can tailor your resume by choosing from a variety of fonts and colors schemes, and great-looking designs available from classic to bold.
Part of the benefits of using the Resume Builder, are the pre-formatted options. These include industry-specific terminology and auto-suggested skills. These tools help you write a professional resume that is customized specifically to your career.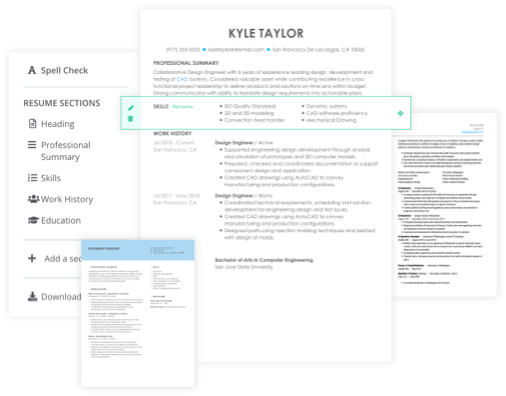 FAQ
What skills do I put on a resume?
Skills are crucial selling points on your resume. They are an essential component of convincing the hiring manager that you qualify for the role that you are applying for.
When choosing what skills to put on your resume, always include the most relevant to the job. Use the employers' job description to match your skill sets.
Customize your resume skills section as close as possible to the job requirements listed in the job post. The closer you can match your skills to the job requirements listed, the better your chances are for being selected for an interview.
Some examples of must-have skills that can apply to most careers are:
Active listening
Strong communication
Computer literacy
Customer service
Leadership
Management skills
Problem-solving
What do I put in the skills section of a resume?
A skill section gives employers a glimpse into your capabilities and abilities to perform the job. They also help shape the hiring process to determine whether you meet the requirements.
Keep your resume skills relevant to the job you're targeting, by studying the employers' job description as well as the company's culture. Carefully review their websites and information to identify what the employer is looking for.
Include key skills in a separate skills section. This will get the attention of the recruiter and is a way of narrowing down your most relevant skills.
You can also spread your work-related skills in the professional experience section of your resume. It is a good idea to strengthen your work experience by including soft and hard skills to emphasize how well you perform.
How to format skills on a resume?
There are three resume formats: the chronological, functional and combination/hybrid. Each format organizes your information in a different way. When formatting your skills, follow the structure of the resume format you choose.
Functional resume format: Lists relevant skills that set you apart from other candidates. Functional resumes work best for recent graduates or candidates that are starting their professional experience. A functional resume isn't organized by position; instead it goes by your skills. This format will list your three or four main skill sets along with a brief description of how you used those skills to accomplish your relevant experience.
Chronological resume format: Provides a timeline of your work history in reverse-chronological order, starting with the most recent work experiences. This format is ideal for those with a consistent work history and increasing job levels over time. It highlights your skills in a separate section, toward the end of your resume. This format lists your skills and abilities that are most relevant to the job. You can structure this section as a list or bullet format.
Combination or hybrid resume format: The hybrid or combination resume is ideal for candidates changing careers, or with gaps in employment. It highlights your skills and career accomplishments equally. The skills section goes after the summary. List a total of six-to-eight hard, technical and soft skills that show that you are the ideal candidate for the job. Keep your skills relevant to the job by matching yours to the job you are applying.
How to list technical skills on a resume?
You should list technical skills the same as you would any other hard or soft skill.
Technical skills are the abilities needed to perform specific tasks for certain jobs. They are a very specific form of hard skills. They do not apply to every career. Instead, they are usually related directly to professions in the area of science, technology and mechanical tasks.
Here are some examples of how a web designer can list technical skills:
Photoshop
Adobe Illustrator
Programming languages
UX Design
Responsive design
Graphic design
How many skills to list on a resume?
You should list technical skills the same as you would any other hard or soft skill.
If you want to put a spotlight on your skills, include a separate skills section that highlights keywords from the job description. List of a maximum of 10 skills, and add skills throughout the rest of your resume. However, the number of skills you list may vary according to the resume format that you choose.
If you are using a combination/hybrid or chronological resume format, you can list a minimum of six-to-eight skills in a clean bullet list. Always keep your skills concise and relevant to the position that you are applying for. For a compelling resume, combine soft and hard skills in both your resume and skill section.
Functional formats are known as skill-based resumes. Make a list of your three to four skills and write a brief summary under each. Use the summary to describe how you've applied those skills in various roles.
Adding a skill section to your resume, creates the opportunity to emphasize your qualifications.