FEATURED IN :
What Is a Professional Summary?
A professional summary is a brief sales-pitch description of your work experience.
It's a brief two to four sentences that argue the case for why you're the best candidate for the job with the strongest and most efficient reasons you can give.
It lives at the top of your resume, right underneath your contact information.
That means: Your professional summary statement is the first helpful information that an employer sees about what you're like as a job candidate.
Given that hiring managers generally spend less than seven seconds looking at a resume, this means that the professional summary may be the only thing they read when they skim!
So, executing a professional summary well is critical.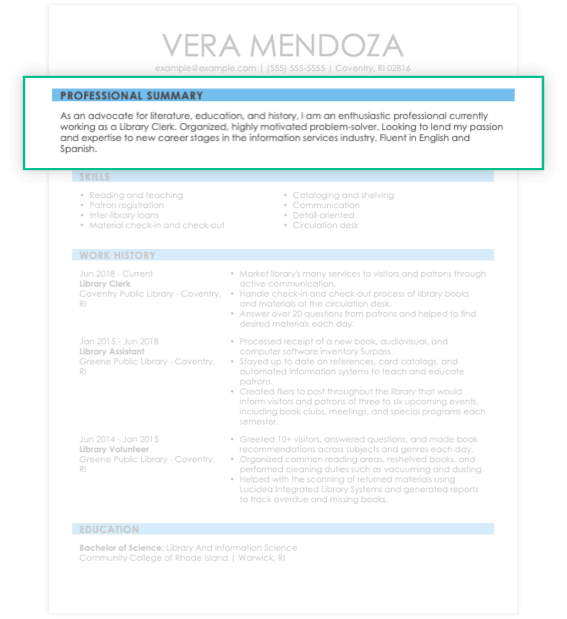 That said, a professional summary isn't appropriate for every resume!
We'll tell you how to know for sure if you should write one on your resume, and better yet, how to write a professional summary that works.
When to Use a Professional Summary
Use a professional summary if either of the following is true about yourself:
You have held more than two paid jobs in the past.
You've done the job to which you're applying.
Since a professional summary is such an important part of a resume, there are only two reasons that you shouldn't use one:
1. You don't have enough experience. If you haven't worked many jobs, it doesn't make sense to include a professional summary because you don't have much to summarize! Never lie or pad a resume — you must be honest with a hiring manager about who you are and be respectful of their time.
2. You are applying for a job that is a promotion from jobs you've held. In this case, writing a professional summary might not be the best strategy. Instead, you should provide an explanation to a hiring manager for why they should hire you for a job you've never done before and what you're hoping to achieve from this higher role.
In both cases, use an objective statement instead of a professional summary.
An objective statement is similar to a professional summary in that it occupies the same at the top of your resume and is short. However, they differ in one crucial way: A professional summary focuses on what you bring to the table, and an objective statement explains why you want to take the job opportunity.
A professional summary, in general, will be more impactful than an objective statement because it provides evidence that you have done well in past roles. That's a much better indicator to a company that you'll be good at their job than just telling them what you hope to achieve if they give you a chance!
Professional Summary Versus Objective Statement
Professional Summary
A professional or resume summary is one to five sentences that describe what elements of your achievements, experiences, skills, or education make you suitable for the job.
Example

Experienced warehouse worker with 3+ years of experience increasing efficiency, streamlining organization and order processing. Fluent in both 3PL and Fishbowl programs, I keep stock data updated and account for all goods. My skills in multitasking and prioritizing have been the foundations of my success.
Objective Statement
An objective statement is one to three sentences that discuss your career goals or mention the job skills you hope to develop.
Example

Hardworking, motivated, and organized candidate seeks opportunity to develop logistics skills as a warehouse worker. Seeking to apply my already strong computer skills to organizing and order fulfillment. Long-term, I seek to develop management skills.
How to Write a Professional Summary
The key to knowing what you should talk about in your professional summary is understanding what it is that the employer wants.
The best way to do this is by taking a good close look at the job posting or description. Pay very close attention to how the employer describes what they're looking for in a candidate and try to reflect those traits.
Do some brainstorming to decide what personal achievements, attributes, or skills you want to discuss that would echo back what the employer seeks.
The best things to discuss in a professional summary include:
Your top achievements, accomplishments, or awards
The number of years you've worked in this industry or role
Two or three best-suited skills you possess for this specific job
Impressive statistics or numbers that demonstrate your highest achievements
Next, the art of writing a good professional summary will depend on you keeping your message concise, clear and exciting.
Keep it concise by not trying to say too much! You're only looking to mention the main two or three reasons an employer should want to hire you.
Keep it clear by giving thought to the best way to describe your achievements to make your audience understand. Use industry-specific language!
Keep it exciting by discussing achievements and skills that the employer wants to hear about and discuss it using active verbs to give your sentences a sense of energy and excitement.
Don't go off-topic. Make every word count in your professional summary!
Professional Summary Examples Based on Experience
Your professional summary should do a great job of communicating your experience level and where you're at in your career.
It's OK to be inexperienced; however, always try to be realistic about where you're at experience-wise. Communicate to employers in a clear way and doesn't seem like you're trying to hide or gloss over anything.
Here are example professional summaries based on different levels of experience:
Intern professional summary example:
"Ambitious second-year law student with a passion for social justice and bankruptcy law brings self-motivation and eagerness to the table. My standing GPA is 3.7, which serves as evidence of my determination and work ethic. Furthermore, my attention to detail, research, and written communication skills enable me to perform any task needed."
In this case, the candidate uses the work they've done as a student and the solid GPA to appeal to an employer effectively. In addition, the candidate also mentions a few of their top skills in a way that demonstrates how they would help the law practice function.
Entry-level job professional summary example:
"Hardworking job seeker with excellent people skills is motivated and eager to learn. Good at following directions and customer service, I bring a professional attitude and ability. I'm on time, responsible, and ready to make your customers satisfied."
Notice how this candidate doesn't pretend that they have many years of experience. Instead, the discussion is focused on their core skills. Better yet, they tell the employer how they see themselves helping the business.
Experienced professional candidate professional summary example:
"Self-motivated professional brings 8+ years of fine-dining service experience with a friendly smile. My thorough knowledge of Italian wines was acquired working through a Wine Spectator Award-winning program. Beyond that, my well-honed skills in hospitality and guest satisfaction will help raise the bar of service with any team I work with."
In this example, the job candidate seeks to distinguish themself as an experienced candidate by citing how many years they have worked in the service industry. Then, they can discuss the product knowledge they have achieved through that extensive experience and training. This will help convince employers they are hiring someone who knows what they're doing on day one.
Professional Summary Examples by Job Title
Nothing can help you write a great summary statement like the power of a good example.
So, here are summary examples for some of our most popular titles:
Accountant professional summary:
"Experienced accountant with 9+ years background in reducing corporate overhead through my nuanced understanding of state and local tax codes. With my previous employer Brigtsen LLC, I managed to achieve a 21% reduction in company overhead without a single change to payroll or production. My attention to detail and creative problem-solving skills guide me to fiscal solutions with big payoffs."
Administrative assistant professional summary:
"Organized administrative assistant excels at multitasking, phone etiquette, and scheduling. My cumulative four years of experience have made me an expert at filing, GSuite and MS Office. My preparedness and ability to prioritize make me an asset in every office where I work."
Data analyst professional summary:
"Highly detail-oriented data analyst with advanced knowledge of database systems and their performance metrics. Over three years of experience analyzing and interpreting data to drive growth for companies and private clients. Provide analytics, data models and business intelligence used to identify opportunities and increase overall efficiency."
Financial analyst professional summary:
"Veteran financial analyst brings 16+ years of expertise to execute top-level financial forecasting, planning and internal control. I'm self-motivated and a great resource to implement cost improvements and greater efficiency. In addition, my client relations skills are highly developed, and I'm well-suited to generate new outside business accounts."
Human resources recruiter professional summary:
"Strategic and forward-thinking HR resources recruiter with 4+ years of experience excels at attracting top-notch talent for corporate needs. My ability to understand the company culture and honed-eye for discovering true potential have served as the cornerstones for my impeccable hiring record. Not only do I reduce the overall role turnover for a company, but I also bring the individuals that serve as the bright future for the business."
IT project manager professional summary:
"Solution-focused IT project manager with 6+ years of experience thrives on big projects and challenges. My skills in troubleshooting, developing iterative processes, and cross-functional collaboration ensure that I have projects completed ahead of schedule and with client-pleasing results."
Mechanical engineer professional summary:
"Quality-focused mechanical engineer has a three-year track record of solving complex engineering problems in effective, timely and inventive methods. My successful career includes winning a James Watt Award for energy efficiency on a dishwasher I helped design. My skills in teamwork, communication, and creative problem-solving have made me a valuable asset to every company I've worked for."
Nursing assistant professional summary:
"Compassionate nursing assistant with six years of experience in both hospital and adult care settings. My empathy, diligent attention, and emotional warmth have made me a patient favorite in multiple facilities. Patient safety is always my biggest priority. That's why I'm so thorough about making sure every guest in my care is fed, exercised and medicated just as their health requires."
Receptionist professional summary:
"Entry-level receptionist brings an eager-to-please attitude, clear communication skills, and computer savvy on day one. My self-motivation is the guarantee that I'll perform every task assigned to me with speed and professionalism. Best of all, my bubbly demeanor will greet every office guest with a bright smile."
Sales associate professional summary:
"Hardworking sales associate knows what it takes to close the deal. Through my five years of professional experience, my personability and quick thinking make it easy for me to keep my sales visits on track and focused on making the sale. Beyond that, my social skills make it possible for me to forge long-term relationships with clients."
Software engineer professional summary:
"Efficient software engineer with two years of experience coding, running tests, and streamlining code performance. My written and verbal communication skills make it possible to thrive on teams and achieve project deadlines with no surprise bugs. Bug elimination is my prime engineering specialization."
Don't miss out on your
dream job
- use jobHero's Resume Builder to create a resume that serves as the best representation of yourself: a true professional!
Get Started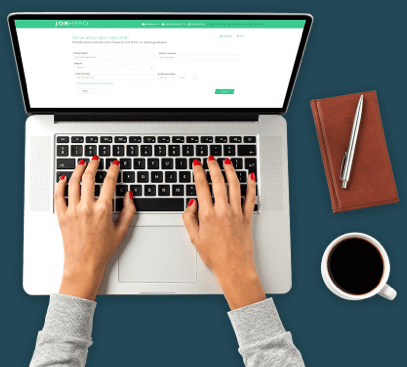 FAQ
What should I put in a professional resume summary?
Put your best foot forward in a resume summary: That means your biggest career stats, awards, achievements, honors and a few of your top skills.
Think about the needs of that employer and what would most appeal to them in an employee. Refer to the job post or description to be extra on point.
Narrow your qualifications to the top two or three reasons this employer should want to hire you.
Then, discuss in plain but active language the reasons that best demonstrate why you're the right fit for the job.
Maybe you haven't worked many jobs before, or your career isn't long enough to have tremendous achievements yet. In these instances, rely more on selling your top skills or traits to help you succeed in the role.
How long should a resume summary be?
A resume summary can be anywhere from one to five sentences. However, two or three sentences tend to be the most common.
It's OK to go longer than three sentences, especially if you have a long career with more than one accomplishment you want to feature.
Don't let it get too long and become a full-length feature! Long blocks of text can be overwhelming to read for a recruiter, especially if they've got many resumes to look through!
If you haven't been working in your job for more than 10 years, it's better to keep your professional summary under four sentences.
What to include in a resume summary?
Knowing what to include in a summary depends on two things:
1. The job's requirements.
2. What you've done in past work shows you'll be able to succeed in this role.
You have to keep in mind that every job is slightly different and may require key skills.
You should read that job description extra close and think about what you possess that best speaks to those needs.
What is a professional summary on a resume?
A professional summary is also sometimes called a resume summary or professional statement. H however, all three refer to the same thing: It's a short few sentences that live at the top of your resume that describe you in a way to make you appealing to hiring managers.
Not all resumes have them; some may contain objective statements instead of a professional summary. This is usually because the candidate does not have enough experience to discuss in a summary statement.
However, professional summaries are a great tool for any job candidate who has held a job or two. Use them to sum up what successes and work achievements you've had, and it will help convince employers you can bring similar results to their business.
How to write a summary for a resume with no experience?
If you have no experience, you should consider using an objective statement instead of a professional summary.
The reason is simple: If you've never worked, then you have nothing to summarize! You don't want to throw extra fluff on your resume, so it's better to give an employer a sense of what motivates you for a role.
Now, that said, many people don't realize that it's not only paid experience that can count or benefit you on a resume.
You can describe school projects, unpaid or volunteer experiences, parenting or babysitting gigs, yard work, or other authentic forms of work that don't always receive compensation.
If you have done these types of often overlooked labor, then this is an experience you could include in a professional summary!