Featured in:
How to Structure Your
Cover Letter Format
A cover letter is a specialized business letter that adds context to your resume and job application. A resume summarizes most of your relevant experiences and qualifications — your cover letter builds on one or two capabilities by adding crucial details like increased metrics or profits that help a hiring manager visualize your value.
Let's cover the basic rules of your cover letter layout:
Like any standard business letter, list your contact information at the top of the page, followed by the hiring manager's contact information and company, a greeting, three to four body paragraphs and a signature.
To learn more about what information to include in your cover letter, visit our how to write a cover letter guide and our professional cover letter examples.
Use Our Cover Letter Format
Examples as Guides
These professional cover letter examples demonstrate how to combine these formatting rules to create a unique and professional cover letter for job opportunities.
Traditional cover letter format example
This cover letter sample uses a traditional business letter structure to help introduce and expand your resume.
Bulleted cover letter format sample
This contemporary cover letter structure uses a bulleted list to highlight your key accomplishments and direct hiring managers to your strongest career qualifications.
Modern cover letter format example
This cover letter layout can work as either an uploaded cover letter or the body of an emailed application to help introduce your resume.
How to Format Your Proper
Cover Letter
As we mentioned, how you format your proper cover letter is as important as the information you provide. You can learn how to showcase your qualifications by visiting our cover letter writing guide.
Professional Header
Your cover letter header is the exception to the rule of left aligning the content of your letter. You may use center or right alignment to feature your full name, email address, phone number and city and state location.
PRO TIP:
Make sure your cover letter header matches your resume for a professional look.
Hiring managers' contact information
Your recipient's contact information will follow this cover letter structure:
Recipient's name
Recipient's job title
Company name
Company mailing address
Line break
Date of cover letter writing or submission
Line break
Recipient's contact information example:
Jane Abbot
555-111-9999
hi.jane.abbott@email.com
St. Louis, MO
Salutation
Use the following greetings, followed by a line break before the main body of your letter.
Dear [recipient's name],
Greetings [recipient's name],
Hello [recipient's name],
Avoid vague or impersonal greetings like "To whom it may concern."
Introduction
Keep this first paragraph limited to two or three lines under your document, followed by a line break to indicate the start of the next paragraph.
Introduction example:
My skills and qualifications are an ideal match to your Accounting Intern requirements and can bring immediate value to ABC Technologies goals. Throughout my internship, I positively contributed to business outcomes through effective organization, prioritization, and execution of key projects.
Main body
Keep this section down to one or two paragraphs, with a space between each paragraph. In these paragraphs, identify one to two relevant skills and quantify them with examples and numbers.
Main body example:
In my previous role as a student, I exercised a calculated and methodical approach to problem solving. I am independently motivated but work well in collaborative environments and with established teams. I am also knowledgeable in account management and evaluation and proficient in preparing financial statements.
PRO TIP:
For greater impact, use bullet points to highlight core qualifications such as improved website traffic, higher profit earnings, reduced spending, or improved onboarding processes.
Concluding paragraph
End your cover letter with a short final paragraph summarizing your featured skills and offering suggested availability to connect for a potential job interview. Follow this paragraph with one line break.
Concluding paragraph example:
Please take a moment to review my attached resume to learn the full scope of my career history and accounting competencies. I appreciate your evaluation and look forward to a response. You can reach me most work days between 2 pm – 6 pm.
Salutation and signature
Close out your letter with a formal salutation, such as one of the following:
All the best,
Kind regards,
Thank you for your time,
Looking forward to our next communication,
Follow traditional business letter formats by adding four paragraph breaks between your salutation and your typed signature.
How to Format a Cover
Letter for Email
Most modern cover letters are uploaded as supplementary documents during the online application. However, sometimes you must include your cover letter in the body of an email.
Follow these steps to accurately format a cover letter for email: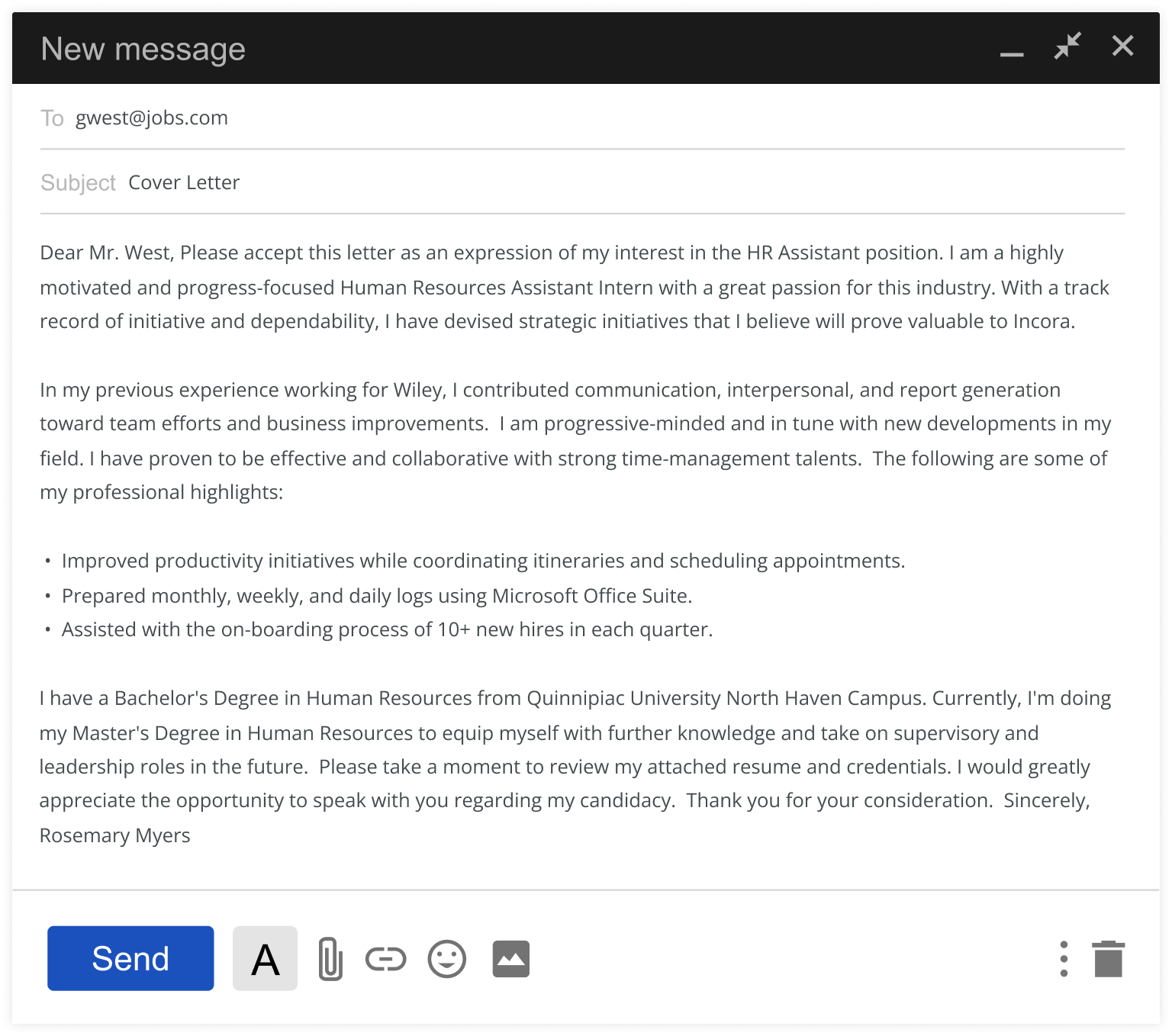 1

Fill in the cover letter recipient's email address.

Ask your professional connection for their work email address, or visit the company directory to find a list of department heads with their work emails. Copy this correctly into the "To:" address line.

2

Compose a direct subject line.

If you send your cover letter and resume as an email, you must include a clear subject line with your name and the position you're applying for.

Avoid a vague subject line like "[Name] Cover Letter" unless you have a strong professional relationship with the recipient. Use a clear subject line like " [Name] Resume and Cover Letter RE: [Open Job Position]."

3

Upload your cover letter.

You can type or copy and paste your cover letter as the body of your email. Make sure to delete your contact information and the recipient's mailing address — using email makes that information irrelevant.

4

Include relevant uploads or hyperlinks.

Click the paperclip button to upload your resume or professional portfolio or use the hyperlink button to add access to your online professional website, portfolio or social media accounts when appropriate.
Cover Letter Format FAQ
What is the correct format for a cover letter?
The correct format for a cover letter uses the following business letter structure:
Name and contact numbers
Paragraph break
Recipient's name and mailing address
Paragraph break
Date
Paragraph break
Greeting
Paragraph break
Body of the letter
Paragraph break
Salutation
Four paragraph breaks
Typed signature
What are the four parts of a cover letter?
Your cover letter consists of four parts:
Contact information: The first part of your cover letter includes your name and contact information and the recipient's name, job title, and mailing address.
Introduction: Includes your greeting and introduction.
Body of the letter: The third part of your cover letter includes your main selling points, i.e., professional skills, knowledge or accomplishments.
Conclusion: This final part of your cover letter includes your concluding paragraph and sign-off.
Is there a template for a cover letter?
Our Cover Letter Builder features professional cover letter templates, expert writing advice, personalized pre-written content based on your work experience, unlimited downloads and matching resume templates. You can visit our resume template and cover letter template libraries to preview the final documents made with the online cover letter tool.