FEATURED IN :
Cover Letter Formatting Example
A cover letter is just a simple business letter that you should send along with your resume when you apply for a job. It will help your chances of getting the job because it provides more space than your resume alone to describe why you're a serious candidate.
Organizing a cover letter is easy because there is only one cover letter layout that should be used universally.
It doesn't matter if you're applying to be CEO of a company or a receptionist, the cover letter structure for every job will be the same.
See how it's done in this cover letter format example: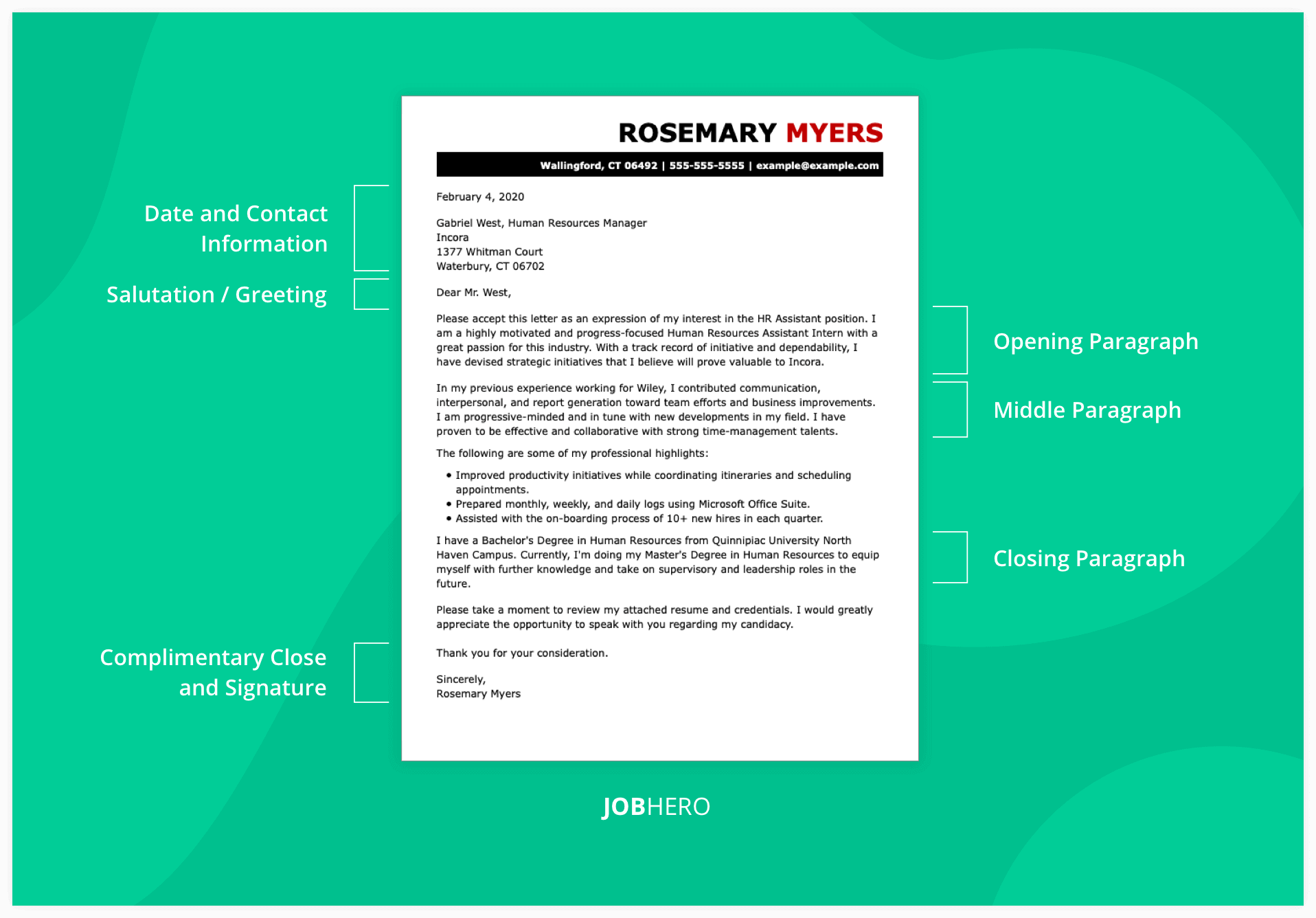 Like any standard business letter, you're going to list your contact information at the top of the page, followed by the hiring manager's contact information and company, a salutation, three to four body paragraphs and a signature.
If you find this helpful, JobHero has hundreds more cover letter examples to provide good ideas and inspiration for your own.
Our article, How to Write a Cover Letter: A Complete Guide, will explain how to achieve success in every section of your document.
Formatting Basics
The first step of your cover letter is to make it easy to read. After all, if an employer can't read your cover letter — they probably won't hire you!
This means that you're going to need to choose the right file format, fonts, spacing, margin, alignment and length. Next, let's get into those details!
Different Formatting Options for the Cover Letter Body
As noted, every cover letter follows the layout of a business letter.
For formatting, there is only one section of a cover letter that can sometimes benefit from a change: the middle body paragraph.
This middle paragraph is the only place where you have choices to make because it's where you're making the main argument for your job candidacy. It's where you're expressing yourself and not just following convention.
There are three different ways to organize the information in your cover letter's middle body paragraph:
Sentence structure. If you write your middle body paragraph's four to five complete sentences, the same as you would any old paragraph, that's called sentence structure.
Here's an example of what sentence structure looks like in the middle body paragraph :

Sentence structure is the traditional way that people write cover letters. It's still the most common way to write a cover letter by far.
Complete well-written sentences will show employers you're thoughtful, good at communication, and it gives you the space to tell a story about what you're like as an employee.
So, sentence structure is always a safe format to use for your middle body paragraph!
However, if you work in a more modern industry like tech, for example –– or perhaps want a more impactful way to grab an employer's attention, consider these options:
Bullet Form. Using bullets in place of a middle body paragraph will focus an employer's attention right here on this juicy part of your cover letter.
So, instead of writing in long complete sentences, you could use bullet points to make your points stand out.
Here's an example of what bullet points look like in the middle body paragraph:

Since bullet points have more whitespace surrounding them, they have a lot of visual impact.
This means that a hiring manager's attention will be focused where you want it: on what you've accomplished in other roles that you'll bring to the table for this new job.
This is a more modern approach to a cover letter that resonates with employers, especially for data-driven jobs or jobs in information technology.
However, if getting rid of sentence structure entirely in lieu of bullet points seems too extreme, you could also consider the third and final formatting option:
Sentence/Bullet Point Mix. This is the so-called Goldilocks middle option for people who want to feature a bullet point or two in their cover letter to draw attention, but don't want to abandon sentence structure completely.
Here's an example of how a sentence/bullet point mix looks in in the middle body paragraph:

This is a great method to give your cover letter a little added flair without abandoning the traditional format altogether.
It's also a good idea if you only want to feature one or two bullet points rather than three to four. Your bullet points should be noteworthy because they're going to attract attention.
3 Ways to Send Your Cover Letter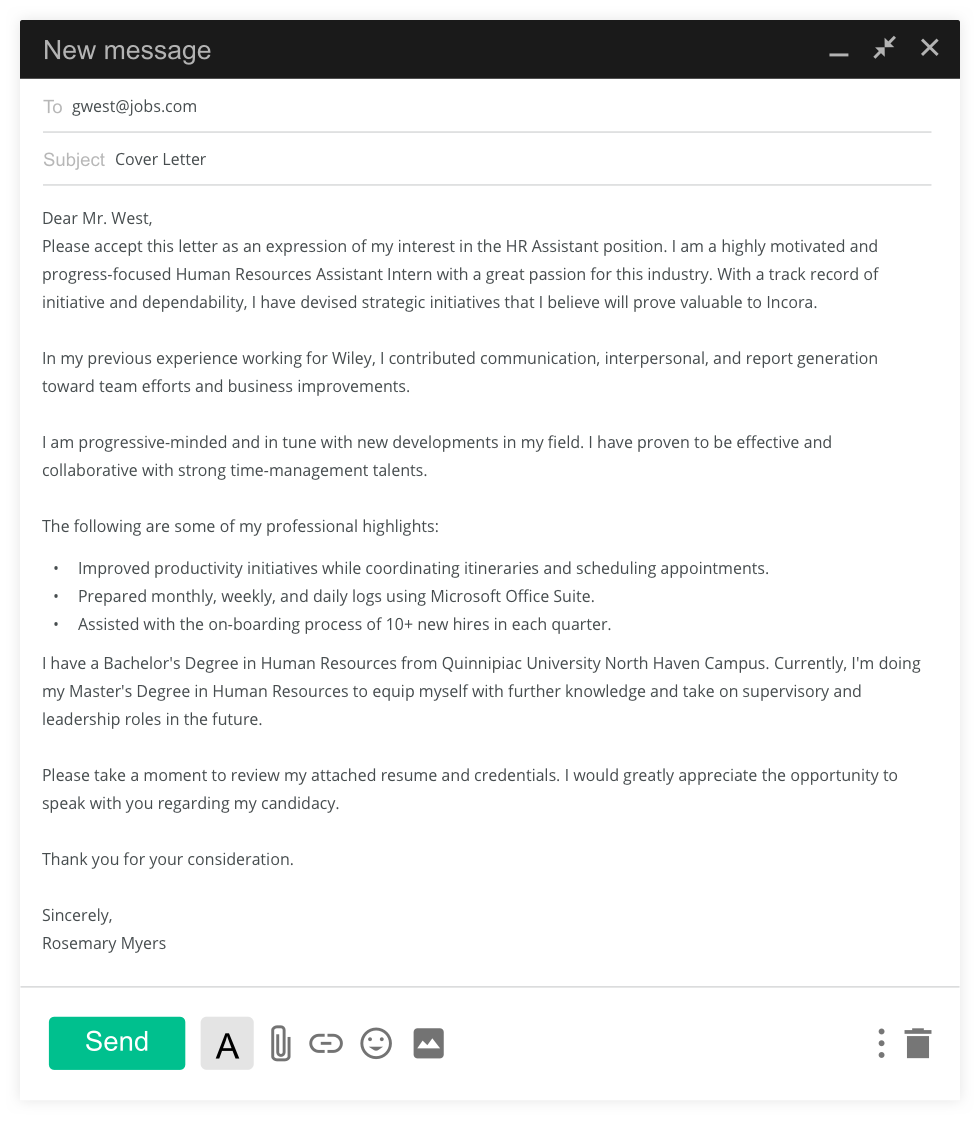 Cover letters have evolved from hand- or typewritten objects of antiquity to letters sent as emails or digital attachments.
Each method of sending your cover letter requires some different considerations. We'll go over how to send a cover letter as an email, digital attachment and by regular mail.
Email is the primary way to send a cover letter as most job hunting is now performed online from various job search sites.
That said, here are the three ways to send a cover letter to an employer:
Include the letter as the body of your email.
This means you type or copy and paste your cover letter as the body of your email. It works. It's effective.
Keep in mind if you send your cover letter and resume as an email, you must include a clear subject line with your name and the position you're applying for.
The only potential problem with including your cover letter as the body of an email is that you have less control over the formatting options such as margins and fonts because you're limited to what your email service offers.
So, if you've taken the time properly format your cover letter in a word processor, consider this option:
Include the cover letter as an attachment.
You might find yourself prompted to include your cover letter as an attachment. If given the option to include a cover letter, create a good one!
It's straightforward to create a cover letter in a word processor of your choice, such as GoogleDocs or Word, and save it in the format of your choosing.
PDFs are the most universal format to include as an attachment, but pay attention to the job posting to see if the employer requests it sent in a different format such as a GoogleDoc, Word or JPEG.
The advantages of including your cover letter as an attachment:
It's a bit more formal.
You don't have to worry about the email service altering the formatting you have applied to your document.
Send a cover letter by mail and hard copy.
This might be the least common way that resumes and cover letters reach employers these days, but it still happens: Some cover letters are submitted by hand or by post.
If this was the employer's request in a job ad, by all means, print out your cover letter and have it ready to deliver with your resume!
If you are mailing your letter, you must take the extra step of making sure that you've included the name of the person relevant to your application and the business address at the top of your letter.
Some people add the personalized touch of leaving space to sign with a pen above their typed name.
Cover Letter Templates
Now that you're ready to get down to business and write your cover letter, JobHero can save you the stress of having to fuss with all these fonts, margins and spacing!
Check out JobHero's
cover letter templates
. Professional designers create them to have a visual impact that hiring managers notice!
All you have to do is pick one you like and start filling out your personal information:
FAQ
What are the three parts of a cover letter?
The three main parts of a cover letter are the heading, body and signature.
The body is the central focus of your letter.
There's not a lot of room to get creative with addresses or a signature, so it follows that the meat of your cover letter is going to be the body paragraphs.
That's where you make your strongest arguments for why you are the right candidate for the job.
How do you write a perfect cover letter?
JobHero features an excellent guide on how to write a cover letter that goes into great detail. It will tell you everything you need to know about writing one!
Follow the steps that we outline in the guide and spend a lot of time planning what you say in your cover letter.
What skills does an employer want you to have to do the job? What achievements from your career best illustrate that you will be able to do the job well?
To write the perfect cover letter for job hunting, make sure that you answer the questions you anticipate employers' having about your ability to do the job. !
Can I use a cover letter builder to format my resume?
Using a cover letter builder is the fastest and easiest way to build a cover letter, period.
In regards to helping you with your formatting, yes, JobHero's Cover Letter Builder makes it a breeze. Best of all, our builder can also produce resumes!
You just have to pick a cover letter or resume design that you like and your document is auto-formatted for you.
All you have to do is follow the prompts to complete your letter in just a few quick minutes.
Don't miss out on the job you want because you were too slow to apply. Create a winning cover letter for a job using our builder and apply now!
What is the best cover letter format for an internship?
For an internship, you'd be well off using the job application cover letter format that we show you on this page.
It's the business standard and applies to internships, too.