Featured in:
Top CV Templates by Styles
At JobHero, you can create CVs to reflect the industry and job title of your chosen career path:
Traditional CV Templates
Traditional templates are basic and clean in design. They work very well for CVs because they tend to be conservative in design and put the emphasis on what you've written, not how the page looks.
These designs are appropriate for careers in academia, medicine or law because of their more buttoned-up nature.
Take a look at some of our top traditional designs to find the one that's right for you:
Modern CV Templates
Modern templates feature a little more visual flair and cutting-edge design than their traditional counterparts.
This style of templates is best suited for careers in the sciences or if your academic specialty is in a more modern field like marketing, communications, technology, media or film.
Check out some of our most popular modern templates:
Creative CV Templates
Creative templates use atypical compositions and color schemes to attract the attention of hiring managers.
They're not for everyone though! Creative templates should only be used by candidates whose background is in a creative field like fine art, multimedia, graphics, animation, photography or film.
Find the creative template that shows your eye for design:
Professional CV Templates
Professional templates share a lot in common with traditional templates. They often have a little more decoration or color than traditional-style templates do.
However, they are also appropriate for a wide range of careers and academic disciplines.
Look for a professional template that speaks to you:
How to Create a CV Using Our Builder
It will take a few steps to customize your template into a proper CV using our Builder –– but it's an easy process that will allow you to turn every single one of our templates into a great-looking CV!
2. Follow the builder's prompts to enter your work experience in years.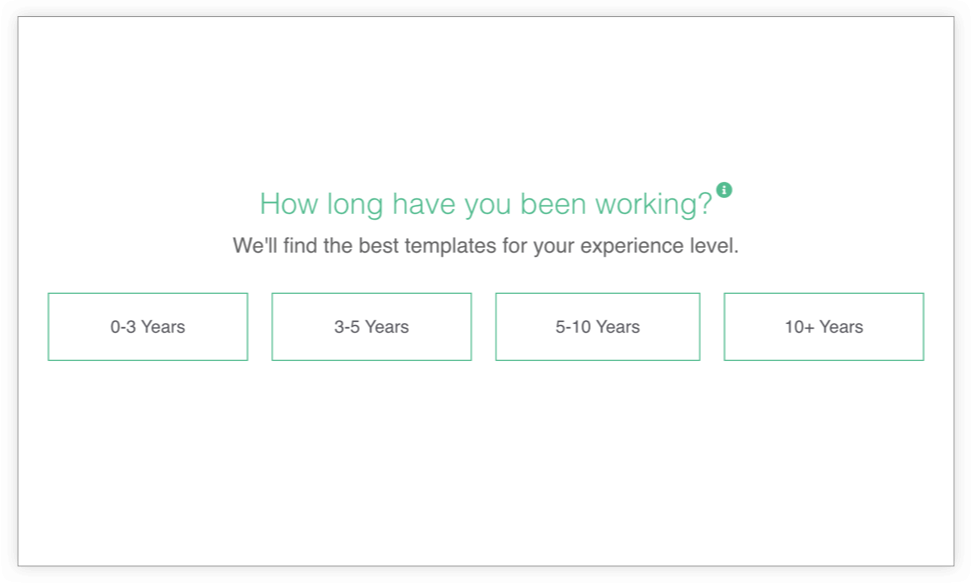 3. Then, choose a template from one of the four categories: Recommended, Traditional, Modern or Creative.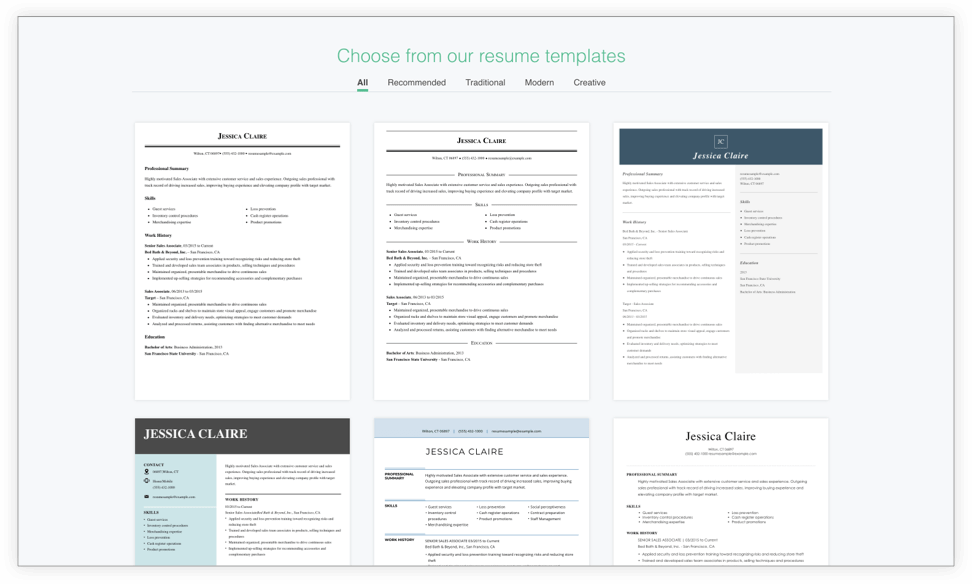 4. Once you complete the guided section-by-section prompts, you'll be able to edit your document.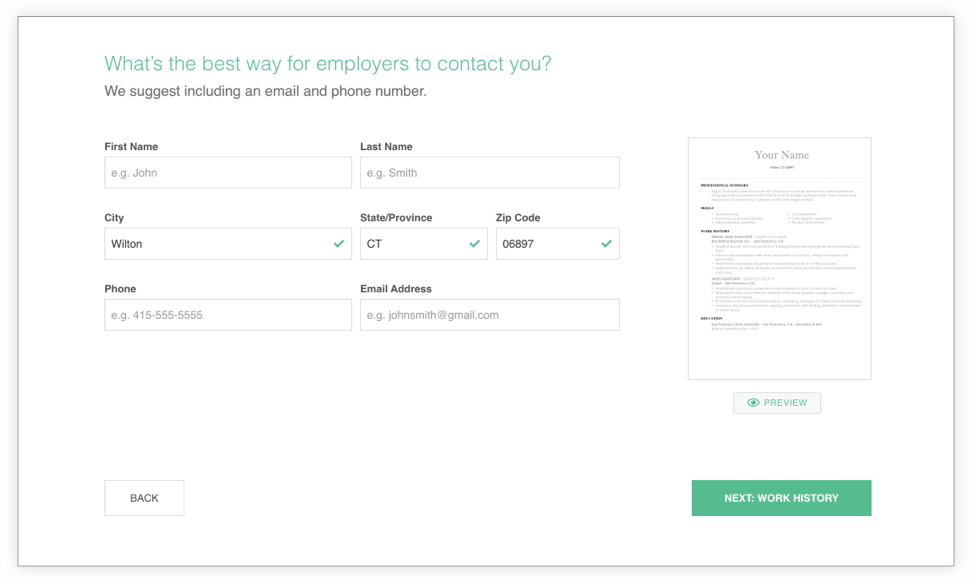 Should you end up back in the dashboard after saving your document, simply click the pencil icon in the center of your document to start editing again!
You will find the list of your CV sections on the right side of the edit menu, below the 'Spell Check' function. Click 'Add a Section,' to get to the custom sections menu.
5. Once you've clicked the 'Add a Section' plus sign, you're led to the menu with customizable add-ons such as Activities & Honors, Accomplishments and Certifications.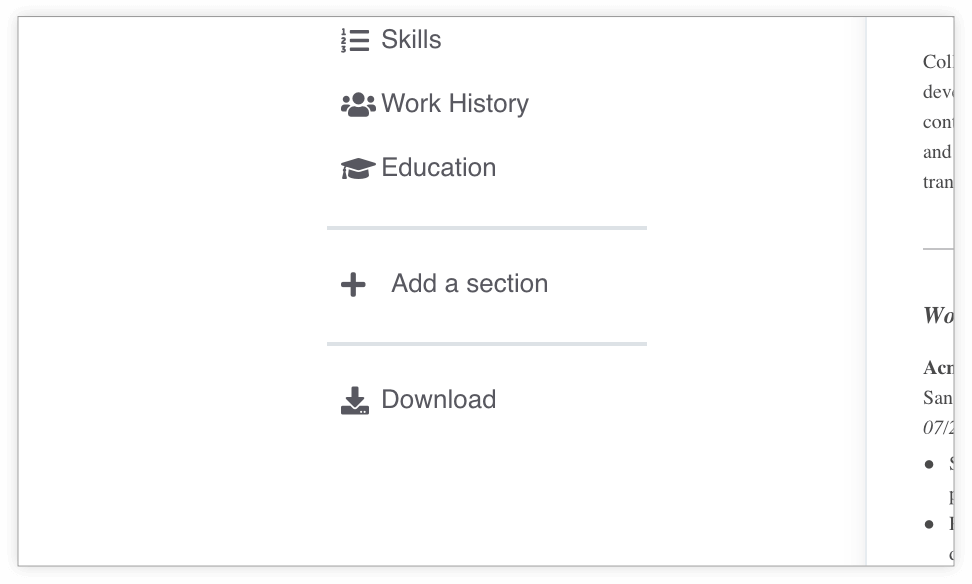 You can also select 'Add a Custom Section' to create your own unique section(s).
Check out our
How to Write a CV page
if you want specifics about what you should include in your document or how you should phrase anything.
6. Once you've finished adding a new section, you will be directed back to the editing menu, where you can go over the area with your mouse to move, edit or delete anything desired.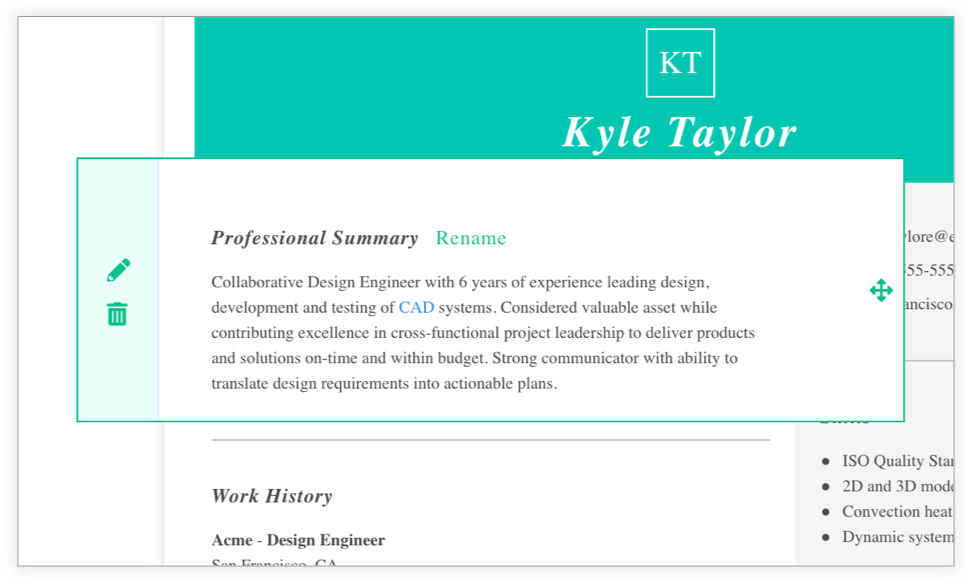 To organize the section layout of your document, hover over the area you want to move, and an icon with arrows will pop up on the top-right of the section box.
7. Once you return to the editing menu, if you would like to format your document, click the 'formatting' arrow. It's located toward the bottom of the page. Use it if you want to adjust the margins, font size, font style or spacing.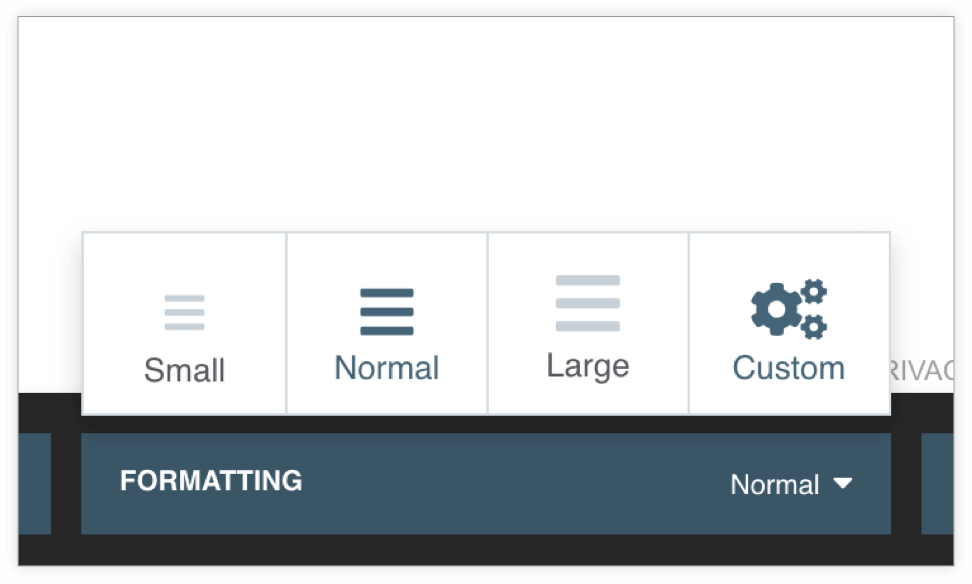 8. To choose between color schemes for your CV, go back to the bottom menu and select the 'color' arrow on the far right.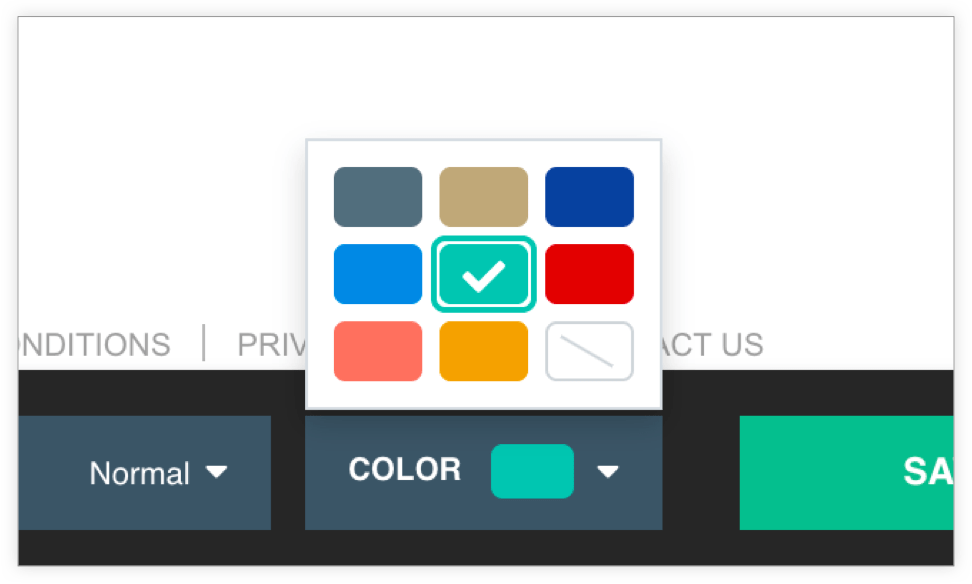 9. If at any point you wish to change your template selection completely, go to the far left of the bottom menu and select the 'template' arrow. You can then select a new style for your CV.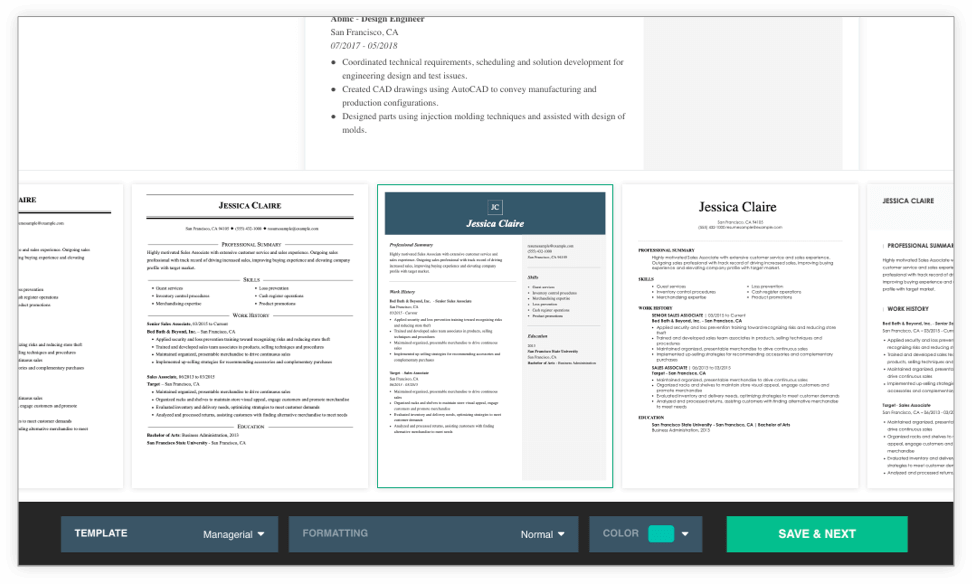 10. Make sure you've spell-checked your CV! Then, click the 'Save & Next' button by the 'color' arrow before downloading your document.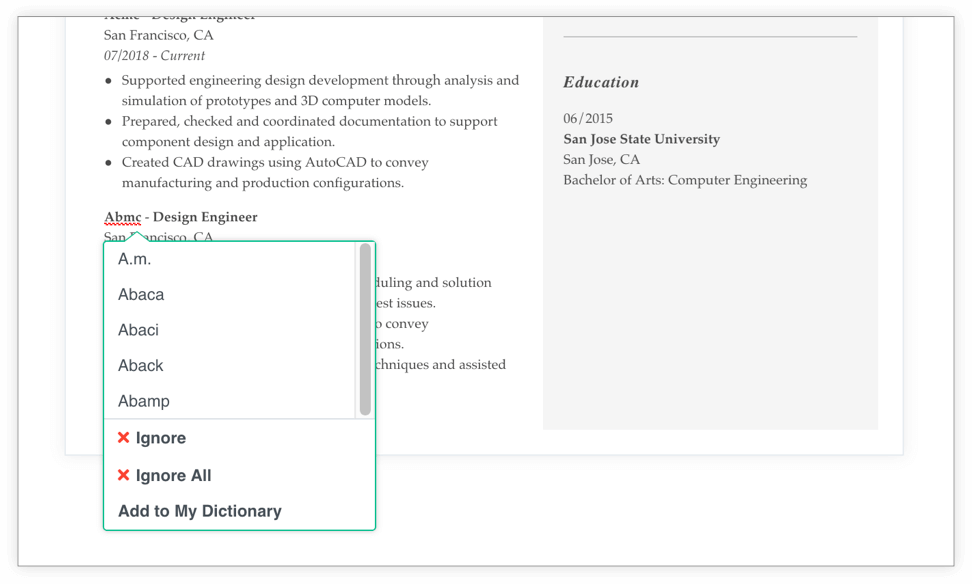 CV Templates FAQ
What is the best CV template?
The best CV template is the one that appeals to the specific employer that you are applying to work for!
To determine this, research the company that you're applying to. You can research online or talk to friends or colleagues who might know about it.
The easiest part of your research should be to do a very close reading of the job post or ad that made you aware of the position. Try to match the tone or vibe of that post with the template you choose.
Think about the company's brand identity or the school's reputation and try to find a template that seems suited for the job at hand.
When in doubt, selections from the Recommended or Traditional categories of our templates will be well-suited to a wide variety of professions!
How do you write a CV in 2021?
Even after a global pandemic, the art of writing a great CV has not changed much!
JobHero has a great up-to-date guide that details every essential part to include in an effective CV.
If you follow our guide you will get expert pointers about how to describe your work experience and history in your CV. For professional guidance, this page will help you through all the tricky decisions.
Is it a good idea to use a CV template?
Yes, it's a great idea to use a CV template.
The main reason: You're probably not a professional designer. However, any role that requires a CV demands a high caliber of professionalism and your CV design should reflect this.
The only way you're going to achieve that –– short of hiring a professional designer, which is very expensive –– is to use a template so that you know your CV looks good!
Beyond the guarantee that you'll like the way your document looks if you use a template, it will also save you time because you won't have to create your CV from scratch and tinker with design elements like margins, columns, borders, fonts or color schemes!
Those elements are ready for you and so you can feel relieved about how it looks and focus more on the quality of your CV's content.
What should not be included when using a CV template?
If you're using a template, it's a great design that could be used by anyone. So you want to make sure that the content you feature on your resume is unique to you!
Take great efforts to describe your work experience in an active way, and areas of expertise and fields of research in a way that paints a very vivid and clear picture of who you are as a professional.
Don't include anything on your CV that isn't a career achievement you're not proud of. Try to avoid discussing research that may have been inconclusive due to financial constraints at great length.
If anything on your CV isn't serving that mission, don't include it.