Say Goodbye to Resume Writing Anxiety. We get it: writing a resume can be a headache. But we also know a strong resume can open doors, so it's important that yours represents you in the best possible way. The good news is, JobHero's Resume Builder puts a world of expertise at your fingertips. Our Resume Builder provides step-by-step guidance to help minimize the stress of writing, and maximize the impact of your resume.
Whether you have an outdated version of a resume that needs updating, or you need to write one from scratch, JobHero's Resume Builder can help. The process is tried and true: resumes created with JobHero's Resume Builder have been downloaded thousands of times.
You'll find JobHero's Resume Builder intuitive, easy to use, and blazingly fast. Worrying about formatting issues is a thing of the past, because we've taken all the guesswork out of the entire process. And because our Resume Builder is fully compatible with most file formats, it's easy to import your own resume. With a wide range of templates available, from classic and executive to bold and creative, choose the one that's right for you and get started today.
4 Benefits of Using the JobHero Resume Builder
Starting the process of writing a resume with a JobHero template removes all the guesswork, so you can showcase your skills and experience in a smart, professional way.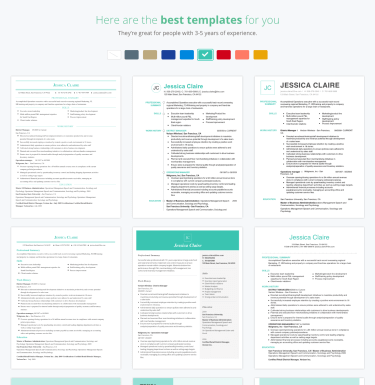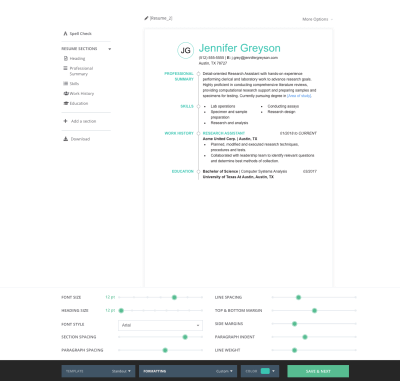 It can be stressful to choose fonts, decide on color themes and align margins, but don't worry--the JobHero Resume Builder provides you with plenty of options that are already pre-formatted.
Whatever job title you're applying for, you can be sure you're using the right industry-approved keywords throughout your resume because our Resume Builder provides guidance every step of the way.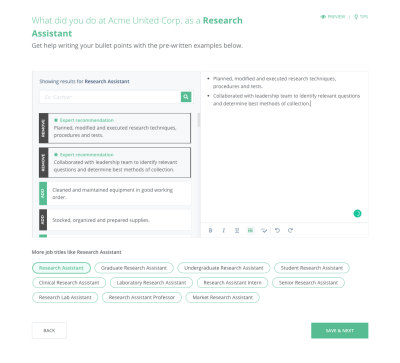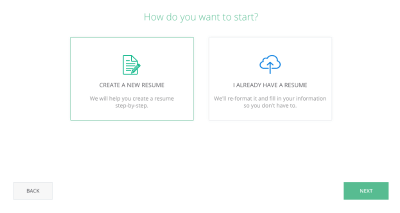 The JobHero Resume Builder provides templates that are infinitely more convenient than writing with a word processing program--the templates alone will save you hours of legwork. But if you've already got a resume started, no problem! Because our Resume Builder is fully compatible with DOC, DOCX, PDF, HTM, RTF, and TXT formats, you can import a previously existing version or edit what you've created at a later date.
Build Your Resume
Key Features of Our Resume Builder

Professionally-designed
customizable templates make it quick and effortless to showcase your work history, education, and achievements, saving you time and cutting down on stress as we guide you each step of the way.

Pre-written job descriptions,
loaded with industry-specific keywords that hiring managers look for, maximize your chance of getting an interview.

Our recruiter-approved templates
are all professional and generated by the most advanced resume building technology. There's no technical knowledge required on your part. We've made easy to create different versions of your resume, tailored to various jobs that interest you.

Pre-formatting
makes the whole writing process experience easy. Choose any format you want: chronological, functional, or combination. Then simply follow the prompts to select fonts, align margins, and quickly craft a professional-looking resume.

The JobHero Resume Builder
was created with extensive input from a team of industry experts, who know exactly what counts in a well-written resume. The whole process is hassle-free. We give you expert tips and advice every step of the way, so you can have a professionally-crafted resume in minutes.

Regardless of whether you're fresh out of high school and looking for your first job or you're a seasoned executive who wants a corner office with a better view,
our Resume Builder is flexible enough to suit your needs.
Explore Resume Template Examples for Inspiration and Ideas
For a better sense of what JobHero's Resume Builder can do, check out these completed resume template examples below.
You'll notice that while we offer a range of resume formats, they share a few things in common: they're all sleek, clean-looking, easy to read, and professionally designed.
Let Us Help You Build Your Best Resume
In today's hyper-competitive job market, there's no time to waste when you're job hunting. Instead of sitting there staring at a blank page, worrying about how to format a page or what words to use, get started with our Resume Builder now.
Remember: the less time you spend writing your resume, the more time you have to focus on your job search. Rely on JobHero's expertise to give yourself the best chance of getting the job of your dreams. We make it faster, easier, and better.
Together, we can do this!
Get Started
Next Step: Interview Prep
Once you've written your best resume, get ready for the next step: an in person interview! As always, JobHero has you covered every step of the way. Here are some additional resources to help you prepare for that all-important face-to-face interview.