Featured in:
What are Hard Skills?
Skills refer to any trait or personal attribute that helps you excel at performing a task. There are two main types of skills — hard skills and soft skills.
Hard skills vs. soft skills
The hard skills definition is any ability that can be developed and improved through practice, repetition and education –– they also tend to be easy to demonstrate, evaluate and even quantify.
This contrasts with soft skills, which refer to abilities that aren't as easy to learn, demonstrate or quantify, such as teamwork, leadership or interpersonal skills.
Hard skills lists often include subcategories such as hardware, heavy equipment, languages, computer programs, social media and tool expertise. Having the right hard skills listed on your resume will help employers understand your level of proficiency.
Check out our How to Write Resume Skills to create an attention-grabbing hard skills section.
80 Top Hard Skills
Employers will look for candidates who possess industry-specific hard skills when filling an open position. In 2023, resumes are becoming more-skilled focused.
Here is a list we've put together of the most in-demand hard skills examples:
Blockchain has become very important in recent years because it's a specialized service that helps people store and trade cryptocurrencies. Due to the rise of these financial platforms, many companies are now seeking people specializing in blockchain technology.
Related blockchain skills:
Asymmetric-key cryptography
Cipher
Cryptography
Data structure
Decryption
Encryption
Hash functions
Programming languages
Symmetric-key cryptography
Cloud computing is the wave of the future when it comes to data storage. As such, cloud computing skills are in high demand so that companies can expand past the limitations of their hardwired networks to bring a more seamless experience to their users.
Related cloud computing skills:
Analysis skills
Cipher
Cloud security
Database skills
DevOps
Programming languages
Linux certification
Networking
Quality assurance
Virtualization
Web services
Analytical reasoning is an important skill to analyze and use data strategically. Our tech-driven world requires thoughtful leaders who can make sense of raw data and make well-informed decisions.
Related analytical reasoning skills:
Analytics
Data engineering
Database management
Data mining
Data presentation
Data visualization skills
Diagnostics
Forecasting
Mathematical skills
Research
4
AI (Artificial Intelligence)
Artificial intelligence is the next big frontier of computing. Using intelligent systems capable of learning can advance technology into unexplored realms and possibilities. So it makes sense that individuals specializing in AI are highly sought after by companies right now.
Related AI skills:
Big data
Deep learning
Distributed computing
Domain knowledge
Programming languages (Python, R, Java are the most necessary)
Linear algebra and statistics
Machine learning
Neural network architectures
Predictive and data analysis
Signal processing techniques
UX, or user experience, refers to how a person interacts with computer software or websites. UX determines how easy and practical it is for users to learn and use new programs or navigate web pages. To ensure that their products are quick and painless to use, it's imperative for companies to seek out qualified UX professionals.
Related UX designer skills:
Agile methodology
Application development
Coding skills
Collaboration
Information architecture
Prototyping
Research
UX writing
Visual communication
Wireframing
Business analytics refers to the ability to look at data sets and make informed decisions about the direction of a company and the kinds of metrics they should aim for. Since this directly impacts business, well-trained business analytics professionals matter a great deal to most companies.
Related business analyst skills:
Budgeting
Financial planning
Forecasting
Monitoring
Negotiation
Planning
Pricing
Project management
Reporting
Variance analysis
Affiliate marketing is a relatively new skill that refers to the cross-promotion that occurs when different businesses use one another to market their products to generate new customers. This new frontier or intercompany promotion can offer many new and unexpected ways that companies can grow and thrive. So, affiliate marketing experts play a significant role, especially for web-driven businesses.
Related affiliate marketing skills:
Budgeting
Data analysis
Digital media and design
Marketing and content creation
Money management
Photography
Sales and marketing skills
Social media management
Video and audio production
Website design
Sales is a profession as old as time and still every bit as valuable. Great sales professionals drive business for many companies. So it should come as no surprise that sales skills are still one of the most in-demand abilities a professional can have.
Related sales skills:
Business software
Business communication skills
Contract negotiation
Closing skills
Prospecting
Product knowledge skills
Lead qualification
Referral selling
Social selling
Data science combines computer science with machine learning, mathematics, statistics and visualization to create models used to make important business decisions for a company. Since these predictive models are so important to a business's long-term future, it makes sense that data science is a highly sought-after skill.
Related data science skills:
Data preparation technique
Data wrangling
Git
GitHub
Mathematics
Mining social media data
Model deployment
Software engineering
Statistics
Statistical modeling
Videography skills support the ability to plan, shoot and edit videos. It's become essential for companies to produce all sorts of media to stay relevant in the public eye and videography skills are essential to help a business look up-to-date.
Related videography skills:
Animation design
Camera operation
Editing skills
Graphic design
Lighting setup
Photography skills
On-camera skills
Production
Social media
Video journalism
Most employers will include a list of hard skills that candidates must have in order to qualify for the position. Listing hard skills that align with the job post can improve the chances of nailing the job. To determine the right hard skills for a resume, it's important to research the core competencies required for the role.

Don't miss out on your
dream job
— use JobHero's Resume Builder to create a resume that serves as the best representation of yourself: a true professional!
Get Started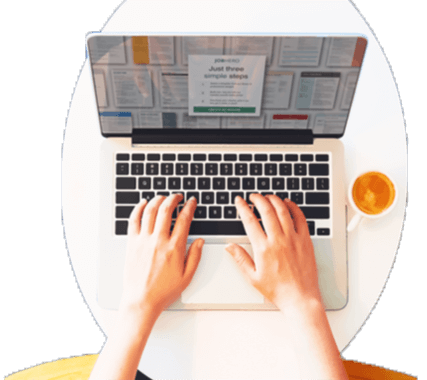 How to Showcase Hard skills
Here we'll outline the process you should follow to include hard skills for your resume, cover letter and –– if you score one –– your interview!
In all three cases, follow this process to ensure you know which skills to include:
Read the job post or description carefully.
The job description is where employers tell you what skills they seek in their ideal candidate.
Tailor your resume and cover letter to what the company is looking for every time you apply for a job! Otherwise, your hiring documents may be generic or won't target the right skills
Match your hard skills to the job description.
Once you've looked over some of the hard skills and duties the employer is seeking, brainstorm how to draw skills or examples from your career arc that match these skills.
Use the same phrasing listed in the job description. That will show that you pay close attention and will help you pass an applicant tracking system (ATS).
Large employers usually use an ATS to prescreen and weed out candidates who aren't a right fit for the role. So, an employer may not even see your resume unless you include the right hard skills.
Hard skills on your resume
There are three ways to feature hard skills on a resume.
1
Skill section
The first is to have a "Skills" section and list a mix of six to eight hard and soft skills
2
Professional summary
One of the first things that employers read is the professional summary because it is at the top of your resume. Use the opportunity to market two or three of your top hard skills to describe yourself.
3
Work history
The last option is to include hard skills samples in the bullet points of your work experience and achievements sections. For example, instead of just listing the skill "SQL programming," you could choose to feature it in bullet points detailing your work history, such as "Programmed SQL to achieve 4% reduction in page-load times."
JobHero's Resume Builder also comes preloaded with auto-suggested hard skills tailored to the job title that you're applying for from which to select.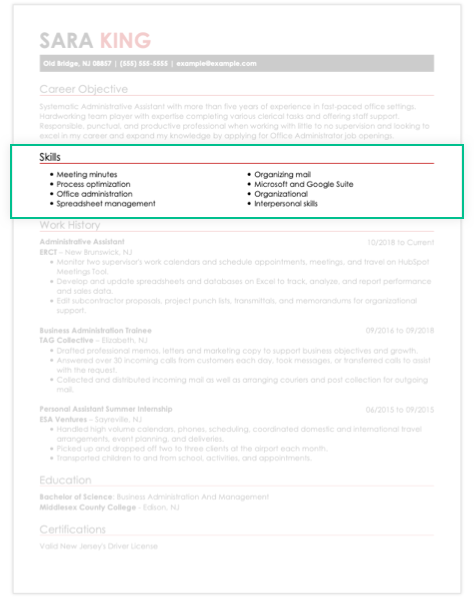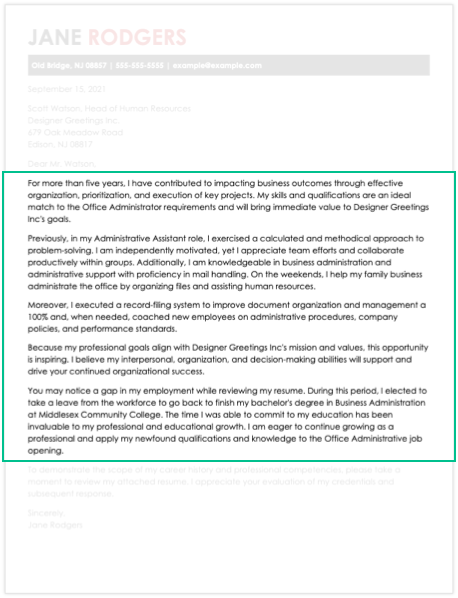 Hard skills in your cover letter
Cover letters create an additional opportunity to expand on hard skills not listed in resume. It can help you market your best accomplishments.
Use the first paragraph of your cover letter to pique the recruiter's interest by matching your hard skills to the requirements listed in the job description. This will target the company's hiring needs. For instance, you can discuss how you plan on attracting new prospects or create a concept that can become the differentiator between the company and the competition.
In the second paragraph, provide hard skill examples of situations where you made a significant difference in the company's performance. Here's an example:
"In my previous experience in car sales, I have developed strong negotiation skills that have enabled me to build sales increases of up to 15%. I was also great at bringing in customers by creating a digital marketing campaign with social media and email blasts. I aim to build positive customer relationships every day."
Feeling stuck? One of the perks of JobHero's Cover Letter Builder is that it creates auto prompts with industry-specific terminology to help you target those hard skills. Create a job-winning cover letter fast and easily.
Hard skills in an interview
Congratulations! You got the interview. Let's discuss the hard skills that will bring you interview success.
When interviewing for a role, hiring managers will look to see if your skills relate to their position.
Bring up skills that will demonstrate that you are suitable for the job. Make sure your responses mention the core hard skills relevant to the role to impress the interviewer.
Before the interview, prepare by reviewing the top skills you mentioned in your resume and think about the best example, story or anecdote that you could use to illustrate them.
For instance, a content creator can say:
"I understand this company has a specific target audience with strong competition. In my experience, I was able to complement social media and traditional prospecting methods to increase sales by 20%."
Use action verbs and hard skills to showcase examples of your top achievements and overall success.
In 2023, most jobs require at least basic IT skills, including the ability to use word processing,spreadsheet software and social media tools. Highlight your IT skills and tools expertise in previous roles by using real-life examples.
For example, if you are applying for a software engineer, you can say:
"My fluency in C++, Java and Python are the foundation for my success in achieving project deadlines ahead of time and troubleshooting glitches."
Put your top hard skills list right upfront to give a better picture of how you can benefit a company and its product quality.
Create your own professional resume in just minutes.
Try our resume builder today
Build Your Resume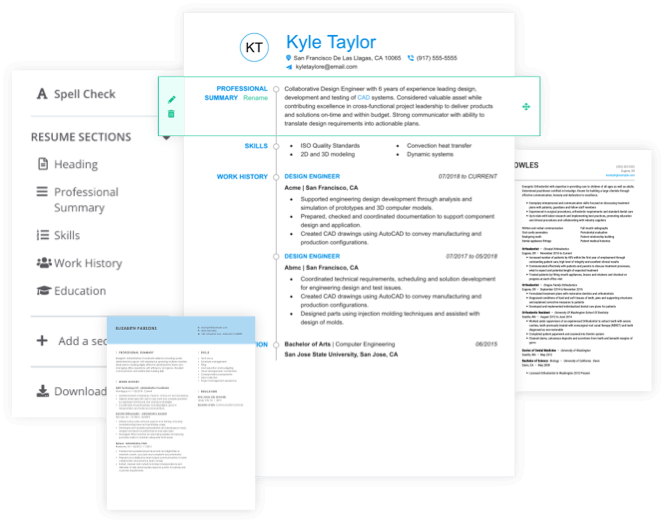 Improve Your Hard Skills
Improving and expanding your hard skills will help your career evolve! Here are the top four ways to step up your game:
1

Practice

Experts are made, not born. Practicing regularly is key to growth and professional improvement. You can master any skill but you have to practice it as well.

To maximize your time, identify the areas you need to improve. This will help you target specific goals instead of aiming at some vague overall improvement. Practicing also requires your full attention. Choose one hard skill to practice every day for a set period. Take the time to focus and monitor improvement.

2

Online courses

Explore online courses that align with your career and sign up. This is a convenient way for professionals to improve hard skills from home! Respectable universities like Harvard offer over 100 free online courses that are self-paced! From computer science to the art of persuasive writing, you can improve skills that are essential across all industries, such as writing skills.

3

Certifications

You can continue your professional development throughout your career or gaps between jobs. Learning new hard or technical skills will allow your job role to expand and prepare you for a potential promotion.

4

Mentors

Another great tool for improving hard skills is coaching and mentorship. You can join online forums or become part of professional networks within your niche. Mentors act as trusted advisers and provide support in helping you develop new skills, overcome challenges and encourage career development.
Others may require that you get more hands-on experience, such as volunteering, doing an internship or starting your own small business.