Featured in:
What are Hard Skills?
Skills refer to any trait or personal attribute that helps you excel at performing a task. There are two main types of skills people can have: hard skills and soft skills.
Hard skills refer to skills that can be developed and improved through practice, repetition and education –– they also tend to be easy to evaluate and quantify.
This contrasts with soft skills, which refer to abilities that aren't as easy to learn, demonstrate or quantify, such as teamwork, leadership, or interpersonal skills.
Hard skills often include subcategories such as hardware, heavy equipment, languages, computer programs, social media, and tool expertise. Having the right hard skills listed on your resume can make or break your chances of being called for an interview!
Types of Hard Skills
Every job requires a different set of skills to perform the job well. Here is a list we've put together of the most in-demand hard skills that companies want.
Top in-demand hard skills:

Blockchain
Blockchain has become very important in recent years because it's a specialized service that helps people store and trade cryptocurrencies. Due to the rise of these financial platforms, many companies are now seeking people who are specialized in blockchain technology.

Cloud computing
Cloud computing has become the wave of the future when it comes to data storage and computing. As such, cloud computing skills are in high demand so that companies can expand past the limitations of their hardwired networks to bring a more seamless experience to their users.

Analytical reasoning
Analytical reasoning is an important skill to analyze and use data strategically. Our tech-driven world requires thoughtful leaders who can make sense of raw data and make well-informed decisions with it.

AI (Artificial Intelligence)
Artificial intelligence is the next big frontier of computing. Using intelligent systems that are capable of learning can advance technology into unexplored realms and possibilities. So it makes sense that individuals who are specialized in AI are among the top-sought by companies right now.

UX designer
UX, or User Experience, refers to how a person interacts with computer software, hardware or websites. UX determines how easy and practical it is for users to learn and use new programs or navigate web pages. To ensure that their products are quick and painless to use, it's very important for companies to seek out qualified UX professionals.

Business analytics
Business analytics refers to the ability for people to look at datasets and make informed decisions about the direction of a company and the kinds of metrics they should aim for. Since this has such a direct impact on business, it follows that well-trained business analytics professionals matter a great deal to most companies.

Affiliate marketing
Affiliate marketing is a relatively new skill that refers to the cross-promotion that occurs when different businesses use one another to market their products to generate new customers. This new frontier or inter-company promotion can offer many new and unexpected ways that businesses can grow and thrive. So, affiliate marketing experts play a very important role, especially for web-driven businesses.

Sales
Sales is a profession as old as time and still every bit as valuable as it's ever been. Great sales professionals drive business for many companies. So it should come as no surprise that sales skills are still one of the most in-demand abilities a professional can have.
Data Science
Data science combines computer science with machine learning, mathematics, statistics, and visualization to create models used to make important business decisions for a company. Since these predictive models are so important to a business's long-term future, it makes sense that data science is a highly sought-after skill.

Videography
The future is visual and videography skills apply to the ability to plan, shoot and edit videos. It has become important for companies to produce all sorts of media to stay relevant in the public eye and videography skills are essential to help a business look up-to-date and cutting-edge.
More top hard skills by type
Cloud computing
Cloud applications, such as JSON, Rest, and RPC
Cloud architecture
Cloud Middleware technologies
Storage and data management
Networking communication
Computer tech
Blockchain
HTML, Javascript, CSS
Machine learning
Microsoft Office Suite and Google Drive Suite
Natural language processing
Pivot tablesg
SAS, MySQL, Apache
Social media
Swift, Python, Perl, XML
Trello
Zoom
Data analytics
Data engineering
Database management
Data mining
Data presentation
Diagnostics
Reporting
Resource management
Design
Adobe Creative Suite (Photoshop, InDesign, etc.)
Color correction
Design Software like Figma and Sketch
Digital Product Design Software, such as InVision and Zeppelin
Illustration
Photo composition
Print Design
Typography
User Experience (UX) Design
User Interface (UI) Design
Video Production Software such as Adobe Premiere Pro, Final Cut Pro, and Corel VideoStudio Ultimate
Hard communication skills
Foreign languages
Copywriting
Digital communication
Foreign languages
Presentations
Marketing
A/B testing
Ahrefs, SEMrush, PageOptimizer Pro
Content Management Systems (CMS), such as WordPress
Google Analytics and Google Search Console
MailChimp
Marketing campaign management
PPC
Search engine optimization (SEO)
Search engine marketing (SEM)
Mobile & web development
Android Development
Angular and Node Apps
iOS App Development
Software Revision Control Systems
Swift, C#, Java, Objective-C
Web Architecture and Development Framework
Network structure & security
Authentication systems
Cryptography
Encryption algorithms
Incident response
Network monitoring software like Wireshark and Nagios
Risk Assessment
Virtual and host-based firewalls
Virus protection software like Ping Identity, Portswigger BurP Suite, and Symantec
Project management
Agile methodologies, such as Scrum
Budgeting
Project lifecycle management
Project management software, such as Trello and Zoho
PMP certification
Risk management
Strategic planning
Writing
Copyediting (grammar, flow, syntax, spelling, punctuation)
Copywriting
Content management
Email writing
Formal presentations
Investigative journalism
Grant writing
Report writing
SEO copywriting
Storytelling
Storyboarding
Writing press releases
How to Showcase Hard Skills
Here we'll outline the process you should follow to include hard skills on your resume, cover letter and –– if you score one –– your interview!
In all three cases, follow this process to ensure you know which skills to include:
Read the job post or description carefully.
The job description is where employers tell you what skills they seek in their ideal candidate. You should tailor your resume and cover letter to what the company is looking for every time you apply for a job! Otherwise, your hiring documents may come off as generic or won't target the right skills.
Match your hard skills to the job description.
Once you've looked over some of the hard skills and duties the employer is seeking, brainstorm how to draw skills or examples from your career arc that match these skills. Use the same phrasing listed in the job description. That will show that you pay close attention and, better yet, help pass an applicant tracking system (ATS).
ATS are usually used by larger employers to prescreen and weed out candidates who aren't a right fit for the role. So, an employer may not even see your resume unless you include the right hard skills.
Hard skills on your resume
There are two ways to feature skills in your resume. We go over it in greater detail on our How to Write Skills page.
The first is to have a "Skills" section and list them, keeping a balance with soft skills.
The second is to include them in the bullet points of your work experience and achievements. For example, instead of just listing the skill "SQL programming," you could choose to feature it in bullet points detailing your work history, such as "Programmed SQL to achieve 4% reduction in page-load times."
JobHero's Resume Builder also comes preloaded with skills tailored to the job title that you're applying for that will be auto suggested for you to select from.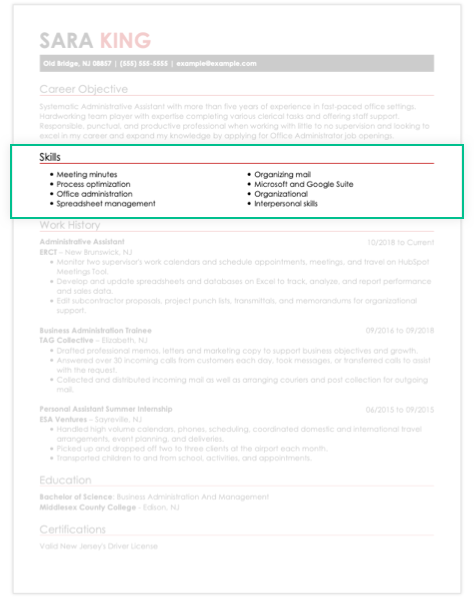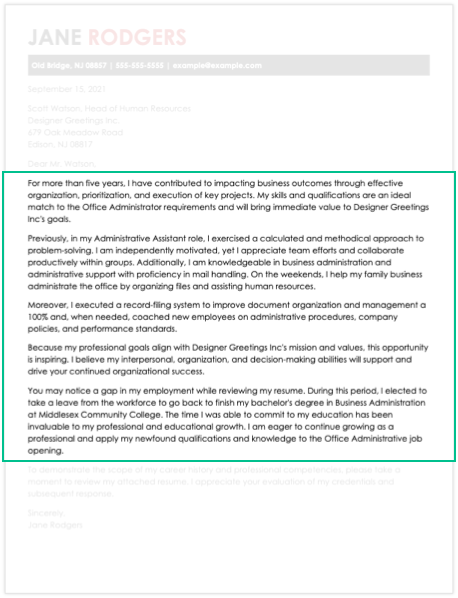 Hard skills in your cover letter
Your resume is not the only place that you should showcase your skills! You should also do so in your cover letter.
In the first paragraph of your cover letter, skills can be a great way to introduce and market yourself. Drop mention of a couple of your top hard skills to catch the interest of an employer.
Also, in the second paragraph of a cover letter, if there's no particular achievement you want to discuss, you could tell a story about how you use your skills to illustrate your work style.
These options are both present and easy to customize with JobHero's Cover Letter Builder. Better yet, because it gives you auto prompts for writing, it is the fastest and easiest way you'll find to write a solid cover letter!
Hard skills in an interview
If you've gotten called for an interview, that's exciting news!
The biggest thing to keep in mind regarding discussing your skills on a resume versus during an interview is that the interview is expected to include a longer explanation of your claims.
Think of your resume as the preview on the back cover of a book that tries to get you interested in reading it.
The interview is where the employer gets the whole story. So, you need to justify your skills by going in-depth on how you put them to good use. That way, an employer can better assess and gauge whether or not your skills will fit their needs.
So, you need to go a step beyond just re-listing the skills you've mentioned on your resume. Tell a story about them!
After all, your resume is meant to be a quick list of your accomplishments; your interview needs to fill the rest of the story with more detail and a sense of career progression.
It will be a lot more impactful, and the employer will be more likely to believe you and want to hire you if you convince them why with a story that illustrates your skills in action.
For example, someone applying for a role as a software engineer could provide an answer to a common prompt like: "Tell me about yourself."
"My fluency in C++, Java and Python are the foundation for my success in achieving project deadlines ahead of time and troubleshooting glitches."
Note how in the example, the candidate has put their top hard skills right up front to give a better picture of how it can benefit their overall work and the product quality.
Try to employ similar tactics to discuss your top skills!
Before the interview, look at the top skills that you mentioned in your resume and think about the best example, story, or anecdote that you could use to illustrate them.
Keep these anecdotes fresh in your mind for the interview so that you can impress an employer by being fully aware and confident about your abilities.
Don't miss out on your
dream job
— use JobHero's Resume Builder to create a resume that serves as the best representation of yourself: a true professional!
Get Started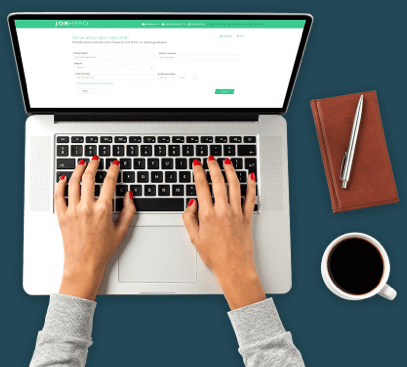 Improve Your Hard Skills
As you can see, hard skills is an umbrella term that applies to hundreds of different specializations.
There's no way to become an expert at every hard skill!
But if there is a career track that appeals to you, it is possible to target a set of hard skills essential to developing a career in this field.
For instance, if you want to become a computer programmer, you can read books to learn some different programming languages, or take an online course.
Many hard skills are possible to develop through your personal development and passion projects.
Others may require that you get more hands-on experience such as volunteering, doing an internship, or starting your own small business.