Featured in:
Recommended Basic Style Templates
Use our basic and simple templates as a starting point to create a great resume.
Here is a selection of our most popular designs:
Who Should Choose a Basic Resume Template?
Basic templates are primarily for people in entry-level positions or jobs that require physical labor like janitorial, construction or warehouse work because they are simple, sleek and straightforward.
Because these simple template styles are neat and well-organized, they are also suitable for legal, finance or government jobs.
Candidates looking to apply for jobs like housekeeper, landscaper, roofing laborer, electrician and plumber can benefit from a basic resume template.
Check out our free basic downloadable resume templates to jump-start your resume!
Free Basic Resume Templates
What is a basic template?
These templates are basic because of their clean, simple layouts and minimalistic features. They are liked by hiring managers because they are designed to be straightforward to follow.
When a template is clean and well-organized, the focus is on your skills and professional accomplishments. These basic templates work great to pass applicant tracking systems (ATS). This HR software is used widely by recruiters to scan and process job applications.
Free downloadable basic templates
Basic Resume Templates for Popular Jobs + Examples
Basic templates are a great tool for job seekers to shine. Here are some of the top jobs suited for these simple template styles:
More Resume Template Styles
These simple template designs are the fastest way to create a job-winning resume. Our resume templates have helped thousands of job candidates take their resumes to the next level!
Here's some insight into our best templates styles:
How to Use Basic Templates in Our Builder
JobHero features a Resume Builder to help you create your own great-looking basic and simple resume that you can download for free in minutes! It saves you much time and effort.
Simply start by selecting your favorite design from our template library. You will find the basic and simple resume template designs we have discussed under the "Recommended" and "Traditional" tabs of the resume-selection screen.
Then, follow the builder's instructions to customize the template. You will be filling in the blanks with your personal information and choosing from the auto-suggested terminology to keep your resume relevant to the position you're seeking.
Lastly, review your finished document, save and download it!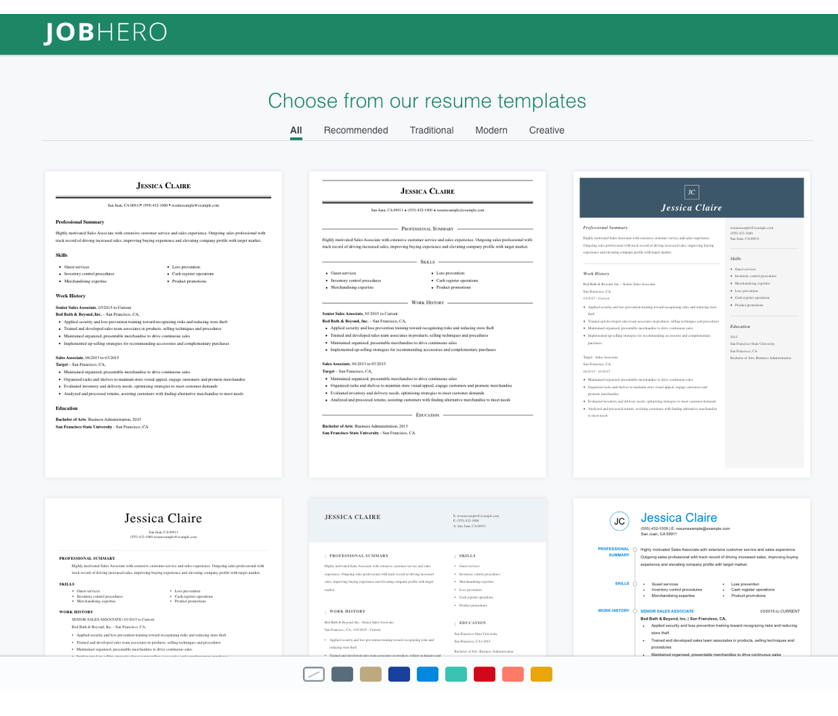 Create your own professional resume in just minutes.
Try our resume builder today
Build Your Resume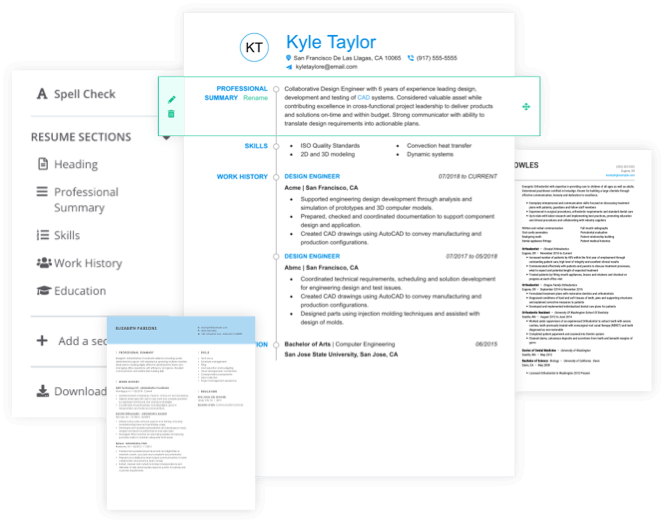 Need a CV ?
CVs work best for jobs within science or academic fields. JobHero also has a selection of CV templates. Browse through our 25+ CV Templates for 2023.
Basic Resume Templates FAQ
What makes these templates basic and simple?
They are considered "basic and simple templates" because JobHero's design team created them to be well-organized, clean and easy to read.
This basic resume layout is achieved by stripping the resume design of distracting design elements. The goal of this style of resume is to let your information speak for itself with minimal visual clutter or distraction.
Often, color schemes will be kept to two colors maximum, fonts will be sans-serif, and there will not be elaborate borders or columns.
That is how a basic and clean effect is achieved.
How do I use a basic and simple template to create a resume?
Using a basic and simple template is super easy. It's so easy that it can be broken down into three steps:
1

Select a template you like.


Enter your information into each correct section. Your contact information goes at the top. Next, you'll have your summary statement. Then, you'll detail your work achievements in the work history section and complete each section after that.

2

Download and save!


Since the design is taken care of with a template, it allows you to jump straight into the writing process. You don't have to waste your time adjusting fonts or margins! You can think of it like you're just filling out a form, putting the correct information where it belongs.
How do I write a basic and simple resume?
While templates help you with the design of your resume, they don't tell you what to write!
If you decide what kind of information you should include in your resume, JobHero features our Ultimate Guide on How to Write a Resume.
In it, you will find every single step of creating a great resume laid out and explained in great detail!
You'll get advice on crafting an outstanding summary statement, discussing your previous work experience, including the right mixture of hard and soft skills, and using the right phrasing to impress employers.
Our guide will walk you through the whole resume-writing process and help you produce your incredible document.
Can I use a builder to write a basic and simple resume?
Yes, JobHero offers an incredible Resume Builder loaded with some of the best and most popular basic and simple resume templates.
Users will find these designs in two places: listed underneath the "recommended" and "traditional" tabs of template choices.
Once you've selected the template you like most, the builder walks you through the process of writing your resume by breaking it down into a series of prompts and questions. It's like having an expert guide you through the process!
The builder even suggests phrases and keywords that are custom-tailored to the job you're applying for to make sure that your resume is on-point.
There's no faster way to create your resume!
Should I use a basic and simple resume template if I work in the arts or a creative field?
Unless you are applying to a design firm famous for its use of minimalism, a basic and simple resume template should not be used to apply for a creative job.
That is to say, if you work in the arts or as a designer, employers are going to want to see your eye for design!
They're going to want to see that you have some sense of cutting-edge design, your style, and how effective your design choices convey information. So, your resume is almost like your first design test!
Since the nature of creative fields is to think outside the box, basic and simple resumes will underwhelm most employers in a creative field and instead, you should use a creative template.
JobHero has a great collection of creative resume templates that you are welcome to use if applying for a role in the arts or a creative job.
Should I include a cover letter with my basic and simple resume?
Yes, you should always include a cover letter with your resume, even if not requested.
Because your resume and cover letter are meant to be complementary, if you're going to use a basic and simple resume template for your resume, the design for your cover letter should match.
So, if you're using a basic and simple template for your resume, try to match the style with a nice and clean cover letter design!
Not sure how to start your cover letter? Be inspired by our 700+ Professional Cover Letter Examples.
Remember that JobHero's Resume Builder comes with complete access to our Cover Letter Builder and Cover Letter Templates and Designs for 2023.