Featured in:
What is a Cover Letter for a Job?
A cover letter is a single-page document accompanying your resume when applying for a job. It highlights your career accomplishments and skills and how they can contribute to the job and, ultimately, the company's success. We recommend including a cover letter with your application, even if not specifically requested in the job advertisement.
The four types of cover letters include:
1

Application cover letter

This is the letter you write to your resume when applying for a specific job. It is structured to showcase your relevant experience and skills for the job you seek and why you are eager to be part of that team. If you are new to the industry or have career gaps, this is your opportunity to briefly explain why and show off your experience and the transferable skills you bring.

2

Letter of interest

The letter of interest is used to learn about job opportunities that may not have been posted yet at a company where you'd like to work.

Its purpose is to find out if there are any future employment openings available. Use this letter to introduce yourself and sell your most marketable skills and experience. By doing so, the employer has a clear outline of your expertise and can match your background to any relevant position they may have.

3

Referral cover letter

Write this type of cover letter when someone has referred you to a particular job. Mentioning this person's name in your letter can set you apart from other job candidates. Always update the person who referred you of the fact you are applying for a job.

4

Value proposition letter

A value proposition letter is a short letter to sell yourself to a potential employer. This letter is your marketing pitch, emphasizing what you can bring if hired. It creates the opportunity to showcase yourself as a qualified candidate. Use this letter to define the role that you are interested in because it aligns with your career goals.
What does a cover letter look like?
All cover letters have five main parts:
Contact information
Salutation
Body of the cover letter
Closing and call to action
Signature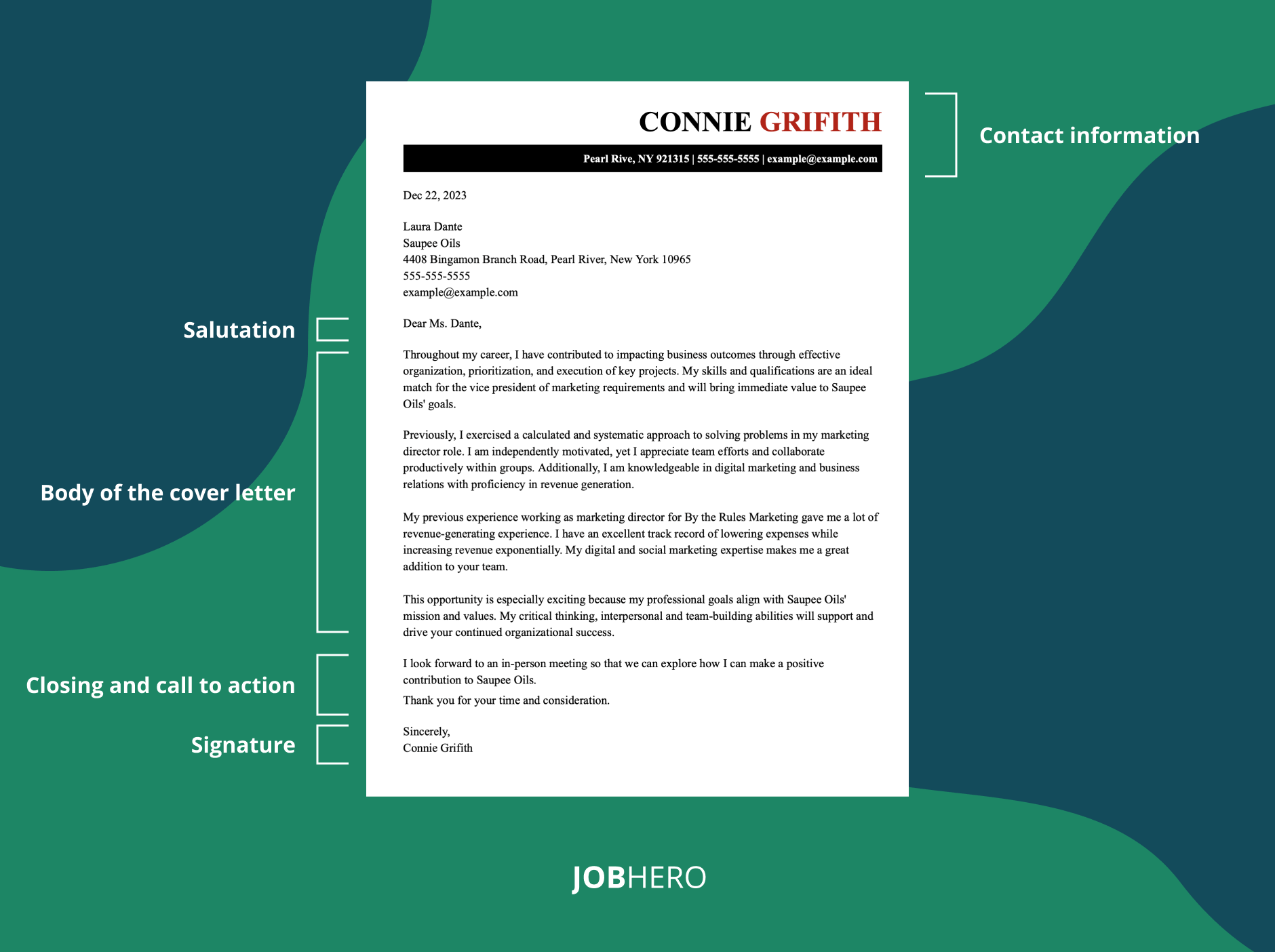 What to Include in Your Cover Letter
Wondering what to put in a cover letter? We'll show you the different parts of a cover letter and what to include in each.
1

Contact information

Add your contact information at the top of the page: first and last name, phone number, professional email address, city and state location, date and employer's information. Use a professional cover letter greeting and the hiring manager's name.
Example:
Sarah Goodman
555-555-5555,
email address
New York, NY
Oct. 1, 2023
WRMD, NBC Telemundo
Dear Matt James,
2

Introduction paragraph

Now you are ready to introduce yourself. Briefly introduce who you are as a professional and the specific job you're applying for. Include why you're qualified for the position and how you heard about it.
Example:
I created a digital campaign designed to build brand awareness. As a result, in just two months, I caused an increase in the company's social engagement and interactions by 30%.
3

Body paragraphs

In one to two paragraphs, describe your most marketable skills and achievements and explain why you meet the company's demands. When describing your past accomplishments, use numbers and data to demonstrate quantifiable results! Highlight publications or events as examples of how you get the job done.

Check out these valuable sample cover letters for insight into how other professionals market themselves.
Example:
I am a resourceful TV producer with an impeccable reputation for delivering projects on time and within budget. As a TV producer, I have successfully created projects with meticulous planning and incredible results that have surpassed the goal by 20%.
4

Closing paragraph

In your final paragraph, reaffirm your interest in the role, thank the reader for reviewing your cover letter, and create a call to action to discuss your application further in an interview. Always thank the hiring manager for their time.

[Show gratitude]. [Summarize your credentials]. [Restate your interest in the role]. [Call to action + availability and preferred contact method]

[Closing salutation],

[Signature]
Example:
Thank you for your time and consideration. To demonstrate the scope of my career history and professional competencies, please take a moment to review my attached resume for this role. I am thrilled about this opportunity and look forward to discussing my qualifications.
Kind regards,
Mary Jones
Create a Cover Letter in Minutes
The quickest and easiest way to write a great cover letter in 2023 starts with a Cover Letter Builder. Our builder offers automated pre-written content that you can customize and allows you to access our curated library of professionally designed cover letter templates with customizable color and font options.
Our builder is simple and easy to use. From classic to modern, our template styles feature matching resume templates suitable for all industries.