Featured in:
More Restaurant Cashier Resumes
Use these Restaurant Cashier samples as a guideline or visit our extensive library of customizable resume templates.
Additional Food Service Resume Samples
How to Format a Restaurant Cashier Resume
One of the secrets behind a job-winning resume is a well-structured format. This strategy guides recruiters to your best attributes and career achievements, depending on your years of experience.
If you have a solid work history, the chronological resume format starts by listing your years of experience first. Meanwhile, job seekers with career gaps, little experience or who have switched to a new industry can market their skills and volunteer work with a functional resume format.
Let's take a look at two sample job candidates. The first candidate uses the chronological resume to show a long work history, while the second candidate is still in the early stages of their career and can impress recruiters with a functional resume.
Chronological Resume
10

years in workforce

1

year at this job

HS

High School Diploma
Work Experience
Restaurant Cashier, Strategic Resolutions Experts
February 2022 - Present, Las Vegas, NV
Maintained the highest quality of customer service by anticipating the needs of each individual guest.
Achieved sales goals through product recommendations to guests.
Assisted with the flow of guests by taking food and drink orders as needed.
Handled cash and reconciled the register at the end of the day, plus completed applicable paperwork.
Functional Resume
3

years in workforce

4

months at this job

HS

High School Diploma
Professional Skills
Analytical Skills
Uses mathematics to solve transactional issues.
Identifies alternative solutions for refunds or incorrect totals.
Accurately processes dozens of transactions per hour, quickly ringing customers up and counting change.
Customer Service Skills
Processes orders and greets over 60+ customers daily.
Delivers outstanding customer service by ensuring that all orders are delivered to the customers promptly.
Places food orders according to safety and sanitation guidelines.
Restaurant Cashier Resume Samples
No results found
10+

years of experience

Maintained the highest quality of customer service by anticipating the needs of each individual guest
Achieved sales goals through product recommendations to guests
Assisted with the flow of guests by taking food and drink orders as needed
Cash handling and end of day revenue reconciliation and applicable paperwork
6-10

years of experience

Set up, replenishment, and take down of food stations, including salad bar, sandwich bar, and hot food wells
Take and fill orders
Manage large sums of money daily
Communicate with the customers, serving as an unofficial ambassador for the Zoo and its many visitors
Prepared and transported food for special events, such as weddings, showers, birthday and holiday parties, corporate affairs, Zoofari and other fund raisers and public events
Ensured proper food presentation and storage
Assisted with clean-up
0-5

years of experience

Recording the orders received by the cashier and forwarding them to culinary workers
Monitoring the status of placed orders and encouraging the workers for faster preparation of orders
Assuring the quality of food and arrangement of dishes are as per the standards marked by the higher authorities
Maintaining detailed records of served orders and collected cash
Assisting the cashier in generation of the daily cash reports
0-5

years of experience

Handled cash and credit card payments
Posted checks, managed the server reports and tipped out to the servers
Balanced daily checks and sales reports
Maintained the house's bank
0-5

years of experience

Trained employees to deliver improved customer service
Developed invaluable customer relations techniques
Implemented strategies to improve customer experience
Answered/addressed customers' questions - Provides information concerning specifications, warranties, financing available, maintenance of merchandise and delivery options
0-5

years of experience

Entrusted with handling money in the restaurant
Responsible for pay out to servers at the end of every shift
Dedicated to providing outstanding customer service and received numerous outstanding customer comments
Multi-tasked to ensured that customers from up to five tables received service food efficiently
Provided friendly service to all patron
0-5

years of experience
Worked closely with Store Managers, Assistant Store Managers, and Front End Managers to ensure the success of the restaurant.
Maintained a cheerful, friendly attitude towards customers while correctly operating the cash register.
Handled purchases in cash, credit cards, and ATM debit per company policy.
Performed other duties as assigned my Manager.
0-5

years of experience

Provided quality food and customer service to patrons.
Operated cash register and enthusiastically accepted payments from customers
Resolved customer needs using professionalism and sensitivity
Transformed "difficult" customers into loyal, repeat guests
0-5

years of experience

Provide fast friendly guest services including but not limited to; recording
orders and repeating them back to the customer.
Up-selling add ons such as beverages, desserts, etc. to increase restaurant
Address any customers concerns or complaints immediately and effectively with the help of management when needed.
Maintain a clean and safe working environment for myself as well as my
Customer satisfaction is extremely important to the success of the company.
Every team member has an important role to play to ensure a pleasant
0-5

years of experience

Carry out include taking customer orders, preparing food made to order, and providing customer service.
Clean the dining room, service counter, and kitchen stations.
Depending on the shift, carry out opening or closing duties.
Possess a positive attitude, ability to work in a team, and a strong work ethic.
Enjoy working in a fast-paced environment and possess a desire for personal and professional growth.
Utilize reference sources, decision making, and empowering the team to collaborate and resolve problems within a complex systems environment.
0-5

years of experience
Provided quality customer service
Maintained cash drawer and commended for balancing out daily
Helped with stock and maintenance of the restaurant
0-5

years of experience
Greeted customers entering the premise in a friendly and professional manner
Received and processed payments by cash, check, credit cards, and automatic debit
Reorganized cash handling procedures reducing drive through time
Balanced all transactions at the end of the day for cash reconciliation
0-5

years of experience
Responsible for receiving customer orders correctly both in store and via telephone
Received payment transactions and issue receipts, change, and refunds appropriately
Maintained and stock store front and check-out areas as needed
Resolved customer complaints and questions as needed both in store and via telephone
0-5

years of experience

Received and welcomed the guests with due attention, greeted them with a smile
Provided highest quality of service to the customers by making seating arrangements, room booking prior to their visit
Presented the guests with menu and explained the special cuisines served
Coordinated with other staff to ensure the availability of best service to the guests
Maintained registers and all books related to cash transactions and kept them up to date
Monitored all the cash reserves and ensured that there are adequate cash reserves in all stations and stocks
Maintain a friendly and cordial relationship with the customers by greeting them and assisting them with every issue
0-5

years of experience

Greeted and welcomed guests personally and on the telephone
Offered appropriate seating arrangements and provided menus
Ensured the quantity of menus is sufficient to cater to the number of guests
Gained proficiency with Aloha and other POS software
Utilized strong listening and probing skills to uncover customer needs
Took orders over the phone, through seamless web and in person
Checked out the delivery men, bartenders and myself
0-5

years of experience

Supervised room service servers
Calculated tips for restaurant servers
Controlled daily cash balance
Organized call logs, room service orders, and cash balance records
Handled all cash, credit card, and check receipts for restaurant
0-5

years of experience

Greeted customers as well as taking they're orders
Prepared restaurant before opening hours
Operated cash register, and handled cash
Entered information on a computer, and answered phone calls
Maintained a clean work area at all times
Assisted co-workers when needed
Responsible for supervising three children
Keeping track of daily activities and schedules
Maintaining a clean and safe environment for children
Making phone calls and appointments when required
Assisted school meetings and school activities on behalf of parents
0-5

years of experience

Check with customers to ensure that they are enjoying their meals and take action to correct any problems.
Write patrons' food orders on order slips, memorize orders, or enter orders into computers for transmittal to kitchen staff.
Clean tables or counters after patrons have finished dining.
Inform customers of daily specials.
Present menus to patrons and answer questions about menu items, making recommendations upon request.
0-5

years of experience
Handled large amount of cash/credit card transactions and related documents.
Managed opening/closing duties.
Developed reputation for prompt, efficient service with high level of accuracy.
0-5

years of experience
Inspect dining and serving areas to ensure cleanliness and proper
Inform patrons of establishment specialties and features.
Operate cash registers to accept payments for food and beverages.
Prepare bills for food, using cash registers, calculators, or adding
Perform cleaning duties such as sweeping, mopping, and washing
0-5

years of experience
Made sure everything was in the right order in the Front of House
Rang up orders that customers had purchased and made sure they were satisfied
Tried to meet the department goal for the day
Printed out net sales for the day to see if the goal was reached.
0-5

years of experience
Consistently perform 10 steps of quality customer service
Demonstrates and promotes teamwork
Maintains personal grooming and appearance at all times
Creates a safe environment for the restaurant
Completes required paperwork accurately and timely per company standards
Following company guidelines, policies and procedures
Make and maintain food products in accordance with health regulations and company
Operate all assigned equipment (register, fuel console, etc.) safely and efficiently complete all other restaurant tasks and activities assigned by the restaurant manager
Load More
Food Service Cover Letter Examples
Create your own professional resume in just minutes.
Try our resume builder today
Build Your Resume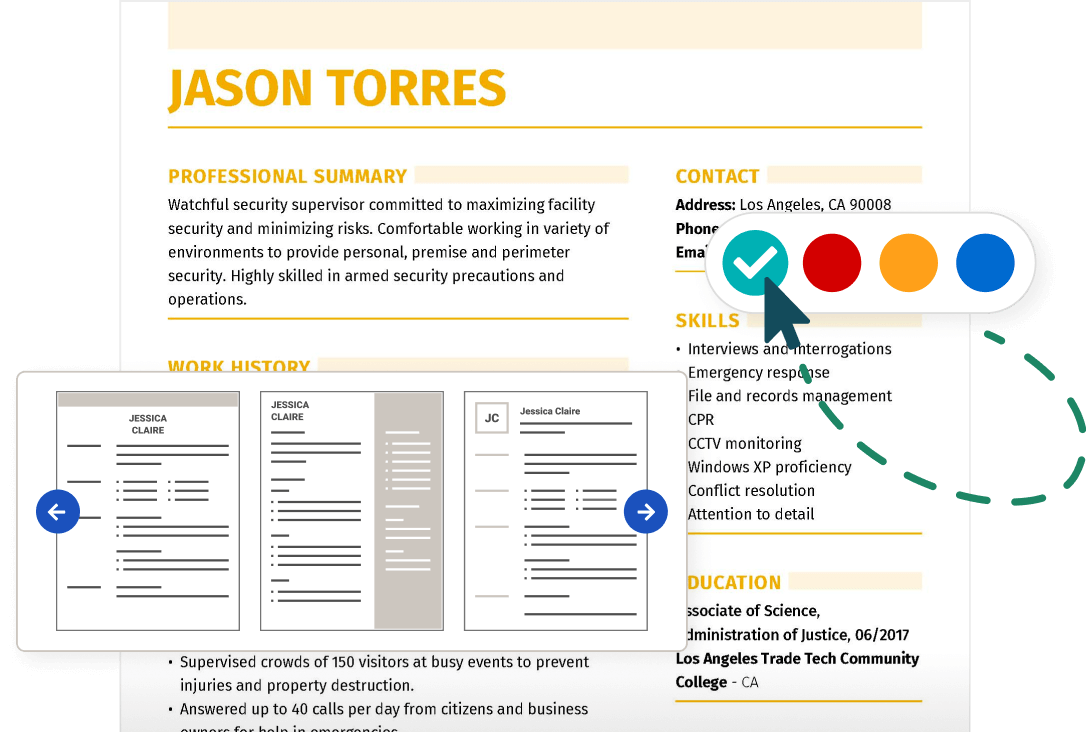 Restaurant Cashier Resume FAQ
What are the responsibilities of a restaurant cashier?
Restaurant cashiers provide remarkable service. They often have to welcome customers and walk them through their orders.
In most cases, restaurant cashiers not only submit the restaurant orders but also help pack and deliver the orders quickly.
They also handle cash transactions and return the correct change. Lastly, they are responsible for ensuring that the registers' have the correct amount of money at the end of every shift.
What are the requirements for a restaurant cashier?
A restaurant cashier should have a high school diploma or equivalent qualification. They should be able to provide experience in customer service.
Excellent communication and interpersonal skills are ideal for standing out as a professional in this field. The work schedule may vary, so be flexible and ready to work evenings, weekends and holidays.
Customer service and mathematical skills are a must!