Featured in:
More Car Salesman Resumes
Use these Car Salesman samples as a guideline or visit our extensive library of customizable resume templates.
Additional Sales Resume Samples
How to Format a Car Salesman Resume
Choosing the suitable resume format for a car salesman is simple — the chronological resume is the way to go. This layout focuses on work experience, including all relevant previous roles and listing highlights for each. Candidates with significant professional histories would benefit the most from using this format.
Those who lack experience may want to use an alternative format. Also known as a skills-based resume, the functional resume format prioritizes skills and abilities, marginalizing work experience if it's included at all. Combination resumes strike a balance between experience and skills.
Which one is best for you? See how the candidates below approach the question. Candidate A is 20 years into his sales career, making the chronological resume an obvious choice. While Candidate B has 10 years of experience, he job-hopped quite a bit before leaving the workforce for a few years to take care of his family. He's back and has decided to use a functional resume to give his wide-ranging skill set more attention.
Chronological Resume
20

years of experience

5

years at this job

HS

High School Diploma
Work History
Car Sales Representative, B&E Auto
02/2018–Current, Boulder, CO
Helped create a new marketing strategy that increased monthly sales of pre-owned vehicles by $75K.
Exceeded individual sales targets by 18% in 2022 and 25% in 2021.
Developed in-depth knowledge of foreign and domestic automobile brands, increasing sales of a difficult-to-sell car by 20%.
Functional Resume
11

years of experience

6

months at this job

BA

Psychology
Professional Skills
Customer Service
Provided quality service to all customers, leading to a 45% increase in customer satisfaction rate.
Met and greeted 50+ customers per day, developing rapport and acting as the "face" of the company.
Worked with every customer to truly understand their individual needs and help them find the perfect solution.
Sales
Exceeded individual sales goals by 30% in five quarters, helping the overall team meet its annual quota.
Developed extensive knowledge of home appliances, increasing sales of our import brands by 25%.
Created a new sales strategy that helped move used appliances.
Car Salesman Resume Samples
No results found
6-10

years of experience

Provided quotes and prices to prospective buyers, explained credit terms and prepared sales contracts.
Sold automotives to new customers as well as returning customers in good faith.
Established and expanded automotive sales programs.
Assisted in mentoring new sales representatives as needed.
Computed leasing charges based on factors such as length of contract, anticipated mileage and applicable taxes.
0-5

years of experience
Maintained 92% customer satisfaction over all car deals
Established ongoing relationships with new customers; providing excellent customer service during the purchase, and maintaining communication after the sell to ensure satisfaction.
Negotiated pricing and financing options while closing at a 28%, averaging 11-13 sales a month
Schedule appointments for prospective customers
10+

years of experience

Solidify customer service skills by conversing with customers on a daily basis
Was #1 New Car salesman 19 consecutive months
As Fleet Manager; set up programs with companies such as 3M International Paper, Space Center and Local 49 I.U.O.E to have buyer program abilities
As Used Car Manager, rose sales 30% over previous 5 years and increased gross profit per car
As Special Finance, implemented and set up a department for bringing in inclemental business by marketing people with challenged credit
Brought in sub-prime lenders that specialize in people who are credit challenged
Increased sales to the dealership by an average of 13 deals a month with front and back end profit
As Finance Manager; increased back end profit per car from $419 to over a $940 average, at the same time achieving a 95% CSI rating. I also maintain a 47 to 52% warranty sales penetration rate.
0-5

years of experience

Increases personal sales by 100% each month
Generated positive results by focusing on customer service and employee development
Kept in contact with customers on weekly basis to ensure strong customer relationship
Promoted to a higher volume store in just one month
0-5

years of experience

Car sales and vehicle education and knowledge for self, coworkers and customers.
Worked to improve the success of the company.
Helped to maintain Number One Fiat dealership in the Western District status.
Ability to connect with customers to meet and achieve their satisfaction.
Organized lot and office needs.
Professional completion of office tasks such as copies, phone, fax, email and mail correspondence.
0-5

years of experience
Maintained daily sales records and sent daily/weekly reports to manager
Created promotional marketing strategies to stimulate sales growth
Boosted dealership's sales by recommending new pricing strategies that were subsequently implemented.
Developed strong customer relationships
Maintained log sheets and followed up on leads of new and potential customers
Completed all finance application and paperwork required for qualified customers
Performed credit checks and worked with different financial institutions to assure qualifications for car loans
0-5

years of experience

Consulting customers on their experience in purchasing a vehicle
Educated families on basic concepts of car finances
Provide extraordinary customer service for potential clients
Educate customers on pros and cons of all competitive vehicle brands
Trained in the field of auto motor technology
0-5

years of experience

Closed sales by overcoming objections
Ask for sales and negotiating price;
Completed sales or purchased contracts
Explained and offered warranties, services, and financing; collects payment
Knowledgeable of automobiles, studied characteristics, capabilities, and features
Compared and contrasting competitive models; inspected automobiles.
Provided sales management information by completing reports.
0-5

years of experience

Tremendous Sales Aptitude with Huge interest in car selling
Sold motor vehicles, such as cars, trucks, vans, SUV's to customer who visited the dealer ship.
Advised customer about new models and assisted them in determining which vehicle is suitable to their needs.
Sold extended warranties, service contract for vehicles bought at the dealer ship.
Estimated date of delivery to customer, based on knowledge of own firm's production and delivery schedules
Assure client experience is 100% to meet customer satisfaction goal.
Quoted prices and credit terms and prepared sales contracts for orders obtained.
Sold 96 vehicles in first 9 months
Employee of the month 4 months out of 9.
Average backend, $486 for 9 months.
0-5

years of experience

Learned the basics towards selling any type of vehicle to any type of customer
Demonstrated huge willingness to learn as much as possible
Developed strong presence when speaking to customers on the phone or through email, convincing them to come in for appointments.
Sold both new and used vehicles.
Showed willingness to work with customers, regardless of credit or financial situations.
Gained substantial knowledge on appraising vehicles for potential trade-ins, and ensured they got as much as they were worth in value.
Took whatever measures were necessary to finalize a sale, close a deal, and sell the vehicle.
Took classes for GM Certification.
0-5

years of experience
Salesman of new and used cars and trucks
Customer Service - completed application with consumer for purchase, ran credit report, received purchase approval or denial, and delivered vehicle
Phone sales and follow-up
Maintained repeat customer sales
0-5

years of experience

Qualify buyers by understanding buyer's requirements and interests
Demonstrate vehicles by explaining characteristics and features, taking test drives, and explaining warranties and services
Close sales by overcoming objections, asking for sales, negotiating price, completing sales or purchase contracts; Explaining warranties, services, and financing
Retrieve collection payment
Provide sales management information by completing reports
0-5

years of experience

Trained on selling techniques for the car industry.
Upheld excellent customer service standards to ensure quality customer satisfaction.
Greeted customers on site and over the phone.
Established common ground with the customer in ensuring them that you respect their time.
Ability to counsel and fact-find in order to place customer on the correct vehicle to meet their needs.
Presented vehicles using feature-advantage-benefit strategies, including test drives.
Maintained gross profits when writing and negotiating the price of the vehicle.
Delivered the vehicle to the customer, and demonstrated proper use of the features.
Followed up with sold and unsold customers to generate rapport with the possibility of creating more sales in the future.
0-5

years of experience
Listened to customer requests and assisted them in finding the right car.
Explained car prices and payment options to customers.
Completed all paperwork necessary to complete a car sale.
0-5

years of experience
Greeted customers and answered questions
Completed all paperwork for customer database and sales
Listened to customer needs and matched them with appropriate vehicles
0-5

years of experience

Provide excellent customer service when working with the general public
Answer questions regarding the vehicles on our lot as well as what our competitors offer
Help to locate specific vehicles for a customer if it is not in our inventory
Help to recommend vehicles based on customer needs/wants
Work hard to make customers feel comfortable in a very demanding environment
Make sure that the customer is taken care of throughout every step of the car buying process
10+

years of experience

Conduct automotive inspections, diagnostics and repairs recommendations
Provide professional customer service to buyers, co-workers, vendors, local auto-auctions and DMV VIP personal
Supervise full-time mechanics to maintain a strong focus on quality workmanship
Manage part purchases and keep a complete repair shop inventory
Execute vehicle purchases based on my 24 years of experience and skills
Prepare paperwork on vehicle purchases including: forms for vehicle registrations, titles,
0-5

years of experience

Responsibilities include providing excellent customer service to enable sales, answering telephone inquiries, schedule appointments, identify customer's needs, negotiating pricing, and develop legal contractual agreements.
Certified and Licensed Dodge Salesman
Handle delicate situations involving credit to create lasting relationships
Analyze customer needs in accordance with customer expectations
Notify financial representatives of customers situation to enable smooth transactions
0-5

years of experience

Car sales while assisting manager and owner with the following tasks:
Welcoming and appreciating prospectus customers
Talking with customers to understand their requirements and expectations of a car
Elaborating advanced features to customers using a layman's language
Entering customer's personal information into the computer database
Responsible for maintaining a clean, presentable car lot
Cleaning and detailing sold vehicles
0-5

years of experience

Greet customers and ascertain what each customer wants or needs.
Describe merchandise and explain use, operation, and care of merchandise to customers.
Recommend, select, and help locate or obtain merchandise based on customer needs and desires.
Compute sales prices, total purchases and receive and process cash or credit payment.
Answer questions regarding the store and its merchandise.
Prepare sales slips or sales contracts.
Sell or arrange for delivery, insurance, financing, or service contracts for merchandise.
6-10

years of experience
Communicated effectively with customers and associates and developed ongoing customer relationships, enhancing future sales.
Ability to negotiate and handle customer requests.
Explained operating features, warranties, and paper work of car to the customer.
0-5

years of experience

Demonstrating vehicles to customers, including taking them for drives.
Reporting to the vehicle Sales Manager on activities, reviews and analyses.
Meeting customers face to face and holding sales discussions with them.
Negotiating the terms of a sales agreement and closing sales.
Following-up in-bound telephone enquiries, walk in prospects and emails enquiries.
Arranging appointments via Internet Leads.
Cold calling up qualified sales prospects.
Delivering vehicles to customers.
0-5

years of experience

Spend time with customers to determine their needs and discuss their options
Complete quotes and explain financing options -- Retail vs. Leasing
Work closely with Sales Team; Product knowledge, Training and Proper Selling Methods
Maintain sustainable dealership production levels
Create an action plan and effectively manage sales staff
Assist in appointment setting; phone and email leads
Follow up with existing customers to confirm their satisfaction
Made profit on every sale for the company
0-5

years of experience

Giving customers car presentations, demo drives, and information on vehicles
Making calls to clients and potential clients, updating them on sells and different buying options
Gathering customer information and putting it in the computer
Negotiating prices with customers
Presenting payment options
Delivering cars to customers
0-5

years of experience

Managing data information, social security numbers, credit applications, balanced equity, etc.
Responsible for selling new/used vehicles at dealership gross profit, volume, and Customer Satisfaction
Responsible for elaborating in reference to a car's features and benefits
Writing Sales order, processing paperwork in accordance to dealership policies
6-10

years of experience

Buy and sell used cars at auctions
Good customer and communication skills, gain a positive rapport with customers.
Maintain professionalism with resolving a customer issues.
Develop and execute client cultivation strategies to market products.
Used digital camera take picture of merchandise
0-5

years of experience

Sold new/ used cars and accessory products and service contracts in the automotive industry.
Sold company vehicles based on fixed price and guide customer to vehicle of xxx.
Focused on customer satisfaction and establishing loyal clientele.
Worked with Finance managers to determine best financial strategy for customer purchases
0-5

years of experience

Highly motivated with strong selling presence and proven ability to close deals.
Effective communicator with sound ethical character.
Exceptional ability to motivate and influence key contacts and decision makers.
Ability to maintain and increase sales volume in the existing market.
6-10

years of experience

Approach and assist new customers
Perform walk around with customers and demonstrate features of suitable automobiles
Effectively close automotive sales
Ensure the customers understands the vehicles operating features, warranty and paperwork
Maintain and owner follow-up system that encourages repeat business and referrals
0-5

years of experience

Greet customers and ascertain what each customer wants or needs.
Demonstrate use or operation of merchandise.
Prepare merchandise for purchase or rental.
Sell or arrange for delivery, insurance, financing, or service contracts for merchandise.
I was responsible for each and every client that walked through the sales floor. I addressed all or any
0-5

years of experience

Meet and greet customers whilst building a rapport.
Assist customers in selecting a vehicle that better suites their liking.
Assist customers in communicating with various banks regarding requested documentation.
Assist customers in shopping insurance for their newly purchased vehicles.
Educate customers on the vehicle of their choice on the specs and packages it entails.
0-5

years of experience
Investigate and satisfy customer needs through a process that is efficient, fair, sincere, mutually beneficial to both parties, and develop a long-term productive relationship.
Approach all prospects (Meet and Greet), as well as follow up on all sold prospects to ensure long-term customers.
Qualifying customers to ensure that all of their wants and needs will be met, to include type of vehicle wants/needs and budget qualifications.
Lot-Selecting to help customers pick a vehicle of their choice.
Demoing and test driving vehicles.
Internet customer relations, including daily, weekly, monthly emails to customers as well as potential customers to ensure customers see that we are just as interested in them as they are us.
6-10

years of experience

Sale vehicles to potential buyers by appealing to the needs of the customers. Whether it's an economical and/or personal need.
Detail cars using various chemicals to preserve and attract customers. Cleaning includes headliner, floor board, seats, dashboard, washing cars and adding tire application.
Travel to various auctions to achieve cars that customers deem worthy of their interest. Help owner bid on cars in different lanes and provide NADA's so cost of vehicle will be at a minimum.
Take vehicles to automotive shops like Express Oil Change, Firestone, Woody Anderson Ford, etc, for inspections, repairs, oil and tire changes and various other reasons.
Pick up customers in need of transportation. The reason can range from customers wanting to visit the lot, need to be taking to a desired location cause of recent car troubles, want to travel to the auction to bid on particular car, to loaning corporations in order to apply for a loan.
Send "Thank You" cards via mail to consumers to retain a great customer relationship. Also provide complimentary car washes, drinks, and snacks to generate positive feedback.
Answer phone calls throughout the day from customers.
0-5

years of experience
Gained sales experience.
Helped answer customer questions about a wide variety of vehicles.
Detailed vehicles meticulously to help get them ready for sale.
Part-time and Full-time experience.
6-10

years of experience
Used auto dealer license, handling vehicle titles, bill of sales, and state re-assignment documents.
Averaged 5-10 vehicle sales per month.
Sell and maintain cosmetic appearance of vehicles in local area for dealer.
Load More
Sales Cover Letter Examples
Create your own professional resume in just minutes.
Try our resume builder today
Build Your Resume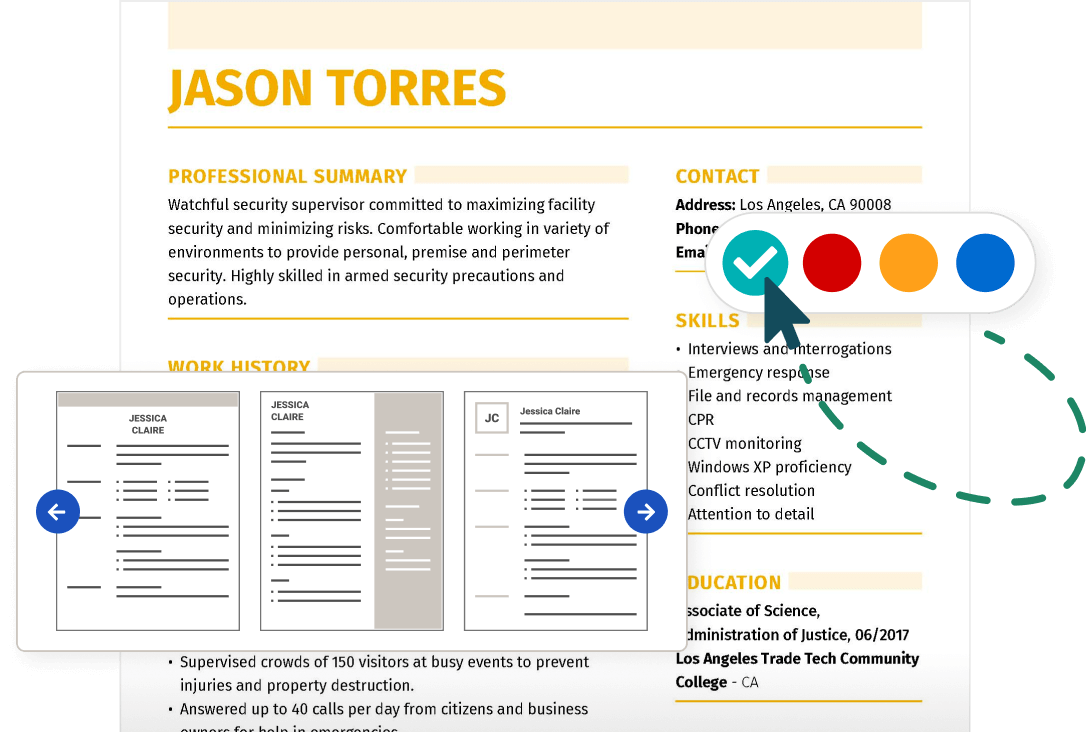 Car Salesman Resume FAQ
What should I put on my car salesman resume?
A car salesman resume should be compelling enough to grab the hiring manager's attention. Here are three key points to keep in mind as you write your resume:
Make your professional summary or resume objective concise and engaging by targeting the keywords and requirements in the job ad.
List your previous roles in the work experience section. Each job should have a few bullet points where you can use active language like "sold," "exceeded" and "created."
Use quantifiable achievements to show the impact you've made. Standard metrics for a car salesman include the number of sales, new leads generated and customer reviews.
How do you write a resume for a car salesman?
When you sit down to write your car salesman resume, follow these steps:
Read the job ad closely, taking note of any hard skills or soft skills you should import into your resume.
Choose a resume template that fits your career. A salesman may want to choose a professional, attractive style that isn't very flashy.
Fill out the template. You can use a resume builder to fill it out, which will walk you through every section, including the header, work experience, skills, education and professional summary; or do it on your own in a Word doc.
Consider adding optional sections like a foreign language, volunteer work or professional associations if any of them apply to you.
Proofread the resume carefully, then give it to a friend to proofread.
Download the document as a PDF or whatever file format the employer prefers.
What skills does a car salesman need?
Based on the resumes in our database, these skills are among the most important for a car salesman:
Customer service
Active listening
Reading body language
Product knowledge
Verbal communication
Relationship-building
Persuasion
Negotiation
Friendly and positive demeanor