Regardless of the circumstances, you might be considering a career change. Entering a new field can offer several benefits — you can pursue passions and interests, find a better work-life balance or land the salary that fits your lifestyle. A career change means revamping your resume, which can be challenging or feel daunting; however, we've outlined five career change resume writing tips to help you to stand out from other applicants.
Featured in:
1. Select the Best Career Change Resume Format
There are three main resume formats: chronological, functional and hybrid. The two best suited for career changes are functional and hybrid. The following breakdown will help you choose which resume format is best suited for your career shift.
A functional resume is useful for someone who has a lot of varying experiences, such as, contract work, internships or has been in and out of the workforce. The functional format highlights achieved skills rather than listing a chronological workflow.
A hybrid resume is a combination resume of chronological and function. It is intended for those who have a significant amount of experience in one field and have developed a specific skill set that is transferable to other jobs.
2. Write a Resume Objective Statement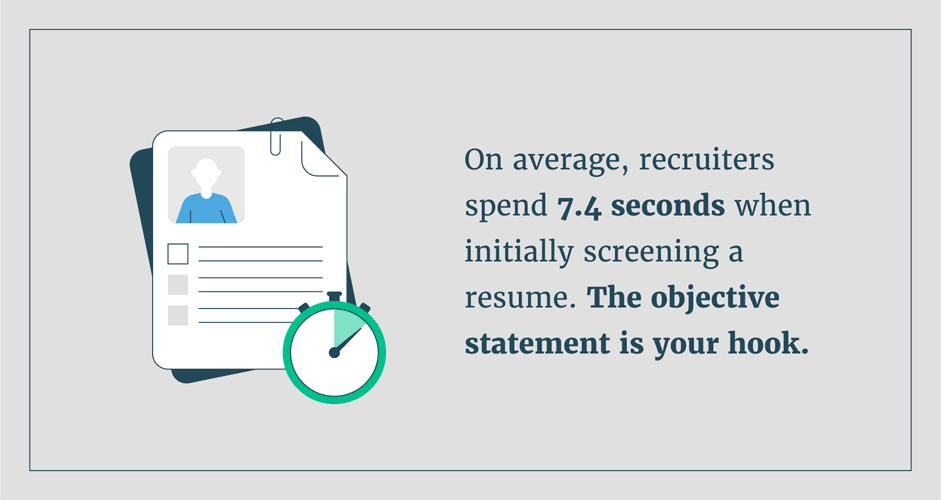 The best way to capture the attention of whoever is reading your resume is to write an objective statement right below your name and contact information. The hook should do two things. One, it should tell the reader what your career goals are. Two, it should present you as a passionate person who knows what they want.
Here is a scenario of someone transitioning into human resources (HR) after several years as an educator. For the purposes of teaching, we've outlined two objective statements to show one that doesn't work so well, and one that does.
Doesn't Work: I am a passionate teacher looking to get into HR because I can communicate strongly with others and know how to handle stressful situations.
Why it Flops: Relies too heavily on one skill, communication, and doesn't discuss other learned skills.
Works: Seeking the HR Representative position at [company name] to apply my communication and quick reading skills gained as an English teacher over the past 5 years. Also, looking to further develop my database-skills and knowledge since I have success using the previous ones for grading.
Why it's Successful: Connects multiple skills from previous work experience to a specific position at the company being applied to. Additionally, this statement notes what they enjoyed about their previous role and connects that to a hard skill at the job being applied to.
Note, it is a good idea to change your objective statement for each application.
3. Maximize Most Relevant Material
If you are using either the functional or hybrid resume format, you want to highlight and connect your most relevant experience and skills to the job being applied to. Don't dwell on chronology or length of experience — think about what is most applicable to the role. For example, if you have volunteer experience, college or online courses, certifications or freelance work you have done, then bring attention to them.
Below is an example of how to turn those "other" experiences into worthwhile resume content. The scenario is a recent college graduate switching from content marketing to journalism.
Freelance Writer, [Company] | January–June 2018
Wrote informational pieces that maintained brand tone and voice while adhering to all AP style guidelines.
Created prospect lists and interviewed over 20 experts in six months for appropriate quotes and information.
Content Marketing Intern, [Company] | June–August 2019
Learned and implemented SEO optimization that increased domain rating by 20%.
Understand keyword search algorithms used to rank pages on Google's SERP and modified previously published posts to increase ranking.
Why it's successful: These experiences quantify the direct impact of this person's work over a stated time frame. Moreover, they display their learned hard skills and imply that they can add value to the company being applied to.
4. Add a Specific Skills Section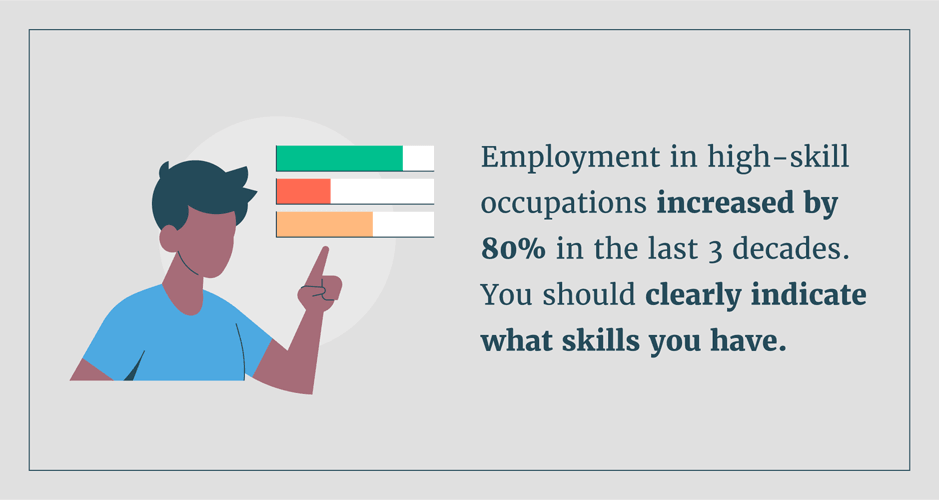 Many times companies hire if you have a base knowledge of the market and know how to use multiple software systems. If you're making a career change, you usually don't have the benefit of having the skill set listed in the job description.
On the bright side, a lot of companies today want to simply hire A+ players and are willing to train you. They want smart and ambitious people who are willing to learn. To counteract not having the precise skill set requested, you have to present yourself as that A+ player in your skills section.
Below is a step-by-step process for formulating a skills section that sticks.
Play the role of editor-in-chief by highlighting and commenting on all of the various skills in the job description.
Go through previous resumes and your work history and write down experiences or skills that are similar and relevant to the job description's required skills.
If you don't have these skills, go out and get them via volunteering, freelance work or online courses.
Once skills are achieved, or you feel confident making connections between your professional experiences and the job description, write the skills section.
Again, write a skills section that seamlessly connects your gained knowledge and skills to the job description's list of requirements.
The scenario below involves a senior attorney who is transitioning their career into corporate development. Here is an example skills section:
Management: Led a team of four associates and two paralegals to settle on average 30 cases per year through deliberate litigation and mediation.
Mentorship: Trained and supervised associates by providing guidance on litigation, client communication and trial strategies.
Systems Knowledge: MS Excel and PMS software for budgeting, outlining client cases and tracking key discovery documents.
Contract Negotiation: Deep knowledge of contracts and negotiation tactics while using interpersonal skills to successfully settle on the clients' behalf.
Why it Works: The skills section includes soft skills (management and mentorship) and hard skills (systems knowledge and contract negotiation). Both show proficiency in the workforce. Furthermore, this section links these skills to what one would expect in a corporate development role.
5. Beef up the Education Portion
Writing about your education section is dependent on how many years you have been out of school, and if your education is relevant to the career change you are seeking. The example below is a business executive applying for an adjunct teaching position at your local college or university
MBA, Wharton 1998–2000
Graduated Highest Honors and Dean's List
Excelled as TA for undergraduate business courses
President of Entrepreneurship Club
Why it Works: This education section matters because it shows how successful this person was in their MBA program and lists some previous teaching experience.
Another example is a student who graduated more recently and is applying to be a history teacher at a school.
University of Texas at Austin, 2015–2019
Major: English Literature Minor: Sociology and Anthropology
GPA 3.68 Cum Laude
Tutored international students for 4 semesters
Worked 20/hrs per week at a local restaurant for 6 semesters
Why it Works: This education section gives insight that this person has experience mentoring and tutoring others. Moreover, this person had a part-time job during college. The work experience from the part-time job might not be relevant to the applying job's requirements but is still noteworthy because it shows that they balanced a job and their studies.
Career Change Resume Example
Below you will find an example of a strong hybrid resume. This resume works well because it immediately pronounces the applying candidate's goals via an objective statement. It then lists obtained skills related to the position. The following sections are chronological work experience, applicable certifications and then education, all of which add more insight into the applicant.
Harrison J. Hero
HarryJHero@mail.com | (555)-123-4567
Objective Statement
Seeking the position of Marketing Manager at XYZ Ltd. where 5 years of sales experience, customer relation management and team management will help me effectively lead a team to drive revenue and meet client's monthly marketing goals.
Relevant Skills
Marketing Knowledge: Expanded the bottom of funnel marketing strategy over 2 years resulting in 14% net gain of returning customers.
Financial Reporting: Compiled and prepared financial reports on a quarterly basis and presented financial metrics to executive team.
Social Media: Developed the company's social media platform, which doubled website traffic over an 18 month period.
Management and Communication: Successfully onboarded 12 employees over three years through developed interpersonal skills, one-on-one advising and weekly reporting.
MS Excel: Created macros, PivotTables, charts, graphs, and logical tables for statistical analysis. Sent monthly reports to all team members and executives.
Work History
Blackstone Valley, LLC | Austin, TX
Assistant Manager (Sales), August 2019–Present
Analyzed operations to evaluate weekly objectives and monthly goals, identifying areas of potential cost reduction, business improvement, and/or policy change.
Demonstrated effective written and verbal communication skills by writing various reports and correspondence to internal teams to coordinate sales meetings.
Prepared reports by collecting, analyzing and summarizing information trends.
Blackstone Valley, LLC | Austin, TX
Senior Business Development Representative, May 2015–July 2019
Created Microsoft Access macros and Microsoft Excel & PowerPoint templates for supplemental data.
Managed and executed additional weekly, monthly & quarterly reports in a timely manner.
Intercepted and provided and/or delegated all ad hoc report requests from field sales.
Horton Works, Inc. | New York, New York
Marketing Intern, May–August 2014
Calculated best practices to obtain the maximum return on investment through clicks, opens, and overall customer engagement.
Supported marketing team by writing ad-hoc reports and external copy for clients.
Onboarded and trained fall interns during two week overlap period.
Certifications
Project Management Professional (PMP)
Website Analytics in Marketing
Education
Bachelor of Business Administration in Marketing | 3.76 GPA
University of North Carolina, Chapel Hill, NC
President of the Marketing Club, Fall 2013–Spring 2014
Achieved 3rd place in the National Entrepreneurial Marketing Competition
How to Successfully Reinvent Your Career
For many professionals, their career paths are not straightforward. One of the best things about a job is finding out what you like and don't like about that occupation and field. If you're stuck in a career trajectory you're not content with and need to change directions, this visual offers useful tips on how to seamlessly pivot careers.

Making a career change or reinventing your career can be difficult and seem overwhelming. However, taking the necessary steps listed in the above visual and planning out your moves can relieve a lot of stress. Also, actively working on your resume will help bring some clarity and make the transition more seamless.
Sources:
CNBC | Indeed | U.S. Bureau of Labor Statistics | Pew Social Trends | HubSpot | Careers Advice Online | Balance Careers | Nola | McDonald's | Jgrisham