Featured in:
More Bank Customer Service Representative Resumes
Use these Bank Customer Service Representative samples as a guideline or visit our extensive library of customizable resume templates.
Additional Customer Service Resume Samples
How to Format a Bank Customer Service Representative Resume
How you format your bank customer service resume depends on the information you want to highlight. If you have over 10 years of customer service experience, opt for a chronological resume. This format demonstrates your promotions and steady growth of your responsibilities.
If you have three to seven years of steady jobs in customer service, use a hybrid resume. This resume is very similar to a chronological resume — it swaps the placement of the skills and work history sections to give them equal weight on your customer service resume.
Your last option is a functional resume. We only recommend this resume if you have significant gaps between your customer service jobs due to personal, professional or academic reasons, or you don't have relevant work experience.
Let's see how these two candidates used the appropriate resume format for their career level.
Candidate A — Hybrid or Chronological Resume
Bank Customer Service Representative, Green Gables Credit Union
9

years in the workforce

3

years at this job

HS

High School Diploma
Work History
Customer Service Representative, Green Gables Credit Union
October 2019 - current
Oversaw an average of six banking customers an hour, helping them with specialized needs such as opening new accounts, establishing direct deposit or opening new lines of credit.
Supported teller staff by processing deposits, withdrawals and transfers when the customer line exceeded more than five clients.
Encouraged customers to apply for new account services such as small business loans, competitive mortgage loans and refinancing programs.
Candidate B — Functional Resume
Customer Service Representative
2

years in the workforce

1

year at this job

HS

High School Diploma
Professional Skills
Teller Skills
Processed an average of 23 clients every hour.
Assisted customers with simple account transactions such as deposits, withdrawals, and domestic and international transfers.
Encouraged customers to upgrade account services to new, profitable account offerings.
Customer Service
Responded to customer inquiries, complaints and comments daily and determined corrective action for the high-call volume department.
Assisted customers with suspected fraud and took steps to refund money, freeze accounts, and reissue banking cards related to checking and savings accounts.
Bank Customer Service Representative Resume Samples
No results found
0-5

years of experience

Answered inbound phone calls in a fast-paced work environment, providing timely and excellent customer service
Executed financial transactions according to bank policies and procedures
Responded to customer inquiries, providing information on bank accounts, policies, products, and services
Assessed needs of customers, suggesting products and services accordingly
Researched and resolved service-related problems
0-5

years of experience

Provided customer support for high-volume Bank department in (English/Spanish)
Responded to customer inquiries, complaints and comments on a daily basis, and determined corrective action for high-call volume department.
Reviewed and verified transactions to ensure proper processing according to established quality standards.
Processed transactions, including money transfer, deposits and withdrawals and, data entry to update client files.
Ensured departmental compliance with company and regulatory agency records management and retention policies and procedures, achieving 100% compliance on 3 annual audits.
Ordered supplies and materials, ensuring sufficient on-hand inventory and securing sensitive and propriety items.
6-10

years of experience

Furnished prompt, courteous, professional customer service in call center environment while assisting customers with account information and responding to inquiries and complaints.
Opened/closed accounts including Checking, Savings, Money Market, Certificates of Deposit; ordered bank supplies, ATM/debit cards; processed wire transfers, ACHs, Cashier's Checks, stop payments, loan payments and loan applications. Provided navigational assistance with online and mobile banking.
As Subject Matter Expert (SME), assisted over 200+ new hires transition into their new role with the bank and helped them meet and/or exceed performance goals.
Led bank's Customer Service Recognition Committee to ensure that representatives were appropriately acknowledged for providing superb customer service.
0-5

years of experience

Provided the full range of customer service, account management, and financial services support for an FDIC secured financial institution. Assisted State Farm agents and staff with loan and deposit applications, and answered general questions about all services and banking products.
Served as first point of contact and technical resource for all customer inquiries and issues. Managed customer profiles, opened new bank deposit accounts, and processed deposits and loan products submitted via telephone, mail, and internet.
Described promotional offers and used persuasive sales techniques to upsell services and/or convince clients to apply for additional banking services.
Participated in the program "State Farm Un Buen Vecino" to inform the Spanish speaking community about scholarships and citizenship programs. Processed requests for information and forwarded prospective clients to agents.
Ensured adequacy and adequacy of all reports that were subject to local, state, and federal agency review. Maintained privacy and confidentiality of all sensitive and personally identifying information, as governed by Privacy Act and Freedom of Information Act.
0-5

years of experience

Handle customer accounts and resolve complaints; evaluate customer needs and recommend the most appropriate products and services over the phone
Extensive organization to facilitate many job duties with tight deadlines
Maintain high volume of quality work, while insuring highest confidentiality
Exercise judgment when dispensing information to maintain confidentiality of sensitive information
Communicate effectively with customers, managers, and co-workers through a variety of channels including email, phone, traditional mail, and through the use of various office machines
Daily use of Microsoft Office: Word, Excel, PowerPoint, and Outlook
0-5

years of experience

Process all banking related transactions in an efficient, timely and accurate manner.
Proficiently answer customer inquiries regarding their accounts.
Perform cash and check balancing by ensuring all the daily and monthly cash counts are accurate.
Review all the ATM balances
Ensure that all customer needs are met and handle appropriately during their initial contact.
Maintain customers' accounts (including lost/stolen checks, check cards, stop payment etc.)
Review customers' accounts for transactions accuracy.
Provide outstanding assistance to customers with all their banking transactions and services.
0-5

years of experience
Duties included basic teller transactions and cash handling for individual and business accounts.
Maintained customer confidentiality, privacy and security
Quickly and effectively solved customer challenges
Customer service/ relations regarding customer accounts and daily needs
0-5

years of experience

Assist customer with routine account-related request
Cross-sell bank products and services based on customer needs, in accordance with the bank's program standards
Process necessary paperwork to rebate customer service charges
Balance customer checkbooks
Maintained office organized and sanitized
Distributed incoming mail and processed outgoing mail
0-5

years of experience

Service customer enquiries, determine customer needs and provide solutions with regards to their banking requirements
Educate customers on product options and technology issues
Manage customer and bank privacy
Manage and pass on customer feedback
Effectively use a variety of computer programs to access customer details and databases, and research options
Cross sell bank products
Continual awareness of compliance requirements
0-5

years of experience

Responsibilities include answering phones to respond to general inquires referring to customers account.
Processed customer requests for services, such as additional checks, change of address and reissue of statements.
Performed duties related to working with a bank's customers and helping customers understand their accounts.
Checked status of bank accounts, explain incurred fees and help customers with any issues pertaining to account.
0-5

years of experience

Research discrepancies for payment processing errors.
Performing activities related to the accurate processing of authorized invoices; recording, updating, and reconciling related financial information; and providing instructions and/or accounting support to other personnel in accordance.
Assist customers with routine account-related requests such as: stop payments, research hand resolve customer problems, acting as a liaison between other bank departments when necessary.
Perform customer requested research, including printing check copies.
Notify the research and adjustments coordinator of required adjustments as reported by the customer.
Conduct check and electronic funds transfer verifications requested by third parties.
Assist with resetting passwords for online banking.
0-5

years of experience

Enforcing policies and follow procedures while performing account maintenance
Attending to detail on accounts to prevent errors while reviewing reports
Developing rapport with all customers, agents, and company employees
Solving problems presented by customers and agents
Reporting information and concerns from customers and agents to management
Answering telephone and/or e-mail inquiries from customers and agents.
Accurately making transfers of money and accepting payments for loans
Open all types of bank product accounts and assist agents with bank applications.
0-5

years of experience

Assist customers with routine account related requests such as: fund transfers, stop payments, and debit card maintenance.
Cross sell bank products and services based on customer need.
Research customer transaction inquiries; including completion of all necessary documents and affidavits.
Decipher customer needs and offer best product solution
0-5

years of experience

Call Center environment, average of 100- 125 calls daily.
Make transfers, provide new account information and sell bank products.
Answer calls in Bankcard queue.
Resolve customer inquiries and monitor issues that require follow-up and research.
0-5

years of experience

Responsible for processing various financial transactions for bank customers.
Develop new business for financial partners through customer contacts and relationship building.
Assist in ensuring compliance and operational risks adhere to company policy.
Promoted to vault teller, where I was responsible for handling daily large deposit transactions as well distributing currency to co-workers.
0-5

years of experience
Receive inbound calls on customer
Maintain customer accounts and enter disputes
Work independently to solve customer issues
Calm angry callers, repair trust, locate resources for problem resolution and design best-option solutions
0-5

years of experience

Manage client deposits/withdrawals
Offer new money management products
Required to handle large transactions
Maintained excellent customer relations
0-5

years of experience
Managed international transactions and Money transfers world wide.
Handle client problems, answer general inquiries and complaints.
Carefully handled bank accounts to avoid any loss to the company.
Perform various customer service activities, including selling and opening new checking and savings accounts.
0-5

years of experience
Customer Service representative
Helped with technical issues with logging into accounts online
Made fund transfers between bank accounts
Load More
Customer Service Cover Letter Examples
Create your own professional resume in just minutes.
Try our resume builder today
Build Your Resume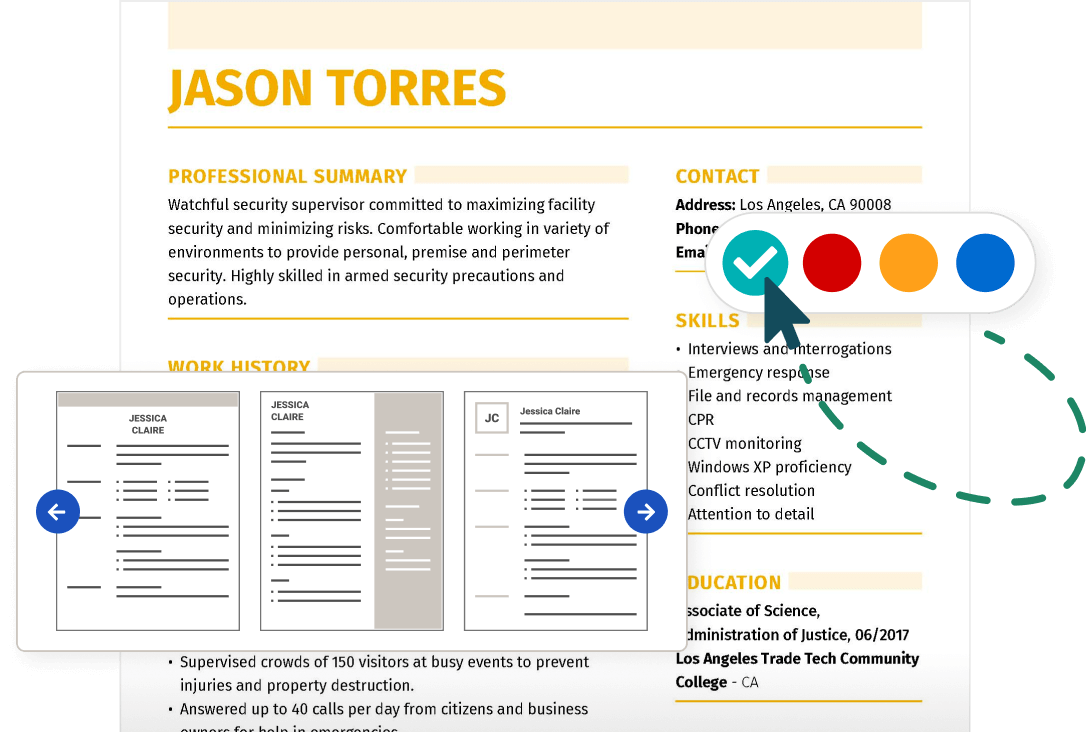 Bank Customer Service Representative Resume FAQ
What are the duties of a customer service representative in a bank?
The responsibilities of a bank customer service representative can include the following duties:
Explaining the perks of various banking services related to specialized checking and saving offerings.
Promoting bank products and services such as new account deals, credit cards, mortgages and business lending.
Helping customers investigate suspicious account activity.
Freezing compromised accounts and reissuing debit and credit cards to impacted accounts.
Updating customers' contact and account information.
Offering customers access to safe deposit boxes.
Placing foreign currency orders for international travel.
How would you describe bank customer service on a resume?
Three strategic methods describe your bank customer service skills: a resume summary or objective and your work history entries. These three resume examples demonstrate how you can write these sections. You may also review this library of job-based resume examples for additional ideas.
Resume summary: Experienced bank customer service agent with five years' experience at a local credit union. Frequently helped new customers sign up for checking, saving and credit accounts. Helped customers secure their accounts and transfer to international family members.
Resume objective: Skilled retail employee with over six years of customer service experience. Eager to apply credit card application knowledge and financial knowledge to help customers apply to large lines of credit such as mortgages, remodeling and business loans. Looking forward to assisting the local community with exemplary banking service.
Work experience:
Bank customer service agent, Lakewood Bank
November 2019 - current, Lakewood MI
Helped customers complete teller transactions such as money transfers, deposits, withdrawals and account information updates.
Assessed the needs of customers to suggest alternate checking or savings accounts services and product upgrades where deemed appropriate.
Identified and encouraged three or more clients daily to apply for exclusive mortgage lending opportunities.