Featured in:
More Chat Agent Resumes
Use these Chat Agent samples as a guideline or visit our extensive library of customizable resume templates.
Additional Customer Service Resume Samples
Chat Agent Resume Samples
No results found
0-5

years of experience
Assisted and successfully launched three sales chat programs: AT&T, Travelzoo & Choice Hotels
Met and exceeded all key performance indicators set by management and the client.
Offered exceptional sales presentations and product knowledge while assisting up to 3 customers simultaneously.
Trained new incoming agents to respective program.
0-5

years of experience
Ensured superior customer experience by addressing customer concerns, demonstrating empathy and resolving problems quickly and efficiently
Scored in top 10% of employees in successful resolution of issues
Developed reputation as an efficient service provider with high levels of accuracy
Described product to customers and accurately explained details and care of merchandise
Answered product questions with up-to-date knowledge of sales and store promotions
Managed wide variety of customer service and administrative tasks to resolve customer issues
Helped drive sales goals and achieve monthly quotas
Asked open-ended questions to assess customer needs
Contacted customer to follow up on purchases, suggest new merchandise and inform them about promotions and upcoming events
Recommended alternative items if product was out of stock
0-5

years of experience

Create a chat environment that is both informative and comfortable for customers.
Assist customers with product features, incentives, production information and locating the vehicle of interest.
Maintain current knowledge of products and resources in order to assist customers with their questions.
Communicate in a manner that keeps customers interested and loyal in our client.
Offer support to fellow chat agents with product information, procedures and verbiage.
Subject Matter Expert (SME) role when Team Leader is not available.
0-5

years of experience
Handle and carefully respond to all customer inquiries with accuracy and efficiency.
Provide excellent customer service through active listening.
Work with confidential customer information.
Aim to resolve issues on the first customer interaction by being proactive.
Understand the wants and needs of the customers, and recommend them a great service plan tailored to their specific circumstances.
0-5

years of experience
Wielded various systems tools to interact and assist clients
Operated floor support to provide guidance and aid other agents in helping clients
Resolved issues within a timely fashion and collected surveys from clients
0-5

years of experience
Provided information to claimants about the 2.0 and 3.0 TDI Court Settlement
Worked with KM and LISTEN
Troubleshooting technical error codes
Mentor to new hire chat and phone agents
Moved up a position within 30 days
0-5

years of experience
Provide support to customers through chat
Used troubleshooting steps to resolve issue with Magicjack devices
Managed the customers account and also provided assistance's with registration
0-5

years of experience
Handled incoming chats
Provide information regarding vehicles and dealerships.
Updating customer information
Set up service appointments and sales appointments
Type 50 wpm
0-5

years of experience
Present to customers to further assist with their purchasing and refinancing needs, provide education, and provide banking options.
Guide on average of 15-20 customers through the home loan process daily by utilizing educational resources.
Use sales tactics to produce bank cross sale opportunities.
Constantly continuing education by completing learning centers.
Expand partnerships with representatives in different departments such as: banking, servicing, home preservation, payment assistance and others to provide an outstanding customer experience.
Collaborate with upper management to design online communication program for the team.
Track and update stats for entire team including: number of calls, number of chats, number of right party contacts, lead created percentage, etc.
Selected by manager to be a part of both the Team Member Engagement Committee and Volunteer Committee.
Received Best Balance Employee Award for January 2017 which was my first month eligible.
0-5

years of experience
Provide excellent customer service in a high volume setting
Serve as support for customers of the AE website and to promote sales and assist with all issues associated with the AE website
Demonstrate high communications skills with the AE Corporate Team for all customer and site concerns at ae.com and in stores
0-5

years of experience
Responded to guests in a timely matter via Live Chat.
Assisted with answering questions and troubleshooting for online opportunities.
Suggested merchandise, upsell, and assisted with online promotions.
Contacted shipping carriers for tracking and lost packages.
Answered inbound phone calls for Cast members and Personal Shoppers.
Applied Cast member discounts to shipped orders and assisted those who could not apply to their accounts.
Helped with Guests escalated orders from Personal Shoppers.
Keep records of customer interactions or transactions, recording details of inquiries, complaints, or comments, as well as actions taken.
Check to ensure that appropriate changes were made to resolve customers' problems.
0-5

years of experience
Confer with customers by telephone in order to provide information about products and services, to take orders or cancel accounts, or to obtain details of complaints.
Resolve customers' service or billing complaints by performing activities such as exchanging merchandise, refunding money, and adjusting bills.
Refer unresolved customer grievances to designated departments for further investigation.
Determine charges for services requested, collect deposits or payments, and/or arrange for billing.
0-5

years of experience
Provide Excellent Customer Service to Existing or New Customers
Handle Sales Opportunities and Inquiries via Live Chat
Schedule Service Appointments
Handle Inquiries Regarding Parts
Handle General Vehicle Information
0-5

years of experience
Respond to chats quickly and efficiently.
Correctly note and forward information for agents.
Used problem solving skills to assist customers.
0-5

years of experience
Assist customers' inquiries via live chat.
Technical troubleshooting.
Multi-tasking while servicing customers with urgency.
Load More
Chat Agent Duties and Responsibilities
To keep customers happy and successfully solve any problems that may arise, chat agents perform a range of tasks. Based on the job listings we analyzed, chat agents are expected to take on these duties and responsibilities:
Receive and Promptly Respond to Customer Queries Whether chat agents are contacted by email or live chat, they must make a continual effort to respond to customers as quickly as possible. Once they receive a message from a customer, they must listen carefully to the customer's question or complaint before following protocol in order to resolve the issue or answer the question.
Document Issues and Resolutions In addition to providing real-time support, chat agents thoroughly document each customer's question or problem as well as the resulting answer or solution. This way, chat agents can help improve their organization's overall functionality and efficiency.
Learn About New Products and Services In order to help customers as effectively as possible, chat agents must make an effort to remain up to date on all the products and services that their organization offers. It's especially important for chat agents to learn about new products and services, which customers may be more likely to ask questions about.
Develop Customer Service Solutions Since they serve as their organization's first point of contact with its customers, chat agents may be asked to make suggestions about how their organization can improve its customer service. Thus, chat agents should keep track of general patterns when communicating with customers.
Identify Possible Website Errors As we mentioned above, chat agents are often the first person that a customer will speak with. Because of that, chat agents are the first people within their organization who will be alerted of website errors and other technical problems. If chat agents receive multiple queries about the same issue, they must report the issue to the IT department in order to solve the problem as quickly as possible.
Chat Agent Skills and Qualifications
Chat agents are excellent communicators with a passion for customer service. Depending on the company they work for, chat agents may also be required to be knowledgeable in certain areas of specialization, such as e-commerce or software. Employers tend to favor chat agents with the following skills:
Customer service - since chat agents work directly with customers to solve end-user issues and answer questions, it's essential that they have strong customer service skills
Computer literacy - by nature, chat agents perform their day-to-day tasks on a computer. They must be able to easily operate a computer, especially in terms of checking and responding to emails as well as utilizing live chat services and software
Problem-solving skills - the ability to solve problems is just as integral to a chat agent's work as solid communication skills. When presented with a problem, chat agents must be able to find a solution calmly and efficiently, even if the customer is impatient or disgruntled
Organization skills - as we mentioned earlier, chat agents are responsible for recording and documenting each question or problem as well as each respective answer or solution. Because of this, chat agents should have strong organization skills and be able to effectively sort large amounts of information
Good attitude - though it may go without saying, it's worth noting that the most successful chat agents address customers in an upbeat and positive manner. Even when facing complex problems or difficult questions, it's important that chat agents maintain a good attitude
Chat Agent Education and Training
In general, chat agents are not required to have any level of college education. Instead, they're usually required to have a high school diploma, GED, or equivalent. Chat agents may also be required to take a typing speed test. Although previous customer service experience is usually preferred, chat agents don't need to undergo formal training prior to seeking employment.
Chat Agent Salary and Outlook
According to Glassdoor, chat agents earn between $9 and $16 per hour. Since chat agents are often paid minimum wage, their hourly pay is usually determined by their state's minimum wage laws. According to the Bureau of Labor Statistics, customer service representative jobs (which includes chat agents) are growing at a rate of 5 percent, which is an average growth rate. This means that 136,300 customer service representative jobs will be created between 2016 and 2026.
Helpful Resources
If you want to become a chat agent, take a look at this list of resources that we put together to help you reach that goal:
Extra Mile: 500 Customer Service Tips for Success - this book contains a whopping 500 customer service tips designed to help customer service representatives like chat agents "attract, satisfy, and retain even the most difficult customer"
Customer Service Professionals - this LinkedIn group boasts more than 100,000 members and is an ideal place for customer service professionals to network and discuss a variety of topics
Communication Workers of America - this union was created especially for communications workers like chat agents across a variety of industries. Members enjoy benefits such as scholarship programs, discounts, and access to training
Customer Service Cover Letter Examples
Create your own professional resume in just minutes.
Try our resume builder today
Build Your Resume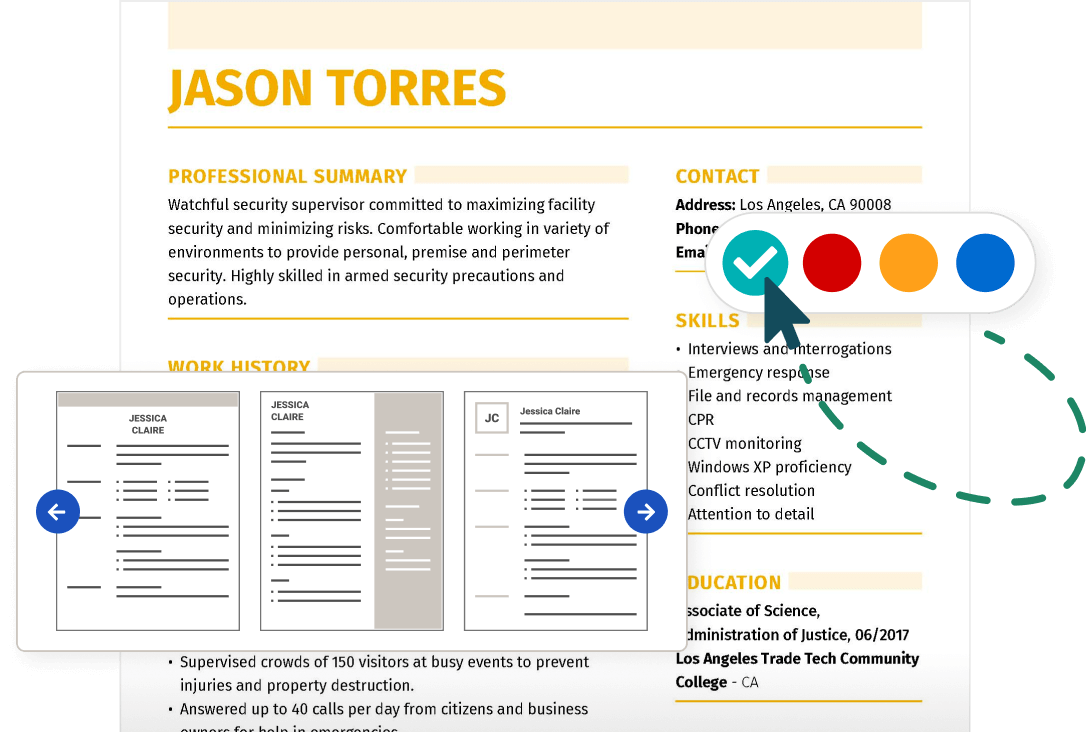 Chat Agent Resume FAQ
What does a chat agent do?
Chat agents are responsible for providing exceptional customer service to website visitors. Their daily duties include:
Responding to customer inquiries through the live chat.
Troubleshooting problems.
Handling data entry.
Communicating politely and effectively.
Managing customer accounts.