FEATURED IN :
Top Benefits of Using a Resume Builder
Instead of starting a resume from scratch, we recommend using our Resume Builder. This is a smart way to create a professional resume in no time.
The builder is the new and interactive way to create resumes. You will find that using it has many advantages. Let's take a look at the top five reasons why you should use the Resume Builder: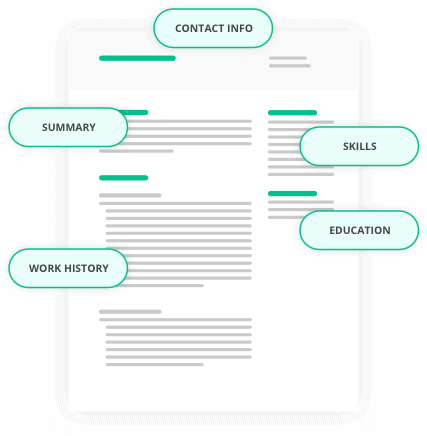 It's user-friendly
Our builder provides automated guidance. It walks you through each section of your resume by asking questions about your work and experience.
It features professionally designed resume templates
We offer a large variety of stellar resume templates. From traditional to modern, you can browse through our library and choose the design that's best for you! Once you pick your favorite template, simply fill in the blanks.
It's customizable
You can highlight your skills with attractive, eye-catching resume designs that match your style. Our resume templates are highly customizable and you can change colors, fonts and sizes, as well as the layout.
It's industry-specific
Avoid generic wording. The builder also lets you create a targeted resume. You can tailor your resume specifically to the job you are applying for. Our certified resume writers created relevant keywords and pre-suggested phrases by industry. Including some of these sought-after keywords and phrases will help you get noticed.
It's ATS friendly
An applicant tracking system, or ATS, is a recruitment software designed to screen your resume. It scans for skills, job titles and educational background the employer has programmed into the ATS, usually based on the job description. Our builder lets you create ATS-compliant resumes with relevant keywords and is scanner-friendly.
The builder has all the necessary tools to write your professional resume in minutes; no writing experience is needed!
2023 Most In-Demand Resume Templates
We offer a vast variety of eye-catching template designs for you to choose. From traditional to contemporary, you can browse our resume templates by style.
Our library of designs ranges from Creative to Professional, Traditional, Basic and Simple and Modern. Take a look at the most in-demand resume template designs for 2023.
Job-Winning Resume Examples
Landing the job you want requires a great resume. To get you on the right track, we put together 5,600+ job-winning resume examples to inspire you.
Resume examples are a great way to get ideas for writing your own resume and see how other professionals market their skills. These examples provide valuable insight into what to include in your resume!
The Importance of Resume Formats
The way you organize a resume is called a format of which there are three types: chronological, functional and hybrid/combination. Choosing the right format is a critical step because it determines how you will be listing your skills and experiences.
How to Write an Effective Resume
A well-written resume markets your top accomplishments, skills and experiences to convince recruiters that you are qualified for the job. When writing a resume in 2023, you're not only trying to grab the attention of recruiters, but you are also adding in keywords to get past applicant tracking system (ATS).
At JobHero, you will find in-depth expert advice on How to Write a Resume effectively and effortlessly. Here, you will find everything that you need to know for a persuasive and well-structured professional resume and how to prepare your resume for ATS.
FAQ
JobHero offers the latest in career development tools. Our team of experts are certified resume and cover letter writers. We offer job seekers valuable information on how to create their own resume and cover letter.
JobHero also provides resources on how to keep your resume in demand in 2023.
How does our Resume Builder work?
It offers step-by-step guidance to a recruiter-approved resume. It also tailors the resume to your experience level and job title.
The builder lets you choose from a variety of resume templates that includes customizable font and header options. Simply fill out each section in the template and tailor it according to the job you're applying for.
JobHero's Resume Builder makes resume writing fast and easy with automated prompts that you can follow by section.
Are our templates ATS-approved?
The answer is yes. JobHero's resume templates are optimized to pass applicant tracking systems. Our designers were very conscious and mindful of ATS needs when creating our templates.
ATS requires consistent fonts, clear margins and clean layouts. Our templates include the appropriate use of headers, footers, font styles and sizes — making it easier for ATS to scan resumes.
An applicant tracking system (ATS) basically relies on clean formats and relevant keywords to identify and select candidates.
Are our resume examples up-to-date?
JobHero has certified experts who have carefully written each resume example with the most up-to-date information. Our examples are based on 2023 data and industry-specific content to help inspire job applicants as they write their resumes.
Our resume examples are also designed to showcase strong objectives, professional summaries and work history to land a job even during the pandemic.
How can I make my resume?
Before you start to write your resume, review the job description to identify what the employer is looking for. Make a list of your experience, accomplishments and skills to match the company's needs and any keywords they included on the job post.
Organize your information by section. All resumes have at least five main parts:
Contact information
Summary statement or career objective
Skills
Work experience
Education
Contact information: Use your contact information to create your resume's header, including name, city and state, professional email and phone number.
Summary statement: Next, you will introduce hiring managers to your career goals and top accomplishments. If you are an experienced candidate, go for the summary statement. Use three to five sentences to convince the employer that your experience can contribute to the company's growth and success.
Objective statement: If you have limited experience, you can still wow recruiters with a strong objective statement. Write one or two sentences to define how your career goals align with the company's needs. When writing this section, customize your objectives in a way that matches the job description.
Skills: Your skills section includes a mix of six-to-eight soft, hard and technical skills. These skills will help outline how well qualified you are for the position.
Hard skills are usually industry-specific abilities that you gain through education, practice or training.
Soft skills combine people skills, social skills, communication skills, and relate to problem solving and work management.
Technical skills are just more specific hard skills related to computer or digital tasks.
Work experience: The main marketable part of your resume is your work history. This section organizes your work experience and top accomplishments.
When listing your jobs, you can include three-to-four jobs. Starting with your most recent job, list the company's name, city and state location, job title(s) and dates of employment. Once you have organized your employment information, add your accomplishments in a clean, bulleted or paragraph format.
For a remarkable resume, add numbers and action verbs throughout your resume sections. Numbers add credibility to your accomplishments and demonstrate how you contributed directly to the company's growth.
You can also use JobHero's Resume Builder for a quick and easy way to create a professional resume in no time.