Featured in:
More Procurement Officer Resumes
Use these Procurement Officer samples as a guideline or visit our extensive library of customizable resume templates.
Additional Administrative Resume Samples
How to Format a Procurement Officer Resume
If you have over 10 years of experience, consider the chronological format for your procurement officer resume. This document dedicates the bulk of its page to outlining the roles and responsibilities for each of your previous jobs. It can highlight your promotions and growing skills. It's ideal if, like Candidate A, you're looking to handle a bigger budget and more responsibilities.
However, Candidate B is a recent college graduate. They have some previous accounting experience and impressive academic knowledge but only a year of internship experience in procurement. The functional resume helps them demonstrate their technical knowledge and training.
Chronological Resume
19

years of experience

7

years at this job

MS

Finance
Work History
Procurement, City of RichmondApril 2015 - current, Richmond, CA
Plan, organize and direct the municipal purchasing function for a city population of 200,000.
Review major purchase requisitions; approve requisitions for conformity with established procedures; make major equipment purchases within the annual operating budget of $166,890.
Provide quarterly reports for internal and public review on purchasing policies, regulations and procedures.
Functional Resume
1

year of experience

1

year at this job

MS

Accounting
Professional Skills
Procurement
Supervise and participate in bid specifications.
Receive, open, analyze and publicly read bids.
Make recommendations on significant purchases and contract partnerships.
Accounting
Provide quarterly reports for internal and public review on purchasing policies, regulations and procedures.
Organize receipts by department and month of purchase for internal, public and tax review.
Procurement Officer Resume Samples
No results found
0-5

years of experience

Direct all aspects of supply chain management function, including procurement, shipping / receiving, and property control. Define and implement annual goals; identify and address improvement opportunities. Interact with internal and external stakeholders; manage supplier relationships and promote minority business program. Supervise 45-person cross-functional team, bid solicitation / award and policy development; manage budget; hold authority on contracts up to $5M. Interpret complex policies and laws to support process development. Ensure quality and regulatory compliance; manage internal / external customer relationships; oversee staffing program, training, and evaluation. Key Achievements:
Spearheaded initiative to turn around supply chain / procurement group at critical DOE laboratory.
Crafted procurement value proposition targeting cost savings, customer service, and contractual / regulatory compliance.
Employed DOE cost improvement criteria against improvement goal of $4M, doubling results and achieving $10.3M in cost improvements.
Streamlined review / consent process for $75M construction subcontract in collaboration with 3 DOE representatives, completing process in 14 days rather than the scheduled 70 days.
Achieved 50% improvement in customer and 96% improvement in employee satisfaction during initial year.
0-5

years of experience

Managed all aspects of supply management operations including parts procurement and budget control. Developed, implemented and coordinated transportation and movement of property turn-ins and transfers. Managed 4 executive officers, 4 unit supply sergeants and 2 supply clerks in operations, supply discipline and quality assurance procedures in a battalion with property in excess of $220
Million.
Oversaw a $2.1M annual budget ensuring monthly expenses fell within 2.5% of the forecasted budget.
Qualified Contracting Officer Representative. Trained to provide the technical direction, clarification and guidance with respect to the contract specifications and statement of work.
Developed, forecasted and generated a multimillion-dollar budget for FY14 and FY15 in an organization of more than 450
Over a five-month span, trained 3 government purchase cardholders while simultaneously managing the unit purchase
Commended by inspection team and Commanding Officer for being responsible for passing the Command Supply Discipline
Precisely executed the reallocation of $1.7 Million worth of equipment and supplies in Operation Victory Sweep 2013
0-5

years of experience

Served as the Director of Acquisition for 2,000-person bureau. Responsible for procuring goods and services needed to support the bureau's day-to-day operations. Led 30 procurement professionals.
Developed strategic plan to transform division to customer focused, results driven organization.
Completed organizational spend analysis to facilitate development of strategic sourcing strategies.
Implemented organizational structure that featured "cradle-to-grave" contract management.
Implemented new automated contract writing system (PRISM) and electronic catalog system.
Eliminated 10-year-old closeout backlog and reduced procurement lead times by more than 35%.
Improved customer satisfaction; customer service rating increased from 59% to 86%.
Received award from Treasury's Assistant Secretary for leadership in exceeding small business goals
0-5

years of experience

Brought in by the Chief Administrative Officer to build a full functioning Procurement function to enhance operating income at a time when margins were squeezed by NIM-compression and the organization had received TARP/CPP funds.
Achieved year one annual savings of $6.2 million or an approximate function ROI of 375%
Three year annual tracked savings exceeded $14 million or an approximate function ROI of 850%
Implemented procurement technology infrastructure to support function growth. Oracle P2P and Hiperos Vendor Management were implemented 7 and 12 month, respectively, after joining firm
Developed and implemented best in class Supplier Relationship Management processes that resulted in regulatory agency lifting MRA related to management of third parties
Kept voluntary turnover below 6% each year
10+

years of experience

Leadership of all procurement operations for the organization's various business enterprises including casinos, hotels, golf courses, ship building, real estate, office facilities and pharmaceuticals Spend Accountability: $350M - $500M. Span of Control: Dir. of Ops & Infrastructure, Mgr. of F&B, Mgr. of Construction Services, Mgr. of Government Services, Mgr. of Supplier Diversity, Materials Mgr., Purchasing Systems Administrator, Supplier Data Control Administrator, 13 Purchasing Agents. Institute and drive diversity initiatives to fulfill leadership mandate to develop and support small, local, minority & women business enterprises. Serve on Economic Development, Diversity, and Community Affairs leadership committees. Commodities... all materials and services:
Built department and established procurement policy/procedures and supply chain strategy for all enterprises.
Created supplier diversity program, hosted numerous events and achieved 16% diversity spend.
Authored diversity plan for successful award of organization's Pennsylvania Gaming license.
Implemented supplier optimization, negotiated new supply agreements - $30M in cost reductions.
Formed strategic relationships and GPO's for critical materials and services suppliers - $15M in cost reductions.
Deployed eProcurement sourcing processes - $5M in cost reductions.
Instituted asset recovery processes for enterprise shutdowns, facilities and real estate divestments.
0-5

years of experience

Procured a variety of large equipment and services utilizing a various contract methods
Developed and implemented process improvements for more effective and efficient contracting
Initiated Capability Briefings with contractors
Proactively and efficiently monitored customers budget while handling a myriad of large procurements on their behalf
Effectively streamlined the RFP process for charter flights
Held a $1M warrant
0-5

years of experience

Directed procurement of IT products and services and electronic components for manufacturing.
Coordinated with internal and external customers to ensure proper product selection and supply chain.
Negotiated with vendors for improved pricing and delivery.
Forecasted product needs of sales, marketing and engineering.
Arranged contracts for maintenance and supplies. Approved returns for repair or stock balance.
Interviewed prospective employees. Maintained inventory and collected price protection credits.
Prepared weekly reports for senior management.
0-5

years of experience

Assumed newly created role to develop and oversee supply management policies, procedures and controls.
Lead Analysis & Design and User Acceptance Testing phases of Purchasing and e-Procurement modules of organization-wide PeopleSoft implementation
Vetted and qualified vendors and suppliers; negotiated preferred relationship agreements
Managed procurement staff with dotted-line responsibility for accounts payable staff
0-5

years of experience

Supervised Procurement Department, including four (4) employees
Procurement Department serviced the corporate offices, as well as nineteen
Managed IFB, RFP, RFI processes for small and large construction, as well as all services and supplies
Managed all resulting service, supply and construction contracts
Maintained vendor database and vendor outreach programs, expanding the force of competition and resulting in significant cost savings
Drafted and implemented all Procurement policies and procedures
Received zero (0) compliance findings from annual HUD procurement audits
0-5

years of experience

Improved the product development process by incorporating design for Six Sigma.
Prepared program operating budgets, budget reports, and other financial reports.
Analyzed contract performance for bids, budgets, and forecasts.
Collaborated with Department of the Army and Department of Defense to achieve contract goals.
Expanded cross-functional organizational capacity by collaborating with the Department of Defense
0-5

years of experience

Led targeted decision-making to develop and implement globally based manufacturing improvement strategies along the entire supply chain to enhance operating margins, including implementing common set of performance metrics and corresponding improvement plans at all global manufacturing sites to drive all wide-ranging performance improvements.
Directed manufacturing footprint strategies which encompassed site consolidations and outsourcing of non-core manufacturing processes (e.g. PCB assembly and wiring harness assembly) and facilitated best practices for all locations.
Improved working capital 20% by creating a comprehensive approach to improve Cash-to-Cash Conversion Cycle across entire supply chain
Applied strong leadership talents toward transitioning a completely decentralized procurement organization to a centralized matrix management model to take advantage of procurement synergies across all business units worldwide with total procurement spend of $400 million within a department employing 15 professionals and a budget of $2+ million.
Established processes for procurement involvement in new product development to assure that supplier selections and best cost definitions were performed prior to product launch, and implemented new processes to manage transportation.
6-10

years of experience

Provided timely procurement services for 8 units by creating 150 purchase orders for 30 requestors
Processed travel reimbursements and booked travel for all staff and lab members for quick turn-around
Resolved outstanding invoices with accounting for quick resolution and payment processing
Detailed workflow processes by utilizing an Excel spreadsheet to track purchase orders, permitting ease of access when required
0-5

years of experience

Stabilized inventory and yearly stock through procurement order process of HIV/AIDS products, for pharmaceuticals, specialized health equipments/products, commodities, and laboratory supplies from inquiry cost estimations to delivery, storage and distribution; drafted and published RFQ, RFP, ITB; ensured reporting of supply through the PRM-Price Reporting Mechanism system
Established effective communication channels between all stakeholders at national and international levels by meeting World Health Organization/The Global Fund to fight AIDS, Tuberculosis and Malaria quality assurance compliance, and national drugs regulatory standards
Strengthened NGOs capacity in organizational management and provision of social services for HIV/AIDS project implementation
Produced Standard of Operations Manual - Procurement and Supply Management Plan (PSM), to highlight systems and processes of drug acquisition, quality assurance, distribution and use
Coordinated evaluation and reporting systems for smooth implementation of project through contract administration and sourcing of national and international vendors
Created learning atmosphere through knowledge sharing sessions, and presentations, and mentored and coached staff to obtain required professional certifications.
0-5

years of experience

Responsible for the oversight of all County procurement. Governed the operations to ensure that all aspects of County purchasing were carried out in a legal, efficient, and professional manner.
Oversaw all operations of the [company name] (Main, Parkhouse, MCCF)
Oversaw construction specification preparation with A/E through project completion including recent 21M prison expansion
Provided direct oversight to Energy Manager, Fleet Repair Facility, and Courthouse Storeroom
Provided direct assistance to the Chief Clerk and Solicitor, as requested, in the resolution of County issues; including, but not limited to, procurement
Developed, monitored, and updated purchasing policies, procedures, and activities
Worked closely with County offices including the Controller's Office, the Finance Office, the Chief Clerk's Office, and Risk Management to ensure that all activities of the Purchasing Department were in compliance and processed in a timely manner
Identified opportunities to solicit similar or identical services for multiple departments to secure volume discounts and reduce administrative costs
Streamlined and centralized the RFP process under the Purchasing Department; posting all specs and RFP's on the Purchasing website, standardizing the contract extension process, and working with ITS to create a series of systems to better manage the procurement, award, and contracting process
0-5

years of experience

Responsible for the creation of the global Strategic Sourcing and Supplier Management organization and leadership of various shared services functions including Strategic Sourcing, Procurement Operations, Travel Management, Real Estate Strategy and Planning, Site Services, and Associate Services.
Formed the global Strategic Sourcing function responsible for sourcing and supplier management for $1 billion in global supplier spend.
Led a broad based sourcing initiative that delivered $60 million in cost improvement within the first 3 years. Strategic sourcing, incumbent supplier negotiations and consumption management strategies were developed and implemented to support this effort.
Developed and led a real estate portfolio assessment and improvement initiative that will reduce run rate infrastructure costs by nearly $20 million within 3 years. Occupancy and space utilization benefits were realized in the first year.
0-5

years of experience
Served as a buyer for the FF&E department (Furniture Fixtures &Equipment).
Developed and launched a Global SharePoint Drive for purchasing, finance and logistics.
Responsible for maintaining updates on the Facilities Cost Saving Initiatives.
Aided financial analysts in obtaining information necessary to run ROI's while maintaining proper backup files
6-10

years of experience
Directed a procurement program for two-hundred (200) field facilities with each possessing budget expenditures of $5,000,000.00 annually.
Supervision exercised over a team of six (6) buyers and three (3) clerical support personnel.
Facilitated procurement training and seminars for designated field facilities.
0-5

years of experience

Conducted cost/quality comparisons
Coordinated expenditure records with the accounts payable department in order to assure
prompt and accurate payment to vendors
Solicited for bids and analyzed price quotations
Coordinated expenditure records with the AP department in order to assure prompt and accurate payment to vendors
0-5

years of experience

Directing all functions related to the purchase of equipment supplies and services and overseeing the bidding
process for vendor performance to secure requirements within budget and compliance with regulations
Collating data from a range of sources to analyze issues, ensuring compliance with purchasing policies and procedures and monitoring purchasing processes.
Processing information for updating and distribution, authorizing action within established accounting
Contributing to unit meetings, undertaking training and workshops to optimize job performance
Researching contracts, suppliers, equipment and regulations, evaluating new products for need and availability
Maintaining purchasing information, managing contracts, overseeing purchasing processes and responding to internal and external inquiries and serving as vendor liaison
Organizing annual surplus for disposal of obsolete equipment and supplies
Supervising a small team, monitoring work assignments against objectives
Developed and organized medical inventory in facility health center; creating categorized inventory listing for central supply room to be requested by nursing staff.
Reduced facility emergency orders for medical inventory by 95%, reducing costs with inventory management
Gained increased responsibility for all service invoices, facility food, inmate and staff clothing, employee
0-5

years of experience

Resolved clients queries and implemented work process that improved speed and efficiency
Validate local and import purchase orders
Prepared weekly status reports of orders and manage stocks based on production schedules and forecasts.
Ensure effective communication with all stakeholders on all Request for Quotation
Receive and process Request for Quotation on assigned accounts
Assist to ensure effective management of logistics on all orders
0-5

years of experience

Prepared complex Request for Proposals, Requests for Quotes, and E-quotes ensuring full compliance with State guidelines and Board of Regents guidelines.
Conducted evaluation and scoring of proposals with evaluation teams.
Participated in negotiations of agency wide contracts.
Ensured vendors are performing within the terms and conditions of agency contracts.
Processed annual contract renewals.
Defined assigned, and completed tasks for implementing a requisition/transaction monitoring module in PeopleSoft Financials.
Designed and delivered a series of training classes for the agency's Procurement department.
Conducted focus group sessions, to troubleshoot issues.
Communicated through written and verbal forms to upper management, clients, state representatives, customers, contractors, vendors, and other members of the organization.
Assisted in developing and implementing a customer service improvement plan.
Was responsible for troubleshooting and resolving technical issues within PeopleSoft Financials and organization specific transaction system.
0-5

years of experience
Developed the project public procurement plan
Drafted the public procurement documentation
Organized the public procurement procedures for the equipment and services necessary for the project
Adequately recorded the public procurement dossiers
Was the contact person on behalf of the project for the programme management structures, control and audit bodies, and for all issues related to public procurement
0-5

years of experience

Rapidly acquired procurement skills with only a two weeks turnover
Routinely process 50 local and 150 international purchase orders per month
Implemented systematic follow-up for supplier shipments/deliveries, resulting in reduced delays and improved order-to-delivery cycle time
Effectively track monthly procurement expenses/variances and submit reports
Have thorough familiarity with gasket raw materials (Teflon, cork, stainless steel
I manage to do our weekly basis submission of invoices of our suppliers to accounts
6-10

years of experience

Collected quotations for supplies and ensured all documentation processes are in place
Followed up on different contracts and daily management of the vehicle fleets.
Assisted in the preparation of the logistical manual and procedures.
Reported to the team leader depending on donors requirements.
Responsible for obtaining all necessary administrative authorization from the relevant Ministries and offices.
Responsible for the network and computers maintenance.
0-5

years of experience

Responsible for all procurement activities at the University.
Developed program management tracking system for capital projects.
Negotiated numerous contracts.
Responsible for 85% of University payables.
Responsible for State Procurement Card purchases
0-5

years of experience

Source material requirements by obtaining quotes from suitable suppliers, negotiate, and create purchase orders.
Identify repetitive items being purchased then create these items into stock.
Monitor outstanding purchase orders against estimated delivery dates and follow up on deliveries.
Manage crane hire contracts.
Handle workforce in relation to laydown issues.
Report to end users in weekly meetings with regards to material shipments for construction planning purposes.
Skills: analytics, logistics, relationship management, administration, organization, and negotiation.
0-5

years of experience

Responding to tender enquiries and providing procurement advice and ensuring best practice and VFM across The Royal Parks.
Liaising with specialist teams to plan out tender timelines of Playground Refurbishment tenders using restricted procurement procedures.
Issuing OJEU and Contracts Finder advertisements and notices, ensuring a competitive tender process was in place.
Checking and approving new supplier requests using Ebis financial IT system.
0-5

years of experience

Responsible for procuring permanent housing opportunities for homeless persons with disabilities.
Worked with clients in a variety of areas in able to become self-sufficient, productive members of society.
Responsible for establishing and maintaining working relationships with housing
Maintained 97 leasing files and 36 client files for auditing and HUD monitoring purposes.
0-5

years of experience

Research of local and foreign markets regarding viable sources for product needs
Procurement of vessels' engines, spare part, lubricants, paints & Services
Procurement of provisions for vessels' crew
Systemic follow-up of Inventory on board vessels and in warehouse.
Maintained professional public relations with suppliers and contractors for quality
0-5

years of experience

Coordination and development of suitable procurement plan
Manage sourcing of services, supplies, Assets and works.
Supplier Management to ensure quality of goods and services
Contracts Management for third parties
Certifications of invoices prior to payment by finance
Manage all facilities and equipment to ensure proper use, maintenance, safety and security
Negotiate and resolve issues/complaints from contractors on bids and awards
0-5

years of experience

Assess goods and services to maintain $30M in annual savings through leveraging volume spending, conducting
renegotiations to prevent year over year price increases of 2% to 5%, unconditional price reductions, reverse
auctions and managed competitions.
Perform human resource functions for a staff of 20 including the hiring, firing, discipline and payroll functions.
Manage procurement operations and administrative staffing units by leading the negotiation and awarding of contracts, monitoring fiscal budgets for an addressable spend of $500MM per year.
Manage a team of ten Accenture consultants for strategic procurement, process redesign and staff
0-5

years of experience

Company specializing in creating technologically advanced branded incontinence products for adults and children.
Drive strategic supplier integration into our product design programs
Develop supply base strategy consistent with global business strategy to support current and future business objectives.
Team member in filing patent applications incorporating advanced paradigm changing products for disposable absorbent industry.
Manage complex supply base and contract manufacturing program from procurement through logistics and delivery.
0-5

years of experience

Sourcing for company's materials for production and negotiate for best price.
Ensuring materials meet high quality regardless of the price and work with other department to ensure that vendors are paid on schedule.
Ensuring for promptly delivery of materials for production and get approval for the payment of such materials in a timely manner.
Responsible for contracting out goods and services with a local Purchase Order/Memorandum of Understanding and manage the company purchases/supplies of equipment and materials.
Keeping of inventory levels current, foresees future needs and make a timely request of materials/items needed by the company.
0-5

years of experience

Compiles information and records to prepare purchase orders for procurement of materials.
Verifies nomenclature and specifications of purchase requests.
Consults catalogs and suppliers to obtain prices and specifications.
Receives requisitions, determines bidders, accepts, tabulates, and makes awards on routine purchases.
Contacts, advises, and assists departments with respect to specifications, substitutions, delivery dates, and supply sources.
Resolves discrepancies between purchase orders and invoices, delivery dates, delays, damages, and rejections.
Corresponds with parties involved to assure that orders, shipping, and deliveries are timely and in order.
Adheres to internal controls established for department.
Performs related duties as required.
0-5

years of experience

Procure goods and services for the county and all affiliated departments
Organized all files and reports
Use of excel for weighted forms and calculations
Researched vendors and product information
0-5

years of experience

Responsible for the procurement of goods, works and services.
Advertising all the positions related to the company.
Receiving CVs, preparing file for it along with the long list and sending it to the concern department for short-listing.
Communicate and liaise official matter of the office with all organization related to Procurement.
Prepare the procurement Plan and forward it to the implementation.
Maintaining files for all individuals.
Reference check of all applicants
Sending contract to competent authority for signature.
0-5

years of experience

Keeping of customers individual ledger accounts accurately
Prompt and complete preparation of all relevant reports.
Issue receipt for all payment and post them appropriately.
Negotiating the terms of an agreement and closing sales;
Liaising with suppliers to check on the progress of existing orders;
Reviewing own sales performance, aiming to meet or exceed targets;
Gaining a clear understanding of customers' businesses and requirements
0-5

years of experience

Process Purchase Orders and Comply with State regulations
Create all RFP's, RFQ's, and any solicitations needed for competitive prices
Process all requisitions through the states SCEIS system
Maintain and manage all capital projects
Maintain budget sheets for each department to insure proper funding is there
Undergo audits yearly to comply with state regulations
0-5

years of experience

Plan procurement actions for consultancy, IT or subscription services
Review and analyze technical specifications to ensure completeness, accuracy and competitive qualities.
Assist staff in matters regarding procurement policies and procedures, technical specifications, pricing and product/service availability.
Develop vendor pre-qualifying criteria and identify product sources.
Prepare all relevant supporting documents and recommend approval of the contract or purchase order.
Liaise with the Office of Legal Affairs regarding complex contract negotiations with vendors
Expanded and developed UN sources of supply through business seminars.
Liaised with member state representatives on a continuing basis.
Updated and standardized power point presentations on doing business with the UN and the registration process.
Drafted and updated template communications to governments.
0-5

years of experience

Providing complete confidential administrative support to CPO, including heavy calendar maintenance/scheduling, arranging domestic and international travel including detailed itineraries create and maintain filing system, review of expense reports. Also preparation/consolidation of weekly staff meeting materials, set up of web conferencing meetings/calls, prioritizing incoming mail.
Create Microsoft Office documents as needed. Update items in SAP.
Compiling monthly reports for management meetings.
Assist managers as needed.
Serve as back up for CEO's and CFO's assistants.
0-5

years of experience

Generate purchase orders for [company name] System
Multi-task quickly and efficiently
Work with vendors to get the best price for staff and faculty
Navigate the internet for best pricing on various items
Tracking receipt of items and processing invoices
6-10

years of experience
Review and process all [company name] contract submissions.
Draft requests for proposals, contracts and related documents.
Ensure agency compliance with all City procurement rules.
Interact with other City agencies in connection with procurements.
Maintain contract database and related electronic files.
6-10

years of experience

Search Federal Business Opportunities for potential business opportunities for GTW
Find potential business for GTW through other avenues. (RFP's, RFQ's, ROM requests, any open solicitations suitable to [company name]).
Lead completion efforts for all Requests for Proposals.
Lead completion efforts for all Rough Orders of Magnitude.
Lead all other efforts for procurement of contracts/work.
Analyze RFP's and ROM's including but not limited to all Statements of Work, Contractor Line Item Numbers (CLIN's)
Interview potential contractors, and direct hire employees on a per contract basis.
Oversee all projects in portfolio once contracts are won to assure that project is in compliance at all times.
Some web development.
Developed private online wiki for company use from the ground up.
0-5

years of experience
Secretary of the Procurement Committee.
Receive, follow-up and implementation of all requests and different procurement process in all stages, tenders, procurement and direct purchase or maintenance according to the approved specifications and conditions.
Call for proposals for the procurement and recorded and saved in files.
Participate in making the standard specifications for materials and services required and make sure they are not directed.
Ensure the existence of the financial allocations for cover the value of the purchase order according to the supplies system applicable in the organization in coordination with the Directorate of Finance.
Preparation, drafting and organizing the tender documents.
Save and organize records and documents of purchase and bidding and documented on paper and electronically.
Prepare and update lists of suppliers.
Follow up the implementation of all buying decisions issued and their later commitments according to the approved procedures.
Working on booking rooms in hotels, Ticketing and Shipping Jordanian products to the exhibition that company attends every year.
0-5

years of experience

Answer phones, take work orders, monitor dispatch radio
Order parts and appliances for work load
Ask for estimates and create purchase orders for vendors
Create new accounts for vendors and contractors
Perform various tasks for management and Government
0-5

years of experience

Arrange complex domestic and international travel, including hotel, ground transportation and meeting venue; provide executive with detailed travel itinerary
Compile and maintain highly confidential material
Expense reports and tracking department spending
Scheduling business meetings and calls across multiple time zones, scheduling personal appointments
Invoice processing for outside consultants and vendors
Create and/or update PowerPoint presentations, Excel spreadsheets and Word documents
Management of multiple global meetings including hotel, transportation, meeting venue, catering and team building activities
Schedule and attend staff meetings; record and distribute action items
Provide support to visiting Executives and Board of Directors
Employee lead for the Employee Activities Committee that organizes employee recognition events and family oriented outings
0-5

years of experience
Preparation of Requests for Proposals (RFP), Requests for Quotations (RFQ) and the Bidding Documents. Plan, organize and lead the bid solicitation process including drafting and issuing RFQ, RFP and facilitating the bid opening process.
Act as the secretariat for the bid evaluation committees, ensuring the integrity of the competitive process, facilitating bidder's debriefings, and exercising appropriate judgment and tact while ensuring to protect confidential information
Analyzing, negotiating and preparing contractual agreements, ensuring appropriate terms and conditions are included to protect the interests of the Project.
Monitoring and reviewing progress of contractual agreements; reviewing and approving invoices for payment; resolving problems that arise; performing post contract evaluations; creating and maintaining procurement records and ensuring accuracy and integrity of data
Compilation and continual updating of the asset register for the project.
Compilation and presentation of the weekly, monthly, quarterly and annual procurement report at management meetings.
0-5

years of experience
Managing, coaching and training a team of Sr. and Jr. Buyers.
Prepare and review of IFB, RFP and other contractual needs.
Assist IT with Procure to Pay and other Procurement
JDEdwards based system improvement projects.
0-5

years of experience
Contracts and manages procurements for goods and services.
Evaluate and make award decisions
Coordinate and analyze feedback on contracts.
Perform contract administration by reviewing existing contracts.
Prepare contract modifications.
Work directly with Contract Administrators and Contractor Personnel to resolve performance issues and disputes.
Adhere to policy and procedures for the Governors initiative Department of Minority Business Enterprise certified small business participation.
Provide sound contract guidance to end users on contract related issues.
Process Request for Proposals (RFP's), Invitations for Bids, (IFB's) and Quick Quotes.
0-5

years of experience
Contracts and manages procurements for goods and services.
Evaluate and make award decisions
Coordinate and analyze feedback on contracts.
Perform contract administration by reviewing existing contracts.
Prepare contract modifications.
Work directly with Contract Administrators and Contractor Personnel to resolve performance issues and disputes.
Adhere to policy and procedures for the Governors initiative Department of Minority Business Enterprise certified small business participation.
Provide sound contract guidance to end users on contract related issues.
Process Request for Proposals (RFP's), Invitations for Bids, (IFB's) and Quick Quotes.
Load More
Administrative Cover Letter Examples
Create your own professional resume in just minutes.
Try our resume builder today
Build Your Resume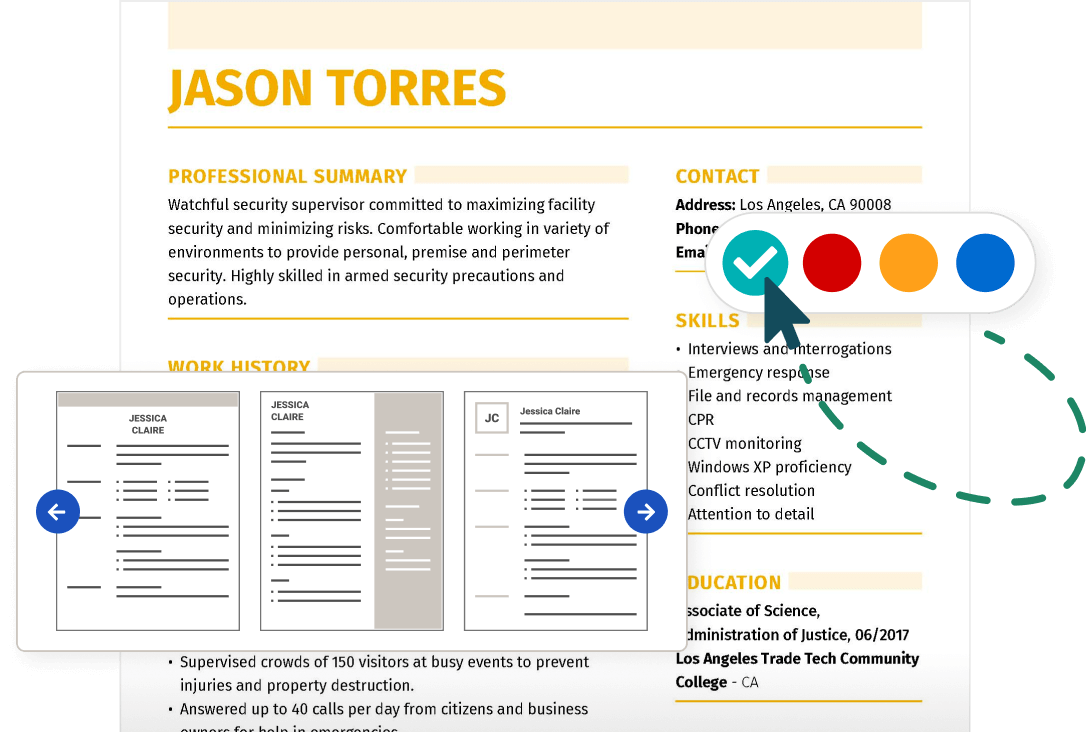 Procurement Officer Resume FAQ
What is a procurement officer?
Procurement officers partner with third-party vendors and businesses to evaluate and acquire supplies, products and services for public and private use. They often review and negotiate bid offers, contracts and quality standards.
What are the four main procurement roles?
The four leading roles of a procurement officer are broken into the following tasks:
Plan the official procurement management plan: The procurement officer will first plan what items and services need to be purchased from external supplies and put together quantity, quality and cost estimates.
Select the final vendor bid: Procurement officers will review external vendors' bids by considering reputation, responsiveness, deliverable estimates and contractual offerings.
Manage the tools and process: Procurement officers track updates on the vendor contract. This can include reviewing delivery receipts, conducting physical inspections and reviewing general operation standards.
Close the procurement contract: Once all items and services are delivered or completed, procurement officers will summarize the process for future needs.
What are the skills of a procurement office?
The following procurement skills can help you effectively apply for open positions:
Negotiation skills
Time management
Relationship management
Attention to detail
Risk management
Understanding the global market
Collaboration
Organization
Financial management