Featured in:
More Executive Assistant Resumes
Use these Executive Assistant samples as a guideline or visit our extensive library of customizable resume templates.
Additional Administrative Resume Samples
How to Format an Executive Assistant Resume
As an executive assistant, you have multiple options for formatting your resume. We recommend the functional resume format if you'd like to focus on detailing your administrative, organizational and confidential skills. This highly customizable format allows you to create multiple sections dedicated to core skills and relevant experience. However, you should only use this format if you have direct contact with a hiring manager. This format is highly customizable, so it performs poorly with online job boards and applicant tracking systems (ATS).
If you're applying to an online job opening, use the chronological or hybrid resume. These are the most familiar resume formats and use standardized resume section names and layouts, making them easy to skim and identify your core administrative skills.
You can see how two experienced candidates use these two different strategies below. Candidate A has spent most of their professional career with one employer and is looking for a new role as their VP retires. Candidate B has over a decade of administrative experience but is relatively new to the executive market and wants to highlight their transferable skills.
Chronological Resume
li>Managed executive and departmental calendars, scheduled appointments, department all-hands, meetings and lunches.
Booked and managed travel arrangements for executive and critical department leads, including travel, hotel and rentals.
Developed and updated essential contact lists for both the internal department and key department head/project leads across an international corporation.
Functional
Executive Assistant – Head of Product Development
Candidate Info
12

years in workforce

1

year at this job

HS

Diploma
Professional Skills
Planning and Scheduling
Schedule and maintain the executive calendar.
Manage the departmental team calendar.
Organize and manage executive and department travel plans.
Business Development
Created a detailed internal department contact list that included employee names, job titles, business emails, contact information and physical addresses.
Partnered with the company's administrative staff to compile a central directory with department head names and contact information to streamline cross-collaborative projects.
Organize and manage team building exercises and monthly events within the department budget.
Executive Assistant Resume Samples
No results found
6-10

years of experience

Executive Assistant to the Vice President of Operations.
Orchestrated all operation functions including but not limited to: award ceremonies, executive meetings, golf outings,
Created, implemented and maintained comprehensive database for reporting of productivity statistics to comply with corporate policies which resulted in significant time and financial savings.
Analyzed and facilitated automation of manual reporting resulting in savings of more than $5,000 annually.
Coordinate all travel arrangements for all Operations Management Employees.
Reduced cell-phone expenses, resulting in savings of over $8,000 the first year.
Streamlined the preparation of monthly, quarterly, and annual productivity reporting reducing review and input processes by 90% by working with IT to create a "data pull" from the existing system to upload the information. This process
6-10

years of experience

In the capacity of Management Assistant, provided administrative support to 2 department managers, 16 section heads and 180 individual contributors
In the capacity of Executive Assistant, provided executive level support to 3-5 directors at a time and their program managers with various engineers' matrixed in.
Supported a program of 400 employees
Saved our product line $42,000 by pursuing, planning and coordinating a 3 day Public Key Infrastructure rollout with various departments
In receiving my Six Sigma Certification, established a recycle and reuse office supply database that resulted in substantial cost savings of over $100,000
0-5

years of experience

Provided exceptional administrative support to three senior executives of this newly formed management consulting firm.
Organized the new office and designed systems to maximize administrative operations. Arranged and maintained sensitive documents in compliance with security procedures.
Developed the payroll system for the sales force. Calculated and submitted all sales commissions to the CFO biweekly.
Efficiently managed all aspects of a 12 person B2B appointment setting call center.
Dramatically improved the quality and standard of appointments allowing the sales force to increase company sales by over 20%.
0-5

years of experience

Provided administrative support to five Leadership Team executives who oversee the flagship research site for a privately- held, world-wide pharmaceutical company. Leadership Team members are: President/SVP of Research, VP of Science &
Technology-Research, VP of Drug Discovery, Sr. Director of Program Management, Associate Director of Human
Resources. Provided additional administrative support to extended Leadership Team members: Sr. Directors of Business
Development, Drug Discovery Pharmacology, Chemistry, Biology.
Managed and tracked travel/meeting/conference expenses; worked closely with finance and accounting group to ensure spending was aligned and within budget.
Participated in weekly Leadership Team meeting: generated agenda, recorded minutes, followed up on action items.
Coordinated all aspects of internal and external visitor meetings, seminars, interviews.
Scheduled and coordinated weekly, biweekly and monthly research management and new ideas team meetings.
Organized and maintained administrative and research-related document migration to SharePoint folders.
Participated in Employment Engagement Committee for planning corporate events, to include obtaining RFP and adhering to budget guidelines.
0-5

years of experience

Responsible for supporting and handling all administrative tasks for three senior vice presidents within account groups.
Maintained phones, managed calendars, scheduled appointments, meetings, luncheons and conference calls, as well as arranged all travel plans.
Generated expense reports, handled campaign correspondence emails and launched blast mailings to media outlets and subscribers and wrote reports.
Performed research, responsible for quarterly planning and logistics management and created press kits and media coverage reports.
Served as key member of a public relations team that developed a highly successful national media campaign, played an integral role in pitching stories for national publications and devised promotion strategies.
Responsible for increased distribution of promotional materials to media and potential corporate partners.
Developed and updated media contact lists and handled special projects as assigned.
0-5

years of experience

Provided executive level administrative support to two Directors, one VP, and staff of approximately 11.
Maintained calendar for Directors and VP ensuring appropriate preparation for daily activities: scheduling and meeting coordination, interviews, appointments, events and other similar activities
Drafted and prepared meeting agendas and minutes for Business Steering Committee meetings: gathered
Created and handled presentations, complex reports, confidential correspondence and files and maintained
Requested and assigned to Transaction Reduction Project and served as key contributor to team on process improvements
Gathered select data from company departments and leaders for the 2011 Distribution Plan
0-5

years of experience

Coordinated schedule, travel, and expenses for Sr. VP, Global Resource Group
Justified client's account receivable and collected $250k in past due invoices
Produced and edited presentations, marketing reports, client proposals and correspondence
Updated website with departmental information
Coordinated video conferencing for employee work-related training seminars
Instituted and organized contact database
10+

years of experience

Administered high-level support to Chairman and Chief Financial Officer of private investment firm, handling all
administrative and support efforts
Maintained document filing retention and storage system with the highest regard for confidentiality, organization and timely retrieval of documents
Maintained phone and voice mail system
Planned company Board and Staff meetings, prepared agendas and processed meeting minutes
Coordinated domestic and international travel arrangements for senior staff
Arranged office holiday parties and other outside functions
0-5

years of experience

Managed and maintained a daily situational report with Secret Clearance for Joint Service personnel
Conducted Research, prepared correspondence and prepared travel vouchers for both lower-level and senior-level personnel
Scheduled travel, appointments and meetings
Screen phone calls, emails, mail and visitors; routed and resolved any information requests
Managed files and other sensitive management
Retrieved and sorted through incoming and outgoing mail
Prepared purchase requests for supplies and other equipment needed for mission accomplishment
0-5

years of experience

Aided President, planned conferences, conducted public relations for 140-employee ministry
Collaborated with ministry leaders related to ministry, program and facilities needs
Assisted in establishing ministry-wide calendar scheduling protocol
Arranged transportation, hospitality and technical support for board meetings
Managed operations and coordinated logistical aspects of conferences held on campus
Assisted in establishing managed rental contracts for ministry properties
0-5

years of experience
Managed President's calendar; arranged complex multi-destination travel for Executive and his team of 5 VPs
Created and designed high-level PowerPoint presentations featuring tables, graphs, and charts
Oversaw the registration and copious details for participating in 8 trade shows including procuring purchase orders
Forecasted tradeshow budgets
Generated reports in SalesForce and kept the CRM system current
Redesigned the 'public drive' and updated the look of the company's essential documents by creating headers, footers, disclaimers, formats - using company colors and turning them into interactive templates
Analyzed company's office supply expenditures and negotiated new terms to save minimum of $2 per ream of copy paper; also saved on coffee, ink and toner costs
Load More
Administrative Cover Letter Examples
Create your own professional resume in just minutes.
Try our resume builder today
Build Your Resume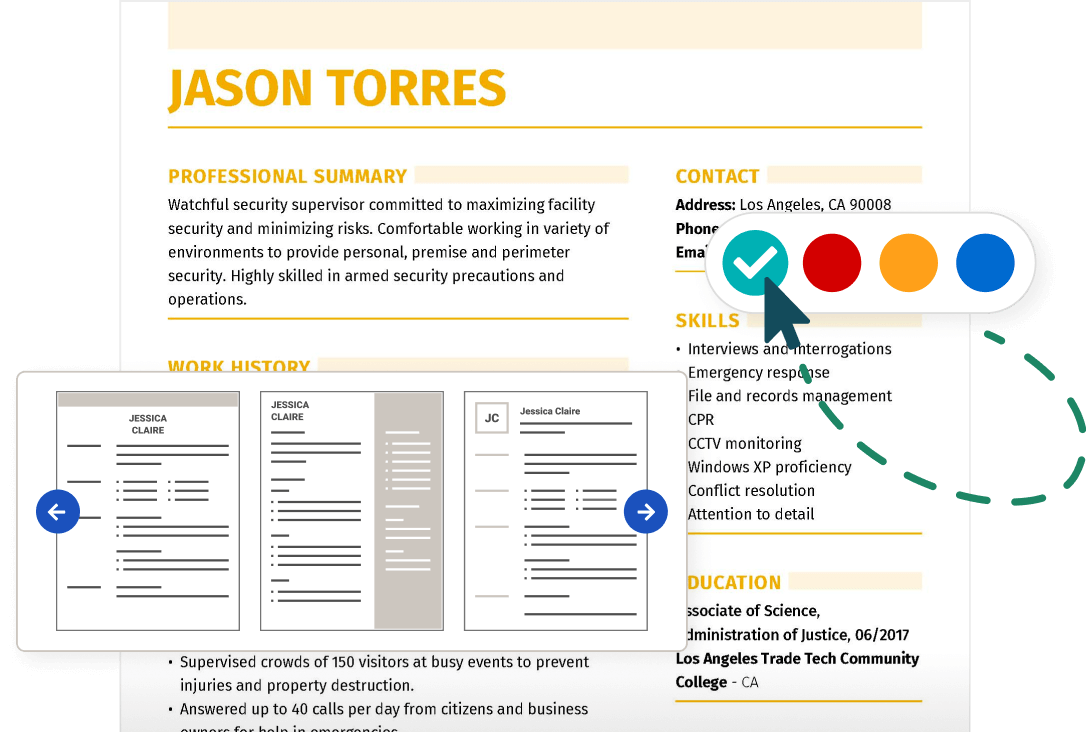 Executive Assistant Resume FAQ
What does an executive assistant resume look like?
A solid executive assistant resume follows a chronological, combination or functional resume format. It'll highlight your gradual growth of administrative duties and knowledge while highlighting key skills. Your resume should include the following sections:
Visit our library of professional resume examples for a clear understanding of how you can craft the best executive assistant resume.
How do you add certifications to an executive assistant resume?
Adding certifications to your executive assistant resume depends on the number of licenses and certifications you have. If you have one or two licenses, you can bundle those in with your education section. However, consider crafting separate "Licenses and Certifications" to highlight this specialized training if you have three or more certifications.
You can format your administrative certifications like so:
Certified Administrative Assistant (CAP)
2020, National Commission for Certifying Agencies (NCCA)
What are the top 3 skills of an executive assistant?
An executive assistant is a highly detail-oriented professional with various skills. However, it would help if you focused on honing these top three skills: administration, organization and communication.
Administrative skills:
File management
Writing memos
Organization skills:
Time management
Data entry
Communication skills:
Written and verbal communication
Maintain email correspondence
Partner with professional and personal stakeholders
Customer service