Featured in:
Logistics consultants help clients optimize their supply chain operations by critically evaluating logistical processes for strengths and weaknesses and recommending tailor-fitted solutions, from small fixes to massive restructuring. Because their decisions have a crucial impact on the company, logistics consultants must be experts at supply chain management who excel at both planning and implementation. As consultants, they may work with several companies simultaneously, dividing their time between staying in an office and visiting client warehouses or production sites.
Studying resume examples is a great way to get inspiration for your own. Study our library of example today!
One extra step to impress a manager: A growing number of hiring professionals read cover letters to determine whether they'll interview a candidate or not. Use our cover letter templates to craft a complete application that lands you the interview.
Logistics Consultant Duties and Responsibilities
The day-to-day duties of logistics consultants depend on the type of organization they're working with, but based on job listings we analyzed, logistics consultants have the following core responsibilities:
Assess Supply Chain Performance
A major responsibility of logistics consultants is evaluating a company's supply chain operations. This entails examining every stage of the logistics process by assessing risk, conducting business process analysis, and analyzing data such as daily output. From here, logistics consultants can pinpoint issues and opportunities for improvement.
Recommend Solutions
Drawing from their supply chain expertise and industry knowledge, logistics consultants develop cost-effective solutions to make procedures more efficient, from storage to quality control. They typically present these as readily implementable plans to managers or stakeholders.
Coach Employees
Logistics consultants often hold meetings or even training workshops with employees to share company-specific strategies for streamlining operations. Alternatively, the setup can be more collaborative, with logistics consultants guiding employees to reflect on the current situation and brainstorm for action steps.
Assist with Implementation
Many employers require logistics consultants to give hands-on support and help implement changes in supply chain procedures. Those in this role may perform direct management tasks such as coordinating shipments, handling products with regulated guidelines, or ensuring that deliveries are in line with standards.
Improve Customer Relationships
Because of their flexible work history, logistics consultants have a wide network of contacts in the industry, which puts them in an ideal position to generate leads for employers. Aside from scouting for prospects, they also increase customer satisfaction by optimizing coordination between customer service and operations.
Logistics Consultant Skills and Qualifications
Logistics consultants use data analysis and strategic thinking to strengthen a company's supply chain. They excel at troubleshooting inefficiencies, coordinating complex processes, and collaborating with employees to execute changes in operations. Businesses look for logistics consultants who have the following skills:
Supply chain expertise - employers hire logistics consultants to evaluate and improve their supply chain processes, so logistics consultants should have extensive knowledge of these in addition to management experience
Strategic thinking - when analyzing problem areas in a company's operations, logistics consultants use strategic thinking to devise a concrete plan that takes into account various factors including risk, existing resources, and cost of implementation
Communication skills - logistics consultants interact with suppliers, company employees, and customers on a regular basis. It's essential for them to be excellent communicators, whether they're gathering information or explaining solutions
Organization skills - logistics is a fast-paced industry, and those in this role have to monitor several processes at the same time. Being accurate with details is vital since even slight errors can result in major delays and wasted resources
Customer service - logistics consultants are committed to understanding the concerns of customers, demonstrating a positive attitude, and taking swift action to resolve issues with operations
Tools of the Trade
Logistics consultants work regularly with the following tools:
Business process management software (such as Odoo, Microsoft Dynamics, or NetSuite)
Logistics software (such as FreightPOP, ePROMIS Transportation & Logistics, or ASCTrac)
Database tools (such as Excel or SQL)
Logistics Consultant Education and Training
At minimum, logistics consultants have a bachelor's degree in business, industrial engineering, or a related field, but job prospects increase greatly with a graduate degree, especially a master's in business administration. Employers also look for candidates with at least two years of experience in logistics. While not required, professional certification given by premier logistics organizations can be helpful. During the job itself, training is usually brief, lasting only up to two weeks as employers orient new hires on the company's goals and operational processes.
Logistics Consultant Salary and Outlook
Logistics consultants are a specialized type of logistician, a career that has a median annual salary of $75,000, as reported by the Bureau of Labor Statistics (BLS). Logisticians in the 10th percentile earn less than $45,000, while those in the 90th percentile earn more than $120,000.
This sector is likely to grow 7 percent by 2026. As companies expand to reach customers all over the globe, it becomes a priority to make the supply chain as efficient as possible, resulting in more job openings for logistics consultants.
Create your own professional resume in just minutes.
Try our resume builder today
Build Your Resume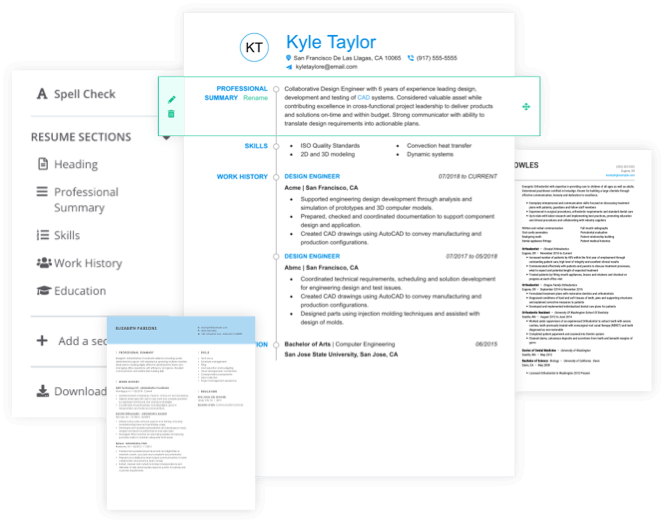 Helpful Resources
We've gathered some of the best resources to help you build a successful career as a logistics consultant:
Logistics Consultant Resume Help
Explore these related job titles from our database of hundreds of thousands of expert-approved resume samples: