Featured in:
More Service Technician Resumes
Use these Service Technician samples as a guideline or visit our extensive library of customizable resume templates.
Additional Customer Service Resume Samples
How to Format a Service Technician Resume
Writing your resume begins with choosing the best resume format. The fact is the majority of service technicians should go with the most popular style: the chronological resume. This format, which devotes the most considerable portion of the page to work history, is widely used in every industry and well-liked by recruiters.
Candidates with less experience in the field, like someone becoming a service technician straight out of school or switching from a different career, may want to use a different format. Functional resumes are also called skills-based resumes because they highlight the skill and abilities of the applicant, either by downplaying or dropping work history entirely. Combination resumes bring the other two styles together into a well-balanced document.
Take the candidates below, for instance. While Candidate A and Candidate B have similar experience levels, they have decided to take different paths. Thanks to Candidate A's straightforward work history and track record of accomplishments, she uses a chronological resume. Candidate B has much professional experience, but she took an extended break from the job market and would like to elevate her skills with a functional resume.
Chronological Resume
18

years of experience

3

years at this job

AS

Information Technology
Work History
Service Technician, IMPEX Corporation
11/2019–Current, Gulfport, MS
Repaired 300+ broken appliances visiting customers' homes, focusing on heating, ventilation and air conditioning (HVAC) systems.
Installed and tested nearly 200 security systems for residential and commercial buildings, with a 98% customer satisfaction rate.
Accepted more than 80% of overtime call opportunities.
Combination Resume
17

years of experience

1

year at this job

HS

High School Diploma
Professional Skills
Problem-solving
Fixed hundreds of broken or defective products, including internet hardware, air conditioning (HVAC) systems, heating, ventilation, ovens, refrigerators and more.
Installed and tested 100+ home security systems with a near-perfect success rate after one year.
Kept inventory in stock for every job, anticipating our needs and placing orders for standard and specialty items.
Communication
Communicated politely and professionally with every customer, maintaining a 95% satisfaction rating in follow-up surveys.
Completed about a dozen detailed reports during every shift.
Agreed to take 90% of the overtime on-service jobs received.
Service Technician Resume Samples
No results found
0-5

years of experience

Conducted preventive and corrective field mechanical services on inflatable and swellable oilfield components.
Gained and developed a strong knowledge of the tool in production, equipment, and comprehensive
Dedicated to customer service, and maintaining professionalism in the work place with customer and workmates alike.
Completed extensive training regarding safety standards, successfully maintained zero incident record.
Directed and assisted coordinating with the scheduled and unscheduled equipment maintenance and repairs.
Accurately and effectively diagnosed and revised schematics to fit within specs of costumer's demands, and revisions.
0-5

years of experience

Assisted engineering department with design, research and development of new high pressure products for onshore and subsea usage within oil, gas and chemical industries.
Assembled new parts and conducted performance testing, both in-house and as liaison to independent testing facility. Qualified new and existing parts and equipment for API stamping. Wrote technical testing and assembly procedures for multiple parts and components.
Instrumental in team development of job safety analyses during project planning. Maintained accurate records, and updated quality manual.
Conducted customer field training in operation and maintenance of equipment as well as troubleshooting.
Formalized and streamlined R&D operations, and designed three large test units.
Initiated program for customer staff to perform field and shop maintenance on valves, and personally trained client staff at several key accounts.
Led full scope of training of service company based in Singapore.
0-5

years of experience

Serviced and repaired a variety of office equipment at customer locations in a timely and professional manner. Achieved expected productivity levels associated with assigned workload.
Interacted with external customers to determine service needs and ensured high level of customer satisfaction with the services performed.
Worked closely with sales partners to maximize equipment leads and upgrade opportunities.
Maintained and managed own parts inventory with a high degree of accuracy.
Performed quality assurance tests on new platforms and hardware to ensure they met established requirements.
Facilitated the roll out of new laptops and desktops to customers, while interacting with onsite staff and providing customer service.
Assisted with the documentation of current processes and helped define revised processes.
Helped network engineers with troubleshooting of switches, routers, VoIP, and wireless.
6-10

years of experience

performed a variety of office, computer and customer service duties
Presented lectures at two Paraprofessional Colorado Association of Library events (2010, 2011) about workplace appreciation and teen reader's advisory skills.
Developed a method that streamlined pulling up accounts, saving 3-5 minutes per customer encounter.
Created an easier-to-follow flow chart for the closing system, which has become standard.
Served as Co-chaired on the Social Committee where social events were organized on behalf of staff in order to demonstrate the districts appreciation and foster company group dynamics.
Volunteered to be on the Tech Team and trained to help others with technical devices
0-5

years of experience

Experience with irrigation service such as; troubleshooting & repair on various brands of irrigation systems, locate and repair underground wire breaks.
Installation experience such as new power hook ups, variable frequency drives, and pump panels.
Ongoing training at Valley Technical Service Seminar annually.
Finished top 15% in Valley Technical Service Seminar in the country, earning the title as Service Specialist. Obtaining this title assisted in the earning of Greenmark getting service parts at a discount from Valley.
Responsible for Installation and management of all telemetry such as base station and Ag Sense.
0-5

years of experience

Installed and maintained computer systems on rigs and work stations, including satellites, pumps, pit and gas, depth and H2s gas sensors, and radios to transmit information from field to main server. Maintained computers and replaced hard drives. Accountable for keeping rigs running and complying with NEC and OSHA regulations. Completed paperwork and submitted to main office in Calgary.
Decision-making responsibility for projects ranging from $5 to $500 million
Managed up to 65 drilling rigs.
Maintained drilling rig computer systems in multiple states (Texas, New Mexico, Colorado, Wyoming, North Dakota and South Dakota).
Handled job tickets while keeping records and files for each drilling company.
Provided on-call coverage for up to 15 consecutive days for 24/7.
0-5

years of experience

Key member in the opening of the Houston call center and leader of training of new personnel
Lead a team of personnel in the distribution of information that updated customer guidelines, warranty updates and safety campaigns in order with compliance to ensure drivers safety, unnecessary costs, or down time in a Technical Call Center environment.
Contributed in a quarterly Q&A session with the Vice President of the company to establish a communication on process improvements and concerns.
Advised repair facilities on possible causes of repeat mechanical failures that may have been overlooked to reduce warranty repair cost and vehicle downtime
Negotiated cost of parts and labor on managed units to set industry labor times and regional parts cost or dealer pricing
0-5

years of experience

Licensed Pesticide Technician by the New York State Department of Environmental Conservation
Applied pesticides to structures according to schedule, safety procedures and label instructions
Provided outstanding customer services which includes but is not limited to: providing thorough safety information both before and after the service, answering all questions thoroughly (providing reading material if needed), accommodated schedules along with being on call 24 hours
Met Monthly Route Completion
Provided and completed sale's leads
0-5

years of experience

Two years heavy field experience servicing and maintaining Ricoh/Savin high volume copiers.
In just a few months was given sole responsibility for one of the largest and most accounts in the company. Successfully maintained customer service relations and copiers in 4 locations.
2003 Awarded Presidents Club Technician of the Year Award.
Initial training to service Ricoh/Savin low to mid volume copiers, color copiers, and Toshiba copiers.
0-5

years of experience

Diagnosed and performed repairs on HP and Xerox Printers.
Maintained page count tracking and managed consumables for over 600 printers in my area.
Worked with S. San Francisco office to manage ordering and shipping of parts and core returns.
Provide coverage and assistance for closest coworker in Irvine at satellite locations for law firms.
Responsible for maintaining company vehicle and sending expense reports for company credit card purchases.
Maintained and often improved on relationships with many of LA's top law firms including Morrison & Foerster, Bingham McCutchen, Orrick Herrington & Sutcliffe, Winston & Strawn, Pillsbury Winthrop, and Bain & Company.
0-5

years of experience

Responsible for the mechanical building and installation of servo driven systems, crating arrangements, and Card Personalization Systems
Software arrangement for controller I/O and interfacing of high speed printers, labelers, and magnetic encoding on transport belts at 25,000 to 30,000 pc's per hour
Technical writing for manuals and SOP's
Assisted and problem solved with the engineering department on design issues
10+

years of experience

Inspected home gas line fuel for corrosion hazards.
Located gas leaks using GMI equipment gauge.
Detected and corrected measurement errors and composed supporting documentations for the inaccuracies.
Inspected appliances to ensure safe operations.
Performed maintenance repairs on service lines.
Operated trucks and heavy equipment.
Responsible for the maintenance of all facilities and equipment.
Analyzed and monitored gas product sizes using the standard measurement system and insured the products were repaired with great quality.
0-5

years of experience

Managed dental and medical office networks and all aspects of their IT needs, including new server and workstation roll outs, Troubleshooting and support.
As a MSP technician provided 24/7 support by phone, email, and ticketing system.
Supported clients running Carestream, Eaglesoft, Dexis, Dentrix.
Use of Connectwise ticketing software, Labtech full remote management and monitoring software, & Teamviewer remote connection software.
6-10

years of experience

Accurately and efficiently diagnose and troubleshoot heavy duty equipment in mining, over-the-road trucks, and oil/gas fields
Responsible for keeping up with training on MTU Series 2000/4000 and Detroit Diesel engines as well as Allison Transmissions
Develop and maintain positive working relationships with customers in Powder River Basin
Responsible for yearly Di-electric testing and inspections on aerial boom trucks manufactured by Altec and Terex
Correctly diagnose and repair HVAC, drive-train, engines, and ABS systems on a variety of over the road trucks such as: Peterbilt, MAC, Kenworth, International, Freightliner, Sterling, and Volvo
Perform diagnosis and repairs on a variety of heavy equipment such as, but not limited to: haul trucks, excavators, front end loaders, backhoes, and dozers
0-5

years of experience

Achieve no less than a 98% in customer service based on Net Promoter Score metrics.
Troubleshoot customer issues with Microsoft hardware and software products.
Diagnose, repairing, and reinstalling hardware, operating systems, applications (Office) and peripheral devices (printers, scanners).
Installing and configuring Microsoft Office products, Norton packages and operating systems at request of customers.
On average, assist 30 customers a day with urgency within a 24 hour timeframe.
Maintain an elite level of product knowledge in all [company name] product and service offerings.
Collaborate with corporate and field team members in the development of the necessary tools and programs that will lead to long-term relationships with customers.
0-5

years of experience

Traveled to customer sites to install, commission, and test control components.
Prepared daily reports to the customers and conducted daily safety meetings.
Installed, commissioned, and operated hydraulic and electrical equipment such as triplex pumps, fan pumps, iron roughnecks, (PRS) pipe racking systems, (BOP) blow out preventers, accumulators, regulators, annulars and BOP stacks.
Implemented hydraulic schematics, blue prints and downloaded programs to equipment.
Hydro tested and function tested equipment to various pressures depending on customer request and procedures.
Documented technical equipment specs and progress.
0-5

years of experience

Responded to a minimum of 30 individual customer ticket requests every week
Supplied numerous customers with high quality service consistently throughout the day
Installed various types of software to different kinds of computers for customers
Repaired multiple customer computers every week going above minimum quota
0-5

years of experience

Collaborate with sales teams to understand customer requirements, to promote the sale of company products, and to provide sales support.
Test pipe or tubing joints or connections for leaks, using pressure gauge or soap-and-water solution.
Test electrical circuits or components for continuity, using electrical test equipment.
Repair or replace defective equipment, components, or wiring.
Discuss heating or cooling system malfunctions with users to isolate problems or to verify that repairs corrected malfunctions.
Repair or service heating, ventilating, and air conditioning ([company name]) systems to improve efficiency, such as by changing filters, cleaning ducts, or refilling non-toxic refrigerants.
0-5

years of experience

Fix and repair bank safes and ATM machines for various companies. *Use company vehicle to travel to and from locations in central Florida. *Repair and replace ATM and safe parts, monitors CPU, dispensers, boards printers ect Allied Barton Security services February 2014--May 2014 Armed Security Officer *Protect and security of lives an property at assigned locations. Confirm identification of all employees and visitors. Video Surveillance and property inspections. Loomis LLC 2011 to 2013 Orlando, Florida ATM Technician
Fix and repair bank safes and ATM machines for a nationwide company.
Travel within Central Florida to contracted banks and local businesses.
Replace test and maintain ATM parts replenish cash ranging from $1,000 to $100,000.
0-5

years of experience

Used company vehicle to resolve any and all service/installation work orders.
Provided a one of a kind customer service experience, that made customers feel appreciated, understood, and also confident in my skills and professionalism.
Educated customers with hands on demonstrations of equipment and technology placed in home.
Informed customers of additional products and services to enhance experience and to meet monthly sales goals.
Responsible for company vehicle, equipment, and products while in my possession. Vehicle kept at personal residence.
Kept a neat and professional appearance.
0-5

years of experience
Followed company procedures to maintain work environment in a neat and orderly condition
Prepared and administered preventative maintenance work orders
Promoted shop safety by working in a safe manner
Maintained compliance with company standards to perform all maintenance activities - Maintained positive relationships with all customers
Handle Money
0-5

years of experience

Repair, maintain & install cable services for both residential and commercial clients
Troubleshoot digital signal strength for [company name]
Perform upgrades & downgrades pre-wiring during installations
Remotely troubleshoot different antenna bands such as 2.4GHz & 5.0GHz for routers.
Determine root cause and solution on advanced technology that include but are not limited to (HDTV, HDMI, DVI, Ethernet cable, Phone wire, RG6 and RG11 cables)
Maintain all stock and work-related supplies in an organized, professional and safe manner and audits serialized assets
TV & Home Theater Installations
6-10

years of experience

Professionally provide both pest control, and termination services for both residential, and commercial locations.
Sells pest-control service to home owners and commercial concerns.
Selects prospects in assigned territory from account file, maintains a list of firms with possible need, and from potential customers who had requested service.
Contacts customers to explain service with great detail.
Inspects premises to ascertain presence of vermin.
Prepares contract(s) for customers including information such as; name of pest, area of infestation and remedy required based on knowledge of pests, any structural damage, kinds of insecticides, and conditions conducive to pest development.
Treats infested areas.
0-5

years of experience

Drew blood from veins by vacuum tube or butterfly venipuncture method
Disposed of blood or other biohazard fluids or tissue
Entered patient, specimen, insurance, or billing information into computer
Organized or cleaned blood-drawing trays, ensuring that all instruments are sterile and all needles syringes or related items are first-time use
Collected specimens at specific time intervals for tests, such as therapeutic drug levels
Matched laboratory requisition forms to specimen tubes
Provided patients with help moving in and out of beds, wheelchairs, or automobiles dressing, grooming and bathing
Cared for patients by changing bed linens, washing and ironing laundry, cleaning, or assisting with their personal care and perform a variety of duties as requested by client, such as obtaining household supplies or running errands
0-5

years of experience
Deploy, Sustain, Troubleshoot and Repair POS (Point of Sales) Systems
Wrote, updated, and edited technical documentation such as, procedure manuals, technical publications, product specs and network wiring specifications
Perform, Coordinate, and Supervise network configuration
Utilize ServiceNow program to Create and Complete work orders, source parts from inventory and determine optimal routes to service multiple locations
0-5

years of experience
Ran service calls for AC repair
Repaired, troubleshot, maintained, and installed commercial and residential AC units
Used volt meters, torches, drill guns, screw drivers, and other hand, power, and air tools
Drove to each client site to perform AC repair work
Read and worked with unit schematics for troubleshooting and wiring
Provided excellent customer service
6-10

years of experience

Performs all services offered including oil changes, tire installations and rotations
Processes TLE orders through different electronic equipment
Performs double checking to ensure proper procedures are adhered to • Handles claim merchandise, inventory and register transactions as needed
Maintains safe and clean working environment
Promoted from Service Writer position on Feb 2010
0-5

years of experience

Perform preventative maintenance on compressors. Clean, rebuild, and paint industrial compressors.
Troubleshoot air compressor malfunctions and install new or used units at customers location
Measure the wear/damage on industrial compressor rotors
Blend/File the wear on rotors
Measure depth and diameter with micrometers and calipers
Load More
Service Technician Duties and Responsibilities
A Service Technician's duties will vary widely depending on the type of services they provide, however there are similar core responsibilities common to all Service Technicians. A review of current job listings identified the following primary tasks.
Perform Routine Maintenance All Service Technicians perform some type of routine maintenance. For those in the auto industry this may be oil changes or tire rotations. And for those who work on appliances it may be changing filters or fuses. Regardless of what machinery a Service Technician services, routine maintenance is one of the most common tasks assigned to them.
Install Products Some Service Technicians are responsible for installing their products. These may be various appliances, security systems, or heating and cooling units. They are tasked with installing, testing, and then providing instructions to the client on the proper use of the machinery. Excellent customer service skills are important since Service Technicians have so much interaction with clients.
Perform Repairs Service Technicians are also called upon to fix defective or broken products which often involves replacing faulty or worn-out parts. Service Technicians will need to be able to use diagnostic tools to identify the issue and will then either fix the problem or order any necessary parts for the repair.
Service Technician Skills
A successful Service Technician is mechanically-inclined, extremely reliable and trustworthy. They should be comfortable working independently and have excellent communication skills. In addition to these traits, employers look for applicants with the following skillsets.
Core skills
: Based on job listings we looked at, employers want Service Technicians with these core skills. If you want to work as a Service Technician, focus on the following.
Working knowledge of all equipment used in the field
Ability to read blueprints or technical diagrams
Experience with basic hand and power tools
Experience with diagnostic tools
Physically able to meet requirements of the job which may include, working in confined spaces, lifting heavy equipment, and bending down frequently
Advanced skills
: While most employers did not require the following skills, multiple job listings included them as preferred. Add these to your Service Technician toolbox and broaden your career options.
Certifications such as, ASE (for Automotive Service Technicians)
Technical degree in electronics or similar field
Service Technician Resources
There are more resources available on the Web for those interested in becoming a Service Technician. We scoured the Internet and found these links full of learning opportunities. On the Web
Association of Home Appliance Manufacturers' Links - The AHAM has a wonderful Links section on their website full of resources for education and information regarding all types of home appliances.
Contractor - This online magazine is geared towards mechanical contractors but is a wonderful resource for Service Technicians as well. They cover everything from the tools of the trade to in-depth articles covering repair services in areas such as, plumbing, heating and cooling, and bathroom and kitchen remodeling.
Auto Service Professional - This magazine delivers technical and problem-solving articles to over 150,000 Auto Service Technicians. It's a great source for those working in this industry. Service Technician Books
Today's Technician: Basic Automotive Service and Systems - A wonderful resource for Automotive Service Technicians, this thorough book covers the fundamental skills and maintenance one needs to know to work in this field.
Troubleshooting and Repairing Major Appliances - This resource is a fantastic guide for Service Technicians who work on appliances. With pictures and diagrams this book is makes repairs easy. The author has over 40 years of experience working as a Service Technician on all types of appliances. Industry Groups
United Servicers Association - This servicers association provides educational opportunities and a wealth of resources to their members.
International Society of Certified Electronics Technicians - ISCET was founded in 1965 to create a certification process for Electronics Service Technicians. It also helps protect consumers by providing training and best-practices to its 50,000 members. Electronics Technicians Association - Established in 1978, ETA offers certification programs in a wide range of technical fields.
National Institute for Automotive Service Excellence - ASE has been testing and certifying Automotive Service Technicians since 1972. They have certified over 300,000 technicians and strive to create industry standards and promote best-practices to improve automotive services.
Customer Service Cover Letter Examples
Create your own professional resume in just minutes.
Try our resume builder today
Build Your Resume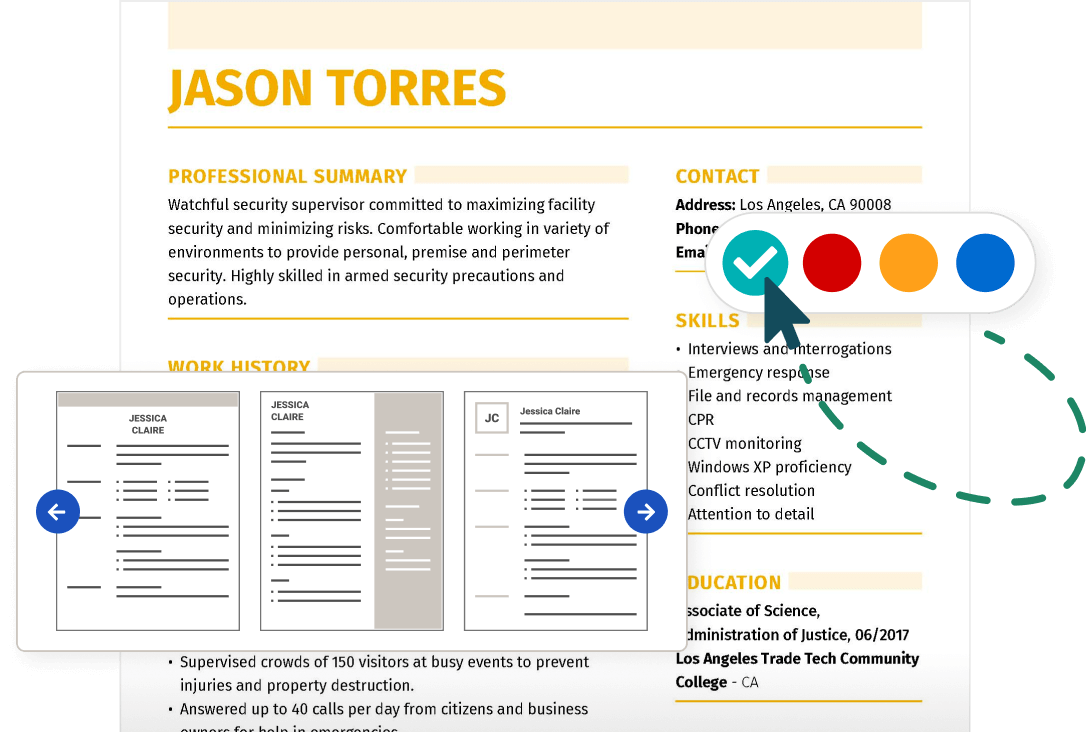 Service Technician Resume FAQ
What should I put on a resume for a service technician?
Service technician resumes should include the five most essential resume sections. Within those, you should highlight your skills and how those skills led to meaningful, quantifiable results for the company. Here are the sections you should include:
Name, email address and phone number in the header.
Work history section that includes bullet points for your accomplishments. For example, a service technician may want to highlight the number of customers they served per day.
Education section, including advanced degrees and professional certifications.
Professional summary or resume objective that encapsulates your relevant skills and qualifications in a few sentences.
Skills section that highlights soft skills and hard skills.
How do I write a service technician resume?
Once you have your resume sections lined up, you'll need to write a compelling resume for a service technician. Here are a few pieces of advice that will help you along the way:
Be specific. Your resume should speak to your unique skills and experiences, and being too vague could bore the reader. Rather than saying you "operate equipment," why not list the types of equipment?
Use numbers. You never want to simply list your job duties. Instead, use numbers to show the significance of your work. Rather than saying you "repair air conditioners," write something like, "diagnosed and repaired 10+ air conditioners per day with in-house visits."
Be concise. Resumes should be no longer than two pages, and in most cases, one page is the ideal length. Concision is essential, whether it means cutting out your first job after high school or limiting your resume summary to four sentences.
Don't forget soft skills. Technicians use hard, technical skills every time they're performing a repair. But just as often, they employ soft skills like communication, problem-solving and collaboration. Consider the ways you employ a different set of skills when you are helping customers.
What is the service technician job description?
Service technicians are responsible for repairing electrical appliances. Typically employed by service centers, a technician's job description may mention handling repairs in shops and clients' homes, diagnosing technical issues, and testing products and machinery after installation. In some cases, technicians may have to negotiate with customers to set the cost of a given repair.
What skills must a service technician have?
Based on our extensive resume database, these are the most important skills for service technicians to have:
Verbal communication
Translating nontechnical language into technical solutions
Diagnostic ability
Preventive maintenance
Hand tools
Customer service
Attention to detail
Problem-solving
Relationship-building
Negotiation