Featured in:
More Assistant Manager Resumes
Use these Assistant Manager samples as a guideline or visit our extensive library of customizable resume templates.
Additional Business Operations Resume Samples
Assistant Manager Resume Samples
No results found
0-5

years of experience

Function as an Assistant Manager in an AAA location, always was the number one store in volume in the region
Implemented customer experience improvements to turn around falling customer base which increased conversation by 10% and sales 15%
Reduced shrink from an initial 2.98% to .97%
Responsible for overall supervision, training, mentoring, and appraisal of ten sales associates
6-10

years of experience

Fast-track promotion from Supervisor (2007) to Assistant Manager II (2008). Direct day-to-day operations for Chili's Too (Airside C, TIA), while generating $6.5M in annual revenues. Hire, train, and conduct annual performance evaluations for 8 management staff; indirect report of 90 associates. Oversee monthly inventory, employee/management scheduling, purchasing, resource allocation, food preparation/recipes, alcohol sales, and financial analysis/reporting. Ensure compliance with all corporate guidelines and policies/procedures. Coordinate training schedule for management and staff; submitted price increase requests for approval.
Grew sales from $5.8M to $6.5M.
Consistently ranked #1 Inventory companywide month-over-month.
Recognized as corporate flagship property for corporate training. Designed and implemented 6-week training curriculum for management staff from sister HMS properties (Carrabba's, Home Team).
Decreased food costs 3%; maintained accurate PARs to adjust to seasonal demands.
Developed daily waste logs; decreased food waste 3% and liquor waste 2% (2010).
Created a work safety incentive program; achieved 1 year without any Workers' Comp claims.
Recognized as #1 Sales Volume for To Go sales companywide.
Selected for Alcohol Inspection pilot program for Orlando Airport to ensure compliance with corporate policies and procedures (2010).
Mentored management staff; 2 supervisors promoted to Assistant Management level.
6-10

years of experience

Promoted from sales associate to 2nd assistant manager, and then to assistant manager.
Trained, supervised and evaluated staff, enabling them to improve skills and achieve daily objectives.
Completed monthly and weekly paperwork for sales, UPT, ADS, and inventory control.
Oversaw and calculated inventory counts on monthly basis.
Developed loyal customer base and increased sales volume through personal attention to customers.
6-10

years of experience

A do it yourself automotive salvage yard with 28 locations in 12 states, Knoxville averaging over $4M in annual sales.
Trained at Nashville, TN location, and then assisted in preparing Knoxville location for opening.
After opening, worked as Customer Service rep, providing customers with superior service and assistance. Also worked at Car Buy station, cashier and admissions, always providing excellent service, resulting in a promotion to Third Key eight months after opening, in March 2008.
As Third Key, provided management with assistance of various key duties to facilitate the day to day operation of the business, resulting in becoming proficient at all positions in the store and at many managerial tasks.
Promoted to Assistant Manager in April 2011, with the promotion of Store Manager to Regional Manager.
Assisting the newly appointed Manager (former Assistant Manager), the Knoxville location achieved growth, with third highest net profit in the company for 2013.
0-5

years of experience

In this position I was directly responsible for 22 properties as an Assistant to the Property Manager, I had budgets to adhere to which gave me an understanding of what executive decisions I could make when managing the tenants and tenant issues. I was in charge of collections as well as coding and paying all utilities for all properties with a deadline. I handled all vendor relations and created contracts for large construction jobs as well as addendums for changes to the scope of work. Used Yardi Voyager for all reporting and daily activities.
Handled all tenant relations, including solving problems within my expertise.
Communicated effectively with multiple management team members including Vice President of Leasing, Vice President of Construction, multiple Property Managers and Leasing Team.
Handled all account receivables for 22 portfolios as well as coded and processing all utilities for all properties.
Established strong relationships to gain support and effectively achieve results.
Entrusted to oversee large projects such as construction and effectively make executive decisions within my expertise.
Created detailed expense reports and requests for capital expenditures.
0-5

years of experience

Responsible for the efficient operation of 760 units community under the direction of the Manager
Managed the sales team, pricing, collections, resident services, and maintenance
Responsible for overseeing all sales activities from lead generation through close
Managed and actively participated in all social media sites for community
Maintained resident and prospect files and performed other duties as requested by supervisor
0-5

years of experience

Set the standard for sales and customer service
Met the store's monthly sales target/and handling the budget
Supervised, interviewed, trained, scheduled staff of 10
Responsible for safety training staff members
Generated monthly inventory reports and managed deliveries
Commended for being client dedicated, dependable, and efficient
0-5

years of experience

Oversaw 15 member team of servers, drivers, and cooks
Provided utmost professionalism and integrity in regards to customer service and leadership of team members
Scheduled team members and junior management based on business projections. Adjusted schedule on the fly to meet or exceed labor targets
Dispatched drivers to ensure prompt service and the freshest pizza
Read, understood, and interpreted reports and guidelines related to new product specifications and employee rules/policies
6-10

years of experience

Monitored employee performance to improve efficiency and accountability
Assisted in human resource functions including staffing, training, scheduling, recruiting, and conflict resolution
Analyzed sales reports to improve inventory management
Assisted in marketing and event planning efforts to increase sales
Managed relationships with customers and vendors ensuring expectations were met
Promoted from bartender to assistant manager within six months of employment
6-10

years of experience

Provided sales assistance to customers. As an assistant manager, supervision of staff, customer
service, maintained daily sales receipts and maintained appearance of this Christmas and collectible store.
Promoted from Sales Associate to Assistant Manager within two years
Successfully managed staff of approximately six sales associates
Designed in-store displays to effectively showcase various merchandise
0-5

years of experience

Aide the center manager and management team in the achievement of center production and cost goals while maintaining compliance with regulatory and quality requirements.
Using Lean Principles, assisted in improving metrics and processes by eliminating waste via Kaizens saving our facility over $6,000.
Train, coach, and mentor staff. Have assisted 5 employees to promote either within the center or within the company to a management position.
Participates in the FDA and EMEA Audit and the correction and prevention of audit findings.
Reduced processing times by 2
Made many changes through lean concepts that have saved our facility over $6,000 from waste removal. Aided in the development of a Host station which reduced Process Times by 2
Regional EHS Rep working collaboratively with 5 centers to ensure all centers are in compliance with all EHS&S guidelines and ensuring safe work environments. Communicates with Regional Ops Manager and Corporate EHS Managers on critical issues regarding safety among centers.
0-5

years of experience

Effectively managed sales associates in their duties, assisted associates in developing workplace abilities
Served as manager-on-duty, made important sales decisions, store design decisions
Developed strong customer service skills; frequently assisted customers both in-store and over the phone
Opened and closed store, counted register drawers, made bank deposits
10+

years of experience

Fulfilled all management responsibilities in absence of manager.
Opened and closed store, handled customer service issues, and oversaw cash control.
Supervised and motivated employees.
Assisted with merchandising and promotions efforts
Trained, and supervised staff of six serving customers of specialty men's clothing store
Provided exceptional customer services to high end consumers, regularly including direct email and phone contact, and relationship building.
Tallied daily receipts and made bank deposits.
Maintained inventory levels, monitored merchandise, provided feedback to owner/buyer regarding trends and need for reorders.
0-5

years of experience

Assistant Manager for sales and marketing teams
Assisted in interviewing, hiring and training processes
Managed sales teams to exceed monthly sales quotas of $360,000 net new business
Led weekly and daily meetings and maintain metrics for all sales representatives in CRM
Representative for proposals, negotiating and closing meetings for Boston
Created presentations and performed demonstrations on the technology and services for C-Level executives
Performed basic office duties and more, ex: payroll, budgets, managed database/CRM system
0-5

years of experience

Ensure the store is operating correctly
Met the stores goals monthly targets
Recruited and trained new employees
Dealt with any enquiries and complaints and monitor customer service
Served customers as needed
Overlooked and corrected products to where they are tagged and well displayed accordingly
Display any advertising signs and set up planograms
Reorganized and redeveloped the store, which was recognized within two months and received a promotion to an Assistant Manager
0-5

years of experience

Manage $3,000,000 branch.
Helped grow fleet from 100 vehicles to 145 vehicles.
Generate new business through rigorous outside sales prospecting, contributed 20% corporate growth.
Train and develop new manager trainee's sales and service skills.
Top 10% in sales for Kentucky.
#1 in sales for the branch
6-10

years of experience

Manage retail store and supervised employees.
Executed daily operations of cashier register.
Formulated pricing policies on merchandise according to requirements for store operations.
Supervised employees engaged in sales work, taking of inventories, reconciling cash with sales receipts, keeping operating records and preparing daily record of transactions.
Ensured compliance of employees with established security, sales and record keeping procedures and practices.
Organized fashion events.
Locked and secured store.
0-5

years of experience

Responsible for opening and closing store
Trained associates and provided daily supervision for a staff of twenty associates and cashier managing shift changes
Responsible for creating payroll
Monitored inventory, place orders & ensured accuracy
Promoted to lead worker and assistant store manager in less than one year
0-5

years of experience
Managed, recruited and trained staff
Assisted fellow management staff with reports including but not limited to:
Drive the generation of sales through effective communication to clients through
Ensure overall customer satisfaction through the use of superior customer
Controlled stock take that was a high percentage of (-1.5%) bringing it back down
Load More
Assistant Manager Duties and Responsibilities
An Assistant Manager will perform various tasks to help upper management ensure that business or store operations are successful. We have reviewed several job listings and found the following among the core Assistant Manager duties and responsibilities.
Supervise and Train Employees
In most cases, an Assistant Manager is heavily involved in the day-to-day supervision of employees. This would include scheduling, conflict resolution, payroll management and disciplining. They also work closely with managers in making hiring and firing decisions. Assistant Managers are also typically responsible for ensuring that employees complete training and professional development programs.
Deliver Customer Service
Particularly in a retail environment, an Assistant Manager will often be the first managerial individual to interact with a customer. Assistant Managers will work to resolve customer complaints, address customer concerns and explain company or store policies.
Stand in for Manager
An Assistant Manager must be familiar with all aspects of a manager's job and be ready to assume that role in a manager's absence. This would include completing reports that would be submitted to the manager upon his/her return.
Assistant Manager Resources
In order to help you further research a career as an Assistant Manager, we have provided some of the best industry resources below. You will find links to both online and print resources that will give you insight into the daily responsibilities, challenges and rewards of life as an Assistant Manager.
On the Web – Hosted by the American Management Association, this blog offers information on management styles, coaching practices and change management methods in addition to tips and advice for motivating employees, being a successful manager and more. – An insightful blog focusing on such topics as performance evaluation methods and work delegation. Industry Groups – A professional organization providing online training, seminars, podcasts and other professional growth opportunities. – Assistant Managers and other retail professionals can find networking opportunities and valuable resources identifying management practices and tools to help them be successful in the retail industry. Books

Awesome Supervisory Skills: Seven Lessons for Young, First-Time Managers

– A seasoned retail manager gives real-world advice and practical tips for being a successful manager in any business.

Oops! I'm the Manager!: Getting Past "What Do I Do Now?!" in 5 Easy Steps

– A short book covering ways to improve communications with employees. – A guide for managers of all levels, addressing team-building, disciplining employees, leadership styles and improving production.
Business Operations Cover Letter Examples
Create your own professional resume in just minutes.
Try our resume builder today
Build Your Resume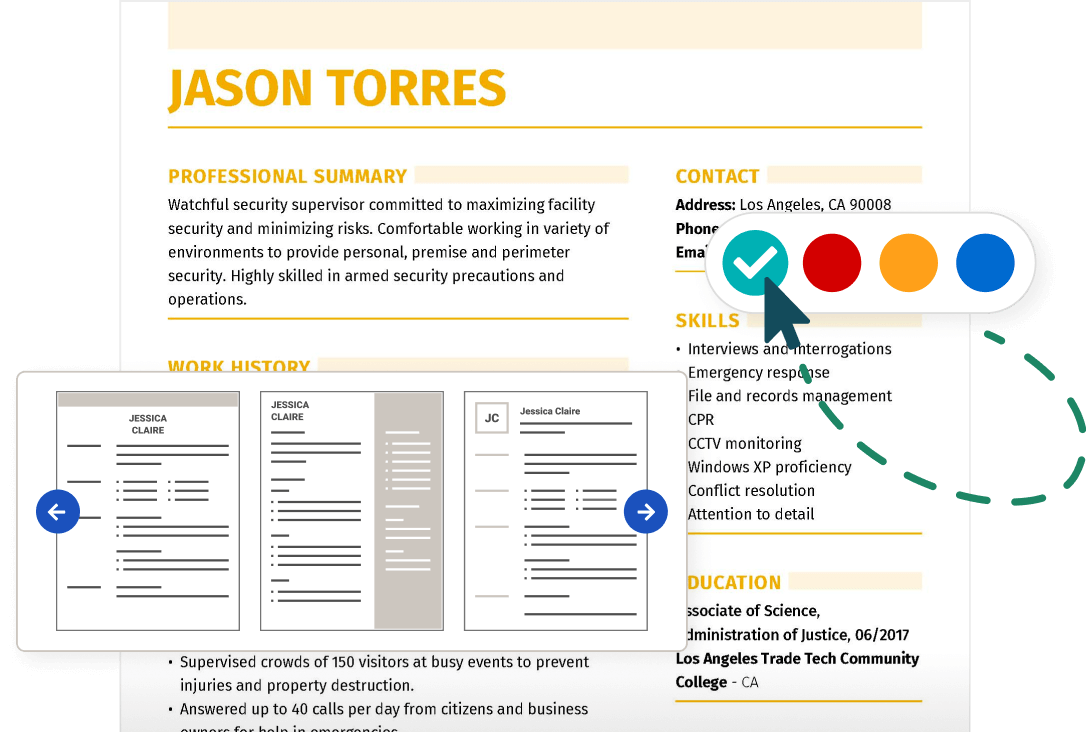 Assistant Manager Resume FAQ
What should I put on my resume for an assistant manager?
An assistant manager's resume should include your contact info, work history, skill set, education and a career summary (or resume objective). Throughout the resume, you should hone in on the skills and abilities that will make you an appealing candidate, including:
Point-of-sale (POS) systems
Budgeting and producing reports
Organizing meetings and conferences
Overseeing complex projects
Planning strategy
Training and mentoring staff
How do you describe an assistant manager on a resume?
You should describe your experience as an assistant manager in your professional summary and work history section. In the summary, highlight the skills and accomplishments that make you an exceptional candidate and emphasize your interest in the company.
Here is an example of an assistant manager's summary that perfectly describes the role:
Hard-working assistant manager with more than 10 years of experience in the retail sector. Interviewed, onboarded, trained and mentored 200+ employees. Spearheaded a 30% increase in TV sales with a unique marketing initiative. Recognized by my district manager for "Excellence in Management." Thrilled to bring my talents to support and lead the sales team at ABC Electronics.
What is the duty of the assistant manager?
Our research found that assistant manager resumes often include skills and tasks like organizing team meetings, overseeing projects, and building team morale through leadership and mentoring. They are ultimately responsible for creating a customer-centered culture that increases sales, motivates the team and strengthens the company.
What skills do you need to be an assistant manager?
Assistant managers need both hard skills and soft skills to succeed in the workplace.
Examples of assistant manager skills include:
Supervising and training employees
Managing the budget
Motivating the team to hit sales targets
Ensuring overall customer satisfaction