Featured in:
More Business Development Executive Resumes
Use these Business Development Executive samples as a guideline or visit our extensive library of customizable resume templates.
Additional Business Operations Resume Samples
Business Development Executive Resume Samples
No results found
0-5

years of experience

Focus on expanding new business through cultivating existing clients and exploring new markets
Coordinated and hosted conferences, events and trips for our outside sales team
Met and exceeded sales goals for 3 consecutive years by maintaining and creating a consistent pipeline
Personally sold over 2,500 participants - 7.1 million in revenue - 30% margins equates to 2 million in profits for the company
0-5

years of experience

An Online Marketing Firm: Web Design, Mobile Apps, Social Media Marketing, eCommerce, & Internet Marketing.
Closed new business and developed negotiating strategies by coordinating prospects goals and requirements with company objectives and procedures.
Generated new business and long-term account opportunities through prospecting and cold-calling, resulting in over $75,000 in closed new and recurring business.
Developed, coordinated and implemented sales strategies that identified and produced new business in two different markets/ states.
Strategically organized and coordinated with senior executives new business trends to develop new services, products, and distribution of channels.
Established CRM to increase sales, improve sales forecasting, and enhance account tracking on new and existing clients.
Attend industry functions, events, and conferences; providing feedback and information on current market/creative trends.
0-5

years of experience

Responsible for attracting new clients and developing new relationships to support future business.
Recruited new machinist and CNC programmers to support manufacturing.
Researched, reviewed and arranged meetings with new prospect companies and maintained a detailed weekly call log/sales report for all customer communications.
Booked an additional 8 new clients and revamped over 30 house accounts within the first 90 days. Pending quotes received totaled over 2.5 million worth of potential revenue.
Participated in daily production meetings to discuss any potential issues that might disrupt any on time delivery dates.
0-5

years of experience

Provide administrative business development support for the company with oversight responsibility for the following:
Responsible and accountable for the coordinated management of multiple related projects directed toward strategic business and other organizational objectives.
Direct the coordination of all implementation tasks involving third party vendors as well as provide consultation to clients on system implementation.
Created robust business development plan to engage markets and meet bookings, sales, cash, and profit objectives after identifying business unit operating plan deficiencies and initiating market surveys / analysis.
Build credibility, establish rapport, and maintain communication with corporate and governmental clients at multiple levels
Developed and submitted business proposals, led team to pursue opportunities, and managed capture efforts.
0-5

years of experience

Responsible for growing a defined territory from $200k gross revenue to $2.5 million in 3.5 yrs. With total sales at $6.2 million overall.
Facilitating the entire sales process; cold calling, lead generation, closing sales
Coordinated payment, shipping and installation of equipment
Delivered exceptional sales managing National Key Accounts as well as individual owners
Created and developed sales strategies, and business development plan for territory
Working with a wide customer base (hair salons, tanning salons, day spa's, Doctors, Dermatologist and Plastic Surgeons, Hospitals, hotels and resorts and fitness facilities)
0-5

years of experience

Highly developed customer-handling skills by applying tact and diplomacy in dealing with difficult or delicate situations.
Applied initiative to immediately act upon issues to achieve a resolution.
Effectively communicated transport requirements to clients over the phone, in writing and in person as well as clarifying client freight requirements with operational staff.
Managed and created appointments for fellow Sales Executives and Managers.
Proactively organized and handled the client's freight.
Built strong rapport with clients and stakeholders over the telephone and in person.
0-5

years of experience

Developed and maintained multi-level relationships with global private equity firms, banks, asset managers and institutional investors to grow a subscription based fundraising service and news platform
Increased market share against an established competitor and developed an extensive network of clients, including over 50 of the largest global private equity funds
Proactively grew my accounts through internal networking and negotiating long-term contracts
Self-generated opportunities, conducted formal presentations with senior partners and expanded relationships, including renewals and upsells
0-5

years of experience

Resolved customer queries and issues, ensuring customer satisfaction.
Recommended appropriate products and services based on customer needs.
Provided quotes for new business and opened numerous accounts following up from this.
Increased cash sales by 10% in 8 months.
0-5

years of experience

A commercial product and services leader in Property Management, Housing, Healthcare and Education
Added $30M+ in sales funnel opportunities in first year
Exceeded first year sales growth target by nearly 30%
Chosen by senior leadership to develop and deploy a new national Business Development model, leading to more than 500% team headcount growth in the first year
Chosen by the senior leadership team to mentor new Business Development team members
0-5

years of experience

Contract Employment
Responsibility for distinguishing key patient physicians, clinical locations, building relationships with key decision makers, personnel training to penetrate market, and identifying new revenue streams that integrate into current processes.
Increased pharmacy revenue $600,000 annually marketing a whole office consultant approach.
Development of interagency fund raisers to promote name recognition of pharmacy.
Designed all promotional materials for pharmacy, and strategic placement.
Establishment of HIPAA compliant patient recruitment information, and protocols.
0-5

years of experience

Governance, Risk and Compliance sales professional focused on new business development in large to mid-sized securities firms across the country. Sold cloud based compliance tools and managed the sale from prospecting to closing. National territory focused on regional securities firms, independent broker dealers and RIA firms.
Prospected and sold compliance software and continuing education programs to large independent broker dealers and expanded sales to other brokerage subsidiaries.
Achieved sales goals with new business and by renewing and up-selling business with existing customers.
Developed corporate contacts and relationships on various account levels which lead to uncovering incremental opportunities within the organization.
0-5

years of experience

Generated Sales and aided in the distribution of granite slabs
Provided customers with samples and estimations
Established granite slab inventory
Organized loading and transportation of granite slabs for fabrication
Created a website for the business, and sent weekly email blasts with an inventory list.
Surpassed targeted sales goals by 20% or more every month
Exchanged selling strategies and marketing information from colleagues
0-5

years of experience

Report to Chief Operating Officer. Recruited into individual contributor "hunter" role, selling managed services to new logo and existing customers in utility companies, oil and gas, and energy-related businesses. Also
manage key accounts, up-selling new business to existing clients.
Closed 3-year Comcast deal in 60 days against 15-month goal.
Marquee clients have included Fortune 500 companies in the telecom and transportation sectors.
Built sales pipeline from zero to $13.5MM in 12 months; cultivated channel partners, including Serco.
Accountable for downstream integration of managed services processes in energy and fuel management.
Commission plan/earning potential extremely lower than expected; pursuing other opportunities.
0-5

years of experience

Responsible for new business into accounts with annual office products spend of $100,000-$1,000,000+/year
Responsible for increasing office products spend in existing book of accounts
Exceeds Expectations on 2012 annual appraisal- top ranking on the sales team
Most Appointments, Bids, and Site Audits on Sales Team for Q1 2012
Promotion achieved within one year of start date
Utilizing team selling approach to best leverage internal company relationships with account managers and facility specialists
0-5

years of experience

Responsible for securing the renewal 5-year partnerships of founding sponsors
Secured two out of two presenting sponsors for ball clubs first ever hosting of League All-Star Game
Responsible for handling 10-year suite lease partnerships and maintaining relationships with business community
Cold called, scheduled face-to-face meetings and performed presentations to prospective clients as well as attended County meetings on behalf of the team as well as networking events and trade shows
0-5

years of experience
Increased personal and commercial auto policy sales by 50% from 20 policies a month to 30
Wrote 15 policies a month, gross premium sales over $1 million
Doubled life insurance sales from 2 policies to 4 per month with the existing customer base
Increased customer base by 55% through referrals, networking and cross selling.
Analyzed competitive product offerings to better position [company name] insurance offerings
High outbound call volume of 50+ calls per day while managing over 50 inbound calls daily
Used the existing customer account base to generate cross selling opportunities
0-5

years of experience

Business development and physician consulting for site development organization. We support the successful development clinical research operations for medical groups. Initiatives include creating a lead development, clear strategic business model, trained research staff, effective operational implementation and strategic alignment of principal investigators with pharmaceutical clinical trials resulting in practice diversification and revenue growth.
Closed largest revenue contract in company history in the first 60 days
Relationship director and liaison for CEO/ Director of clinical research
Generated a database of over 250 vertically targeted accounts cold calling ophthalmology groups
0-5

years of experience

Acquired new business in specified territories, conducting financial analysis where necessary to determine proper buy-out and negotiation terms through MS Excel algorithms.
Analyzed clients' records & information (RIM) processes and recommended solutions, ensuring
Networked with local Chambers of Commerce and networking organizations, establishing brand
Executed new marketing strategies using high-tech and high-touch tools, such as MS Dynamics CRM,
0-5

years of experience

Reviewed available dates and yield strategy to maximize utilization of space and guest rooms.
Ensured adherence to all company systems used; updated these daily with the correct revenue, follow ups, activities and booking status.
Collected quality data for active business leads: group history, competitor quotes,
Carried out regular product training, site inspections and client entertainment to raise product knowledge of potential and existing clients and partners.
Maintained a full understanding of the hotel's facilities, capacities, feasibility, history,
Attended and contributed to daily operational and sales meetings.
Created and communicated customized proposals, Banquet Event Orders, Change
Supervised function rooms prior to guest arrival and ensure all details are aligned with guest requirements and hotel standards.
Welcomed the group upon arrival and ensure guest satisfaction by anticipating guest
0-5

years of experience

Executed 20 - 25 daily cold calls to medical providers to increase client base.
Answered customers question regarding product, pricing and time lines
managed accounts from start to finish, including making the sale, customizing their software, managing the account, auditing the billing services provided, training the client to use their software and assisting with their successful go live with their software.
Maintained friendly and professional customer interactions.
0-5

years of experience

Deep knowledge of [company name]'s product offerings and competitive advantages
Sold $175k of [company name]'s products and services to Nationwide companies in the Retail, Restaurant, Hospitality, Healthcare space
Onsite f2f visits to create partnerships and strategic talent acquisition strategy plans
Exceeded Revenue targets consistently at 128%-249% of target and awarded Rep of the Quarter for Q3
Built, grew and managed a diverse sales pipeline to achieve sales targets of new and renewal business
Prospect daily to collect relevant information about the client's needs, conduct discovery calls and present [company name]'s capabilities
Partner with internal client support teams to ensure success
Align all performance with [company name]'s mission, vision and values
0-5

years of experience

Responsible for leading enterprise and managed patient communication services focusing on growing new revenue
opportunities
Effectively qualify clients through the use of Value-Based selling methods. Research prospect history and business
Lead sales presentations both in person and via WebEx to promote company products and services
Forecast quarterly and monthly sales metrics within 5% of actual results
Effectively use salesforce.com for lead follow up, sale cycle disposition, pipeline management, forecasting and lost
Maintained 100% to quota every month from January to present
0-5

years of experience

Targeted and developed "new customers" by identifying key decision makers, demonstrating a strategic selling approach, and successfully positioning the company's value proposition
Managed a portfolio of 100 customer accounts, while responding promptly to daily inbound sales leads
$508K in sales over the last 10 months, with @5% growth qtr. over qtr.
Rejuvenated relationships with dormant accounts, converting them to regular buying customers
Worked in conjunction with technical and engineering teams to develop a total solution to meet customer's project requirements
Utilized Salesforce CRM for database management and organization of daily tasks
0-5

years of experience

Provide a vendor management system to help hospitals streamline supplemental staffing.
Target and meet with hospital Vice Presidents and Directors.
Achieved and surpassed yearly sales goals in first seven months.
Covered a thirteen state territory along with developing and prospecting new territory.
Conduct onsite meetings using web demos with key decision makers.
Attend national and state conferences.
0-5

years of experience

Solution selling of all Microsoft Solutions and technologies to the F1000 & G2000 companies.
Provided frontline selling driving the initial phase of the sales cycle.
Engaged the dedicated account manager and delivery team with customer to close the sale.
Worked with marketing and solution development divisions as a team, to provide best solution for the customer.
Provided sales leads and opportunity reports maintained in Microsoft CRM.
question based selling education and Microsoft technologies education.
0-5

years of experience

Aggressively prospect and identify new revenue opportunities
Understand customers' diverse and specific IT needs through consultative, strategic approach and apply applicable services/solutions
Develop new partner relationships through networking to drive new client growth
Responsible for developing lead lists, prospecting to C-Level executives, setting appointments and developing opportunities through to closure
Maintain accurate and updated CRM information and forecasting
105% above annual revenue targets YTD, annual goal $875,000
0-5

years of experience

Sales and Marketing professional working in a dual role with a product development team to further develop, refine, deploy and market a startup Saas product with a lean and mean approach to success.
Successful in closing appointments through cold calling
Solution based sales approach in matching products with the right prospects
Conducting daily sales calls, webinars, online demos and support for existing customers and new prospects
Successfully secured and on-boarded 60+ organizations with a total of 650+ users for the beta launch of Saas product
Managing the entire cycle from launch, support and follow up to gather feedback to drive product enhancements and refine
Working proactively with the team to further the success of the software by identifying areas of product friction and providing
Working with the CIO and marketing team to continuously refine pricing and product positioning
Scripted and produced top quality help videos to support product launches
0-5

years of experience

Progressive debt recovery and loss prevention: medical collection and medical billing software company.
Develop medical billing collections in excess of $25 million with our business partners, helping to transform debt into positive cash flow.
Illustrated and articulated possible outsourcing accounts receivable billing/statements, pre-collection programs, performance gains and other benefits to hospital stakeholders including C-level representatives.
Drove a unique and comprehensive consultative process to assist hospitals in improving debt loss/recovery processes and optimize investments by expanding into new automated technologies.
Organized and directed product demonstrations, webinars, site visits and other customer focused events and post-sale follow up which resulted in customer retention.
0-5

years of experience
Created an LLC, managed business development, and won contracts with three companies.
Built and launched the futurecap.org website.
Designed service offerings and developed a market positioning strategy.
Managed a sales team and doubled sales revenue for an advertising client.
Conducted statistical analysis and summarized large data sets using formulas and graphs for an energy client.
Developed and implemented a social media strategy which included blogging, search engine optimization, Linkedin, Google+, Google Analytics, and the design and creation of marketing materials for an energy client.
Researched the marketplace for a new technology and provided market analysis for an energy client.
Provided venture capital introduction services for a high-tech startup in the shipping industry.
0-5

years of experience

Executed simultaneous roles including Merchant Services Analyst, Sales Professional, Savings Consultant, and Account Manager. Worked closely with corporate officers, board members, and business owners from a collection of over 60 endorsed national organizations, associations, and buying groups. Responsible for servicing all new and existing client accounts to develop references, testimonials, and growth opportunities.
Increased ability to reconcile complex and sensitive account discrepancies by investigating situations, objectively evaluating the facts, and making sound judgments to resolve matters in a timely and proactive manner
Traveled independently, attending nationwide trade shows for niche marketing and sales generation
Diligent and attentive to detail, ensuring accurate data preservation, file management, appointment setting, and extensive follow-up
Implemented unique training procedures and materials, resulting in increased yield of new opportunities
0-5

years of experience
Developed relationships via the phone with C-level executives
Consistently exceeded monthly sales metrics including appointments and call volume
Conveyed complex value propositions for a variety of clients via phone interaction
0-5

years of experience

Researching, analyzing, developing marketing initiatives for clients
Identified, researched, compiled and maintained prospect database
Matched appropriate products to clients' requirements and served as advertising
Maintained a current and accurate knowledge of products, including creative, video,
Wrote and developed company literature and blogs which were posted to our company
Overcame resistance/objections to product purchase by effectively communicating with clients to address concerns, educate, gain their trust and a commitment to purchase
Effectively communicated with clients via telephone, face-to-face and written
Advised account services and creative team about client
Maintained accurate records of all contacts with clients and handled correspondence
Liaised with other sales team personnel to actively promote sales opportunities, exchange
0-5

years of experience

Provided referral partner relationships/associations, corporate banking and financial services to develop marketing material to launch and announce new and existing partnerships with referral partners and associations.
Managed strategic planning simultaneously with multiple high profile projects.
Communicated new services and products to prospective partners. Released record breaking campaigns with response-rates that resulted successful outcome.
Managed relationships with a driven force for one of the fastest growing, innovative payment processors in the electronic payment industry. Educated and demonstrated POS solutions, payment processing, credit card processing, QR Code, QR, gift cards & loyalty cards, chip ready / smart card, e-commerce gateways, mobile solutions and ATM.
Initiated, negotiated, and cultivated strategic partnerships with Executives and Board of Directors to integrate referrals and leads to achieve desired revenue. Demonstrated and achieved ability to bring large-scale technical projects together by defining a clear set of requirements; translating products and services complexities into practical business solutions.
0-5

years of experience
Successfully designed and coordinated new sales, promotional and advertising strategies within budget and schedule; resulting in increased sales by 43% within one year of new campaign implementation
Deliver dynamic sales presentations; resulting in an upsurge of study abroad program enrollment
Manage inbound leads through the CRM and marketing system to utilizing opportunities
Support marketing initiatives; participate in trade shows, fairs, conferences and other relevant events
Develop email campaigns, market research surveys on target segments, and relayed feedback from the market to associates and director
Source and target new customers by cold calling via phone and email
Originate, grow and support all aspects of the sales cycle
0-5

years of experience

Consult CIO's, Directors of IT, Heads of School, CEO's and Business Managers on a variety of Manage Services, including project based work. Conduct trade shows, events, training sessions, and held accountable for meeting forecasted goals.
Leader in total project sales for May, June, and July.
Achieved Sales Leader for Q2, 2014.
Exceeded sales goals for 2013 and 2014 to date.
0-5

years of experience

To grow the business by way of increased sales and business opportunities that is in line with the company's vision and business model.
Promote the company brand to key buyers and customers, ensuring their knowledge is current and appropriate.
Driving business and ensuring sustained growth, focusing on achieving sales targets and new markets.
Expanding business reach and proactively creating new sales leads and opportunities.
Constantly interacting and networking with prospects and maintaining key business relationships.
Increase business services to maximize growth potential through market streams not previously recognized.
Leverage current business relationships to penetrate new markets and opportunities
0-5

years of experience

Promoted to Business Development Executive, working alongside the CEO of the company on daily projects and as the primary contact for brand partnerships and handling various business accounts
Builds new business by forming strong relationships with external business partners
Drafts business proposals, contracts, correspondences and emails on company's behalf regarding business propositions, partnerships and maintaining business-to-business relationships
Established brand partnerships with 30+ various business accounts in a two month span, companies such as; Caru Skincare, Craftsman Soap Company, Nature's Natural
0-5

years of experience

Full life cycle recruitment including identifying, qualifying, coaching, interviewing, and negotiating offers
Proactively source top talent using creative techniques and professional outreach strategies
Gather detailed information from initial and follow up phone screens to present and discuss with hiring
Utilize recruiting software and applicant tracking software to track ad maintain candidates during interview
Negotiate and extend all job offers (contract or direct hire) to candidates and start on-boarding paperwork
Build key relationships with functional team leaders to uncover and suggest improved business practices
0-5

years of experience

Prime duty is to work for the development of the business so has to provide creative ideas for increasing the sales.
Maintaining new and already established business relationships.
Understanding and obtaining the needs of the clients to establish the harmonious relationship with customers.
Providing satisfactory service to the customers as well as clients by responding client enquiries through calls, email, or letters.
Identifying the requirement for the changes and recommend them to top management in the company.
Resolving the customer problems by providing solution to them.
0-5

years of experience

In charge of app development and software development, as well as Project Management
Managing multiple accounts at one time ensuring that every client is getting there issues resolved in an efficient and timely matter to ensure a smooth development process.
Finding new cutting edge and innovating marketing techniques and advertising campaigns in order to bring new business to the company.
In charge of contract negotiations and closure of deals
Maintaining customer relations with the clients and their business partners throughout the process.
Creating business proposals
in charge of all of the conference calls or business meetings.
0-5

years of experience

Partner with business executives to consult to current ROA of technology infrastructure.
Analyze current business operational expenses and develop efficiency strategies.
Expand both current and Net New client relationships.
Consult by presenting a holistic, collaborative and service focused approach to upgrades
Optimize client financial metrics and present strategy business proposals to executive teams.
Prepare and execute contracts pursuant to the proposal agreements.
Maintained largest production standard with $152,000 of incremental business.
Business Executive of the Month
0-5

years of experience

Responsible for new business development in the "high end' market segments.
Prospect companies and schedule face-to-face presentations with high level decision makers and influencers.
Use a consultative selling skill to identify customer needs and develop a value added proposition.
Work with other sales team members, while generating complex proposals and pricing implementation.
Closed several accounts within first few months, in a long sales cycle role.
Recognized by Regional Sales Director for ability to schedule appointments with C-Level Executives, within a
Developed a high level understanding of advance/complex company business process' for acquisition of products,
0-5

years of experience

Consult multinational SMEs with annual revenue up to $500 million on tailored international business and foreign currency risk management strategies including: forwards, options, and other derivative instruments.
Develop strong understanding of clients' business objectives to identify blind spots and inefficiencies in their current foreign currency and International payment risk strategies to design benefits-based solutions.
Launch and manage marketing campaigns to increase brand awareness for corporate payment solutions and international currency market division.
Assist management team with the development of team members through weekly coaching.
Develop and maintain local and national relationships to throughout the international business community.
Document all activity through company CRM (Salesforce.com).
Active membership in Financial Executives International
0-5

years of experience

Manage sales and marketing activities in order to develop targeted customer database within designated sales territory.
Cultivate relationships with targeted new customers, identifying their needs, establishing relationships with sales programs and presentations.
Timely reporting of sales results data to insure that acquisitions costs and forecasts are adhered to.
Real time collection of marketing information while tracking prospects using various CRM software in order to revise sales and marketing programs in a timely, accurate and comprehensive manner.
Aid in the design and implementation of new sales and marketing programs, techniques, practices, methods, and systems as needed to increase and protect the company's image, build brand awareness, and achieve overall sales goals.
Provide support to sales and marketing executives on revised sales strategies for the improvement of implementation strategies.
education in the field of professional sales which includes classes, workshops and networking events.
0-5

years of experience

Sales Hunter for National/International business opportunities from Fortune 500 companies
Manage Accounts for current customers including branding and strategy development.
Communicate and execute live presentations to executives at C levels in the Fortune 500
Work a self-made contact list of over 1,500 and experience with many CRM programs including Salesforce
Sales and proposal creation for company webstore platforms and technology capabilities.
Load More
Business Operations Cover Letter Examples
Create your own professional resume in just minutes.
Try our resume builder today
Build Your Resume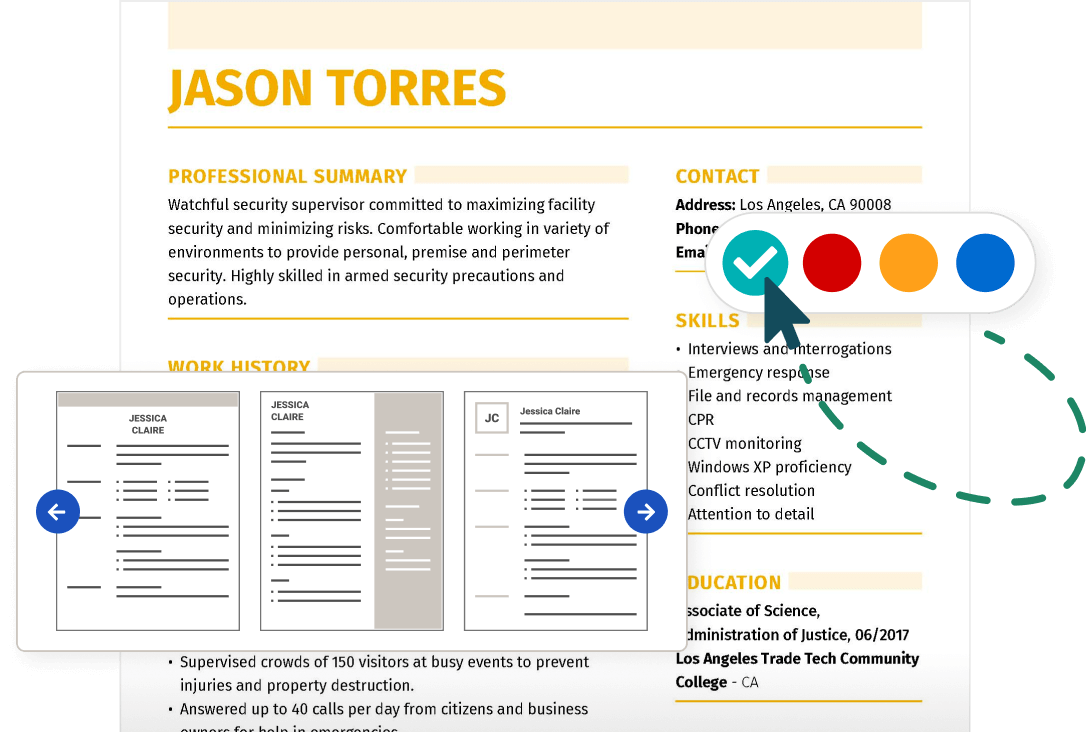 Business Development Executive Resume FAQ
What is the role of a business development executive?
Business development executives are responsible for developing and executing plans for corporate growth. They generate sales leads, reach out to potential clients and motivate existing clients to invest more in the company. They also use their knowledge to improve the quality of a business's products and services.
What are business development skills in a resume?
Based on an analysis of our resume database, some of the top skills for business development executives include:
Excellent written and verbal communication
Advanced data analysis
Product knowledge
Negotiation
Sales techniques
Relationship maintenance
What are the achievements of a business development executive?
Business development executives should always highlight their career achievements using quantifiable metrics, and business development executives have plenty of them.
Candidates may choose to highlight:
The value of their area of responsibility. For example: Oversaw an annual office product spend of between $100k to $1 million a year.
The amount of money generated in sales. For example: Generated $75k in new business over two years.
The number of new clients brought on board. For example: Booked an additional eight new clients and revamped over 30 house accounts within the first 90 days.
Who is a business development executive?
Business development executives aim to increase a company's sales and customer base with well-executed development plans. A four-year bachelor's degree is the minimum requirement for business executives entering the profession today. Many choose to get an advanced degree in business administration, finance or economics.
How do I write a business development resume?
To make your business development resume as appealing as possible, you should do the following:
Insert your contact info in the header.
Write a short, pointed professional summary or resume objective.
List your work experience, starting with your most recent job. Make sure to highlight your most significant accomplishments in each role, citing quantifiable metrics whenever possible.
Include your education and any professional certifications.
Showcase both your hard skills and your soft skills.
Consider creating additional sections like volunteer work, languages, and hobbies or interests.
Read the job description closely and customize your resume accordingly.
Proofread your document before you submit it.