Featured in:
More Senior Manager Resumes
Use these Senior Manager samples as a guideline or visit our extensive library of customizable resume templates.
Additional Business Operations Resume Samples
How to Format a Senior Manager Resume
The most effective way to make your resume stand out is by using the correct resume format. These formats are the best tactic because it organizes your resume starting with your most sought-after qualifications.
In other words, a resume format lays out your most valuable accomplishments firstso that you can lead employers straight to your achievements and create that wow factor.
Job seekers with a long employment history can use a combination resume or a chronological resume. However, if you are new tothe workforce or a recent graduate, you can still create a job-winning resume with a functional format. Using a functional resumewill allow you to focus on your best skills and knowledge instead of your workhistory.
Let's see these two samples of how each job seeker presented their experience differently based on their experience level.
Chronological Resume
22

years in workforce

4

years at this job

Business Administration
Work Experience
Senior Manager, Thompson Pump
July 2018 - present, Orlando, FL
Manages business development and daily operations for a B2B e-commerce channel totaling $400 million in yearly revenue.
Leads a B2B integration team of nine project managers with a workload of 65+ projects annually.
Leads successful migration of 200+ B2B connections into new system infrastructure to support company merger/acquisition.
Develops business roadmap to improve B2B channel function and performance, which resulted in 12 system enhancements.
Functional Resume
7

years in workforce

3

years at this job

BS

Sales
Professional Skills
Administrative Skills
Manages various operational and financial reporting audits.
Performs consulting projects for the pricing department on setting up processes and controls for emerging businesses.
Leadership Skills
Manages the Sarbanes-Oxley testing for management.
Coordinates and leads the financial internal audit team on direct assistance audits.
Recruits and helps prepare senior staff for interviews.
Senior Manager Resume Samples
No results found
0-5

years of experience

Managed business development and daily operations for B2B e-Commerce channel totaling $400M yearly revenue, which represented 40% of online business. Led a B2B integration team of 9 project managers with a workload of 65+ projects annually.
Achieved 21% revenue growth year-over-year (2010-2012)
Led successful migration of 200+ B2B connections into new system infrastructure to support company merger/acquisition
Developed business roadmap to improve B2B channel function and performance which resulted in 12 system enhancements and set new industry standards around B2B e-Commerce
Increased quarterly revenue by $75k and added on average 7 new B2B customers each quarter, by collaborating with sales team to create channel and end-customer strategy, vision and value proposition for an e-Procurement (P2P) solution
0-5

years of experience

Oversee the sales and operational strategy for [company name] Pro (B2B) division generating $23B in revenue. Leading a team of corporate managers, analyst as well as call center operations to service varying segments of business. Provide operational and sales improvements and leadership to assist our 6000k store pro associates, 200 outside sales representatives, divisional and regional leaders. Leveraged CRM tool (salesforce.com) to enhance sales processes, visibility, customer interactions, and promotions. Develop processes, programs, and implemented training to improve the customer experience inside and outside the footprint of [company name] stores.
Topline revenue increase of $1.3B
Developed and deployed companywide training program designed to educate all levels of the organization on methods to increase revenue while driving superior customer service
Recruited, developed, and established call center to service large complex professional customers business needs nationwide
Increased YTD Customer Net Promoter Score 390 bps vLy while increasing revenue and profits
0-5

years of experience

Managed internal audit projects from planning to audit reporting for this international publicly held
customer management services company with annual revenues in excess of $1 Billion.
Managed various operational and financial reporting audits within Revenue, Benefits, Joint-
Performed consulting projects for the Pricing Department on setting up processes and controls for the Emerging Businesses.
Managed the Sarbanes-Oxley testing for management.
Coordinated and lead the financial internal audit team on direct assistance audits for external
Commenced as a consultant through Hudson in 2011, recruited to permanent in 2012.
6-10

years of experience

Managed a team of eight contract employees at the Department of Commerce, Office of Computer Services.
Ensured that all projects and deliverables were completed on time, and exceeded all client expectations.
Acted as senior liaison between [company name]. and the client, always ensuring that all contract requirements were met with complete customer satisfaction.
Performed network administration for all infrastructure related software and hardware at on-site location for the Department of Commerce, Office of Computer Services (OCS) Datacenter.
Served as the InfoPro Team Leader; accountable for building, installing, configuring, and maintaining Citrix systems and applications for various federal agencies.
Provided tier-3 help desk support to onsite and offsite DOC employees.
Produced documentation on disaster recovery, security guidelines, remote access, and training procedures. Supervised and trained onsite InfoPro personnel.
0-5

years of experience

Responsible for representing Operations on the Merger & Acquisitions team, as well as interfacing with corporate and business representatives at Imation and acquired company during the integration phases. Helped in reviewing systems,
tools and resources of acquired company to better understand integration requirements. Involved in drafting improvement plans and managing the operational details of the project.
Successfully achieved Imation's planned growth by integrating acquired company operations.
Effectively ensured goals and objectives of the integration were accomplished within prescribed timeframe.
Productively established and communicated improvement plans and integration of go-live support plans.
Skillfully completed detailed analysis and documentation of key processes for Imation and acquired companies.
Assisted in reviewing system interfaces relative to operational processes, identified significant gaps and proposed solutions to close identified gaps.
Efficiently integrated operations for two different acquisitions.
10+

years of experience

Advanced to Senior Manger within 2 years
Trained up to10 employees
Maintained high standards of excellence while providing a clean and safe environment
Lifted 125 lbs - dead weight and also using a Gate Belt
Incorporated an exercise regime and provided balanced meal preparations for patient
W3Assigned, completed and implemented daily doctor's appointments; medications and other personal appointments
6-10

years of experience

Reported to Senior Director, Support Operations. Responsible for service level targets, first call resolution, customer satisfaction, and sales within two separate lines of marketing tactics. Manage daily outsourced call center activities, report analysis, performance calculations, and agent monitoring in a high-volume, performance driven CARE environment. Develop SWOT vendor assessments across 15 sites, 6 vendors, and 6,100 seats.
$150MM annual budget; indirectly manage senior partner leadership and 7,000 outsourced agents in both voice and chat channels.
Design compensation incentives, improving conversion rates and exceeding annual revenue forecast rates by 5%, generating additional $25MM in revenue.
Accountable for key metrics, including First Call Resolution (FCR), Customer Satisfaction (CSAT), service level/productivity metrics and sales.
Responsible for documenting business rules included stated objectives, incentive duration, vendor requirements, and budgetary expectations; manage vendor action plans and delivery compliance.
Exceeded 2013 Sales goal by 250% - achieving the highest Sales revenue while maintaining or exceeding FCR and CSAT results.
0-5

years of experience

Led a team of 15-20 financial specialists performing forensic underwriting on portfolios of troubled loans, determining and capturing observations in support of litigation or compliance actions.
Directed and managed all daily operations of underwriting research and review teams' activity.
Developed and monitored deliverables according to project plan and program goals.
Aligned team operations with management directives. Partnered with client and internal executives.
Responsible for supervision of deliverable preparation, supported by Subject Matter Experts.
Utilized and managed Salesforce.com development/CRM/application and LexisNexis platforms.
0-5

years of experience

Provided leadership and direction to multiple global teams while ensuring delivery of multiple simultaneous projects on time and within budget. Directed 5 scrum teams and 2 managers. Executed project management functions associated with planning, scoping, estimation, tracking, and implementation. Supervised and trained the team in performing at optimal levels. Oversaw recruitment, training, and project assignment of new hires.
Created and implemented a Continuous Integration process that encompassed unit testing, building, and functional testing of the application on a nightly basis while enhancing code quality and reducing FQA and RQA by 3 weeks.
Proposed a technical solution using split schema based approach that reduced the offline time from 4 hours to 20 minutes.
Directed delivery of customer support application, enterprise dispute management application, and sandbox environment for merchant onboarding and disaster recovery planning and execution.
Filed a patent for Unit Testing Framework for Pega PRPC applications.
0-5

years of experience

[company name] is one of the leaders in online education, offering both public school and private school educational options to students from Kindergarten to 12th grade.
Led and managed a 23-agent Customer Returns call center, including full-time Agents, Temporary Labor, Team Leads, and a Quality and Training Analyst.
Changed and developed the computer equipment returns process to increase the speed of the return due to the urgency of collecting valuable assets.
Changed and developed the computer equipment and curriculum returns process to increase the speed of the returns process, and the volume of returns.
Trained, coached, and mentored established and newly hired Returns agents to facilitate and execute the computer equipment and curriculum returns processes.
0-5

years of experience

Planned, directed, supervised, and coordinated work activities of subordinates relating to benefits,
recruiting, employment, compensation, and employee relations. Effectively managed staff of 13
employees.
Directed and supervised activities related to daily administration of Firm's welfare benefit
Coordinated daily management of back office support, directing all firm's recruiting activity.
Analyzed and modified benefits policies, establishing competitive programs and ensuring
Planned and conducted new employee orientation, fostering positive attitude toward organizational objectives.
0-5

years of experience

Launched Vertical Support Model resulting in 22% improvement in resolution time within first 45 days
Developed and led SWOT presentation for Support Center in support of consolidating Installations and Technical Support
Program lead for initiation of Net Promoter Score Customer Satisfaction measurements
Completed phone menu changes resulting in reduction of 12,500 misdirected calls and improving average speed to answer by 13 seconds
0-5

years of experience

Provided leadership and relational support to the Church Ministries - Urban Alliance Team, national
urban/city movements, institutions and organizations.
Served as the Operations and Projects Logistics Manager and assisted the Director with budget administration.
Participated in monthly organizational communications meetings and cross-functional teams.
Provided oversight and project management for key projects including the Global Leadership Summit,
Liaised with Marketing department on design and production of collateral materials for program initiatives.
Produced departmental reports, correspondence, briefings, and presentation materials
Managed the contract process for key consultants and partnerships supporting program initiatives.
0-5

years of experience

Led all aspects of revenue management for Sun (with ~$2 billion Net Sales). Managed a team of finance managers and analysts with 4 direct-reports. Responsibilities include annual plan development, forecasting, management reporting, business partnership with Sales leaders, customer growth and investment assessment, and financial tools and systems
Led the sales forecasting process with Sales Leadership Team consisting of channel directors and VP's, consistently delivering forecast within 3% variance that drove customer service and working capital improvement
Designed and implemented a new trade-spend forecast process that significantly enhanced visibility to fund accrual, facilitated timely investment decisions, and enabled the company to holistically manage Net Sales (vs. Gross Sales)
Created new data warehouse system to enable automated forecasting tools, scenario planning, and customer centric annual Net Sales planning capabilities
Led evaluation of strategic customer investment and growth plans, with initiatives across Mass Merchandise, Grocery, and Club channels
0-5

years of experience
Selected as interim Operations Head; the youngest ever to oversee budgeting, management accounting and people
Developed and launched a turnaround strategy by analyzing margin contributions of 700+ clients from past 3 years and recommending a differentiated pricing model for key clients; recovered from 30% loss to 10% profit in 1 year
Interviewed 30+ senior members to identify historically low incentives as top reason for team's low morale
Negotiated with CEO, CFO and HR head by simulating divisional performance using @Risk models to reduce
0-5

years of experience

Helped establish interoperability standards and products relating to Gatekeeper, Intelligent Clients, Thin Clients and QoS handling, reported to VP Engineering.
Managed projects timelines and resources from conception to rollout (worldwide manufacturing sites).
Helped define PacketCable/CableLabs specification effort as [company name] representative for Intelligent Thin Client products (SIP, H.323 and VoIP).
Member of Gatekeeper Working Group, Client Working Group, and QoS Working Group for CyberLab R&D center - incubator for new technologies. Products included Residential Gateway, Voice Gateway, Video Conferencing and Cable Modem.
Created market material, supported MarCom activities and supported Pre-sales and Post Sales
10+

years of experience

Provide business and systems integration support to [company name]'s Client Portfolio.
Directed a pilot program to deploy over 80 secure, mobile tablets to client C-Suite executives
Led a client Chief Technology Officer (CTO) software upgrade initiative to proactively manage licenses across the enterprise and reduce extended maintenance costs
Managed the development and implementation of a cross-site, intersystem process for coordinating changes to enterprise applications
Supported a client executive initiative to establish consistent Information Technology (IT) investment management and governance across the enterprise
Rationalized a client application portfolio to maximize value and minimize total cost of ownership
0-5

years of experience

Acting as a channel manager, led the number one rated Consultant Program in the industry, managing relationships with key independent consultants, driving an average of
$58M per year in [company name] revenue.
Successfully planned and hosted two annual Consultant Conferences.
Planned and managed the merge of the Nortel and [company name] consultant databases into a
Successfully managed and hosted the [company name] Consultant Advisory Board bi-annual
0-5

years of experience

Managed Customer Returned Goods, Educational Services and Services Project Managment
Introduced use of Microsoft Project and GANTT charts for managing project schedules
Led design and construction of new repair facility, including improved workflow and ergonomics
Developed instructor certification requirements to meet industry standards
Negotiated new terms with repair contractors to reduce cost and improve terms
0-5

years of experience

Responsible for creating and implementing an Open Innovation strategy
Delivered a sampling program that generated $5MM in annual net revenue
Developed and managed a net-work of commercial, and technical partners that delivered sustaining business' with annual revenue of $18MM
Through Open Innovation supported 4 new product opportunities
0-5

years of experience

Provided 56% YOY revenue growth by researching and implementing a new shopping cart solution
Drove database growth 52% YOY by introducing sweepstakes programs, list segmentation strategies, PIN code page opt-in, zip code - IP address matching, opt-in pop ups and opt-in programs through partnerships
Increased net promoter score by nearly 20% YOY
Designed compelling email campaigns that increased open rates by 10% and revenue over by 50% YOY
Led new email and loyalty vendor research and contract negotiations
Plans and implements strategic email across multiple business units and customer lines, including Consumer, B2B, Corporate Sales, Advertisers and additional partners
Develops new communication strategies to optimize email programs, improve customer retention and drive incremental sales-triggered campaigns and life-cycle marketing programs
Develops and executes testing strategies to improve email metrics
Regularly forecasts sales, response rates and budgets
0-5

years of experience

Ensured an inclusive, diverse and safe culture to create an environment of openness and trust.
Actively participated in the performance management process, which includes coaching, providing feedback, writing and delivering performance reviews and writing and delivering counseling and corrective actions.
Lead a culture of sales and expense financial accountability and proactively leverage tools, reports and processes to meet or beat payroll goals.
Planned and executed weekly meetings with management on Sales Floor Location Accuracy Reports
Created schedules for part time employees utilizing MyTime.
0-5

years of experience

Managed marketing, fundraiser and Host Rewards Programs and determined communication strategy for all.
Analyzed and reported the results of each program on a timely basis.
Led cross-functional teams on special projects to drive annual sales and recruiting results.
Worked with various directors and teams to implement and execute a comprehensive plans for promotional and program support.
0-5

years of experience

Compared corporate business strategies to talent strategies.
Identified key workforce skills that were lacking and important for future state planning.
Implemented an action plan to close identified talent gaps and monitored progress against goals.
Facilitated and monitored continuous improvement throughout proper candidate selection, training, development, performance management and employee engagement.
Responsible for New Hire Orientation to foster positive attitude to obtain company goals.
Expedited and supervised continuous improvement processes to ensure on-going employee engagement.
0-5

years of experience

Lead project teams responsible for analyzing over $8B in historical expenditures and recovering more than $2M in overpayments
Responsible for $1M annual fees managed with 2 new clients in the oil and gas
Accountable for identifying and implementing business development opportunities with current and new clients
Initiated ongoing efforts to define scalable methodologies for repeatable and efficient project execution
0-5

years of experience

I manage a team of account managers, delivery analysts and revenue analysts to scale data, improve campaign optimization, and maintain monthly revenue targets.
Internationally coordinated campaigns in multiple offices around the world learning global communication and marketing skills.
Innovated process and procedures to constantly improve delivery efforts and data quality in a frequently changing environment.
Facilitated a successful merger between two companies including an onboarding in which the team succeeded revenue goals in the first 6 months.
0-5

years of experience

Worked directly with Operations Leadership Team while overseeing the daily operations of Human Resource functions including Talent Acquisition (exempt/non-exempt), Compensation/Benefits and Associate Relations
Supported 500 regular PT/FT hourly associates (2 shifts) plus minimal seasonal staffing per attrition
Collaborated with Operations partners and senior leadership to identify, develop and support results-driven operational strategies to influence and support future business and growth initiatives
Staffed and supported the Distribution Center's Operations Executive Team, Human Resources, Maintenance, Industrial Engineering, House Keeping, Food Vendor/Café, Information Technology, Finance, Loss Prevention, Maintenance and General Office Staff
Provided development and leadership to 2 indirect reports and 1 contract recruiter
Marketed business within local and surrounding communities for recruitment and benchmarking purposes
0-5

years of experience

Functioned as an individual contributor responsible to collaborate, conceptualize, plan, implement and evaluate a complex project involving multiple business organizations
Evaluate ROI's - Submitted various proposals to executive leadership that analyzed potential
Manage Relationships - Functioned as direct liaison who negotiated between three organizations to ensure various customer needs and expectations were met
Meet Deadlines - Demonstrated ability to execute plan, collaborate with multiple teams and complete projects under budget and within a restricted time frame
0-5

years of experience

Lead a team in in the creation of the only comprehensive enterprise system called the "Command Center", to enable the tracking and monitoring of every service event from the minute the customer filed a claim until successful fulfillment, flagging events like missed appointments or delayed parts allowing for insight into the support cycle. Once created developed, training, and operational parameters of an ORACLE database interface system that updated, tracked, interacted, reported and managed daily operations for over 40,000 open events in real time: The system won the 2012 Stevie Gold Award for Best Use of Technology in Customer Service.
Built event-management program from concept to delivery. Constructed exhibits from historical data modeling solutions enabling selection of the most efficient cost savings action.
Introduced an integrated parts procurement module: Established additional control of the event, created positive revenue stream, revenues exceeded the cost of system. Pays for itself.
Annually developed and administered a $1.3 million dollar budget: P&L realizing a $3.2M profit and achieving record high NPS scores reaching 60, industry average range 5 to 10.
Customer champion on IT project team: Provided detailed requirements from users/customers, drove milestone completion within time and cost, decided trade-offs when necessary.
0-5

years of experience
Prepared monthly and quarterly reporting packages, which include providing operating units with financial related information required by them to carry out their responsibilities.
Assisted Executive Management in developing and implementing strategies and initiatives through timely and accurate reporting of cable operations financial analysis.
Manipulated and organized data to provide tracking, status, forecast, or other information in standard or custom report formats for management decision-making.
Financial Analysis Liaison with Market Business Operations, Internal Reporting, and Corporate Departments in relation to analysis and financial performance.
Managed, evaluated, and developed staff of two financial analysts.
6-10

years of experience
Negotiated and executed seven- and eight-figure patent license agreements.
Prepared licensing proposals based on demonstrated financial impact of the patents asserted.
Developed licensing opportunities with leading companies in diverse industries including hearing aids, mobile phones, cameras, computers, semiconductors, memory, and telecommunications.
Researched target products, led technical and legal teams to identify assertion patents and prepare evidence of infringement mappings. Issued notice letters, coordinated meetings, and led business settlement discussions.
0-5

years of experience

Responsible for the ongoing strategy, design, management and support of variable incentive compensation programs.
Led the formulation, development, implementation and administration of variable incentive plans for sales,
In partnership with leadership, owned the education, communication, exception and governance process of corporate- and business-specific incentive programs, including sales incentive compensation plans.
Led acquisition integration processes and was responsible for assisting in the divestiture process with external
Partnered with executive compensation team to coordinate and prepare necessary materials related to variable
Evaluated effectiveness of incentive programs; recommended and implemented design enhancements and process
Served as primary resource for questions, problems, issues and implementations of company's incentive plans.
Worked closely with legal and communications department through the design, development and implementation of communication strategies.
In partnership with divisional leaders, identified the key metrics driving sales and ensured those metrics were being
Oversaw, maintained and updated the governance framework related to incentive programs.
Oversaw monthly and quarterly incentive compensation processing, validation, analysis and distribution of incentive
0-5

years of experience

Developed new tracking program that successfully identified savings - $30M annually
Provided senior leadership in-depth review/ management presentations for savings initiatives
Personally identified cost savings opportunities exceeding $25M across 4 functional areas
Identified areas for continuous improvement through trend analysis and key indicators
0-5

years of experience

Key contributor in development and execution of yearly marketing plans that outline strategies on how to grow business and build awareness for young brand
Handled proactive and reactive marketing and publicity, promotions and international sales; analysis of programs and their effect on booking patterns and reservations; helped manage inventory and forecasting trends
Integral part of [company name] consumer awareness initiatives through research, focus groups and outreach events
Facilitated multiple brand campaigns; worked closely with advertising agencies on print and online media strategy
Managed a budget totaling $6.5 million
0-5

years of experience

In charge of overall operations of 756 apartment units which includes 2 properties.
Responsible for writing budgets and following Profit & Loss reports.
Recruit, hire, coach and retain an engaged team of property managers, leasers, and outside staff.
Responded to customer inquiries in a timely manner and address their concerns quickly manner.
Conducted regular property audits, ensuring properties are safe and meet all company operational standards.
Managed delinquent tenant process, including coaching teams to reduce delinquency rates and improve customer
10+

years of experience

Held various positions of responsibility in Controlling and Treasury Departments over the past 14 years.
Responsible for the budget, forecasts, and monthly variance analysis for Sales, Marketing and Customer Service Departments
Experienced Controller for Back Office functions including Human Resources, Finance, Legal, Real Estate and Procurement functions
Reviewed and analyzed monthly financial results to provide visibility to Senior Management
Managed monthly reporting and quarterly audit preparation for various departments
Supported implementation of internal Financial controls
Provided support for cost savings mandates across functional units
Managed expenses from Shared Service units and provide month end analysis for charges
0-5

years of experience

Scheduled and directed a staff of over 40 in daily work assignments to maximize productivity
Planned and executed over 100 catering events including over 30 weddings last year
Works daily with kitchen ensuring food quality, recipe card adherence and ticket times
Resolves any customer problems that may rise with ease
Work with cooks to create new and delicious food specials daily
Work with servers on customer satisfaction in all aspects
Places all food, beverage and supply orders
0-5

years of experience
Financial Analysis and Planning: Managed portfolios worth total AUM of $30M and planned fund allocation in various financial instruments by analyzing expected performance in upcoming economic and market conditions
Relationship Management: Covered 15+ clients with investments of $2M+ each and grew average return of the portfolios by 10% over a quarter
Communication: Acquired 5 clients by designing and presenting customized proposal to prospective individuals with net-worth of $10M+
0-5

years of experience

Work with Executive Leadership team to plan programs locations, estimated attendance and dates for all programs 12 - 18 months out. Create and distribute RFPs for all Envision Programs.
Established and execute program expense tracking system to assist with forecasting, possible attrition management and pre-payment deposits.
Work closely with Marketing to establish program trends and site location selection for next program season.
Manage program transportation needs to include RFP's, price and contract negotiations budget management, and support for program teams during conferences.
Support internal program teams with problem solving, vendor management, and post-event reporting and summer staff training.
Established, planned, and executed the Inaugural Parent Program in conjuncture with the Presidential Inaugural Conference 2013.
0-5

years of experience
Conducted market research to understand the health of six fashion and accessories brands
Simplified profit-and-loss reporting process, reducing required throughput time by 75%
Overhauled training materials and researcher quizzes for seven mystery shop projects, significantly improving new mystery shopper efficiency
Streamlined tax obligation reporting, direct deposit, and personnel transitions by consolidating information from multiple locations
0-5

years of experience

Direct sales and profitability of high-image full service restaurant founded in 1971 and generating up to $6.5 million annual sales.
Extensive profit/loss experience in standardization of portions and implementation of labor cost controls, documents end-of-month, daily and weekly transactions; prepares weekly payroll.
Configured server station charts to assure high degree of cost-efficient customer service; focused on customer problem-identification and resolution
Hired service department executed training material according to company standards. Responsible for writing service schedules, orientation and, training.
0-5

years of experience

Drive executive compensation processes and programs and long-term incentive administration for global executive team of 12,000 employee, privately-held technology Company
Develop competitive offers for both internal and external executives. Redesigned process and built relationships with global HR teams allowing for a more efficient and collaborative experience
Lead equity and long-term incentive programs including preparation of materials for Compensation Committee
Supervise Long-Term Incentive Plan Administrator
Managed implementation of a new global annual incentive program for both executive and non-executives. Lead
Created education, training and communication materials for internal clients and participants of all long-term
0-5

years of experience

Manage a global QA team of 17+ members over two major verticals - Research, Sales and Trading and Corporate.
Responsible for hiring, resource management, capacity planning, process management.
Defining and maturing the Agile QA roadmap for manual and automated testing.
Tool evaluation and selection for enhancing and leveraging the existing test automation framework in Coded-UI/MTM and establishment of a new framework for AngularJS apps using Protractor/WebStorm.
Owner of overall people, process, and tools/technology for QA.
Member of the Senior Leadership Team in Raleigh.
Overall responsibility for heading the QA organization for RS&T and Corporate and maturing the QA processes towards a Center Of Excellence model.
Load More
Business Operations Cover Letter Examples
Create your own professional resume in just minutes.
Try our resume builder today
Build Your Resume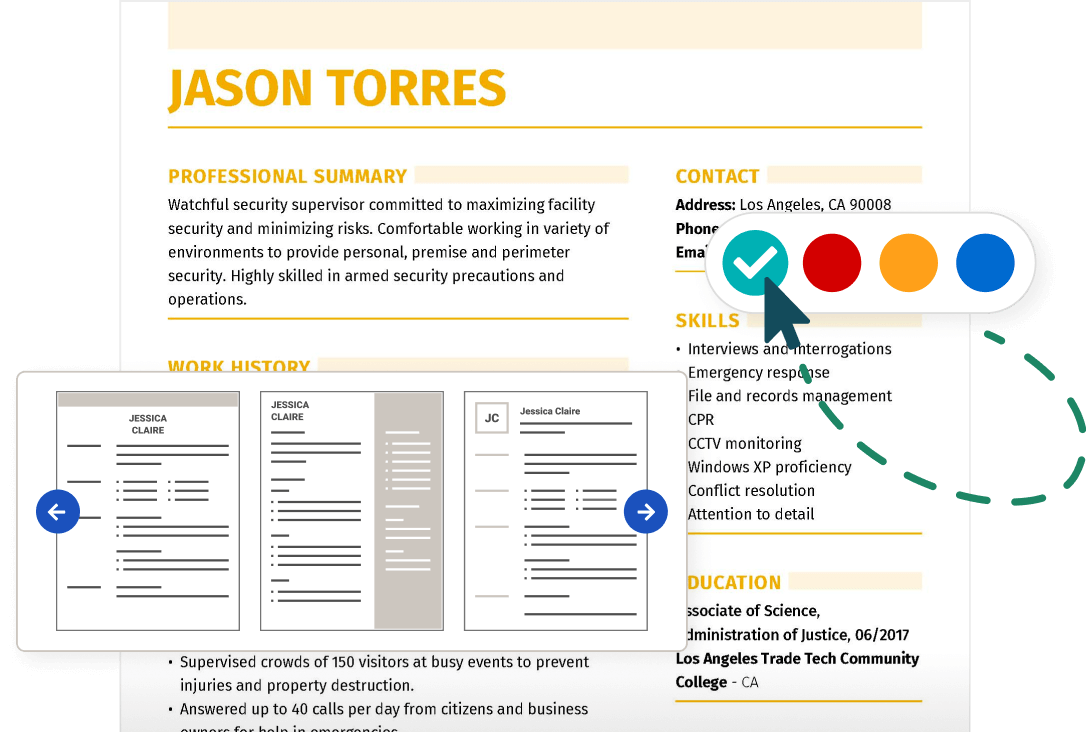 Senior Manager Resume FAQ
What is the difference between a manager and a senior manager?
When targeting your job hunt, it is imperative that you know the different levels of management.
A manager's responsibilities include overseeing employees to set team goals and hiring decisions. They are also responsible for getting the whole team together for meetings regularly to help prioritize tasks.
Whereas senior managers oversee and guide supervisors and managers in their roles. Their experience level is between five to 10 years and can provide valuable insight and strategic planning processes. Overall they bring innovation and create solutions.