Featured in:
More Shoe Sales Associate Resumes
Use these Shoe Sales Associate samples as a guideline or visit our extensive library of customizable resume templates.
Additional Sales Resume Samples
How to Format a Shoe Sales Associate Resume
You can format your sales associate resume in one of three formats: chronological, functional and hybrid. We usually advise using a hybrid or chronological resume for online resumes because they use these five recognized resume sections: contact info, resume summary, work history, skills and education. Candidate A has a steady work history with seven years of consistent jobs. Since they spend 16 months or more at each job, they can use either option to highlight their job loyalty and steady career growth.
Candidate B is a recent high school graduate with no formal sales experience. However, they have developed customer service and sales experience through fundraising efforts for their after-school clubs. A functional resume lets them highlight those skills and experiences without drawing attention to the informal scenario.
Chronological Resume
7

years in workforce

2

years at this job

HS

High School Diploma
Work Experience
Shoe Sales Associate, Foot Locker
January 2021 - now, Los Angeles, CA
Greeted customers upon entrance and regularly offered sizing and sampling assistance
Offered sizing suggestions based on brand and product knowledge
Prevented shrink with attentive customer service on the floor, deterring theft
Functional Resume
2

years in workforce

1

months in current job

HS

High School Diploma

Professional Skills

Customer Service

Greet all potential customers as they approached the club's sales booth.
Suggested baked goods based on dietary restrictions such as allergies and food sensitivities
Prepped and distributed free samples.

Cashier

Processed sales transactions via cash and mobile card swipes.
Quickly and accurately distributed change for cash transactions.
Added daily profits and securely delivered to Key Club's supervising teacher
Shoe Sales Associate Resume Samples
No results found
0-5

years of experience

Top twenty sales people in women's shoes (mainstream, high in designer, and brass plum).
Conducted personal shopping for clients in need of apparel, shoes, and accessories.
Maintained top twenty ranking in sales in the women's shoe department since November 2011.
Provided elite customer service to all patrons while meeting annual quota at 100%.
Established professional relationships to gain clientele.
Completed weekly stock and inventory assignments; answered phones to execute orders.
Established 72 [company name] credit card accounts for clients through the fashion rewards program.
6-10

years of experience

Leading male sales associate of men's and women's shoes.
Supported the shoe department in exceeding planned sales by providing exemplary customer service.
Maintain a client contact book to inform customers of sales and promotions.
Exceeded in-store credit goals and sales goals in FY 2009.
Work closely with manager in developing affective rules and guidelines to enable an efficient workflow.
0-5

years of experience
Aided in Stock Room Management, cataloged missing sample reports and shipment of products
Organized and designed displays for the floor of the department to attract customers
Assisted customers in deciding purchases, sizes, shoe types and vendors
Executed and operated proper transaction procedures per purchase
0-5

years of experience

Provide excellent customer service with product knowledge, making a connection and building a strong cliental.
Exceed daily and weekly sales goal both personally and team.
Multitask efficiently by making the customers needs come first, while keeping the flow of the stockroom running smoothly.
Set weekly sales and perform daily shoe audits ensuring all products are displayed.
Detailed oriented, checking scheduling issues, aware of current and upcoming sale promotions.
Organized, able to predict stock and display issues and come up with a plan.
Reliable with an excellent attendance record.
0-5

years of experience

Communicated clear expectations and goals to each associate
Maintained constant cooperation and communication with managers
Operated cash register for cash, check, and credit card transactions with 100% accuracy
Resolved all customer complaints in a professional manner in accordance with company policies while prioritizing customer satisfaction
6-10

years of experience

Discovered customer needs and appropriately suggests product with every customer to enhance service and meet sales goals.
Greet customers in a timely, professional and engaging manner.
Presented oneself professionally and demonstrates clear communication with all customers and coworkers.
Contributed to store goals for increasing sales and improving profits.
Maintain an active awareness of the merchandise available in the department and store, be able to direct customers as needed.
0-5

years of experience
Brought shoes from stock room at costumers' request
Organized stock room by brand and size
Answered the phone and took any and all orders for shoes for store pickup
Made online orders at the request of the costumer
Manned the cash register, including readying at open and closing at night
Assisted the costumer in any and all needs and questions, and provided input and personal experience if asked for input
0-5

years of experience

Accomplished "Pacesetter" Award recipient in 12' & 13' for annual sales exceeding $300,000.
Mastered Point of Sale System (P.O.S.), used for inventory and purchase transactions.
Skills in Management Information System (M.I.S.)
Worked 28-32 hours/week during school year while maintaining full course load
0-5

years of experience

Selling popular shoes to both men and women.
Open and close the registers with knowledge of using the computer and printers correctly.
Knowledge of the shoe types and comfort levels.
Always trying to upgrade the sale with more products.
Trained in credit sales and one of the top credit sales associates in the store.
0-5

years of experience
Greeted customers entering the store to ascertain what each customer wanted or needed.
Recommended, selected and helped locate and obtain out-of-stock product based on customer requests.
Answered questions regarding store and products, while maintaining knowledge of current sales and store promotions.
Conducted weekly walkthroughs with the General Manager to discuss all interior visual displays including store window presentation
Maintained cleanliness and presentation of stock room and production floor.
Received multiple reviews acknowledging my level of dedication to excellent customer service.
Organized store merchandise racks by size, style and color to promote visually appealing environment.
Trained new employees by providing knowledge of specific store tasks and policies.
Increased territory sales by surpassing monthly goal of $200K.
Worked under strict deadlines and responded to service requests and emergency call-outs.
0-5

years of experience

Received and processed cash and credit payments for in-store purchases.
Opened and closed the store, including counting cash, opening and closing cash registers.
Placed special merchandise orders for customers.
Sharing product knowledge with customers and making personal recommendations.
Maintained friendly and professional customer interactions.
Verified that all merchandising standards were maintained on a daily basis.
Kept stock room and inventory organized and up to date.
0-5

years of experience

Answer customers' questions about merchandise and advise customers on merchandise selection.
Take inventory or examine merchandise to identify items to be reordered or replenished.
Pack customer purchases in bags or cartons.
Stock shelves, racks, cases, bins, and tables with new or transferred merchandise.
Clean display cases, shelves, and aisles.
Receive, open, unpack and issue sales floor merchandise.
Stamp, attach, or change price tags on merchandise, referring to price list.
0-5

years of experience
Assisted customers on a daily basis and recommended purchases in order to further the department.
Knowledge and experience handling currency throughout the day and using the POS system.
Maintained displays and stockroom upkeep throughout the seasons.
Worked in high pressure situations such as black Friday and back to school shopping.
Convince customers to sign up for store credit card and walk them through the process of registering.
Opened and closed department on a regular basis.
6-10

years of experience

Assist in the execution of merchandising and operational functions to company standards
Complete price changes, ISC memos, callbacks, transfers, and other paperwork
Work independently to meet presentation and recovery expectations
Greet and offer assistance to customers as needed
Process customers' purchases accurately and efficiently
0-5

years of experience
Communicated with various clients via phone as well as in person to sell men shoes
Achieved daily goals by completing numerous tasks given by management
Follow through with informing customers with the status of orders
0-5

years of experience

Responsible for interacting and communicating with customers on phone or in person to determine and meet their merchandise requirements
Handling the task of coordinating with customer in selecting their wardrobe, which involves a wide range of patterns and colors
Handling cash as well as processing payments through credit cards
Responsible for responding to customer queries and update latest upcoming dress to customers
Perform the tasks of entering name and phone numbers of potential customers for future reference
Handling other essential tasks like merchandising, housekeeping and stocking
0-5

years of experience

Handle sales transactions and returns (involving cash, check and credit cards)
Open and close the shoe department
Provide customer service and product information to every customer (received awards for excellent customer service)
Answer the telephone, transfer phone calls to other departments, as appropriate, and facilitate purchases from other store locations
Keep the shoe sales floor and stock room neat and organized
Promote in-store credit opportunities and work towards set sales quotas (I hit my sales quota regularly)
0-5

years of experience
Greeted customers and determined their needs and wants.
Recommended merchandise based on individual requirements.
Answered customers' queries and concerns.
Quoted prices and discounts as well as credit terms, trade-in allowances, warranties and delivery dates.
Assisted in display of merchandise.
Prepared sales contracts and accepted payment through cash, checks and credit card.
0-5

years of experience
Greeted customers and determined their needs and wants
Recommended merchandise based on individual requirements
Explained the use and advantage of merchandise to customers
Answered customers' queries and concerns
0-5

years of experience

Greet customers and ascertain what each customer wants or needs.
Answer questions regarding the store and its merchandise.
Recommend, select, and help locate or obtain merchandise based on customer needs and desires.
Place special orders or call other stores to find desired items.
Clean shelves, counters, and tables.
Help customers try on or fit merchandise.
0-5

years of experience
Completed the setting of sales prior to sale events
Processed transactions in a timely manner
Assisted customers (in person/over the phone)
Assisted customers with completing Macy's card transactions
0-5

years of experience
Sell footwear products to customers such as shoes, shoelaces, and insoles
Organize shoes into styles, sizes, and colors
Order shoes that are not in stock for customers
Straighten up the department and execute closing tasks
0-5

years of experience
Hired as Seasonal/Holiday Sales Associate
Greeted customers and determined their needs and wants
Provided superior customer service to ensure customers have a pleasant shopping experience
Recommended merchandise based on the individual's requirements
Managed store financials through cash register responsibilities
Performed customer shoe returns and exchanges
0-5

years of experience
Organized teams, tasks, and projects in order to get the team's work done in the most efficient and effective manner
Provided superior administrative support while assisting all customers
Received payment by cash, check, credit cards, vouchers, and automatic debits
Issued receipts, refunds, credits, and change due to customers
Completed projects and tasks of great quality quickly
Completed phone orders with great customer service
0-5

years of experience
Successfully assist up to 75 customers a shift in finding shoes and explain deals that are offered for the week
Bring 5 - 20 boxes of back stock shoes and shoe accessories to sales for to be stocked
Arrange and straighten shoes according to style, brand and size
0-5

years of experience
Use selling techniques to reach personal selling goal.
Assist customers in finding what they need.
Maintain the shoe department visual presentation.
Scan shoes for sale changes.
Run cash register and provide quality customer service.
Load More
Shoe Sales Associate Duties and Responsibilities
Shoe sales associates perform various daily duties based on the hiring company and the types of footwear being sold. These core job tasks, however, are common in all retail environments:
Greet Customers Shoe sales associates greet customers when they enter the store and monitor them in case they need assistance finding items they want.
Assist Customers Shoe sales associates retrieve shoes from shelves and inventory areas for customers, measure customers' feet, and advise them on the type of shoes they should buy. They also operate the cash register to collect payment from customers.
Manage Inventory Shoe sales associates unload, unpack, and store inventory items. They also learn about merchandise in order to answer customer questions and speak knowledgeably about products.
Prepare the Store Shoe sales associates assist in closing the store and preparing the sales floor for customers, which can include designing and setting up sales displays. They also sweep, straighten shelves, and wipe down displays and work areas to keep the inventory and sales floor areas clean and organized.
Shoe Sales Associate Skills and Qualifications
Shoe sales associates use customer service and sales skills to connect with customers and persuade them to buy products. Employers prefer shoe sales associates with the following skills:
Customer service - shoe sales associates use customer service skills to greet customers, show them various products for sale, help them find what they want, answer their questions, and address their concerns and problems professionally
Salesmanship - selling skills are essential for a shoe sales associate, whose job depends on their ability to move products out of the store and into customer hands
Measuring - shoe sales associates use a Brannock foot-measuring device or a similar item to determine customer shoe sizes, which requires an understanding of measurements and measuring tools
Multitasking - because shoe sales associates may wait on many customers at once, multitasking abilities are highly desired by employers
Attention to detail - shoe sales associates maintain inventory and sales displays, and also keep all areas of the store clean and presentable, which requires strong attention to detail
Math skills - shoe sales associates collect payment for items, so they need some math skills to perform this task
Problem-solving skills - shoe sales associates use problem-solving abilities to appease dissatisfied customers and find suitable alternatives when items customers want are unavailable
Computer skills - many retail stores use point of sale systems and digital cash registers, which requires shoe sales associates to have at least basic computer skills
Shoe Sales Associate Education and Training
No special education or training is necessary to get hired as a shoe sales associate. However, potential employees with previous retail experience are attractive to hiring companies. This is an entry-level job, so employers provide training to new shoe sales associates. This training period varies by company but is usually no more than two weeks. During this time, shoe sales associates work closely with a more experienced associate or an
assistant manager
. The new shoe sales associate primarily observes day-to-day job tasks and customer interactions until the trainer allows them to perform hands-on tasks while under supervision.
Shoe Sales Associate Salary and Outlook
Information from the Bureau of Labor Statistics shows that retail sales workers of all types earn a median income of $22,900 annually and $11.01 hourly. The retail sales workers group includes shoe sales associates. There were almost 5 million jobs for retail sales workers in 2016, a number projected to rise 2 percent through 2026. This is slower than the national average job growth rate. In addition to a regular hourly salary, some employers provide shoe sales associates with sales commissions. Monetary bonuses may also be rewarded to shoe sales associates who meet or exceed sales goals. Commonly, retail stores will provide employees with discounts on in-store merchandise. Other benefits, such as health insurance, are not typically provided. Full-time shoe sales associates may receive basic healthcare packages from some employers, but many employers do not offer this.
Helpful Resources
Learn strategies for successful selling, find events and job opportunities, and discover tips for shoe sales associates with these resources:
National Shoe Retailers Association - this website has an events calendar full of upcoming footwear industry events. Webinars, product and service guides, and regular conferences provide shoe sales associates and other footwear professionals with tips, tricks, and helpful information
No Thanks, I'm Just Looking: Sales Techniques for Turning Shoppers into Buyers - find practical tips and strategies for successful selling in this book, which offers proven sales techniques for all professionals in the retail industry
URSA: The Association for the Footwear Industry - this website is designed for all professionals who work with footwear in any capacity. This site has news updates, trade show information, and dates for upcoming networking events
Sell Something: Principles and Perspectives for Engaged Retail Salespeople - multiple selling techniques and strategies are covered in this book, which provides tips for greeting customers, using body language, selling with humor, and other methods
The Sales Association - this website has a job board, information about certification programs, frequent news updates, and a calendar of webinar events featuring tips and tricks for sales professionals in all industries
Sales Cover Letter Examples
Create your own professional resume in just minutes.
Try our resume builder today
Build Your Resume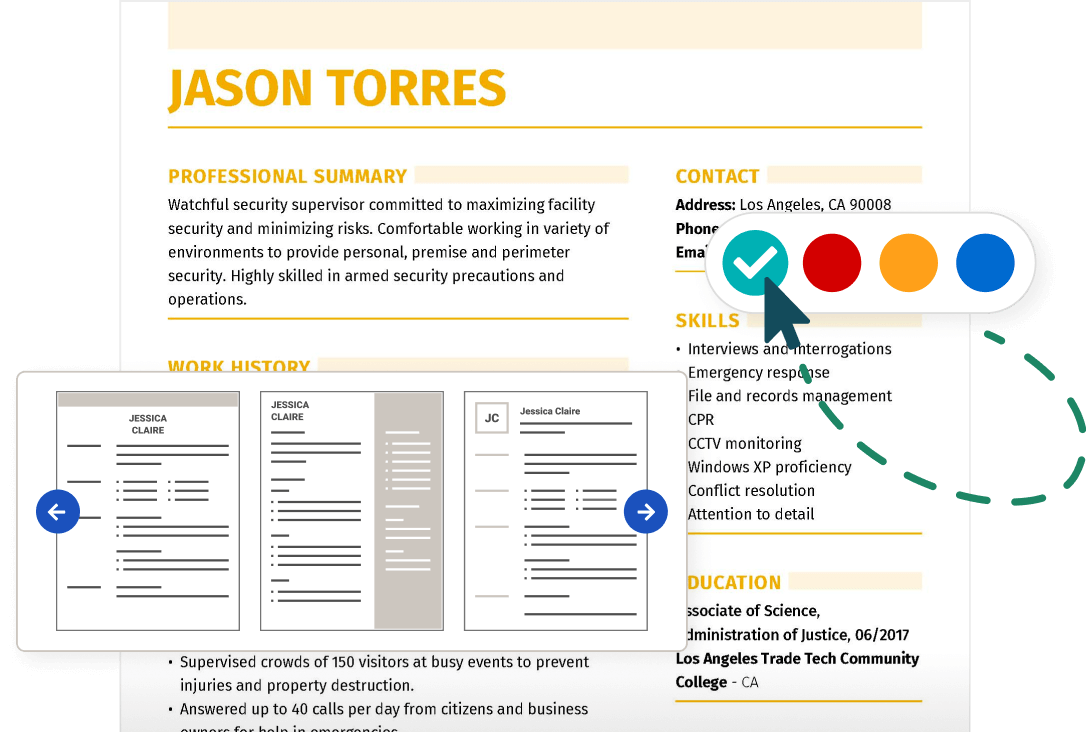 Shoe Sales Associate Resume FAQ
How do you put seasonal shoe sales associates on your resume?
The holidays and end-of-the-year sales bring forth several short-term job opportunities. Here's how to put seasonal shoe sales associates on your resume:
Use the term "seasonal" or "holiday" in the job title. Hiring managers can hesitate to hire someone with less than a year at a job, but seasonal work is short-term. You can help explain your temporary employment with a previous employer by specifying that you were hired for seasonal sales.
Highlight transferable skills. Whether you are looking for another seasonal retail job, a full-time sales job or a different field, your transferable skills, such as excellent customer service, attention to detail and critical thinking skills, can make you an invaluable job candidate.
Prioritize your flexible schedule. Include your availability under your resume summary. Many store managers are looking for people to work specific hours or days — knowing your schedule can help them plan and solve their staffing needs.
How do you put shoe sales on a resume?
How you describe your experience in shoe sales depends on the job you're applying for. If you're applying for another job in retail or sales, you'll focus on customer service, cash handling, product knowledge and a flexible work schedule.
Suppose you're applying for a job outside of these related industries. In that case, focus on transferable skills, or skills you can use across multiple professional and personal settings. Use this master list of the most commonly requested resume skills to help you get started.
What are the duties of a sales associate?
The duties of a sales associate will vary depending on the size of the store and staff. Most sales associates should be able to:
Greet and assist customers
Familiarize yourself with rotating products
Advise customers and staff on fit and sizing
Maintain the sales floor and products
Promote additional items
Organize inventory