Featured in:
More Solar Engineer Resumes
Use these Solar Engineer samples as a guideline or visit our extensive library of customizable resume templates.
Additional Energy Resume Samples
How to Format a Solar Engineer Resume
A solar engineer is highly trained and specialty-focused: You can format your resume to focus on work experience or technical skills and training. If you're interested in the first approach, use a timeline-driven resume format like the chronological or hybrid resume. Use a chronological format if you have over 10 years of experience or want to highlight multiple job promotions.
Candidate A has six years of experience, so we recommend the hybrid format. This format features the same sections as a chronological resume and features a detailed work history section that lets you demonstrate your gradual career growth and accomplishments. However, it places a brief skills section above your work history so you can demonstrate specialized skills such as industrial solar installations, innovative design contributions or leadership training.
We usually recommend a skills-based approach (the functional resume) if you have less than three years of experience, recently changed careers, or held multiple short-term jobs. However, this skills-focused resume can work well for an experienced or highly trained solar engineer such as Candidate B. Candidate B has five years of experience and could use the hybrid format, like Candidate A, but uses a functional resume to highlight their overall layout, planning and solar engineering skills rather than focus on previous jobs. This allows them to carefully list various impressive and specialized engineering skills.
Hybrid Resume
6

years of experience

2

years at this job

BS

Engineering
Work History
Solar Engineer, Psolar Psity LLC
January 2021 - present, Tucson, AZ
Responsible for the solar PV electrical engineering design work on assigned projects under the guidance of senior staff.
Support projects through a complete life cycle, including the feasibility phase, preliminary and detailed design, issue-for-bid, construction, start-up and commissioning.
Gather and correlate basic engineering data using established and well-defined procedures.
Functional Resume
5

years of experience

2

years at this job

MS

Engineering
Professional Skills
Solar System Design
Solar PV system design, including array layouts, DC string sizing, equipment layouts and utility interconnections.
Design fixed tilt and single-axis tracking installation layouts.
Specialize in rooftop, carport and ground-mounted installations.
Solar Engineering
Develop solar construction and equipment specifications.
Engineer calculations related to NEC maximum system voltage, conductor sizing, overcurrent protection sizing, utility disconnect requirements, voltage drop and conduit sizing.
Familiar with DC and low to medium-voltage power distribution design.
Solar Engineer Resume Samples
No results found
0-5

years of experience

Performed complete electrical design of PV system and produced one-line, three-line electrical and 'as-builts'
Designed and installed customized Solar PV data acquisition systems including weather station
Conceptualized, designed and installed an in-house electric vehicle charging system at NYIT Campus
Visited sites to measure roof dimensions, obstacles location & performed shading analysis using Solmetric SunEye
Prepared accurate and detailed mechanical and electrical drawing sets for system installation
0-5

years of experience

Completed design on a handful of jobs for east Coast Client
Coordinated all required engineering for permitting of Canopy and ground Mount Jobs
Complete Design of Rooftop/Canopy Distributed Generation PV Systems
Detailed system performance Analysis performed using PV Syst.
Developed full Electrical plan sets for permitting and construction
Perform utility rate analysis scenarios for potential energy and cost savings
Designed battery backup power "microgrid" solution for retail customer
0-5

years of experience

Key Accomplishments
Managed a project to automate the Photovoltaic system design process
Developed computer aided design templates and procedures to automate permit creation for solar
Programmed in AutoCAD and SketchUp to provide iterative analysis of solar needs.
Trained experienced team members on the new software and systems.
Created and tested a new training protocol for recently hired employees
0-5

years of experience

Performed site visits to analyze and identify site solar potential, and use metrics obtained to configure photovoltaic ground mount, roof-top systems, and parking structures
Created or approved accurate energy model of entire plant in PVSYST. Calculated expected solar energy production
Shading analysis using AutoCAD 2D/3D, and Google SketchUp
Designed system specifications to adhere to NEC or to CSA
Developed single-lines, layouts, equipment specifications, cabling, conduit, and panel schedules
Performed voltage-drop calculations, short-circuit calculations and cable studies using CYMCAP and ETAP
Computed accurate takeoffs and prepared the data for inventory analysis, pricing and procurement
Estimated full EPC cost via detailed cost-matrix and local procurement relationships
Prepared, submitted and tracked through approval of solar PV system proposals, plans and drawings to clients and contractors, building permit departments and associated government organizations
Presentation of the engineering component of the proposal on high-level meetings and conferences
0-5

years of experience
Evaluated and tested photovoltaic (PV) modules as preparation before installations in industrial locations.
Prepared blueprints, technical drawings and outlining specifications of electrical power systems and large scale solar power electronics.
Assured that project designs and installations met all the relevant safety regulations, as well as the clients' requirements, while constructing standard operation procedures.
Developed design specifications and functional requirements for residential, commercial, and industrial solar energy systems and components.
Provided support to installation teams and assisted in the technical procedures during installation while monitoring performance.
0-5

years of experience

Project work included site surveys, quote generation, and working with other engineers in system design.
Performed system design to meet criteria such as string sizing, inverter capabilities, single line diagrams, city permit plans, and system maintenance with extensive use of NEC book to meet regulations.
Created Bill of Material generator utilizing Visual Basic language
Designed system plans and layouts utilizing AutoCAD
0-5

years of experience

Project work included site surveys, quote generation, and working with other engineers in system design.
Performed system design to meet criteria such as string sizing, inverter capabilities, single line diagrams, city permit plans, and system maintenance with extensive use of NEC book to meet regulations.
Created Bill of Material generator utilizing Visual Basic language
Designed system plans and layouts utilizing AutoCAD
0-5

years of experience
Designed Photovoltaic solar systems for residential and commercial customers in Massachusetts and Connecticut. This includes detailed array layouts and one-line schematics.
Filed interconnection applications with utilities in Massachusetts and Connecticut.
Performed troubleshooting using monitoring systems to determine health of PV installations. Worked with customers to suggest diagnostic strategies.
Surveyed and evaluated potential solar sites to examine shading, obstructions, and electrical service.
Reviewed project installation photos for quality control and provided feedback to installers in order to ensure efficient and code-compliant installations.
Researched products and established relationships with vendors.
Developed proposals that included preliminary design, cash-flow analysis, incentives information, and cost of the project.
Managed installation crews for a project that involved delineating tasks, scheduling, recording inventory, and following up with team members.
Distributed door knob pamphlets in Massachusetts neighborhoods to generate leads.
Created an excel-based database to keep log of installers' regular and overtime hours.
0-5

years of experience

Lead engineer of long-term solar resource and energy production forecasts suitable for financing, which includes analyzing solar and other climatic data, photovoltaic (PV) plant modeling, and statistical uncertainty analyses for active solar developers within the U.S.
Present technical results to non-technical audience through reports, phone conferences, webinars, and physical meetings.
Provide engineering consulting support to U.S. solar developers to ensure project bankability and to verify that the PV plant is designed for optimal energy yield.
Analyze operating solar plant data to identify any underperformance issues for solar PV plant owners.
Work directly with Senior VP of the Energy group to design and execute analyses aimed at improving pre-construction models and methodologies for energy production forecasting using actual operational data.
0-5

years of experience
Interpret field-gathered data to CAD in order to create architectural solar layouts for AHJ permitting submittal and installation.
Serve as point of contact between subcontractors/vendors and engineering team/project management team in order to track inventory and budget.
Engineer technical drawings and building permit applications per NEC, CBC, CEC, municipality, and company requirements.
Collaborate with sales consultants and site technicians to facilitate effective communication from point of contact with the customer up until interconnection with PG&E, SC&E, SDG&E or LADWP.
Update CAD templates and Excel spreadsheets in order to reflect the most up to date equipment and company revisions.
Manage the site survey process in the 3 largest divisions in order to reduce re-site surveys and increase turn around time.
Recently placed in charge of training site technicians and engineers in our newest division.
0-5

years of experience

Inspect structural integrity of residential buildings to ensure effective solar panel installation
Create scale diagrams of residential roofs for solar PV design
Measure and document potential array locations/obstacles
Plan and install rooftop PV arrays
Wire and ensure electrical integrity of system
Ensure quality of previously installed systems
Troubleshoot, diagnose, and repair malfunctioning systems
Responsible for keeping record of all site visits and surveys, as well as communicating with coordinators
Conduct Energy Audits with customers prior to installation
Design and edit electrical "3-line" diagrams on AutoCad
0-5

years of experience
Oversaw new product development
Sized, designed, and installed several solar hot water systems in commercial buildings and homes.
Oversaw production and assembly of products
years of experience
Develop automation and data acquisition software for R&D in solar cells/module testing
Software development for testing & analysis of on-sun module performance
Improved software efficiency and reliability using OOD and multithreading techniques
Perform multiple tasks concurrently, software development, reliability testing, data analysis
0-5

years of experience
Experiments in order to develop a novel condensation solution for keeping the solar panels free from moisture.
Designed a data acquisition system to get continuous data from solar trackers.
I-V measurements on the solar cells and receiver testing.
0-5

years of experience

Design and CAD drafting of photovoltaic systems
Conducting calculations
Residential and commercial PV Design Package check and review
Communicating project timelines and deadlines to team
Putting design packages together, sending emails and managing customer communications
Helping to maintain customer satisfaction
0-5

years of experience

Responsible for the design of residential solar installations
Immense attention to detail
Trusted with a company truck
Great deal of responsibility and honesty
Load More
Energy Cover Letter Examples
Create your own professional resume in just minutes.
Try our resume builder today
Build Your Resume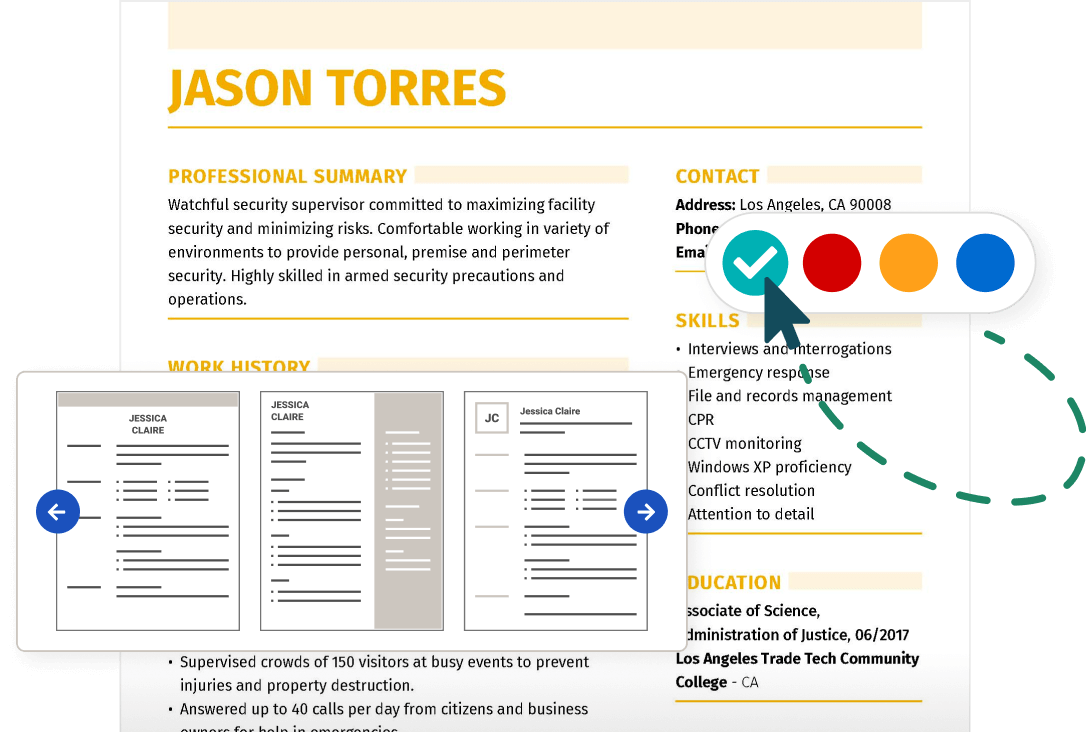 Solar Engineer Resume FAQ
What skills do solar engineers need?
A solar engineer may use the following hard and technical skills during their career:
Electrical engineering
Construction
Building site management
Local building regulations
Renewable energy
System design
Site surveying
Solar PV (photovoltaic) knowledge
Knowledge of design software like AutoCAD, Rhino or 3DS Max
Your solar engineering resume and career can also benefit from strong social skills. Written and verbal communication can help you explain and defend complex designs to clients and colleagues or collaboration skills can help you run construction sites. You can find our master list of the most requested soft resume skills here.
What should I put on my solar engineering resume?
For chronological and hybrid formats, your solar engineering resume will include the following mandatory sections; contact information, resume summary or objective, work history, skills and education. You can optimize your resume by following these tailored tips or visiting our resume writing guide for additional sample sections.
Contact information: Place your full legal name and professional email address, phone number and relevant pages such as a professional website, online portfolio or LinkedIn.
Resume objective or summary: Capture a hiring manager's attention in the first seven seconds of their review with an impactful introduction. Choose one core accomplishment related to the job posting, such as overseeing the $3 million installation of solar panels with minimal delays or inflated costs, to catch their eye.
Work experience: List your previous job titles, employer, dates of employment and city. Include three to four bullet points of responsibilities or achievements related to each job to help hiring managers measure your qualifications.
Skills: Mention six to eight unique skills not mentioned in the previous sections. These entries can be related to specialized engineering knowledge or crucial collaboration skills.
Education and certification: List your degrees and certifications from the most recent. Include the date issued and the name and address of the institution.
Visit our resume examples to study how job seekers demonstrate multiple skills across these three resume sections.