Featured in:
More Freight Forwarder Resumes
Use these Freight Forwarder samples as a guideline or visit our extensive library of customizable resume templates.
Additional Logistics Resume Samples
How to Format a Freight Forwarder Resume
You can format your freight forwarder resume in one of three formats. We strongly recommend using a chronological or combination resume format. These two resumes use section headings easily recognized by human hiring managers and digital applicant tracking systems (ATS). Candidate A, for example, uses a combination resume to describe their previous jobs and prioritize a short skills list near the upper part of the page.
Since Candidate B has less than three years of experience with one job, on the other hand, their application could benefit from using a functional resume. This skills-based resume lets them create multiple sections dedicated to shipping skills like importing and exporting knowledge, client management and contract negotiations.
Combination Resume
7

years of experience

2

years at this job

HS

High School Diploma
Work History
Freight Forwarder, Port of Long Beach
April 2021 - now, Long Beach, CA
Review and process shipment transactions for four main accounts, including all related activities. Each client holds an annual value of $3 million.
Provide proactive and timely customer service for each internal and external account stakeholder through detailed profiles and procedures that properly represent import and export processes.
Receive, review and process high-volume and complex import/export transactions for major accounts, including booking, billing, classifications and processing data.
Functional Resume
3

years of experience

3

years at this job

HS

High School Diploma
Professional Skills
Import/Export Knowledge
Three years experience in Ocean Import logistics.
Two years of Ocean Export experience.
Familiarity with domestic and international geography, primarily with Atlantic trade routes.
Customer Service
Process high-volume and complex import/export transactions for major account clients.
Extreme attention to detail, including predicting and circumventing issues before they occur and taking the proper corrective action.
Careful account management of three key accounts and their related stakeholders.
Freight Forwarder Resume Samples
No results found
0-5

years of experience

Reviewed the environmental records of freight carriers to inform shipping decisions.
Calculated weight, volume, or cost of goods to be moved.
Recommended shipping solutions to minimize cost or environmental impacts.
Selected shipment routes, based on nature of goods shipped, transit times, or security needs.
Determined efficient and cost-effective methods of moving goods from one location to another.
Reserved necessary space on ships, aircraft, trains, or trucks.
0-5

years of experience

Duties were in support of Commercial Customer Production Supply Support and Product Shipment
Scheduled International and Domestic Shipments
Provided Export clearance for shipments based on country requirements
Provided Customer transportation quotes
Provided tracking results to customers
Selected as local operations Shipping Quote Coordinator and have since increased quote acceptance ratio by 15% by implementing a customer follow up procedure. Presently attend monthly meetings with the sales team to help identify areas of improvement between sales and the customer to increase revenue and shipment count.
Records retention coordinator
Selected as Outstanding Employee of the Third Quarter
0-5

years of experience
Planned routes and load scheduling for multi-drop deliveries.
Booked deliveries and liaising with customers.
Allocated and recorded resources and movements on the transport planning system.
Ensured all partners in the supply chain are working effectively and efficiently to ensure smooth operations.
Communicated effectively with clients and responding to their requirements.
Booked sub-contractors and ensuring they deliver within agreed terms.
0-5

years of experience

Responsible for end to end management of clients' international shipping including rate auditing, carrier mediations and troubleshooting
Responsible for control of data management for all of the customer profiles for our client Ingredion
Manage all client shipments which includes providing additional logistics support at the interface between the trucking company and the carrier to ensure no shipments miss the port cut or are rejected because of inaccurate information, resulting in the fastest possible transit time and no demurrage ensuring the lowest cost
Actively manage booking updates and bill of ladings with carriers and customers to ensure they are accurately updated to eliminate any potential customs issues
Utilize the Automated Export System audit process in coordination with customers' financial compliance department that reduced corrections from more than 50 a month to virtually zero in the last six months
0-5

years of experience

Creating international shipping documentation and dispatching/receiving cargo from the terminal to the final destination
Running Air export operations mainly to Latin America, Europe, China and Australia, conducting Ocean Import operations to USA.
Familiar with Transgroup internal operations program as well as MS Office programs
Collaborating with custom brokers, composing invoices, checks, collecting payments from related parties
Communicating directly with Shippers and Consignees, Warehouse manager and keeping the record of the inventory
Work well and get along with others in a diverse work environment of both clients and business associates, ensuring the highest quality of services possible.
10+

years of experience

Management and growth of territory producing $20 million annually comprised of all Freight Forwarders in Orlando, Tampa and Miami.
Responsible for sales of all FedEx Domestic and International products including Express, Ground and Freight.
Face to face sales visits.
Increase loadfactors on international flights.
Implementation of discounts.
Work on resolution of problem shipments, invoicing issues and collection of funds from past due accounts.
0-5

years of experience

Organizing collection, delivery, booking, export documentation and insurance for international air and ocean shipments.
Arrange collection and delivery for domestic trucking moves.
Coordinated with agents overseas to ensure timely Customs Clearance and delivery for shipments at destination.
Ensure proper packing requirements and documentation is met for Hazardous air shipments.
Assisted with air and ocean import Customs filing and tracking prior to USA arrival.
Accurate quoting and timely billing of shipments.
Negotiate with service providers regarding most economical transportation costs.
0-5

years of experience

Manage and monitor day-to-day aspects of bookings, shipping, tracking, tracing and billing for both import and export ocean shipments to meet customer needs.
Prepare needed documents for customs clearance. Ocean/house bill of lading, AES/ISF filing, certificate of origin, packing list and commercial invoice. Documents against Letters of Credit.
Arrange/coordinate trucking pick-ups and delivery appointments with ability to affect cost effective transportation solutions.
Communicate service issues to client and management with ability to resolve and follow through.
Manage and maintain ownership of assigned client accounts.
Able to assist in all other areas of operations as directed by management.
Customer service skills including the ability to recognize the needs of clients along with problem solving
0-5

years of experience

Working with sales, freight forwarders, businesses, Express small package, Ground packages. Heavy Weight Express Freight, international 023 airport to airport services & consulting on dangerous goods shipments. [company name] LTL Truck Freight, scheduling pickups, determining sizes of pallets for trucks, communication with stations and dispatch.
LTL billing and imaging letters of authority.
Assisting customers with billing disputes and opening accounts
Working volume services, re-consignment forms, bill of lading forms etc
Maintaining rules, regulations, dimensions, and restrictions internationally.
LTL Truck Freight Tariff rules. N.M.F.C codes & classes.
0-5

years of experience

Responsible for correct AES, Federal Customs and Trade Regulations filings.
Expedited international shipments dealing with shipping lines MSC, Evergreen, Hapag-Lloyd, etc., to India, China, South America, and Italy.
Coordinated freight shipments from many of the world's largest paper exporters.
Responsible for timely and accurate expediting of freight.
0-5

years of experience

Freight Forwarder
Sales and correspondences with clients and partners.
Surveyed volume estimates for both sea and air freights
Provided price quotes
Booking sea and air freights.
Assisted with Australian Quarantine Inspection Service
Loading / unloading containers, delivery, packing, and warehouse handling.
0-5

years of experience
Created invoices and credit memos, email or mail to the correct department and kept track of sent invoices.
Negotiated and analyzed pricing with agents abroad, airlines, and ocean liners, in order to achieve competitive pricing & exceed targeted profits.
Prepare and review international invoices: calculate correct exchange rate, review credits & debits; confirm appropriate payment time for our international vendors.
Match quoted prices to actual invoiced prices and research any discrepancies.
Prepared weekly invoice posting list to ensure end of month totals matched our goals
Arranged payments of landing fees, terminal service fees, VAT, and duties & taxes; create proper
Tracked shipments worldwide to guarantee estimated time of arrival - investigate delays.
Kept communication internally with management and externally with clients, and relay
0-5

years of experience
Tracked and traced shipping orders
Updated orders in company system
Opened new shipments and finalized
Prepared necessary documents for shipping lines, US customs and delivery.
Created tracking sheets
Billed and invoiced all agents and customers involved
0-5

years of experience
Oversee the day to day operations of three major accounts
Select shipping routes, based on nature of goods shipped, transit times, or security needs
Determine efficient and cost-effective methods of moving goods from one location to another
Reserve necessary space on ships, aircrafts, trains, or trucks
Coordinate business operations through superior customer service
0-5

years of experience

Prepare appropriate ocean shipping documentation, letters of instruction, bill of ladings, delivery orders, commercial invoices, packing lists, Certificates of origin etc. as well as tracking of shipments.
Prepare and oversee pick up and deliveries of cargo per customer's request.
Coordinate inland trucking, consolidations, and identify marine insurance requirements.
Maintain management and overseas offices informed on a regular basis, alerting management of business opportunities, problems /issues.
Analyze customer's ocean and inland rates and negotiate with carriers to define/secure the most cost effective rate structure for the Global transportation of their cargoes.
Serve as the Liaison with Customer and Ocean Carriers in contract negotiations and protect the customers shipping interests.
Integral role in operations to assist in moving freight for a wide variety of customers in the US. Fast paced and high volume shipping on a daily basis.
Set up and coordinate the shipments with follow-up & follow-through that continues to improve organization, efficiency, customer satisfaction & company profit.
Reports of business transactions including weekly activity reports, weekly pre-plans and monthly expense reports. Also month-end recap of revenues for each file/account.
Self-motivated with the ability to handle multiple, competing priorities, meet deadlines, manage risk, and deal with problems.
0-5

years of experience

Coordinate Air and Ocean exports and imports
Prepare Arrival Notice and work along with custom brokers to attain clearance
Utilize the Automated Export System for filing shipper export declaration information
Handle Billing entries
Update clients and investigated potential queries they may have
0-5

years of experience

Track and Trace freight for Bosch and BMW
Managed emails from customers
Processed air freight shipments for Bosch
Heavy use of Excel, Microsoft Outlook, Exworks, EDI, BAMS, and CHB
0-5

years of experience
Took responsibility for buses abroad: searched for loading in auctions, made sure deliveries are on-time
Contacted other transport logistic companies within the country and abroad
Prepared transport offers
Obtained new clients
Build and improved customer relations
Used Freight Exchange programs such as Trans.eu and Timocom
0-5

years of experience

Review documentation and open files in system for ISF filing
Communicate Import Department for any requirements and/or exceptions found in freight instructions/documents
Distribute documentation to Import Department on completion of ISF filing
Assure that file contains all necessary document copies in proper sequence
Familiarity with Microsoft Outlook, Excel, and Word programs.
0-5

years of experience
Coordinating documentation and transportation from foreign origins to the U.S.
Collecting documents and information for Customs clearance into the U.S.
Classifying products using HTS codes and making customs entry using ABI. Following up each file by billing to the customer.
Arranging transportation for CFS or ports to Consignee.
0-5

years of experience

Processing shipping documents
Handling time sensitive work
Ensuring document accuracy
Experience with Letters of Credit along with shipments requiring Wire transfer and Direct Collection Letters
0-5

years of experience

Prepare and issue a daily Master Air Waybill (MAWB).
Ensure that product and merchandise is shipped on time.
Coordinate the most efficient route possible in order to guarantee the best rate available.
Assist clients with tracking packages via the Seko-Red database and provide shipment status notification.
Organization and dispatch trucks to multiple stations across the United States.
Calculate weight, volume, and cost of goods to be moved.
Inform clients of factors such as shipping options, timelines, and regulations that may affect shipments.
Prepare shipment documentation, including bills of lading, packing lists, and receipts.
Verify proper packaging and labeling of merchandise.
0-5

years of experience

Manage the receiving and shipping of air cargo
Accounts Receivable and Payable
Customer Service and front desk
Shipment Consolidation
Local office IT Support
0-5

years of experience
Ocean import coordinator
Organizes shipments from manufacturer to consumers' final point of distribution
Import & export quotations to overseas agents
Load More
Logistics Cover Letter Examples
Create your own professional resume in just minutes.
Try our resume builder today
Build Your Resume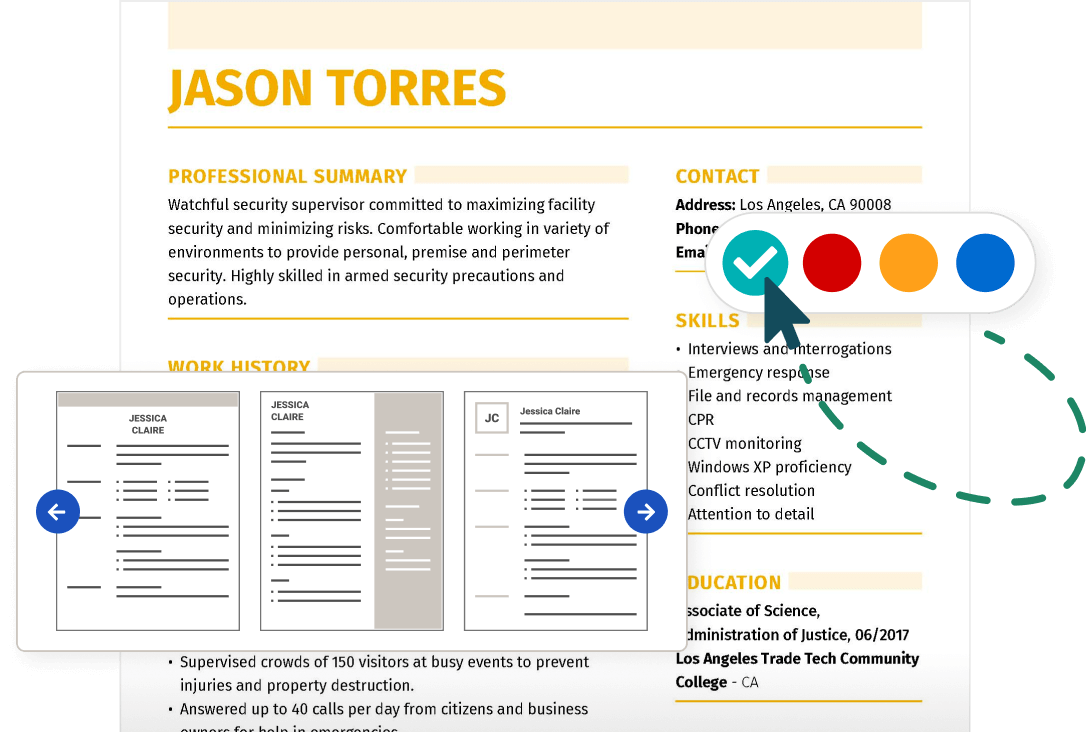 Freight Forwarder Resume FAQ
How do you write a freight forwarder resume?
Follow these simple steps to write an informative and persuasive chronological freight forwarder:
State your name, current job title and contact information.
Introduce yourself and a key accomplishment via a resume summary.
Craft a summary of your past jobs and responsibilities under your work history.
Provide a list of unique skills related to the job.
Summarize your education. This academic information can include degrees, certifications or training related to the shipping, receiving and freight industries.
Learn how to write a freight forwarder resume by viewing how fellow job seekers write and format their documents with these resume examples.
What are the responsibilities of a freight forwarder?
A freight forwarder works with import and export companies to safely transport goods and services cost-effectively. Their daily responsibilities can include:
Preparing all import and export documents.
Analyzing and selecting transportation services to move goods from point A to B.
Negotiating freight rates and contracts on behalf of clients.
Consolidating shipments to reduce cost and wait times.
Overseeing custom clearance for clients.
Troubleshooting transit delays or issues on behalf of clients.
What skills do you need to be a freight forwarder?
Featuring the following skills on your resume may help you find your next freight forwarder job:
Technical freight forwarding skills
Supply chain planning software such as Shipedge, 3PL Warehouse Manager or CobbleStone Contract Insight.
Develop and maintain business relationships with suppliers and clients.
Direct the movement of goods, people or supplies, such as readily available consumer goods or specialized military supplies.
Transferrable hard and soft skills
Active listening skills
Verbal and written communication
Time management
File organization
Critical thinking
Shipping and transportation regulatory knowledge
Negotiation skills
Networking skills