Featured in:
More Fine Dining Server Resumes
Use these Fine Dining Server samples as a guideline or visit our extensive library of customizable resume templates.
Additional Hospitality Resume Samples
How to Format a Fine Dining Server Resume
Serve your best from the start! Just like fine dining requires a superb presentation, how you present the parts of your resume is equally important. A resume format resembles the order in which you would set up a full-course meal in that it determines how you bring forth your experience and skills.
The three most common resume formats are chronological, functional and hybrid. Here we will focus on the types of resume formats that work best for you.
For experienced servers, a chronological format will immediately feature your work history. However, if you just started, a functional resume format is a clever way to shift the attention to your skill set instead.
Let's take a look at the following job candidates for an overview of how you can use resume formats according to your level of experience.
Chronological Resume
16

years in workforce

3

years at this job
Work Experience
Fine dining server, Norwegian Cruise Line
March 2019- Present, Miami, FL
Execute daily menu presentations and share distinguished knowledge of premium cuts of steak and other gourmet menu items.
Provide wine presentations and recommendations to a discerning clientele.
Receive two awards for consistent positive comment cards for exemplary service provided.
Functional Resume
4

years in workforce

4

months at this job

AAS

Wine Production
Professional Skills
Teamwork
Excellent team player, taking the initiative to work with front-of-house staff, welcoming guests, directing them to their seats and assigning tables to different servers.
Ensured all servers had between four to five tables depending on the party size.
Helped present orders and deliver meals to all tables including the areas assigned to other servers, if they were busy.
Food Preparation Skills
Knowledgeable about the restaurant's dishes to effectively recommend items that entice guests to purchase more expensive items and add-ons.
Comprehension of proper cooking temperatures and food safety.
Operating kitchen equipment, creating desserts and applying barista techniques.
Fine Dining Server Resume Samples
No results found
0-5

years of experience

Provided excellent tableside service along with captain's sommelier's server assistants and staff.
Executed daily menu presentation and shared distinguished knowledge of certified Angus prime beef and other gourmet menu items
Provided wine presentations and recommendations to a discerning clientele
Received two awards for consistent positive comment cards for exemplary service provided
Regularly achieved highest per-night wine sales averages
Recognized by Mr. Paul Mackay, founder of El Gaucho for leadership and continuous superior guest service
0-5

years of experience

Prepared the dining room before and after the shift for inspection of service that night
Maintained detailed knowledge of menu items and ingredients to drive sales
Collaborated with the kitchen through POS and verbally to maximize the customer satisfaction
Utilized a personal system to organize customers' orders and provide excellent service
Acquired loyal customers and received outstanding reviews
0-5

years of experience

Greeted and attended guests.
Took orders, presented and explained specials, offered information, and made suggestions about the menu.
Up-sold wines, liquors, and five course meals with professional appearance and mannerism.
Maintained clean and sanitary work areas and tables.
Anticipated and fulfilled guest needs and requests.
Followed proper plate presentation and garnished set up details.
Served guests, prepared checks, and collected payment.
0-5

years of experience
Consistently exceeded sales expectations
Achieved top sales within one month of hire
Ensured prompt and courteous attention to customer needs while providing superb overall customer support
Utilized organization skills to manage business resources, including time and money
Trained new hires
0-5

years of experience

Enhanced the dining experience by ensuring each guest received immediate, personalized and professional
attention.
Worked within a team environment to coordinate guests' entire dining experience.
Constructed impressive statements describing daily specials.
Consistently exceeded sales goals.
Managed the front of house team up to 4 people per shift
0-5

years of experience

Served guests at a busy, upscale restaurant catering to a wealthy suburb of Milwaukee.
Ensured an enjoyable and elegant experience for customers during both lunches and dinners.
Provided recommendations about food and wine, and introduced nightly specials.
Served a high volume of customers and was entrusted with important clients and large groups.
6-10

years of experience

Remarkable ability to describe all menu items and methods of preparation and to use suggestive selling techniques to encourage guests to choose House Specialties.
Built long-lasting relationships with upscale clientele (including Mansion Guests and Corporate VIPs) requesting my personal service.
Received over 50 "Service to the Max" awards each year (which reflects phenomenal Customer Service).
Accommodated guest requests with exceptional "issue" solving skills.
Generated top sake sales by providing sake education and food-pairing suggestions.
Extensive knowledge of Front and Back of the House operations.
6-10

years of experience
Provided excellent standards of service to customers
Maintained knowledge of menu, various cuisines and wine
Engaged with and influenced guests' experience
Created aesthetically pleasing presentation of menu offerings
Served extremely large parties efficiently
0-5

years of experience

Operated POS system to input customer orders and process checks
Maintained proficient knowledge of menu items and daily specials; assisted diners with meal and beverage match selections
Consistently exceeded sale goals by effectively upselling
Hosted group events of more than 50 people
Maintain impeccable customer service to ensure guest satisfaction and dining experience
0-5

years of experience

Provided customers with a premium dining experience through the implementation of effective time management strategies and catering all special request form customers
Supervised catering staff and made sure they upheld quality standards of the company while adhering to regulations for food safety
Conducted quality assurance inspection on all facilities and utensils to make sure they help the highest standard of sanitation for the safety of all customers
Utilized detailed knowledge of menu items to assist customers with the selection of food items
0-5

years of experience

Upheld highest standard for cleanliness of glass and silverware..
Followed all safety and sanitation policies when handling food and beverage.
Maintained knowledge of current menu items, garnishes, ingredients and preparation methods.
Consistently provided professional, friendly and engaging service.
Assisted guests with making menu choices in an informative and helpful fashion.
Skillfully promoted items on beverage lists and restaurant specials.
Maintained knowledge of current menu items, garnishes, ingredients and preparation methods.
0-5

years of experience

Executed my job to the best of my abilities with serving the guest and making them happy with all the experience the restaurant has to offer
Trained staff on proper steps of service
Implemented fine dining service protocol
Conducted training classes
6-10

years of experience

Recruited to implement the company's new wine club resulting in a successful increase in wine sales. Wine club was awarded Best of Award Program by Wine Spectator magazine.
Increased knowledge of microclimates of regional wines and sensitivity of climatic characteristics which affect the specific grape varietal grown and subsequent vintage.
Anticipated guest needs while utilizing excellent communication and time management skills.
Implement company policies and procedures regarding wine, food, cigars, and handcrafted European ales and lagers.
Employee of the month, March 2010.
0-5

years of experience

Prepares the table, laying out napkins and utensils, make sure the condiments are refilled, performing all other preparation tasks.
Greet all guests and owners warmly with an appropriate greeting.
Performing basic cleaning tasks as needed or directed by supervisor.
Maintaining proper dining experience, delivering items, fulfilling customer needs, offering desserts and drinks, removing courses, replenishing utensils, refilling glasses.
Prepare drinks and water for service to your customers table.
Respond to cues.
Respond to 15-5 rules.
0-5

years of experience

Trained to bus and reset fine dining style tables, serve alcohol, take meal orders and restock
dishes/linen.
Responsible for preparing a variety of meats, vegetables, and other food items for next day
Trained new staff member to follow all duties as assigned.
Developed lasting relationship with resident through efficient service.
0-5

years of experience

Trained 10+ servers in protocol and etiquette of a fine dining restaurant.
Promoted customer satisfaction through personal interaction and suggestive selling.
Cited for excellence in interpersonal communications, teamwork, customer service, flexibility and reliability.
Utilized time management skills by serving multiple tables and ensuring the highest levels of customer service.
0-5

years of experience

Catered to all the needs of the elderly residents who lived at Lanier Village.
Upheld and maintained a clean working 'side station' in the dining room area.
Learned superior multitasking skills.
Worked as a Host, organizing and making sure the dining room floor was evenly distributed.
Experience as an assistant in a very friendly and teamwork oriented environment.
Trained many new employees and helped develop their organizational skills.
Worked well independently as a fine dining server where attention to detail was a must.
Was responsible for opening and closing duties to open and close the dining room and kitchen for service.
0-5

years of experience
Complete restaurant opening and closing duties by restocking stations and cleaning.
Provided a welcoming and comfortable atmosphere for new and returning guests.
Communicated with team members about allergies, dietary needs, and requests.
Performed duties of busing, cleaning/resetting tables, delivering items to guests, cleaning of food and beverage prep areas, and creating better efficiency.
0-5

years of experience

Within six months of employment was counted on and trusted to do the closing paperwork in which money and sales needed to be accounted for and if possible tips needed to be paid to the servers.
Trainer - Trained new employees
Received several customer and managerial compliments regarding my excellent service, exceptional attention to detail and positive attitude.
Trained to spot customer's moods and sense if there is a problem and can handle conflicts and resolve them to ensure customer satisfaction.
Quickly becoming a favorite among the regular customers, and management staff.
0-5

years of experience

Welcome and greet guests
Monitored and observed the dining experience of guests to ensure that they were satisfied with the food and service Respond promptly and courteously to any requests
Support other servers with assistance when needed
Quickly and effectively solve customer challenges
Perform side work at the start and end of each shift
0-5

years of experience

Contribute to the mission and overall success of the restaurant by accomplishing performance objectives focused on business revenues, guest & associate satisfaction, and organizational effectiveness.
Utilize strong customer service skills by filling in where needed to ensure the highest guest service standards and most efficient operation.
Demonstrate skills accommodating private parties featuring corporate heads, high profile clientele, and celebrities; credited with elevated degree of diplomacy resolving problems without sacrificing customer relations.
Proven ability to maintain a strong presence on the floor and closely coordinate opening and closing procedures.
Noted for creating a positive dining experience for all restaurant patrons and possessing a fine eye for detail.
10+

years of experience

Insured customer satisfaction in a 4 star, fine dining environment
Maintained evening operations as front door Host and Manager
Assisted in the training of new servers
Represented Hyeholde in numerous social and public relation events
0-5

years of experience

Knowledge of Fine dining etiquette, food, mixed drinks and wines
Use of Dinerware software
Ensure correct, friendly and quick service to guests
Set dining tables according to type of event and service standards.
Maintained complete knowledge of restaurant menu, including daily specials.
Expertly prepared both alcoholic and non-alcoholic beverages using correct techniques, liquid measurements and garnishes.
Completed regular bar inventories and daily requisition sheets as requested.
0-5

years of experience

Knowledge of wine, suggesting for pairing with meals, tableside wine service.
Knowledge of changing menu, ingredients and preparation, responsible for correctly garnishing plates, and responsible for preparing and plating desserts.
Hand write tickets, including pricing, and calculating tickets.
Keep accurate paperwork during shift to keep tickets and cash organized.
Running private parties, buffets, and wine tastings.
Responsible for parties up to 30 people as sole server.
0-5

years of experience

Greet customers in an inviting manor
Delivered and presented food orders in a well-timed and efficient manner
Serve food, cocktails, wine and beverages
Experience with Micros computer system to enter orders and service checks
Up-sell specials wine and cocktails
Work with team members to assist with all aspects of the restaurant
0-5

years of experience

Gained extensive knowledge of wine varietals, wine tasting, spirits and food-pairings while up-selling and increasing sales in a high-volume environment. Demonstrated understanding of cuisine and food-preparation to ensure guest satisfaction within a professional ambience.
Excellent communication and interpersonal social skills
Exhibited proficiency in multi-tasking and on-the-fly decision making
Exceptional knowledge of state liquor laws familiarity with food serving standards
Obtained Illinois Basset Certification
Strong attention for detail with proven ability to quickly learn aspects of changing menus and specials.
0-5

years of experience

Major responsibilities in prepping for the night included setting the tables, polishing the wine glasses and silver ware making sure there were no water stains, cutting the bread making sure it was ready to be heated up and served as the customers were seated, and remembering the dinner specials for the night
Used digital dining computer system
Trained new employees
Greeted the customers as they were seated, offering an ice bucket if they brought their own wine, and also having a knowledge of wine, selling it by the bottle, also offering Pellegrino, or Aqua Fino instead of tap water
Serving the customers in the utmost professional manner making sure they had the best fine dining experience and customer service possible, for example by making sure their wine glasses were always full along with any other drinks or needs they had
At the end of each night we swept and mopped the dining room floor, made sure everything was clean, stocked and rotated for the next night, then tipped out the bus boys
0-5

years of experience

Hired by owner to open the restaurant in March of 2009.
Provide excellent patron experiences with phenomenal customer service; evidence by consistent client requests and return customers.
Provide coverage 6 days a week with ability to act as manager when owner is not present.
Responsible for providing wine parings from extensive wine list.
0-5

years of experience

Highly skilled in delivering outstanding service by greeting and serving customers
Ability to learn the menu to answer questions and remember details regarding orders
Impeccable suggestions in the pairing of food and wine
Well-versed in suggesting additional items to customers
Ensured the cleanliness of the dining area and food items before serving
0-5

years of experience

Served large parties of 20 or more
Trained in professional wine serving practices as well as wine pairings
Educated in fine dining techniques
Trained on a POS system
0-5

years of experience

Perform and excelled at all required duties of an experienced fine dining server.
Recognition with regulars, ability to anticipate customer needs.
Knowledge of wines, beers and liquors to compliment any dining experience.
Consistently able to up sell alcohol selections.
Team player with leadership abilities.
0-5

years of experience

Greet all guests in an upbeat and professional manor to ensure an exceptional dining experience
Make recommendations on daily specials and wine selections
Enter guest orders in a POS system
Deliver beverages and entrees
Maintain attentiveness to each guest throughout their visit
Complete required side work as designated
0-5

years of experience

Check with customers to ensure that they are enjoying their meals and take action to correct any problems.
Write patrons' food orders on order slips, memorize orders, or enter orders into computers for transmittal to kitchen staff.
Prepare checks that itemize and total meal costs and sales taxes.
Take orders from patrons for food or beverages.
Present menus to patrons and answer questions about menu items, making recommendations upon request.
Stock service areas with supplies such as coffee, food, tableware, and linens.
Describe and recommend wines to customers.
Provide guests with information about local areas, including giving directions.
10+

years of experience

Ensure customer satisfaction is met with prompt and attentive service.
Recommend dishes and beverages for pairing; respond to customers' inquiries and concerns.
Contribute to restaurant's sales goals by making recommendations and upselling to customers.
Communicate with chef to ensure that all special requests are accommodated.
Handle cash and credit card transactions.
Assist customers with making and rescheduling reservations; answer phone inquiries and take phone orders.
0-5

years of experience
Responsible for stations of 5-6 tables or 25-35 guests
Articulated Menu, Specials and Wines to Guest
Provided formal dining room table service utilizing proper etiquette and honoring tradition.
Worked with other servers, serving groups of as many as 250 people
Utilize knowledge of the food menu, wine & liquor menu, ingredients in specialty drinks to make the perfect recommendation for each customer
6-10

years of experience

Responsible for working in each aspect the restaurant offered including catering, serving, and bartending
Responsible for maintaining drink menus and daily drink specials, create specials and menus for Happy Hour and Trivia Nights
Maintain clean and stocked bar
Responsible for live bands and DJs, coordinating schedules and coordinating payment
At closing, close out registers and drop cash at end of the shift, lock up restaurant
As a server, worked in the dining room serving customers
As banquet server, responsible for on premise and off premise banquets, reservations
Responsible for training new employees
0-5

years of experience
Utilized high degree of professionalism while attending to needs in positive manner.
Managed logistics of service with superb organizational skills.
Proven ability to react with appropriate urgency in any given situation.
Communicated effectively with customers to ensure quality service.
0-5

years of experience

Trained to Ruth's Chris standards of serving, wine and cocktail knowledge, and presentation
Use of "Fresh Bar" concept- all fresh squeezed to order juices, sour mix and other mixers produced in-house for maximum drink quality
Extensive wine, beer, and liquor tastings to educate the palate in order to better sell product to guests
Emphasis on knowledge of all aspects of product, whether it be food, wine, or liquor, in order to boost both the quality of service and guest experience
0-5

years of experience

Flexibility to adjust to ANY situation
Maintaining a "positive" attitude as well as a "can do" attitude
Performing and working directly with the Private and Public Clients / Members
Resolving conflicts and negotiating with guests
Attention to detail, pride in ownership and time management
6-10

years of experience

Serve food courses and alcoholic beverages to guests.
Set tables according to type of event and service standards.
Answer questions on menu selections.
Communicate with the kitchen regarding menu questions, the length of wait, recook orders, and product availability.
Communicate additional meal requirements, allergies, dietary needs, and special requests to the kitchen.
Record transaction in MICROS system at time of order
0-5

years of experience

Promote daily specials and guide guest through selection process
Work closely with other staff to ensure a positive guest experience
Maintain privacy for V.I.P. clientele
Perform stocking duties and inventory maintenance before, during, and after each shift
Handle customer complaints in a timely and professional manner
Maintain a clean and professional upscale appearance
0-5

years of experience

Responsible for waiting on guests starting when they walked in the door and guiding them through their meal process.
Preparing Tableside Caesar Salads
Utilized POS system that included using Ipads when taking orders and when cashing the guest out from their table.
Promoting restaurant's specials and marketing specials
Wine service
Main server 5 nights per week
Trained new and existing wait staff
Worked closely with chef and kitchen in helping to create seasonal menus
Worked with others to complete side work including polishing silverware, drying glassware, cleaning server areas
Oversaw front of the house procedures when on shift 5 nights per week.
0-5

years of experience

Responsible for waiting on guests starting when they walked in the door and guiding them through their meal process.
Preparing Tableside Caesar Salads
Utilized POS system that included using Ipads when taking orders and when cashing the guest out from their table.
Promoting restaurant's specials and marketing specials
Wine service
Main server 5 nights per week
Trained new and existing wait staff
Worked closely with chef and kitchen in helping to create seasonal menus
Worked with others to complete side work including polishing silverware, drying glassware, cleaning server areas
Oversaw front of the house procedures when on shift 5 nights per week.
0-5

years of experience

Served high-end clientel in an exquisite manner ensuring throughout my shift that all of the members were receiving excellent service with a very personal touch.
Trained new employees in the art of fine-dining.
Dealt with member complaints and handled special events coordinating.
Excellent people and organizational skills were required to consistently maintain a positive relationship with each member even in hectic situations..
0-5

years of experience

Acknowledge and greet the guest in a timely manner.
Take care of the guest every need, Informed the guest of daily specials.
Have food and wine knowledge and up sell whenever possible.
Set up my station for success and clear the tables in a timely manner.
Have accountability for my cash and checks.
0-5

years of experience
Full menu, bar and wine knowledge; ability to handle high volumes.
Maintain a professional, personable attitude and approachable demeanor.
Manage time effectively and provide top-notch service on schedule.
Use visual cues to sell/up-sell specialty and featured items of the season.
Maintain bar cleanliness, menu knowledge, and employ correct pouring.
0-5

years of experience
Control all Point of Sale transactions.
Team member of 3+ servers and kitchen manager to deliver banquet experience.
Deliver exceptional customer service to all guests.
Responsible for managing multiple guests.
0-5

years of experience
Deliver food in a timely manner while taking orders and providing knowledge on daily plates
Complete knowledge of every item on menu, including all beverages
Ability to describe and recommend preparations and garnishes
Amuse Bouche, Coursing, Beer, Cocktail and Wine service
0-5

years of experience
Served guests in a four diamond restaurant/hotel
Responsible for five to six table section
Lead server on private VIP parties within dining room
Proper wine service and parings nightly
Load More
Fine Dining Server Duties and Responsibilities
To accomplish their goal of providing diners with an outstanding experience, Fine Dining Servers take on a variety of duties. Based on our analysis of several job postings, these are some of the most common Fine Dining Server duties.
Learning the Menu Fine Dining Servers must be experts on a restaurant's offerings. When patrons inquire about food choices, Fine Dining Servers should be able to explain ingredients, preparation techniques and available substitutions. They know about daily specials or seasonal offerings not on the menu and convey information about these additional choices to the dining party. Fine Dining Servers also may offer suggestions to enhance the experience, such as which wine pairs well with a given entrée.
Handling Orders Fine Dining Servers take food and beverage orders from customers, deliver written requests to the kitchen for preparation, carry items to the table in the proper order, help the bus staff as needed with the removal of finished plates, refill drinks and collect payment when the meal is over.
Providing Customer Service Whether a food item isn't up to satisfaction, a guest drops his fork and needs another one or the air conditioning is too cold, Fine Dining Servers rectify the problem.
Following Procedures Upscale restaurants often have strict guidelines in order to keep operations flowing and service consistent. Fine Dining Servers are aware of these instructions and act accordingly. They also pay close attention to safety measures so that food does not inadvertently become contaminated or someone gets burned by a hot plate.
Training Others Seasoned Fine Dining Servers often assume the responsibility of getting new hires up to speed.
Fine Dining Server Skills
Good Fine Dining Servers embrace their role. They know their appearance, attitude and actions play a large part in creating a pleasant atmosphere. Thus, hiring managers search for candidates with these capabilities:
Looking well-groomed and neatly dressed consistently to reflect positively on the employer
Paying attention to detail, such as placing orders exactly to customer specifications
Listening carefully to determine the desires of patrons and act accordingly, such as figuring out the right level of pinkness for a steak
Maintaining politeness and positivity, especially when dealing with rude or disgruntled patrons
Multitasking in order to serve the needs of various diners at the same time
Interacting sufficiently with customers to build goodwill and attend to their needs, but also being sensitive about giving people their space
Fine Dining Server Education and Training
Though no formal education is required, most Fine Dining Servers possess at least a high school diploma. A culinary or college degree, however, can impress hiring managers at upscale restaurants and increase the chance of landing a position. Employers also look at past experience, so servers sometimes work at less prestigious restaurants first in order to build their resumes. All Fine Dining Servers can expect plenty of on-the-job training to ensure they know exactly what to do to best represent the restaurant and provide a quality experience for diners.
Fine Dining Server Salary
The BLS includes Fine Dining Servers under the category of Waiters and Waitresses. The median annual salary for waiters and waitresses is $19,900. Workers in the 10th percentile earn about $17,000 a year, and the highest paid make more than $38,000 a year. Waiters and Waitresses in Hawaii, Vermont and California make the highest median salaries in the U.S. - $34,230, $29,180 and $25,470, respectively. It should be noted that Fine Dining Servers rank among the best paid in the profession. Tips often get calculated based on a percentage of the bill, so expensive restaurants lend themselves to servers earning more.
Fine Dining Server Resources
Check out the following additional resources to learn even more about a career as a Fine Dining Server.
National Restaurant Association - The Careers section on the website of this leading industry organization offers information on training, education, scholarships and the future of working in the restaurant business.
Careers in the Restaurant Business by Institute for Career Research - Where do Fine Dining Servers fit in among the many careers in the restaurant industry? This book offers vocational guidance for prospective applicants.
Remarkable Service by The Culinary Institute of America - Respected industry-wide as a contemporary reference guide and refresher for food service professionals, this book offers straightforward advice on everything from setting tables to properly taking orders to dealing with customer complaints. Reviewers call it "easy to understand," "comprehensive" and "helpful."
Lessons in Service from Charlie Trotter by Edmund Lawler - Want the inside scoop on what it takes to operate a successful restaurant? Renowned restaurateur Charlie Trotter knows all about the importance of customer service in upscale establishments. His tips and insight can help Fine Dining Servers anywhere develop into superstars.
Fine Dining Advising: The Ultimate Guidebook to Success by Franky Surroca - Ready to maximize your earning potential? The subtitle of this Kindle book is "how to make your tips, knowledge and hospitality skyrocket," making it a great read for Fine Dining Servers wanting to do a spectacular job - and get rewarded for it.
Hospitality Cover Letter Examples
Create your own professional resume in just minutes.
Try our resume builder today
Build Your Resume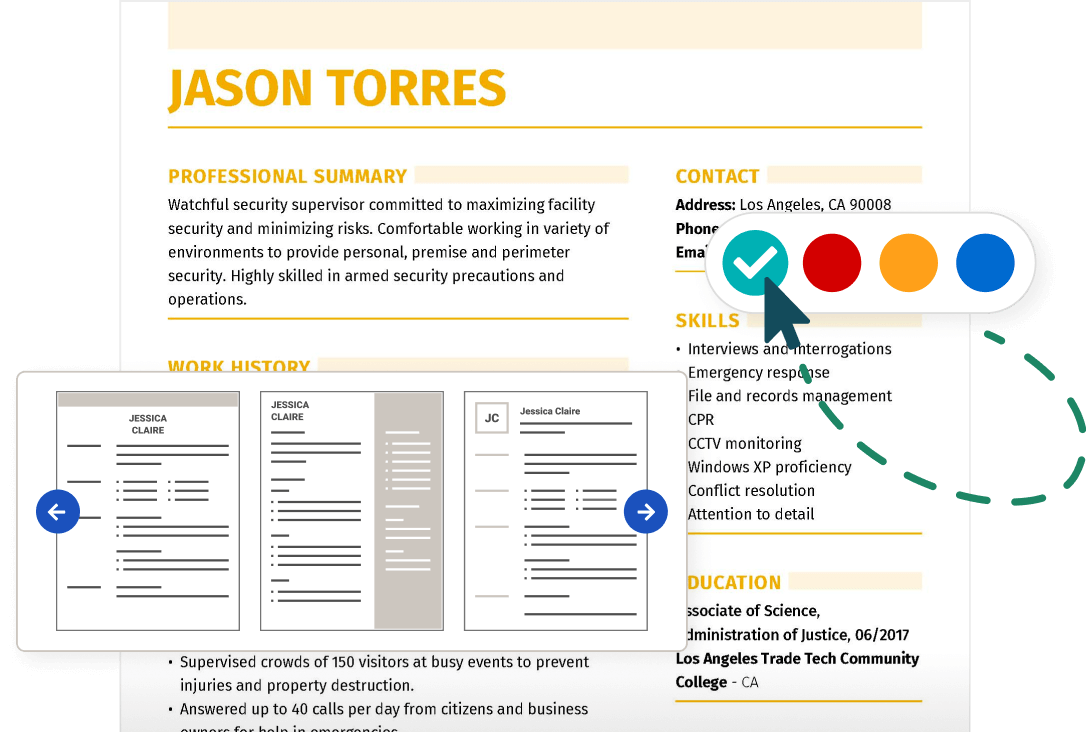 Fine Dining Server Resume FAQ
How do you put fine dining jobs on a resume?
To include fine dining jobs on your resume, start with a resume template. These templates are fully customizable and designed for any job.
Simply fill in the blanks to personalize your resume with your skills and experience. Show off your superb customer service and positive attitude, and highlight your ability to work under pressure and multitask.
Another key area to showcase is your ability to be a team player. Under your job experience, organize your entries in a bulleted format and describe how you have worked with bussers, cooks and hosts to ensure guests have an outstanding fine dining experience.
How to write a summary for a fine dining resume?
Professional summaries are a quick way to let recruiters know that you are qualified for this new role. In just a couple of words, mention your current role and professional experience.
For a powerful resume summary, say how your expertise can contribute to the restaurant's overall success. Add key accomplishments that prove you can deliver results.
Here's a quick checklist for a strong summary:
Your professional title.
Relevant experiences in fine dining.
Experienced candidates can include the total number of years worked.
Top achievements and the fine dining skills that will contribute to the restaurant's goals.
Which food and beverage server skills are good for a resume?
Fine dining servers must include a combination of hard and soft skills for quality service. Here's a snapshot of the nine most important skills for your fine dining resume:
Customer service
Attention to detail
Good communication and active listening
Food preparation skills
Operating kitchen equipment
Sanitizing procedures
Bartending
Fine dining and wine pairing
Table etiquette
These skills contribute to an upscale and memorable dining experience.