How to Become a

Rigger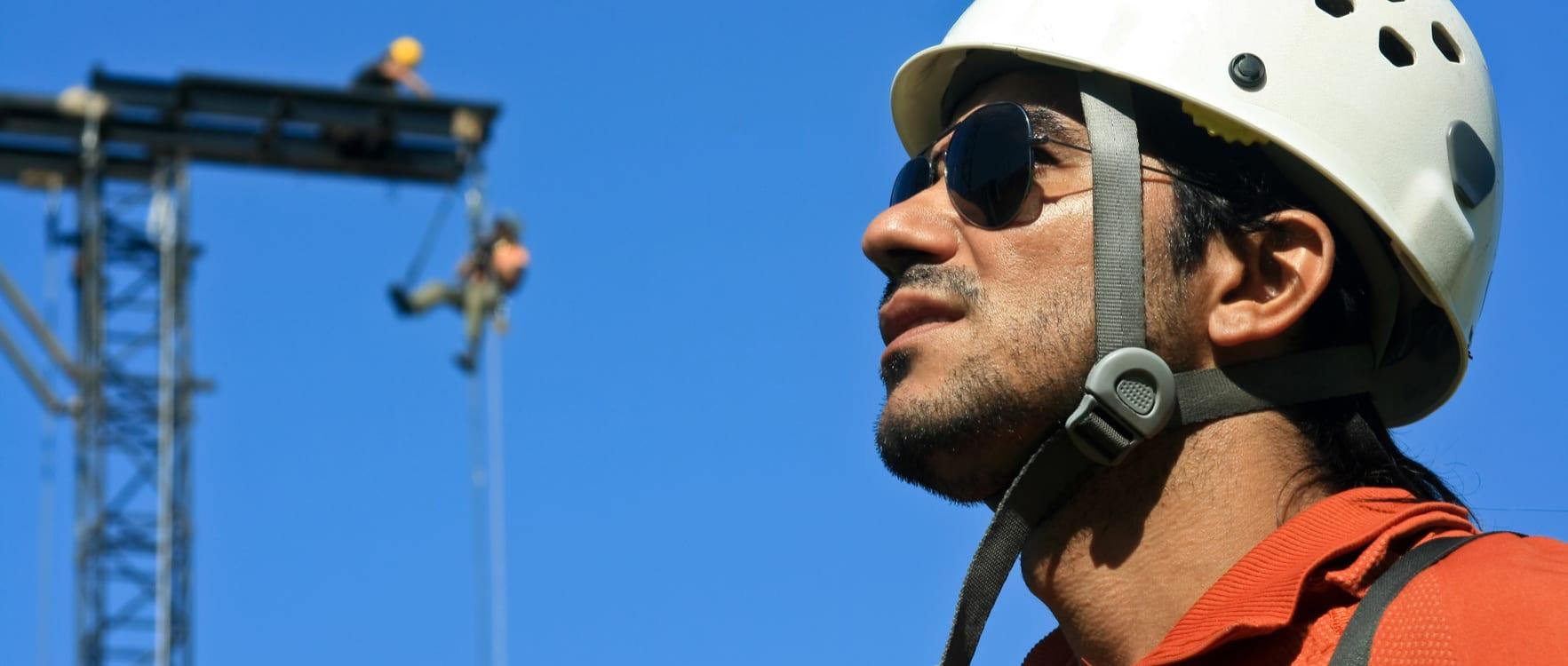 Are you interested in learning about what it takes to become a Rigger? You've come to the right spot. Read on to learn about what a Rigger does, how to become one, what they get paid, and much more.
What Does a Rigger Do?
A Rigger is anyone whose primary function is the lifting, moving and positioning of heavy equipment, machines and oversized loads. Riggers use equipment like cranes, pulleys, dollies, hydraulic jacks and trucks to move loads of varying size, weight and shape. Riggers work in a huge range of industries, but are primarily found in construction, oil & gas, ship building and manufacturing.
Because Riggers work in so many different fields, they may perform a multitude of different tasks during the course of a workday. Some common Rigger duties and responsibilities include:
Selection of Rigging Equipment. Riggers may select the proper equipment to be used for a specific job, and prepare it to properly and safely function.

To do this, they need to analyze loads based on weight, shape, and size to figure out the correct method of lifting.

Inspection and Testing, An important part of any Rigger's job is to perform inspections and tests of rigging equipment and hardware to ensure safety.,

Operate Rigging Equipment. Once a load is safely attached, the Rigger manipulates the machinery (such as hoists or pulleys) to carefully move the load to its intended destination.
Rigger Skills
The complex nature of the work of a Rigger requires both in-depth knowledge of mechanical aspects of the job as well as the intelligence and competence to consider options and make judgment calls as to how to proceed with a job. Riggers should have good listening and comprehension skills, to listen to and act on instructions and commands. Riggers should also be creative thinkers, with the ingenuity to come up with solutions to tricky rigging problems they may encounter. And because this is a physical and occasionally dangerous job, a Rigger should be healthy and have good physical stamina.
Other key Rigger skills include:
Knowledge of enhanced safety practices and procedures

Skilled in the use, maintenance, and repair of hand and power tools

Ability to read and interpret technical drawings and diagrams

Basic knowledge of geometry, physics and arithmetic
How Do You Become a Rigger
Education and Training
Becoming a Rigger requires a mix of training and on-the-job experience. Many companies train their Riggers through on-the-job learning, allowing prospective Riggers to gain experience on the work site. Other Riggers get training from an outside educator before applying for jobs as a Rigger. Still others undergo an apprenticeship, which is the most formal version of Rigger training. In an apprenticeship, the Rigger gains experience and learns the trade from an employer in exchange for their labor for an agreed period. For most Riggers, their career path is a combination of these three types of training.
There is no certification required to be a Rigger by OSHA standards, but some Riggers chose to get certified in a particular specialty. For example, The American Petroleum Institute (API) offers a training program to become qualified as a Rigger for offshore platforms and drilling rigs. In addition, some states require special Rigger License, depending on the job functions.
Finding a job
Riggers are employed by a variety of industries, which means the job forecasts for Riggers remains fairly steady. However, demand for Riggers is expected to go down in the next two decades, as industries such as construction and oil & gas slow down.
If you're interested in beginning the search for a Rigger job, start by crafting a high-quality resume that highlights your skills and experience. For guidance on creating a resume, take a look at our library of Rigger resume samples.
The next step is to start a search online for Rigger job opportunities. As you look for openings, be sure to leverage your professional network, including people you met through an internship or on-the-job training.
Once you've found a Rigger job to apply for, write a cover letter that expresses your interest in the position and highlights your qualifications and what you will bring to the role. Need some cover letter inspiration? Check out our collection of cover letter samples.
How Much Do Rigger Get Paid?
Riggers are typically paid on an hourly basis, with the median hourly wage in the United States being $20.74. The lowest-paid Riggers make about $12 per hour, while the highest-paid can earn more than $35.
Top 10 States for Rigger Salary
Riggers in the following states make the highest median hourly wage in the U.S.
Rigger Resources
Looking for more information? We put together this list of additional resources to help you as you continue to explore a career as a Rigger.
On the Web
Rigger.com
Find hints, tips and other useful info about a career as a Rigger.
Industry Groups
Association of Crane & Rigging Professionals
ACRP focuses on the lifting aspect of rigging, and is primarily interested in promoting safety standards and improving the quality of the equipment used and training provided.
Rigger Books