When you're leaving a job, whether because you've been hired elsewhere or because you won the lottery, you may be tempted to storm out in a huff. Depending on how your boss treated you, you may even want to do something dramatic, blowing off the customary two-week notice and slamming the door behind you. It's important to resist these urges. No matter how you felt about your job, you still should write a polite and professional resignation letter. Why? Because the world you work in is smaller than you think. Your reputation depends on your behavior, in good times and bad. And you never know when you may end up needing a letter of recommendation from your previous employer. Here's everything you need to know to write a smart, polished and appropriate letter of resignation.
Studying resume samples and examples are a great way to get inspiration for your own. Study our library of examples today!
Boost your resume with an extra click. Our cover letter templates match our resume templates' designs for a cohesive application. Use a template in our builder to help you quantify and expand upon the experience from your resume and impress employers.
Why a Resignation Letter Matters
Your resignation letter is an official document you submit to the HR department. The purpose of your resignation is not to let your boss know you're quitting. That's something you should do before you write this letter, and it should be done in a private, one-on-one meaning, during which you give two weeks notice. (Two weeks is considered the standard amount of advance notice to give when leaving a job; in some cases your employer may try to negotiate more time.)
You never know if one day you might end up needing a recommendation or returning to your previous employer in a new role. It will always help if the last document in your HR file is a graciously written resignation letter.
If you learn and follow the proper protocol for writing a professional resignation letter, this formal notice of intent is much more than a way to say goodbye. It's also an opportunity to build professional relationships that can serve your career in the future.
How to Write a Resignation Letter
1
Keep it Simple and Straightforward.
A resignation letter is not the time to get flowery or editorialize. You don't need to explain why you're quitting or talk about what your next job is. Begin by stating the job title you currently have and the date when your resignation will go into effect (the day after your last day at work)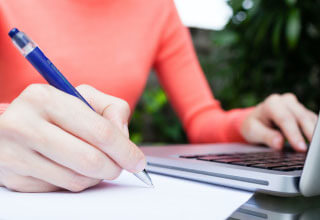 2
Express Your Gratitude.
It never hurts to say "thank you." Even if you are bursting with joy to be leaving, it's important to be gracious. Think of something positive to say, either by stating a few things you appreciated or learned. Remember: you may need to get a reference letter from your past employer and you're actually doing yourself a favor by leaving on good terms.
3
Offer to Help with the Transition.
Promise to do your best to help create a smooth transition for whoever is hired to replace you. Make it clear that you will organize your remaining projects and files to make it easy for your boss to fill your position. If you think you will be able to handle the additional workload, offer to be available for a limited period of time after you leave to answer work emails. But be realistic: don't offer more than you can deliver.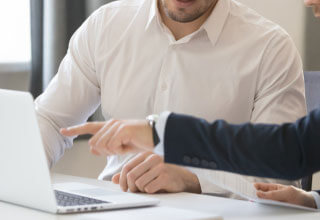 4
End on a Positive Note.
End by saying that you hope to stay in touch and that you wish continued success for the company you're leaving. You can even offer to be available by phone or email if any work questions arise for the person who replaces you. Keep in mind that even if you feel bitter or angry about how you've been treated, by taking the high ground and maintaining a positive, professional tone you will be helping yourself in the long term.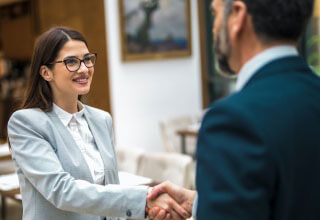 5
Be Sure to Include Your Personal Contact Information.
Remember that your employer may need to reach out to you in future so include your personal contact details either at the top of the letter or beneath your signature.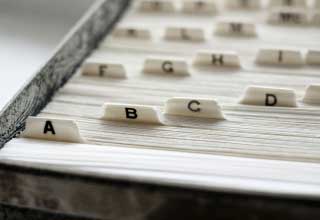 PRO TIP:
Once you've decided to take another job, you may be tempted to confide in one or more of your co-workers. Don't. Telling any of your colleagues you intend to resign before you have told your boss is bad form and if it somehow leaks and your boss finds out through the grapevine, you will have done yourself a grave disservice.
Now that you've written the perfect resignation letter, it's time to update your resume so you can transition to your next big move.
Build Your Resume

7 Key Elements to Include in Your Resignation Letter
There are of course many ways to personalize your letter. But there are 7 key elements that should be included in any professionally written resignation letter. Whatever specific word choices you use, make sure to check that you've done the following:
Say that you intend to leave your job

Mention your official job title

Indicate what day your last day of work will be (two weeks notice is standard).

Offer to help with transition

Wish your employer continued success>

Include your personal contact information

Sample Resignation Letter

Sample sent via Physical Mail: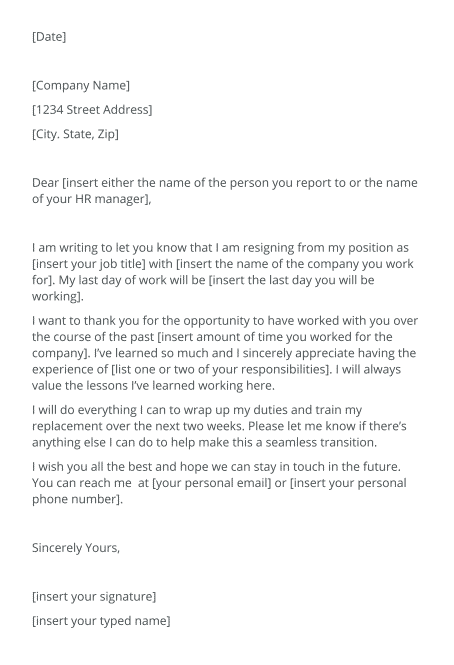 Sample sent via Email: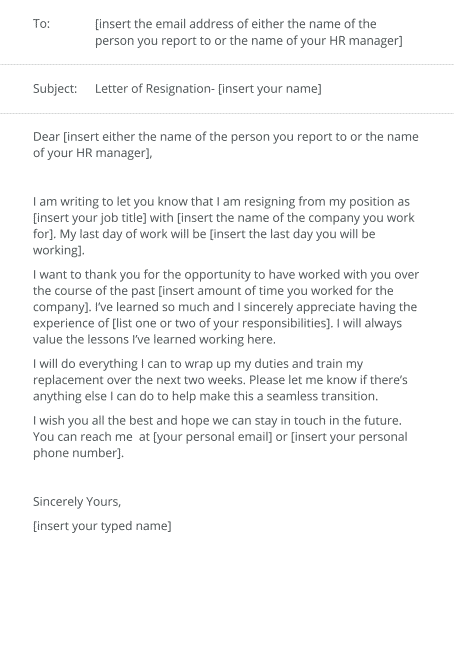 Frequently Asked Questions
What if I can't resign in person?
Do not quit your job by email unless you are working remotely and it is impossible to arrange for a phone call. If you work remotely and absolutely have no other choice but to resign over the phone, go the extra mile to say you regret being unable to meet in person and mention one or two specific things you appreciate about your experience. Expressing your gratitude will help avoid what otherwise might be bad feelings on the part of your employer.
What if I can't give two weeks notice?
The same rule applies if for some reason you are unable to give two weeks notice. Again, this is widely considered the minimum amount of time and leaving a job with any less than two weeks notice can be interpreted as rude and unprofessional. However, in certain circumstances such as a medical emergency or other true crisis, immediately approach your boss and explain why you can't give two weeks notice.
Who else should I notify when I resign?
It's not required but it's a good idea to send a goodbye letter to your co-workers. This should be sent by email (not printed out and mailed) and if possible, should not be a group email. Instead, write an individual letter to the people you worked with directly: your immediate circle of colleagues and direct reports.
The value of this goodbye letter will become evident in the future; when some of your colleagues move on to other jobs, they will be more likely to think of you and remember your thoughtfulness and professionalism. At the executive level, many industries are small worlds, and word gets around. So writing a goodbye letter is a smart way to enhance your future career prospects.