Structural engineers create and design the world we live in! They use innovation and creativity to design safe, functional, beautiful, and cost-effective structures. Read on to learn everything you need to know to jumpstart your career in this profession. From job requirements to building a structural engineer resume, we feature the latest resume templates to help you excel in this new role.
Our certified resume writers have created a library of resume samples to show you exactly what a strong resume looks like. Use them as-is or customize them to your needs.
Impress your future boss! According to a 2020 survey, most hiring managers read cover letters for candidates they're considering interviewing before making their final decision. Make a cover letter that seals the deal with our professionally designed cover letter templates.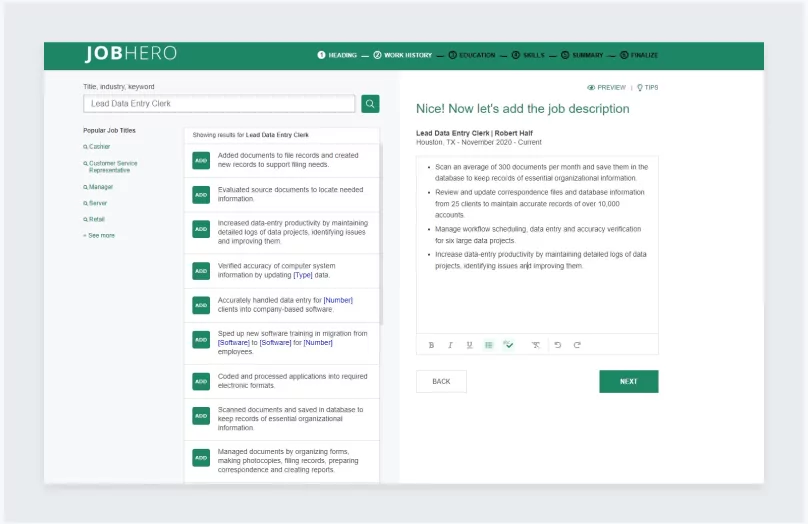 BUILD MY RESUME
What Does a Structural Engineer Do?
A structural engineer does many of the tasks that a civil engineer does, such as designing different structures, which include bridges, tunnels and buildings. However, most structural engineers work as consultants for contractors or architects.
Once the architect presents the structural engineer with a building layout, the structural engineer will calculate the loads the structure may have to take on from snow, wind and natural disasters, such as earthquakes, and choose the structural systems that best fit the project. Structural engineers are also sometimes involved in the demolition of structures.
Additional structural engineer duties and responsibilities include:
Test building materials for specific projects, such as concrete or steel.

Manage repair, replacement or maintenance of public or private infrastructure.

Provide estimated costs for a project to determine economic feasibility.

Complete and submit permit applications to various agencies as needed.

Perform and oversee soil testing for foundation strength.

Assist in structural design and construction.

Ensure building resiliency and mitigation.

Design test plans and analyze results.
How Do You Become a Structural Engineer?
The work of a structural engineer can be a public safety hazard if done without the proper technical knowledge. For this reason, to become a structural engineer, you must deeply understand building design and construction. Let's take a look at the steps to becoming a structural engineer.
1
Get your bachelor's degree:
You must have a bachelor's or master's degree in engineering, mathematics, civil engineering or a related field. Structural engineering education programs offer courses in statics and dynamics, engineering graphics, computer-aided design, structural analysis and general engineering classes.
2
Pass the Fundamentals of Engineering Exam:
Recent graduates must take the Fundamentals of Engineering (FE) exam, which is generally the first step toward becoming a licensed professional engineer.
3
Go for your master's degree:
To become a structural engineer, it's usually also required that you complete a Master's in Engineering. By doing so, you are becoming an expert in investigations of fluid mechanical systems modeling and failure in mechanics.
Jumpstart your career as an apprentice. Although it's not a requirement to become a structural engineer, an apprenticeship is a perfect opportunity to work while you study to become a structural engineer. It will help you develop practical skills, work alongside experienced structural engineers, and gain valuable experience. They usually take between one and five years to complete.
5
Create a job-winning resume:
Recruiters need to see a clear outline of your credentials, training and experience. Demonstrate that you are qualified with a well-written resume. Here we feature resume resources such as our Resume Builder, with interactive tools with pre-written, job-specific content to add to your resume. Check out our latest structural engineer resume sample to help you create an impressive industry-specific resume.
Structural Engineer Skills
Structural Engineers must have excellent knowledge of the different construction materials and how they are best used. In addition, creativity, commercial awareness and teamwork are all important skills that a structural engineer must possess.
IT and analytical skills are also necessary to people's success in this profession. The ability to manage material resources appropriately and coordinate activities according to other people's schedules is also critical due to the nature of this career.
1
Problem-solving is critical when handling unexpected challenges.
2
Time management is essential for optimizing productivity.
3
Decision-making skills help identify risks and possible outcomes.
4
Interpersonal skills allow you to interact effectively with others.
5
Strong work ethic to establish integrity and honesty in the workplace.
1
Load calculations to calculate the load of the structure and environmental stressors.
2
Structural analysis to determine the impact of the load on the individual components of the structure.
3
Design is the final step that involves the designing of the structure.
4
Analytical and mathematical skills quickly analyze situations and solve complexity.
Insights from a Structural Engineer
In order to get an inside look at how to become a Structural Engineer, we talked to Beth Griffiths, who works with  Allcott Associates, a chartered surveyor and Structural Engineers team that has expert knowledge on becoming a Structural Engineer.
What is the common career path for a Structural Engineer?
To become a Structural Engineer, you first need bachelor's degree in civil or Structural Engineering, before sitting for a Viva-style assessment in front of a panel of peers to become chartered.
What should someone consider before becoming a Structural Engineer?
Before becoming a Structural Engineer, someone should ensure that they are able to handle demanding requirements and pressures that the career can present on a daily basis.
What type of person excels in this job?
Those who become Structural Engineers typically enjoy school subjects such as mathematics, science, computing, and design. They also tend to have an interest in buildings and structures.
What are some of the most important skills for a Structural Engineer to have?
Have a keen interest in unique structures, including buildings or bridges. Be able to apply the principals of mathematics for analysis and design. Perform calculations with accuracy. Be able to write reports in a clear and concise manner.
What do you find to be the most rewarding aspect of being a Structural Engineer?
Being able to stand back from a finished project knowing that without my expertise, the project may not have been possible.
How Much Do Structural Engineers Get Paid?
Structural Engineers earn a median hourly wage in the United States of about $40. The lowest-paid Structural Engineers make around $25 hourly, while the highest-paid can earn around $62 per hour.
Top 10 States for Structural Engineer's Salary
Structural Engineers in the following states make the highest mean hourly wage in the U.S.:
Structural Engineer Resources
Need more information? We put together this list of extra resources to assist you as you continue exploring a career as a Structural Engineer.
On the Web
Industry Groups
SEAOC
Structural Engineer's Association of California is a world leader in the practice of Structural Engineering, particularly that relating to earthquakes
ASCE
American Society of Civil Engineers is the largest civil engineering network worldwide
Books