Featured in:
Letter of Interest Example
A letter of interest is a formal business letter to express your interest in a job opportunity and how your skills and experience can add value to the company.
Here's an example of a letter of interest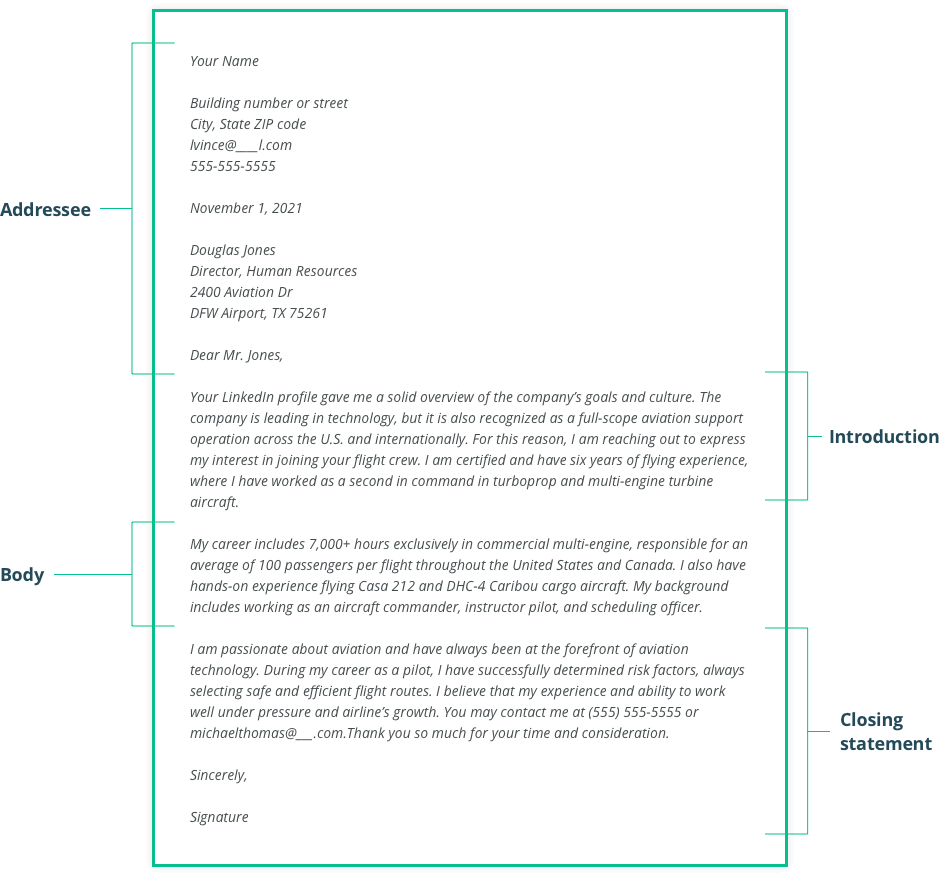 What is a Letter of Interest?
A letter of interest is sent to show your genuine interest in working for that specific employer. It's a formal way of letting them know why you are interested in being part of the team and how you can bring in results.
A letter of interest can be sent at any time regardless of whether or not the employer is actively hiring. Not only does it create an opportunity to ask about any upcoming job openings that would be a good fit for you, but it can help the employer bridge the gap between your qualifications and what the company needs.
It may not get you hired immediately, but it can convince companies that you're the perfect future hire!
A well-written letter of interest will market your abilities and relevant experience. Not only are you aiming to sell your professional strengths, but you will also be writing to demonstrate how you can contribute to the company and add value to the company's goals and culture.
Letter of interest versus cover letter
A letter of interest and a cover letter are both formal business letters that can be sent to recruiters. However, there are key differences between both.
The main difference is that a cover letter is sent along with a resume in response to a job post. A letter of interest is not tailored to a specific job announcement.
Even though both letters are written for employment purposes, a cover letter relates to a job that has been announced and created, whereas a letter of intent aims to learn about future opportunities.
In this article, we will be showing you how to write a letter of intent.
However, if you're applying for an open job, you will need a cover letter. Check out our How to Write a Job-Winning Cover Letter: A 2023 Guide, with expert tips for you to create your professional cover letter in just minutes.
How to Write a Letter of Interest
Prepare yourself by taking the time to research the company's information. Look up their mission, history, and information about their company culture.
Once you know what the company does, you will have insight into what they need and how your work can impact its goals. This will also help you set the tone for your letter of interest.
Addressee
Conducting your research will also help you narrow down the right contact person, whether it's a connection you may have in common through social media or a department lead that you may find on their website. Read their press releases, LinkedIn profile, and posts searching for someone within the division you're interested in.
Since this is a professional letter, the format will be similar to a business letter:
Your Name
Your Address
Your City, State ZIP Code
Your Phone Number
Your Email
Date
Name
Job Title
Company
Street
City, State ZIP code
Introduction
Your letter of interest should contain information on why you are so interested in the company. Be straightforward by highlighting how your skills and experience would be valuable to the company.
Here's an example of an introductory paragraph:
After learning about your recent efforts to reach out to individuals with disabilities, I am writing to inquire about the possibility of being able to work as a community outreach specialist for accessible tourism.
Body
Use the letter to market your abilities and top accomplishments. The letter is about what you have to offer, not what you're looking for in your next employer. For example:
For over 10 years I have dedicated my career to doing outreach and disability integrations. I have excellent communication skills and am certified in American Sign Language. Among my top accomplishments, I worked as a service guide for guests with disabilities to create and promote sustainable and accessible tourism.
In your second paragraph, tell the person why you're a good fit for the company. For instance:
I was also part of a pilot program in which we could develop a project to make the beach accessible for all. I was responsible for identifying accessible beach access points and wheelchair vehicle unloading areas, temporary walkways, and purchasing accessible beach mobility equipment. Additionally, I was able to raise 30% of net revenues through fundraising events with a cause.
Closing statement
Lastly, finish your letter with a call to action that invites the hiring manager to contact you regarding the job opportunity. Explain the best way to be reached and let them know that you will also be following up.
Keep your letter short and powerful. Be straightforward and to the point. You want to get your point across quickly and clearly.
Thank you for your time and consideration. I admire the company's efforts and dedication to ensure that tourist destinations and services are accessible to all people, regardless of their physical or intellectual limitations, disabilities. I value your goals and core values and I am eager to have the opportunity to join your team. I believe my experience in disability integrations can benefit the company's outreach. Please contact me to discuss how we can best work together.
Sincerely,
Robert Miller
Letter of Interest Tips
Now that you know what a letter of interest is and how to write it, let's look at three valuable key tips to make your letter effective.
Even though you can send a letter of intent anytime, there are certain moments where you can strategically shine! A great opportunity to send a letter of interest is when a business expands because eventually, they will need new hires. Another key moment to put the spotlight on your letter of interest is based on seasonal hiring. There are certain organizations that need additional employees around the holidays or look to hire at the beginning of the year when the hiring budgets go into effect.
Tailor your letter to the right recipient. Addressing your letter to the right person can make a difference. It's very important to the reader to see that you know who they are and that you took the time to research. If you're not sure who to address the letter to, try researching the name of their human resources, a recruiter, or department supervisor.
3
Captivate the recruiter with the perfect hook.
A hook is typically the first one or two sentences written to grab the reader's attention. A great way to capture the reader's interest is by mentioning specifics about the company. Perhaps you can congratulate them on a recent article or industry publication. Take the time to read their reviews and find their latest accomplishments. Perhaps you can even do a competitor analysis to provide an innovative strategy to help set them apart.
Keep your letter a one-pager, stay relevant and straightforward. Avoid being too vague and using too much text.
A letter of interest is a great opportunity to show that you have an interest in the company and the initiative to tackle the employer's attention!