Are you considering a career as a pipefitter? If so, this is the place to be. This guide is packed with information and resources for aspiring pipefitters. Keep reading to learn about the educational requirements for the job, what it pays and the tools you will need to revamp your resume, including a professional Resume Builder, for today's market.
Our team of certified resume writers have created a library of resume examples to show you how to craft a strong resume. Study them to learn to write your own.
Boost your resume with an extra click. Our cover letter templates match our resume templates' designs for a cohesive application. Use a template in our builder to help you quantify and expand upon the experience from your resume and impress employers.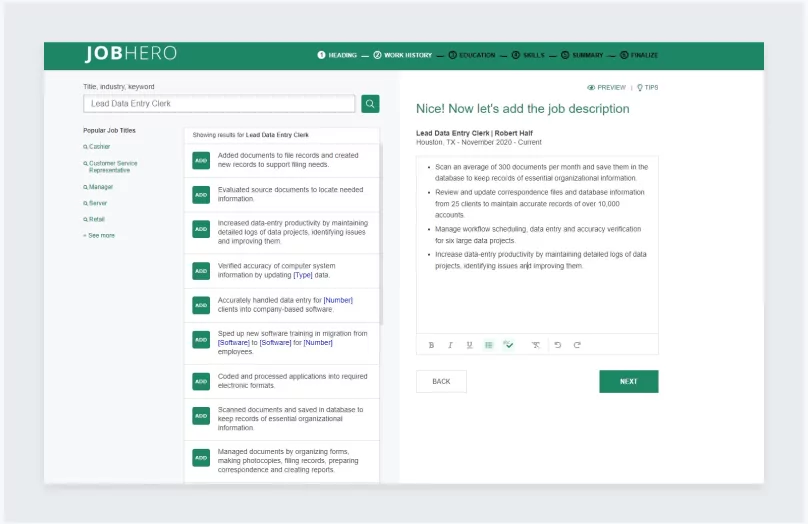 BUILD MY RESUME
What Does a Pipefitter Do?
A pipefitter, also known as a steamfitter, fixes and installs piping for heating and cooling systems and for various other systems. They are a tradesperson who is trained in organizing, assembling, installing, creating and maintaining all types of piping that must withstand high pressure.
Their duties include assembling and maintaining pipes that carry chemicals, acids and gasses. They monitor high-and low-pressure pipe systems to work with pressured water, valves, oil, gas, steam and other materials.
A pipefitter also manipulates metal to form the pipes according to specifications. They are skilled in grinding, welding, cutting and bending. Pipefitters are involved in the entire process, from planning to installation.
Part of their work is to draw up a blueprint of a pipe installation and often are responsible for selecting the right pipe. For installation, the pipefitter will transport pipes to their proper location when they are ready.
Pipefitters are typically employed by pipefitting firms. Many pipefitters also work in power stations, refineries, offshore installations and factories. Some common pipefitter duties and responsibilities include:
Knowing system operations.

Providing building and industrial maintenance in some cases, performing rigging operations and transferring and handling hazardous materials.

Fabricating pipes and tubing, and any necessary fittings.

Inspecting and clearing obstructions.

Studying blueprints and planning pipe systems.

Measuring and marking pipes for cutting.
How Do You Become a Pipefitter?
About 48,600 openings for plumbers, pipefitters and steamfitters are projected each year for the next decade. The Bureau of Labor Statistics shows a yearly earning of over $59,880, or just over $28.79 an hour. Here are the steps to become a pipefitter.
Pipefitter Skills
A pipefitter must have good communication skills to work with different people, from supervisors to colleagues, and from customers to operations managers. Some skills include assessing customer needs, evaluating customer satisfaction and meeting service quality standards.
A pipefitter should also know how to work in a fast-paced, demanding environment and can master new skill sets quickly. Being a pipefitter requires patience and physical strength, as they are required to lift heavy objects and climb ladders often.
Other key pipefitter skills include:
The ability to draft and read blueprints for new installations or locate existing pipes.

Measuring pipes for cutting and threading.

Welding and assembling pipes.

Ordering required materials inventory including pipes, hangars, brackets and hydraulic cylinders.

Repairing and maintaining pipe systems.
1
Communication is critical to ensure the success and safety of a project.
2
Problem-solving skills are needed to identify and diagnose plumbing issues.
3
Organizational skills are critical to arranging objects or actions in the correct order.
4
Stamina is needed for shaping metal pipes and joining them together.
5
Attention to detail is critical to monitor the system and remedy to prevent complications.
6
Customer service is important to help customers feel comfortable.
7
Working under pressure is key to working through emergencies or difficult situations while remaining calm and focused.
1
Piping is necessary for the knowledge of cutting and welding methods.
2
Pipefitting construction uses a variety of tools to modify pipes to specifications.
3
Construction skills are industry specific and facilitate the ability to use a welder's gauge, pipefitter's square, fitter grip and others.
4
Petroleum gas inspection is critical to determine plumbing codes and plans for correct pipe placement.
5
Commissioning metal fabrication skills contribute to the shaping and replacement of pipes.
6
Petrochemical knowledge of chemicals manufactured from crude oil and natural gas used in the job.
7
Operations skills are needed to effectively install, repair and maintain piping systems.
8
Blueprint reading allows you to have a full understanding of piping isometric drawing dimensions and connecting points of isometric.
Insights from a Pipefitter
In order to get an inside look at how to become a Pipefitter, we talked to Brian King, project manager and superintendent at Rohde Brothers in Plymouth, Wisconsin.
What is the common career path for a Pipefitter?

A pipefitter usually starts with on-the-job training as a helper where they sweep floors, pull and prep materials. Then they attend technical schooling as an apprentice to earn an associate's degree in steam fitting. Once completed they become a journeyman, hopefully continuing on as a foreman.
What should someone consider before becoming a Pipefitter?
People considering a career in pipefitting should enjoy and be somewhat good at math, and also understand the physical demands of the job.
What type of person excels in this job? 
Anyone can excel at this job if they enjoy their work. There is no specific type, and many come from all walks of life.
What are some of the most important skills for Pipefitters to have?
Good math skills and the ability to picture the project's outcome in your mind are important skills for a pipefitter to have.
What do you find to be the most rewarding aspect of being a Pipefitter?

Seeing the end product – a complete work of art is the most rewarding aspect of being a pipefitter.
How Much Do Pipefitters Get Paid?
Pipefitters are typically paid on an hourly basis, with the median hourly wage in the United States being $24.34. The lowest-paid Pipefitter makes about $14.27 per hour, while the highest-paid can earn more than $43.13.
Top 10 States for Pipefitter Salary
Pipefitters in the following states make the highest median hourly wage in the U.S.
Pipefitter Resources
Looking for more information? We put together this list of additional resources to help you as you continue to explore a career as a Pipefitter.
Professional Groups
On the Web
Books
Pipefitters Handbook
Contains thousands of facts and figures relevant to pipefitters, or anyone concerned with layout and installation of pipe.